Do you want to know how beneficial marketing through Social Media can be for your business?
Then let me tell you here that Social Media can be the most effective way to multifold your revenues.
Marketing through Social Media is considered the most powerful technique for generating brand awareness, engagement, and conversions. While talking about the effectiveness of Social Media, Paul Barron, CEO, Executive Producer + Editor in Chief at Foodable Network says-
"I use social media as an idea generator, trend mapper and strategic compass for all of our online business ventures."
Social Media not only optimizes your online reach but also empowers you to connect with your prospects on a one on one basis that creates a loyal fan-base for you.
Recent HubSpot study also confirms that around 92% of all marketers prefer marketing through Social Media because it ensures better exposure and conversions of e-stores. 80% of those also say that Social Media increases the relevant traffic of their site as well.
Let us now understand the different benefits of Social Media for your business, and later, we will go through two or three Social Media Practices that you should use –
4 Main Benefits of Marketing through Social Media
1) Better Branding, Awareness, Loyalty & Engagement
When you opt for marketing through Social Media, you let your audiences easily recognize you.
With the right kind of Content Marketing Strategy on particular Social Platform, you can enhance the visibility of your brand.

The process is simple, and you only need to create your profile on a Social Platform (See Nike's Twitter Profile in pic). Now, you need to create content that is engaging, entertaining, relevant and personalized to your target audiences. Now, you need to optimize your page. You can ask your employees, friends, partners, and other associated people to like and share the page.
You can also interact with the prospects via comments and posts.
Social Media Platforms like Facebook, Twitter, Instagram, LinkedIn, etc. also help you interact with your audiences in a personalized fashion.
Recently, Convince&Convert came up with a study report and as per that, around 53% of customers who follow particular brands on social media prefer engaging with that brand and making their purchases. Posts, Images, Comments, or Videos that you publish on Social Media are your chances of targeting and converting customers.
2) Better Customer Insights, Customer Service, Audience Targeting & Result Tracking
The success of any business depends on how they serve and satisfy their customers.
Marketing through Social Media helps you to channelize campaigns with the result driven insights of your customers. With better knowledge of your customer, you can ensure better customer service. You can also know the behavioral preferences of your audiences by using Social Media Analytics.
You can connect with your targets in the comments, gauge their specific needs, and resolve that in real time.
You will be using a method of communication that your prospects are already using. Such customer service ensures better trust building. Marketing through Social Media lets you run a campaign that is data rich. Analytics tools let you have the information about your consumers and competitors that enable you to segment your campaign as per the data report.
Geotargeting is another benefit of Marketing through Social Media.
You can use it for targeting people who are in a location, which is more favorable for ensuring better conversions for you. It will let you target prospects within a 10-mile radius that will draw in more customers and hence increase purchases as well.
Marketing through Social Media also offers the feature of Advanced Targeting. You can use it for targeting different people with distinctive approaches. For instance, you can check people who are following any specific brand on Twitter, and personalize your campaign as per their taste.
You can use LinkedIn or Facebook to know the niche or industries of your audiences. Targeting with a variety of keywords via promoted pins on Pinterest is another option for you.
Result tracking is another big advantage of Social Media. This helps you run result driven campaigns. You can effectively track convertible customers, plus can measure lead generation, sales, site traffic, email subscriptions, and effectiveness of your Social Media Marketing.
3) Optimized Conversion Rates, Loyal Audiences, and enhanced Brand Equity
When you opt to do marketing through Social Media, you let your brand be more humanized, as you interact with your existing and potential customers on Facebook, Twitter, Instagram, LinkedIn, Pinterest, Snapchat sorts of Social Media Channels. In the pic below, PlayStation is congratulating their Twitter followers for surpassing 2.7 million followers. Such interactions optimize conversion rates.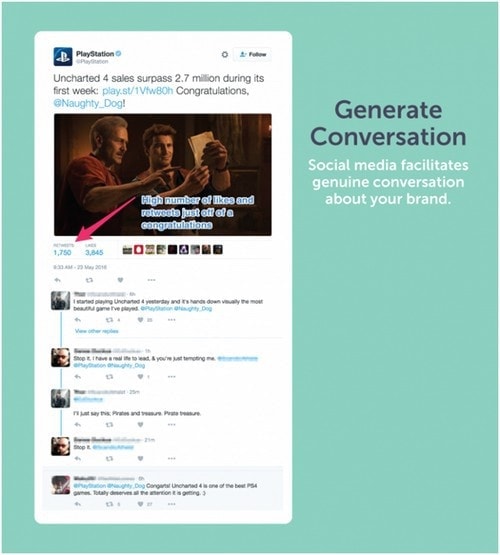 This not only creates better conversions but also makes those users or visitors into loyal customers.
In comparison to Outbound Marketing, social media is known for offering a 100% higher lead-to-close rate. Your followers have trust in your brand; they visit your site and appreciate your products and services. Even in some cases, they convince other prospects on Social Channels for buying your products and services. Offering value to audiences is one good way of increasing conversions and profits.
Marketing through Social Media paves a path of developing human interaction with customers that play a significant role in establishing an emotional connection with them. This is again very effective with consistent conversions from a particular set of audiences. Your Social Media Followers also influence other users to opt for your products and services. This is going to multifold your sales.
Optimized Brand Equity is one of the best upsides of Marketing through Social Media.
You can understand it as the perception that your audiences have about you or your business. Positive perception turns into productive brand equity.
Profits from Social Media campaigns are directly proportional to the quality of followers that you have on Social channels. So, use behavioral analytics tools and target those audiences whose behavioral patterns show that they will prefer using your services consistently.
4) More Traffic, better Search Engine Ranking, Cost-Effective, and better Customer Satisfaction
Social Media is very effective in increasing result-driven traffic of your site. It acts as the gateways to your site.
All kinds of posts and content that you use on your social profiles are great in acquiring new customers for your business. It will also help you in improving Search Engine Rankings. Organic reach of your business will also increase that will optimize the authority of your site. You will rank in the first pages of Google for your keywords. Using the right content strategy for Social Media Marketing will ensure this for you.
Social Media Marketing is also more cost-effective than all other forms of marketing. Creating profiles on Twitter, LinkedIn, Facebook, Instagram, Pinterest etc. does not even cost a penny. You can also run Paid campaigns on these social channels to enjoy better benefits. You can retain your customers just by creating engaging content and responding to customers on Social Channels.
This also boosts customer satisfaction.
With proper communication on social channels, you can improve your campaigns as per the suggestions and feedback from your audiences that will ultimately satisfy them. With the right use of personalized messages, you will ensure better customer experience.
You can also acknowledge some loyal customers on Social Profiles of your brand and offer them special gifts. Such gestures play a pivotal role in turning users into loyal customers.
All such efforts translate into customer satisfaction. Social Media is the best place to display that you care for your audiences.
Let us now understand some of the Social Media Practices that will help you reap the benefits of marketing through social media –
Social Media Practices that Brands Should Follow
Know the best Social Media Platform for your Business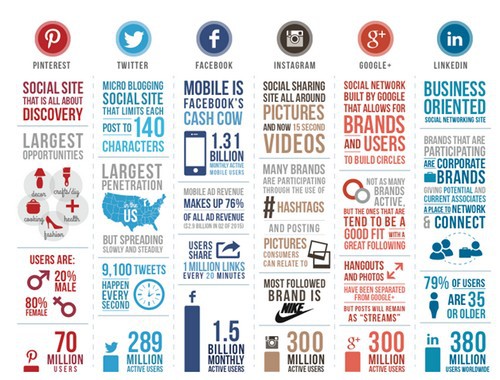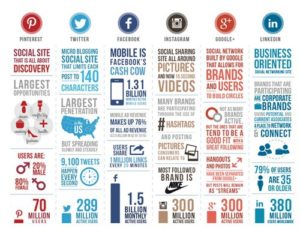 While doing marketing through Social Media, it is very important that you know the right social channel for your business. Let us understand this with some examples-
For a fashion store owner, using Instagram or Facebook would be more profitable than LinkedIn or Twitter
Using Facebook & Twitter would be great in upper channel communication where you want to create brand awareness
At lower channels, for consideration and decision-making, LinkedIn is best. For B2B businesses, LinkedIn comprises great potential
You can use Twitter for some sorts of Social Media Discussions. For big brands, it is a great place for ensuring real-time customer services
Know the right kind of Paid Social Media Campaigns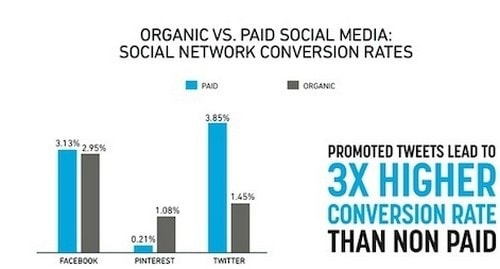 Paid Ads on Social Media helps you ensure sustained success. It also starts offering results instantly. Different kinds of paid advertising are available on distinctive Social Networks. Let us go through them-
Types of Facebook Ads-
Photo Ads
Video Ads
Carousel
Slideshow
Canvas
Types of Instagram Ads
Types of LinkedIn Ads
Display Ads
Sponsored InMail
Sponsored content
Text Ads
Dynamic Ads
Types of Twitter Ads
Promoted Tweets
Promoted Account
Promoted Trends
In the same way, you can find different ads on Pinterest, Snapchat and other Social Media Platforms. Soon, we will come with a post discussing all kinds of Social Media Ads.
Spreading social responsibility in Marketing through Social Media is one smart practice that big brands with great fan-base use.
The right use of Social Media Tools for automation and scheduling of your posts is another practice you should preferably use.
Use of User-generated content (UGC) by deploying some contests to utilize the judgmental skills of audiences will also help you in establishing a productive tone for your brand on different social platforms.
What practices do you prefer while marketing through Social Media? Share your thoughts in comments!