LinkedIn advertising is one of the most powerful B2B advertising techniques to generate leads, optimize website traffic, and improve brand awareness by using befitting LinkedIn ads.
As per stats-
With a LinkedIn ad, a brand can reach 13% of the world population. Also, the reach of LinkedIn Ads grew by 25 million people in Q4 2020.
From LinkedIn text ads, Sponsored InMail to dynamic ads and sponsored content, different types of LinkedIn ads are there to optimize the performance of your LinkedIn advertising. Plus, when you advertise on LinkedIn, it improves the purchase intent by 33%.
So, if you have also been looking to understand LinkedIn advertising specs and LinkedIn advertising cost, then this post will unravel the mystery for you. Let us learn how to run a LinkedIn ad to optimize conversions-
What is LinkedIn Advertising?
LinkedIn Advertising or LinkedIn ads are paid advertisements posted on the LinkedIn platform, implied by the name. There are different types of LinkedIn advertisements that can be adopted by any organization for their marketing goal-
Sponsored content
Message Ads
Dynamic Ads
Text Ads
Sponsored InMail
One has to define their marketing and advertising goals properly to have success in LinkedIn advertisements.
Different LinkedIn ad campaign objectives are-
Website visits
Engagement
Video views
Lead generation
Who should Advertise On LinkedIn?
A LinkedIn ad is ideal for all sorts of professional advertisements and promotions.
Primarily LinkedIn is used by those who are-
Looking for jobs
Recruiting potential new hires or freelancers
Connecting with colleagues and providing recommendations
Sharing and discussing news in their industry
Connecting with industry influencers
Making B2B promotions
All in all, B2B businesses would get the most of a LinkedIn ad. In addition, B2C businesses that are involved in professional services to consumers such as consulting, education, or training can also opt for advertising new objective-based on LinkedIn.
For recruiting and finding new employees, all sorts of businesses can opt for LinkedIn ad campaigns to meet their target audience.
Why Choose LinkedIn Advertising?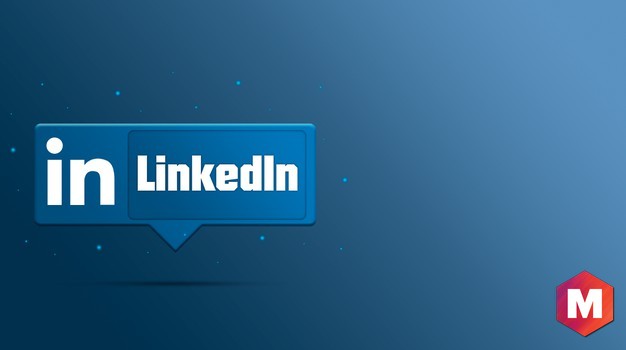 There are several advantages associated with the use of LinkedIn Ads; they are stated as follows:
1. LinkedIn Ads are more professional than other Social Media Ads
Different traits make these ads different from those provided on other social media networks. A person going through LinkedIn can have an added opportunity to add these added traits to their advertising.
Since LinkedIn is solely a professional platform for interaction as a community, it can help one target business and professionals as part of their advertising campaigns.
People who are in the same domain can be targeted through advertisements. This gives a good opportunity for organizations to target and connect with a specific and well-defined audience.
Using LinkedIn as a platform, one can connect with different professionals and leaders in the industry. The entire process is simplified through LinkedIn, where one can target specific professionals in different target domains.
LinkedIn also allows one to exchange "recommendations" among different connections. Here, opinions can help one to improve reputations of self and the other person through the exchange of recommendations.
2. Forums and groups empower the Linked Ad performance
LinkedIn also allows for open discussions and exchange of opinions through forums. Through several specialized groups on LinkedIn, people from specific domains of the market can come together and discuss their interests.
Anyone can join these groups to channelize and discuss their interests in that particular group's interests.
Once a person is part of these communities, people can have continuous knowledge of recent trends, position themselves towards a position of respect and responsibility, and stay connected with professionals and individuals with related levels of expertise.
This platform can help you find the perfect people according to your need. These can include connections in the form of recruiters, recruits, mentors, etc.
This platform can help you tap the intended segment of the market for the different products or services you intend to sell.
3. LinkedIn advertising can be easily measured
Another great feature includes the tracking of different visits made to your profile. Through integrated statistics software, LinkedIn can help you track different profile visits. However, complete information is only available to LinkedIn Prime users.
The biggest virtue of this platform is the networking it provides. Through this platform, one can target professionals in their domain and connect with them for networking as well as other means of connection.
4. LinkedIn lets you promote objective-based advertising products
Job listings can be done on LinkedIn, where it can be used both by employers and those looking for internships or jobs. Through an automated means, it can help map the right candidates to their respective positions.
LinkedIn can be easily integrated with external means and can be used for content generation on other networks. It can be used for the promotion of different seminars, events, and conferences.
Individuals can invite all their connections for their events, thereby diverting organic traffic towards their events and activities.
With the availability of professionals with diverse areas of expertise, this platform can be used to connect with them or learn to implement new ideas or services for their organizations.
Types of LinkedIn Ads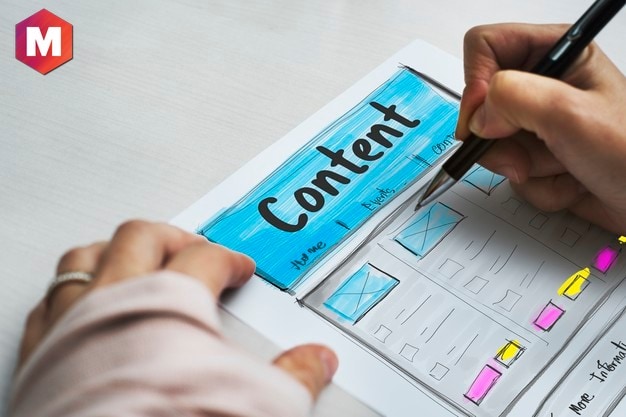 There are different types of LinkedIn ad campaigns one can choose to optimize the brand presence on LinkedIn via new objective-based advertising.
Let us go through these LinkedIn ads and how to advertise on LinkedIn-
1. Sponsored Content
These are the advertisements one can use to promote their content. Through the use of special links, these advertisements can be posted on LinkedIn, a website, a blog, or any other platform.
This is primarily done to increase brand awareness. The advertiser wants people talking about his/her brand and being followed or contacted by different individuals interested in that particular sector.
2. LinkedIn Sponsored InMail
This is a feature available on LinkedIn Premium. This can be used to directly converse with a specific audience in the form of personalized messages.
This can be instrumental in the generation of leads through personalized content and an apt presentation of the company's variety of products/services.
3. LinkedIn Text Ads
This concept is quite similar to ads on Google. One who is familiar with this will know how to use Text ads on LinkedIn.
This involves the creation of attractive textual ads to capture the attention of the target segment to the company's platform. This may involve the company's website, product landing page, or any other webpage that will help them initiate conversations or generate leads.
4. LinkedIn Dynamic Ads
LinkedIn dynamic ads can be as personalized as you can get with your LinkedIn advertising campaign.
Advertisers can opt for these ads for promoting job postings, company page, content downloads, drive traffic to a website, etc. It will let you run spotlight ads that appear on the newsfeed.
With such LinkedIn advertising campaign, you can set templates and choose auto-translation options for personalizing your ad creatives.
This is the theory behind the different means that can be employed for the advertisement of LinkedIn. However, the most important transition is the one from theory to practice.
Which LinkedIn Ad Type is right for you?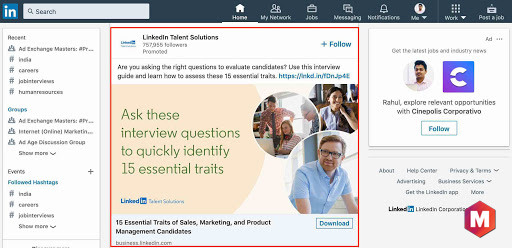 1. Sponsored content is best in case you want so many people to see your content
Opt for sponsored content for your blog posts or business announcements or for driving engagement. Sponsored content in LinkedIn advertising is also good for increasing followers for your on-site Company Page.
2. Text ads are best-suited for boosting reach
With the help of text ads in LinkedIn advertising, you will be able to drive conversions. You may choose Text LinkedIn ads for your highly targeted campaigns.
3. Sponsored Inmail feels highly personalized
This type of LinkedIn ads will let you deliver content directly to the inbox of your target audience.
You can also try to add a CTA to your LinkedIn mail to convert your target audience. This will optimize conversions for your downloads or subscriptions.
Create a LinkedIn Ad in 2 Easy Steps
Click on 'Create new ad'
Once you click on Create New Ad, you will see a screen with a "Create a new [Your chosen ad type] for this campaign"
Here, you can create the copy for your ad by pairing it with an image and previewing a variety of layout options.
Pay heed to the LinkedIn ad guidelines
a. Ad image
Your ad image will be seen by your audience. It should be 100×100 pixels and it ought to be uploaded as a .jpg or .png file that is 2MB or smaller.
b. Ad headline
This is your ad message and it should not exceed the limit of 25 characters.
c. Ad description
It is the body of your LinkedIn ad. Its maximum limit is 75 characters long. It should relate to your brand and target audience.
d. Destination URL
This is the place where your audience will go when they click your ad. Always make sure that your URL is correct.
After doing this, you can see your ad reflected in the preview box.
Now, by clicking on Create, your ad will be created and then you will be directed back to the Campaign Manager screen which enables you to create more ads.
For optimizing the performance of your LinkedIn Advertising campaign, you should create different LinkedIn ads by tweaking ad copies as per different buyer personas.
Best LinkedIn Advertising Strategies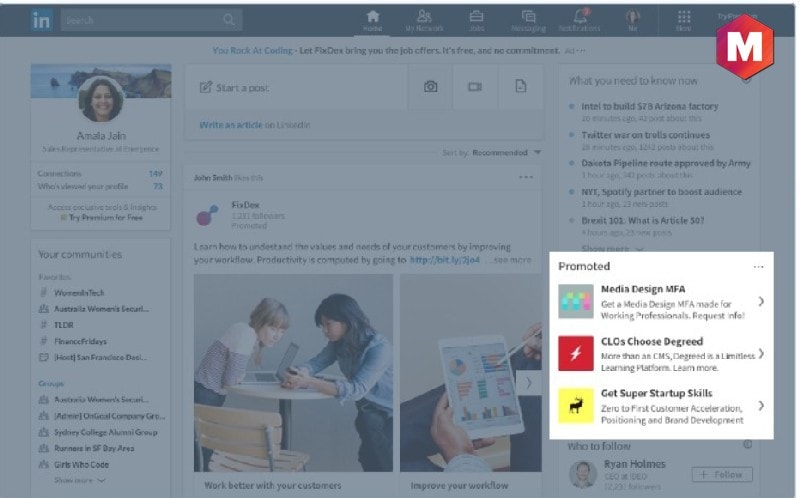 1. Go for a personalized approach with your LinkedIn ads
The latest additions in the form of dynamic ads have allowed people to be more personalized through a range of effective means and attention-grabbing features.
Based on the publicly available information, LinkedIn will personalize the advertisements for them. Examples include preset templates that are available as part of the Dynamic Ad product.
These can be automatically translated through an easy means of operation.
2. Build brand awareness with the use of content-styled LinkedIn Ad
Unlike other social media platforms where longer posts concern users, one might even find long content on LinkedIn as part of their feed.
This is because people on this platform prefer such long content if it is meaningful to them. Their interest directly depends on a relevant and valuable block of content given to them.
Advertisements that adopt the content marketing strategy perform quite well on LinkedIn since they look forward to establishing a relationship with the consumer and gaining their trust before hitting them with aggressive or lead generation advertisements.
A properly generated and well-defined content can help you to help your audience know the business and offer a value on which you can capitalize later.
3. Highlight Social Missions or Brand Culture through your brand
Today, everyone wants to be associated with people with a specific mission in mind. In short, moral, ethical, and directed mission.
They are all about organizations that look forward ethically towards different communities and in fact, their employees.
Hence, using brand awareness as part of your brand campaign can prove to be the most effective way to convince your customers and get them on board. This is a correct option and a viable one, in the case of new consumers as well as new employees.
Everyone likes those who "care" about others. For instance, the Fifth Third Bank looks forward to regularly collaborate with other ethical organizations to provide valuable support to minority and women-led businesses.
Through all the good they are doing for the minority communities; they are increasing their reputation in addition to growing their reputation out there.
4. Use Sidebar Advertisements to offer immediate value
Even if this strategy is not popular on LinkedIn, it is an instrumental strategy for any advertising campaign.
Even if there are content-based advertisements in place, you have to explain to the consumers why the advertisement is important to them. Let them know what they can get out of it.
This applies to all advertising placements regardless of the place they are posted, particularly in sidebar ads.
Here, content is key, and excellent copywriting skills will surely fetch promising returns. Here, the ad has to be clearly defined and well-targeted to the intended audience; else, it might not catch their attention enough.
5. Do adept inclusion or exclusion of company followers from your LinkedIn ad
While setting the target criteria, one must think about the inclusion or exclusion of people who already follow the company.
One can leverage a warmer connection if they include their company's current followers too. Going for the other option, whoever will leave the company with an increased targeting accuracy.
The entire inclusion/exclusion depends on the person's end goal/motivation behind the campaign. If the aim is to be specific, it is best to leave them out of the campaign.
6. Advertise on LinkedIn to tell a story to your followers.
One has to use the power of a good content writer to tell a story to their followers.
Through a proper storytelling opportunity, people can create a strategic and specific impact on their customers which will make them view and remember the product or service for a long time.
Even though storytelling is a simple process, it is possible only if there is good work and research done on it beforehand. This can emotionally capture people's support and confidence through the use of emotions.
In particular, video ad campaigns are instrumental in this domain, since different things ranging from the narration to the background music can be altered as per the needs of the customer so that they are left with an impactful ad in the end.
Ready to Try LinkedIn Advertising?
On the concluding note, we hope you would have understood what LinkedIn advertising is and how you can run a LinkedIn advertising campaign for optimizing the reach and conversions of your brand.
Analyzing your LinkedIn advertising campaign, looking at each campaign click-through rate, getting familiar with your target audiences, choosing clear CTAs, calling out important stats and quotes, personalizing LinkedIn ads, adding people-centric visuals, etc. will optimize the performance of your Linked advertising campaigns.
Adept implementation of the aforementioned LinkedIn strategies will improve your ad relevance score and let you enjoy more conversions.
How effective do you find LinkedIn advertising for your brand?
Liked this post? Check out these detailed articles on
Topic of SOCIAL MEDIA MARKETING
Alternatively, check out the Marketing91 Academy, which provides you access to 10+ marketing courses and 100s of Case studies.