Kinsta provides a WordPress hosting platform as well as services. The company offers its products and services to both, small as well as large businesses. Kinsta bases its services on Google Cloud, thereby providing a sturdy infrastructure to its clients.
Being a premium WordPress hosting for everyone, Kinsta offers its services using cutting-edge technology for your website.
Kinsta was established in 2013 and is based in Los Angeles, United States. It has offices in London as well as Budapest also. It was founded by Mark Gavalda, who is the CEO of the company as well.
The company houses a team of WordPress developers who are focused on providing features, including security, speed, and scalability to its customers. The team has worked with WordPress for over a decade.
Kinsta's Product Portfolio & Features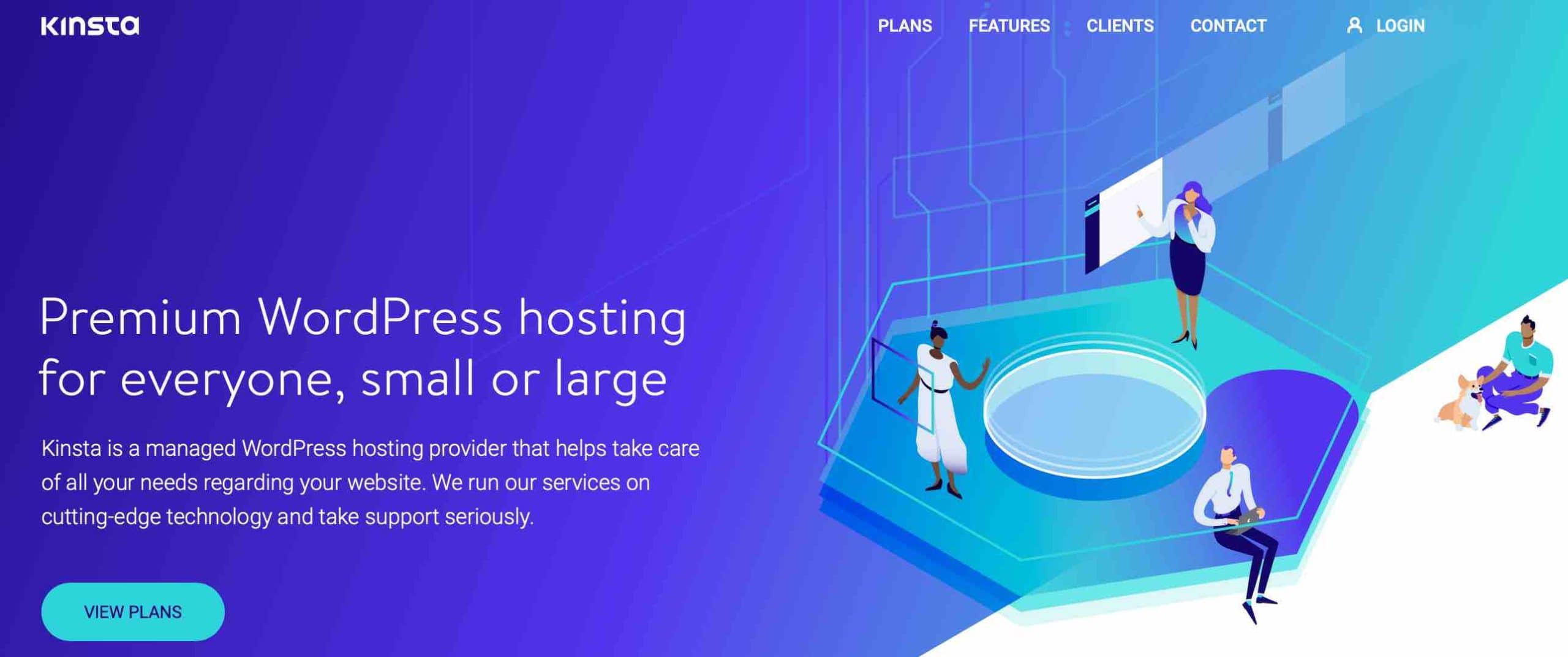 The company provides a WordPress cloud-based hosting platform. With Kinsta's hosting, the client's website is mostly hosted on the Google Cloud Platform. Thus, the client has its website hosted on one of the best infrastructures.
Being a top-notch cloud-based host, Kinsta comprises WordPress management tools that ensure the speed and scaling benefits.
The company also offers the user the flexibility of choosing their own data centers.
Google has a multi-regional model, having3 key regions, Europe, US Central, and the Asia Pacific. Thus, in total, the client has the choice of 20 data centers to pick from.
The data centers are strategically placed on lowering the latency as much as possible. Thus, it is always recommended to select the data center (or the server), which is based on the country you wish to target.
Some of the standard Kinsta features include
Services are fully managed
High level of security
Website migrations are free of cost
Backups are taken daily
High quality of speed
Supported by the Google Cloud platform
User-friendly interface
MyKinsta is the Control Center for your Sites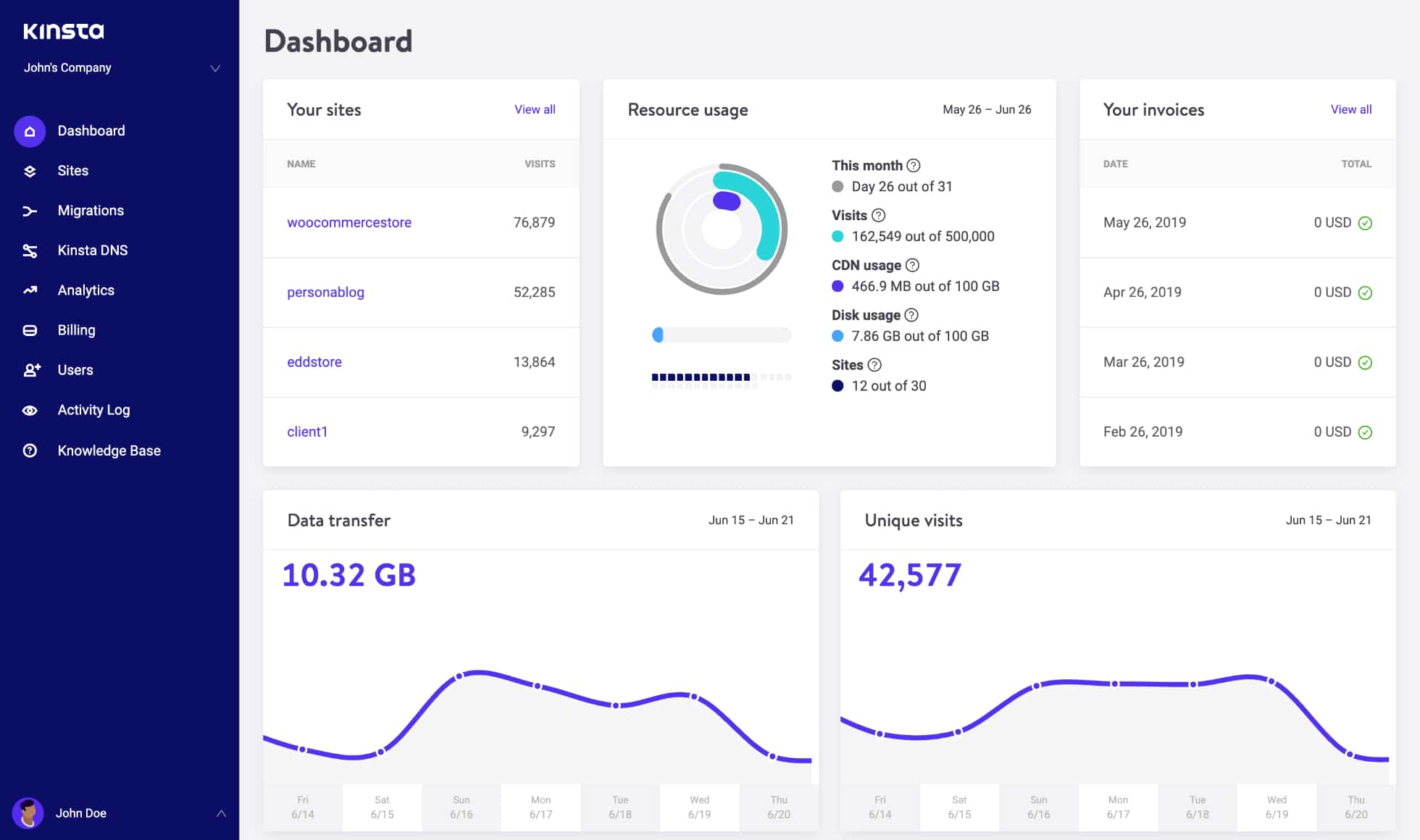 It comprises a dashboard that provides a complete overview of your entire site. You can use it for tracking bandwidth along with visitor stats to creating SSL certificates. You can also use it to manage all the tools you need for your site from one location.
You will also be benefitted from a wide range of analytics that covers all the aspects from website resources to architecture performance. Vital data that you can track here include visitors, response times, and bandwidth usage, and so on.
Kinsta is also an efficient and purpose-built WordPress hosting solution. You can opt for Kinsta to manage your sites with the utmost convenience and accuracy. It lets users appreciate granular access rights.

Key highlights of MyKinsta are-
1) Simplified Site Management
Site management is well alleviated with Kinsta, as it lets you add any new site or deploy a staging server or clone a WordPress site in the most simplified manner.
It also allows you to view detailed site analytics or request migration, and the whole process would be simple to ABC.
2) Tools you need
Kinsta is top-notch in offering the best tools to you, so if you are coming from Cpanel or Plesk, Kinsta will let you enjoy access to all the tools you have been preferably using. With Kinsta, phpMyAdmin, logs, redirects, SFTP, and backups can be processed just through a single click.
3) Choosing your Data Centers
With 20 global server locations and a premium tier network, Kinsta offers you capabilities to choose data centers as per your needs.
You can place your server geographically closer to your target audiences. You can ensure this by opting for one of its 20 Google Cloud Platform data centers.
Hence, Kinsta is state of the art is ensuring low latency for your visitors, plus it also ensures fast load times.
The Google Cloud Platform used by Kinsta comprises a premium tier network for minimizing distance and hops. All this plays a key role in the secure and faster global transport of data.
Your quest to have one-click development sites gets satiated with Kinsta, plus it also lets you test before moving towards production.
When you choose Kinsta shared hosting, your WordPress install has its staging environment that will also be fully separate from the live production site. MyKinsta allows you to test new WP versions along with code, plugins, and so on.
Kinsta also enables you to push staging to live, so your time will not be wasted in development time on the staging. One-click push changes are one of the most useful features of Kinsta users.
4) Built by Developers for Developers
Kinsta incorporates its WordPress developers that will let you have all the feature sets based upon your needs. It offers you s/w such as SSH, WP-CLI, Git, etc. and hence, it enables you to perform your task immediately when you sign up.
Kinsta also offers support to the different versions of PHP 5.6, 7, 7.1, 7.2, and 7.3. You can perform all this from the MyKinsta dashboard straight away.
Kinsta Features
1) Ensuring Top Speed to Users
The architecture of Kinsta is focused on providing high speed to its users.
The company utilizes technologies, such as LXD software containers, PHP version 7.3, NGINX, and MariaDB. MariaDB is open-source software and is licensed under the GNU General Public License.
It is a community-developed and remains free of cost. Kinsta also offers compute-optimized Virtual Machines (VMs), which help in making sure that the websites load speedily.
2) A-1 Level of Security
Another unique feature of the company is the level of security it offers. It provides a high level of protection to its clients. It has both passive as well as active measures in place to inhibit any malicious intent and stop attacks.
It provides detection as well as protection against Distributed Denial of Service (DDoS). It also regularly monitors uptime and has SSL (Secure Socket Layer) support in place.
Finally, Kinsta also has software-based restrictions and hardware firewalls set up to safeguard the client's site.
Key highlights of the high-security network of Kinsta are-
DDoS detection
Hardware firewalls
Uptime monitoring
SSL support
You will also get Free hack fix from Kinsta in two different ways-
Proactive Prevention
Kinsta won't wait for the hacks to occur, as it takes proactive action for preventing any such actions. Kinsta is first-rate in keeping your server software stay updated.
It also regularly monitors events network-wide. Immediate investigation and handling of suspicious activities are also key security features of Kinsta.
Instant Relief
No need to be worried about the hacking of your site anymore with Kinsta, as it will fix the hacking issues of your website on the go. Kinsta experts are well adept in managing all sorts of WordPress issues that is very useful in restoring your site to the A-1 working condition.
3) Hassle-free Functioning
Regardless of the development stacks used in the client's website, Kinsta has the latest frameworks installed to ensure smooth functioning.
As mentioned earlier, it is powered by the Google Cloud platform and has the support of its data centers placed in 20 different locations, globally.
There is a high level of interconnection in the network, thereby minimizing distance and hops. This further results in insecure as well as faster transportation of data.
Regular Uptime Checks
Kinsta checks the status of the sites that is hosts at every 2 minutes. So, your website will go through 720 checks every day.
Outstanding Reaction Time
Kinsta offers uptime checks that let you respond to issues before they affect lots of visitors.
Full Backups Daily
Kinsta backups your sites once on a per-day basis, so if anything wrong occurs, it will let you have the backup of your website just with a push of the button. Kinsta is befitting in providing backups for all the environments, be it live and staging.
Additional Backups
You just need to pay an additional fee that will increase the backup frequency of the websites to every 6 hours, or if required, backups can be done every hour.
For a dynamic site or sites that go through frequent changes, this feature would be highly beneficial for you.
Automatic Scaling
Kinsta offers to scale as per your specific needs. It provides you flexible architecture that is built upon Google Cloud Platform that lets you enjoy the power of Google h/w with ease.
This will ensure custom scaling for your site. Kinsta empowers your site to be ready for traffic surges, be it predictable or unpredictable.
4) Easy Website Migrations

Finally, the company also provides free website migrations. Thus, there is no downtime incurred by the client. The company assigns a temporary domain to the site and only goes live once everything has been finalized.
Moreover, the company provides support in case of sudden traffic surges and makes sure that the server does not go down.
The company keeps checking continuously for potential attacks on the websites. The servers are kept up to date, and all networks are monitored continuously.
5) Adept and Personalized Site Management
Coming to the platform, the company provides a user-friendly platform. It provides MyKinsta Admin, which is a unified dashboard for the management of the website. It offers the following functionalities:
Deploying new staging server
Implementing a new website
Cloning another WordPress website
Website analytics and reporting
Migration requests
The dashboard also provides advanced tools for users coming from using cPanel or Plesk. These tools include redirects, phpMyAdmin, backups, SFTP, and logs, which are accessible with just a simple click.
The management dashboard comes with pre-install options for Yoast SEO and WooCommerce. These help in creating new WordPress websites. The user can create new subdomains or subdirectory multi-sites with ease.
As discussed earlier, all plans offered by the company include free migration services.
In terms of analytics and reporting, the company offers the following through the dashboard:
Performance metrics for Database, PHP and cache
Tracks the number of website visits, resource utilization, and requests
Has a built-in integration for New Relic – A monitoring tool that gives a granular view of the performance breakdowns.
Statistics and response code breakdowns
The admin dashboard allows for the addition of unlimited clients or colleagues. It offers the following services:
Management of users
Detailed logs of activity
SSH (Secure Shell protocol), Git or WP-CLI access
Sturdy authentication mechanisms
The dashboard also has a 24/7 built-in support in case of any issues. The MyKinsta dashboard's competitors include cPanel and Plesk primarily.
6) WooCommerce Hosting by Kinsta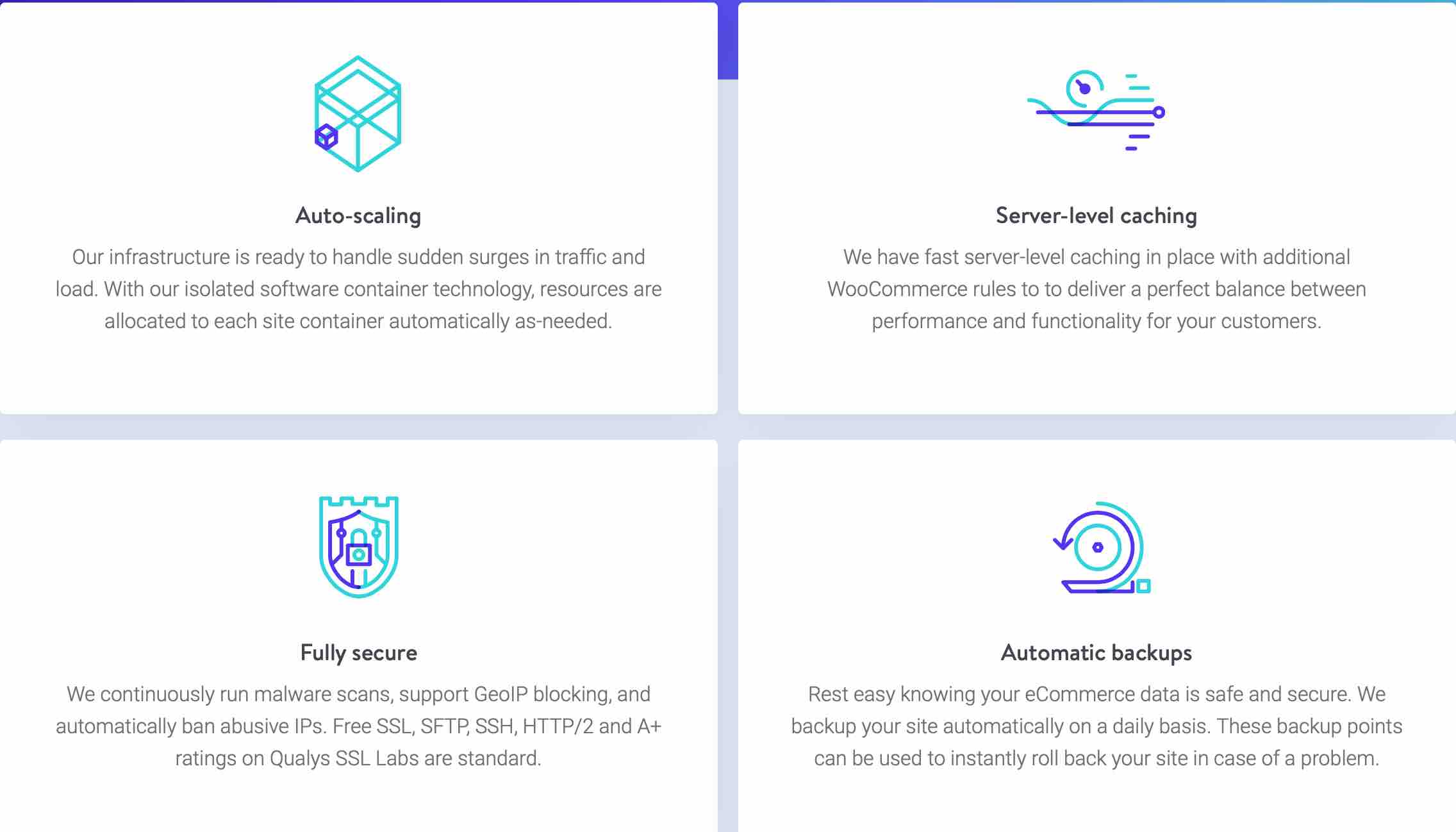 For adept eCommerce channelization, Kinsta offers top-notch WooCommerce hosting.
With the help of Kinsta, you will be able to optimize your SEO, Revenue, and User Experience of your online store in the most dexterous and conversion-driven manner.
Fast loading speed due to speed obsessive architecture, which is empowered by Google Cloud Platform and it's premium tier network, is significant in optimizing your online sales.
Top highlights of Kinsta WooCommerce Hosting includes-
Auto Scaling
Server Level Caching
Fully Secure
Automatic Backups
7) Enterprise WordPress Hosting by Kinsta

Kinsta has been the prime player for some of the top brands worldwide when it comes to enterprise WordPress hosting features. Kinsta lets you enjoy automatic scalability and top-level security for your site.
Kinsta ensures top performance and fault tolerance that is considered highly useful for large volume and high demanding enterprise websites.
With Kinsta WordPress Enterprise Hosting, you will not face any issues at the times of traffic surges, enhanced downloads, peak times, and so on.
Enterprise WordPress hosting by Kinsta serves-
7 billion HTTP requests every month
200 terabytes Egress data transfer per month
2-minute media support ticket response time
Key features of Kinsta Enterprise Hosting include-
Flexible Architecture
Expert Level Support
Always backed up
Simplified Site Management
HTTP/2 Content Delivery Network
Google Cloud Platform
Availability of optional Add Ons for you-'
Cloudflare Railgun
Extra Backups
Elasticsearch
Nginx reverse proxy
Redis
Pricing of Kinsta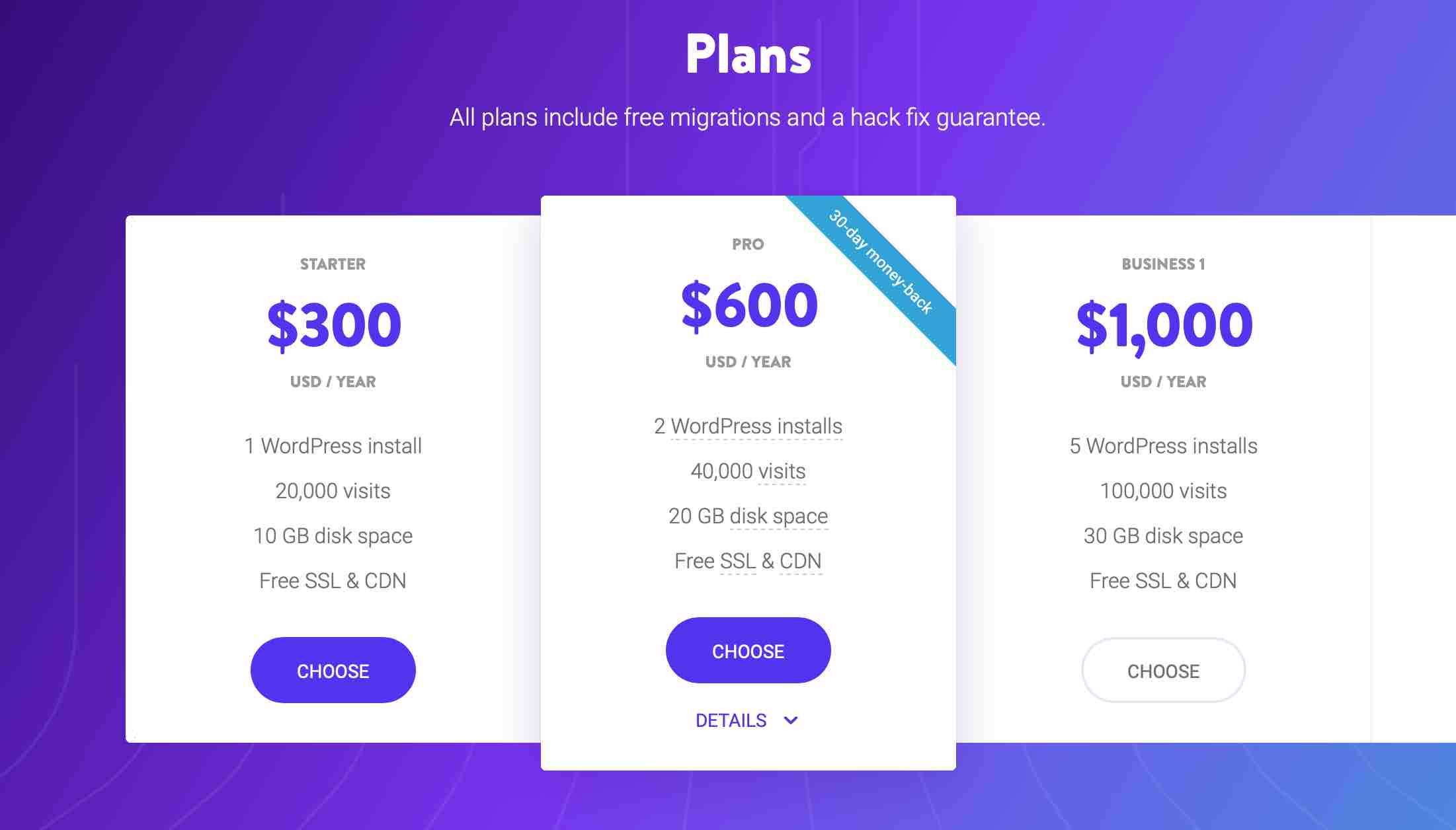 The company offers ten different plans according to the requirements of the clients. The packages start from $30 per month and go up to $1,500 per month.
As the price increases, the features and functionalities increase. However, each plan includes a free CDN and SSL for their clients.
Names of the plans:
1. Stater ($30 / month)
1 WordPress install
20,000 visits
10 GB disk space
Free SSL & CDN
2. Pro ($60 / month)
2 WordPress installs
40,000 visits
20 GB disk space
Free SSL & CDN
3. Business 1 ($100 / month)
5 WordPress installs
100,000 visits
30 GB disk space
Free SSL & CDN
4. Business 2 ($200 / month)
10 WordPress installs
250,000 visits
40 GB disk space
Free SSL & CDN
5. Business 3 ($300 / month)
20 WordPress installs
400,000 visits
50 GB disk space
Free SSL & CDN
6. Business 4 ($400 / month)
40 WordPress installs
600,000 visits
60 GB disk space
Free SSL & CDN
7. Enterprise 1 ($600 / month)
60 WordPress installs
1,000,000 visits
100 GB disk space
Free SSL & CDN
8. Enterprise 2 ($900 / month)
80 WordPress installs
1,500,000 visits
150 GB disk space
Free SSL & CDN
9. Enterprise 3 ($1,200 / month)
120 WordPress installs
2,000,000 visits
200 GB disk space
Free SSL & CDN
10. Enterprise 4 ($1,500 / month)
150 WordPress installs
3,000,000 visits
250 GB disk space
Free SSL & CDN
The starter plan, which is for $30 per month, comes with a 30-day money-back period as well. As the company caters to clients of all sizes, there are higher plans available as well, along with dedicated VMs.
There are numerous additional services and components available, as well. These include:
Cloudflare Railgun ($100 / month / site)
Elasticsearch ($100 / month / site)
Redis ($100 / month / site)
Nginx reverse proxy ($50 / month / site)
Extra backups

Every six hours: $50 / month / site
Every one hour: $100 / month / site

Disk space add-on ($20 / month / site for additional 20 GB)
The overage prices include:
Overage of visits ($1 / 1,000 visits)
Overage of CDN ($0.10 / GB)
Competitors of Kinsta
Some of the top competitors of Kinsta include Pagely, Pressidium, Flywheel, SiteGround, and WP Engine, and others.
However, despite the presence of such players in the market, Kinsta is rapidly gaining significant market share in the global WordPress hosting market.
This is because the company provides so many features along with their plans. It is further augmented by the enhanced level of security features offered by the company.
Pros of Kinsta 
1) Free Website Migration
The clients get the feature of having their WordPress website migrated from any other host to Kinsta for free. By signing into the Kinsta account, the client can access the migration option from the dashboard and fill out the form.
After this, the migration team of the company will take care of the rest. Kinsta guarantees zero downtime and even tests the website before going live.
2) Free Backups Daily
The company provides the functionality of automatic backups every day. This is included in every plan that Kinsta offers.
3) The company offers expert support for WordPress
The company has a team of WordPress experts who are there to solve all and any issues related to your website. The customer service is knowledgeable and quick.
4) Speed
Kinsta offers a fast loading of pages. This correlates to longer visitor duration and, thus, potential conversions, thereby leading to enhanced SEO as well. Moreover, if it is paired with the correct optimizations for specific regions, it can reduce the latency significantly.
5) Sturdy Infrastructure
The company uses the Google Cloud platform. Thus, it has a sturdy and robust infrastructure. Kinsta uses Google's private fiber network. This offers advantages, including flexibility, scalability, reliability, and speed. The company also utilizes the benefits provided by Google's 20 data centers.
6) Knowledgeable technical support
The company hires a skilled workforce having the proper knowledge of WordPress. It offers 24/7 technical support to its clients. They even have an in-built support functionality in their MyKinsta admin dashboard.
7) Customizable dashboard
Kinsta's dashboard is quite powerful and is easy to understand even for beginners. It provides automatic daily backup as well as on-demand backup. The company stores 14 instances of the client's website's backups. Thus, it is easy to restore the website to a staging site (testing environment for developers) or even a live production site.
Cons of Kinsta
1) Expensive
Kinsta is one of the premium options for WordPress hosting, making it quite expensive. The monthly cost of the plan is steep, with the basic plan starting at $30 per month.
This goes all the way up to a plan of $1,500 per month. If one opts for a yearly payment, then they get two months free. Owing to the high prices, several small businesses are not able to afford Kinsta's services.
2) Lack of email hosting
To fully set up a website and manage everything, a website's owner needs their hosting company to provide email hosting services as well.
However, Kinsta does not offer the same. Since one is paying significant prices for the hosting services, one may as well expect email hosting to be included in the package.
3) Lack of support for phones
Kinsta does not offer telephone support for its clients. According to the company, they find it better to have records and screenshots of the technical problems. However, for many clients, a telephonic conversation gives them more comfort.
Recommendation
If you are looking to start your e-commerce website for a medium to a large business website, you can consider opting for Kinsta.
This is because the company offers excellent speed, zero downtime, and a lot of other useful features, as mentioned earlier. On the other hand, if you have a small business, then the company's services might be a bit out of budget for you.
Moreover, if you are a large business and need more regular backups than a daily, 24-hour backup, then you need to pay an additional amount for the same.
Keep in mind that there is a 30-day refund policy that the company maintains for clients opting for the starter plan. Therefore, you can try the solutions and the services before fully working with them.
What I Liked about Kinsta
Speed of Kinsta managed WordPress hosting is blazing fast, plus its cloud-based infrastructure is made for speed. Also, with Kinsta, 99.9% uptime is guaranteed. With Kinsta, you will also find top-notch technical support.
Kinsta is also easy to set up that is perfect for traffic hikes, and it is also dexterously optimized for e-commerce.
Kinsta is recommended for managed WordPress, cloud-based architecture, Web Developers, WooCommerce, Medium, and large websites. It is also good for a site with a larger traffic base.
What I did not like about Kinsta
Pricing plans of Kinsta sometime seem unreasonable in comparison to its competitors, depending upon the services that it offers. It also does not offer email hosting, and a lack of phone support can also be a downside of Kinsta.
Final Thoughts
Kinsta does come with a lot of advantages as well as a few disadvantages.
While its security features are desirable, Kinsta has its downsides of lacking the provision of email hosting and support over the telephone. Kinsta offers a diverse set of plans which suit all kinds of needs a potential client may have.
It also provides a lot of exciting features and extras for every plan. The company also provides its clients with the flexibility of customizing the plans according to their needs, i.e., ones with very high requirements. The plans can also be scaled.
Kinsta is one of the mature providers of WordPress hosting services and has a reliable infrastructure based on the Google Cloud Platform to support its services.
Choose Kinsta WordPress Managed Hosting with 30-day Money Back Guarantee now and check if it adeptly serves all your site needs or not.