Domain names are very important for businesses, blogs or for any website. It should align with the overall goal of your website or something you personally like. If you are just starting a new business then you have to think of a business name that will have a related domain name also.
A domain name is a website's address and websites are known as web properties. So, if you just cannot choose any address for your real estate property, how can you choose anything you like for your web property. Sometimes a short and memorable domain is all it takes to make a business successful or unsuccessful.
Sometimes new businesses try to cut costs by purchasing a generic domain or renting a domain name. That is not something which can help you in today's time. It is important to invest in something which is the foundation of your online presence.
Importance of a good domain name
Every domain which is a website address actually translates to a set of numbers called an IP address (example, 123.234.0.4). Since remembering IP address of even one website is difficult, that is why domain names are used, to assign a unique address to every website on the Internet.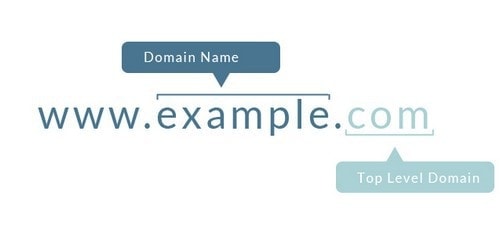 A high-value domain name is short (5 to 10 characters), descriptive and very easy to remember. If your goal is to survive in whichever field you are, the domain name can impact a lot and can increase or decrease your odds of success to a great level. A domain name matching with your business name adds credibility to the business and make the business look professional also.
Now, I know that there are hundreds of factors which contributes to a business success but a good domain name is definitely one factor which played its role in every business.
The domain name helps in building the brand also. If you have a domain name same as your business name, it reinforces your brand, making it very easier for your customers to remember your brand and return to you easily through your website. Your customers can return to your website just by entering your business name in their search bars if you have a matching domain name.
Characteristics of a good domain name are
Which can be easily remembered by anyone.
Is fluent and is not something which most people cannot even pronounce with ease.
Is not related to any other business of your space and is unique.
Is easily brandable.
Which can help visitors to identify your brand and connect with your overall business idea.
If it can be related to your business then that is very good for long-term success.
And has a very few or preferably zero Google search results.
It is not always possible to get a domain name following all of the above-mentioned points but you should try to follow as many points as you can. Some businesses have used their weird domain names as a strength but not everyone can do the same.
Now, so many domains are registered every day (as they are very cheap) and have been for the last 20 years that all the generic and predictable domain names are already registered the long time ago. And whatever domain name you choose, the probability of availability of that is also not very high. So, you will have two options then, either find a good domain name with all the required characteristics and that is available also or buy a premium one.
That is why some businesses spend hundreds and even thousands of dollars just to purchase a domain of their choice because they know that a great domain name that will work can do wonders for any brand and is something in which investment can be done with very high ROI (return on investment).
Also, there are many other ways of marketing also for both online and offline channels such as newspapers, TV ads, online ads etc. but these works only till you pay for them. As soon as you stop paying for an advertisement, it stops and if you are getting 100 customers from an advertisement, you will lose those also. But investment in a good domain name is only one time and you can leverage that for as long as you want.
Two important points of domain names
Domain name plays three very important points.
1. Domain name as a brand
If you have a business or if you working online/offline, always try to set up a domain name that can be used as a brand name also. For example, Walmart is a domain name but it is the brand name also. Similarly, Amazon is a domain name but it is the brand name also. Short, sweet and memorable.
2. Domain as a brand with keywords
If your brand is about cars and if you can choose a domain name having the keyword as well then in the long term it can benefit you a lot. Although this doesn't have much weight nowadays still, if you can do something to improve your overall brand then you should definitely do it (for example, if your business is all about hammers, then having the keyword "hammers" in the domain can help to some extent).
If you are only looking for short-term profits with your domain then having an exact match keyword domain can help also. But it is strictly not recommended for businesses and website owners having long-term goals.
The bottom line is that domain names are very important for businesses in building awareness, reputation and a customer base. A good domain can help a business a lot in the long run and if you get a domain name of your choice then don't forget to renew it on a regular basis else you can lose it and that can destroy your business, brand, and everything very easily.
Liked this post? Check out the complete series on Digital Marketing