When it comes to online businesses, product descriptions play a pivotal role in generating leads, engaging audiences, and converting customers. That is why it is inevitable to write a powerful, authentic, and convincing product description that sells.
In this post, we will be diving deep into the world of product descriptions and understand their key idiosyncrasies in selling more products.
So, without any further ado, let us start…
Introduction to Product Description
We are surrounded all over with the websites that sell hundreds and thousands of products to the people these days. Due to the advent of technology, people can now have access to pretty much every single product that they want to have.
Most of the times, people tend to spend a lot of time researching all that they can about a  certain product and all the benefits before they decide to buy the product in the first place.
Hence, the customers always want to make sure that they are making an informed and rational decision when it comes to the prices and the features of the product.
So, to make sure that people are always attracted to the products and can have all the information that they want to about an item, businesses these days are concerned about putting up some great product descriptions for their items.
Providing an appealing product description will make sure that the customers are enticed and want to have a detailed view of the product and eventually want to purchase the product as well.
But what exactly is the product description that we are talking about, and how can you create one?
Well, this is exactly what we are going to talk about in here.
Definition Of Product Description: What Does It Mean?
The product description for any item can be defined as a proper and structured format of words and visuals which help in the presentation of all the details and information regarding a particular product.
The benefits, presentation, price, as well as the purpose of the item, is mentioned in the product description.
Apart from that, there should be a very detailed description of the product as well. The special features should also be mentioned which would make the product a bit different from others in the market.
The e-commerce sites are the ones that often tend to take very special care when they are creating product descriptions for the people. Most of the people don't need to copy-paste the product description from some other sites that are present on the internet.
Now that is done because Google can find out about the post and will penalize the content as well. In case there are same product descriptions available in different websites, then the content will be termed as copied and the website that has copied the content will have to remove it or change it completely.
This is one of the main reasons why people want to create the descriptions of products which are quite simple and easy to read and have some original content in them. Another one of the most important things is that they need to be properly filled with keywords.
You need to take care of overstuffing the content which can make it look unappealing. Surely you don't want that to happen to your content. So, it is advisable that you need to go for the creation of product descriptions which have a correct level of keywords in them for SEO purposes.
Steps of writing Better Product Descriptions
Many different e-commerce sites are looking for some help when it comes to the creation of proper product description.
Hence, there is no doubt about the fact that this part of the article will be able to help them. We have some amazing tips which would help in the creation of amazing product descriptions.
#1. Define the Personas Before You Write The Descriptions
You need to know the people for whom you will be writing the product description, right? After all, you don't want the wrong kind of people to read them and then be confused.
So, creating a buyer persona is very important. If you don't even know who will be buying the product of yours, then how are you supposed to write about it in the first place?
You need to know the exact information that you should be in the description so that it can appeal to customers who are looking forward to buying something. So, that is one of the most important things to keep in mind for sure.
#2. Use Benefits and Features to Make It Look More Interesting
You need to make sure that you are always thinking about the buyer persona and what might motivate them to make the purchase.
Yes, this is one of the most important things that you need always to remember if you want to make a better and more amazing product description for your customers.
They need to know what it is that the product can do in the first place.
So the best thing to do would be to create an amazing description of the features and all the benefits that people can get from these amazing products that you have in line for them.
Make sure that you provide all the details about the features so that it can be more attractive to the customers.
#3. Reflect the Brand Message
The brand message is really important for it to be unique. We have already established the fact that the product description you are creating needs to have a unique form of content.
Well, in the case of the brand message, you need to make sure you always follow the brand tone and message so that people can know about the product that your business has in store for them.
This is a good thing, and you need to concentrate on that. Brand tone and message are really important when it comes to making the product descriptions easy to understand.
So, why don't you use this tip and then see the outcome? We are pretty sure that you will be impressed by it.
#4. Bullet Points Can Increase Scalability
When you are creating the right product description, then there is one thing that you always need to do if you want to make sure that there is always proper viewership for your descriptions. Including the bullet points can be really helpful in your case.
People always love to skim down to the points that contain the information that they need.
Who has all the time to read each and everything that is mentioned in the product description right? Well, bullet points are amazing because not only are they concise but they also provide all the information that people would want to know about the product.
Hence this is another one of the most important tips that we have in store for you. Make sure that you always follow it if you want to have the best results with your product description.
#5. Influential Words Help in Increasing Value
Do you have a product description ready and it is pretty simple to read and yet doesn't get the views that it should? Well, there must be some problem with it for sure. Did you use all the influential words that you are supposed to?
Yes, you heard it, right people. There are some influential words which must be used in the content to make it a bit more persuasive.
Words such as amazing, introducing, Now, Hurry, quickly, sensational and so much more are known as the influential words and you can use these words in the content that you are creating for your product description.
There is no doubt that the results that you will get after this will be amazing for sure. These words are known to be popular because these words tend to create an urge in the minds of people who read them.
So, if you are using these words in the product description, then there is a chance that you will get more customers for your products.
#6. Optimization For Search Engines
When it comes to the product description, you need to know that SEO is also another one of the most important things for sure. With the help of SEO, you can make sure that your ecommerce website is on the top of the search engine results.
So, that is one of the main reasons why people tend to use the keywords in the product description. Google algorithms are very important for ecommerce websites. This is because Google helps in deciding whether the site would remain on the top or the bottom of the search engine results.
Hence, keeping the content filled with keywords is important. Same is the case with product descriptions as well. If you want more customers and better traffic for your store, then you need to make sure that your website is at the top.
Hence, giving importance to SEO is necessary.
Words that you should include in Product Description
There are a few keywords that can help you in convincing your readers in a captivating and conversion-oriented fashion. Some of those are-
Suddenly
Sensational
Revolutionary
Announcing
Magic
Quick
Now
Hurry
Miracle
Introducing
Amazing and so on
Words that should not be used in a Product Description
Some of the words that should not b part of your product description are-
Market-leading
Stunning
Ultimate
Breakthrough
Innovative and so forth
Let us now understand the concept with some of the examples of the product description-
Product Description Example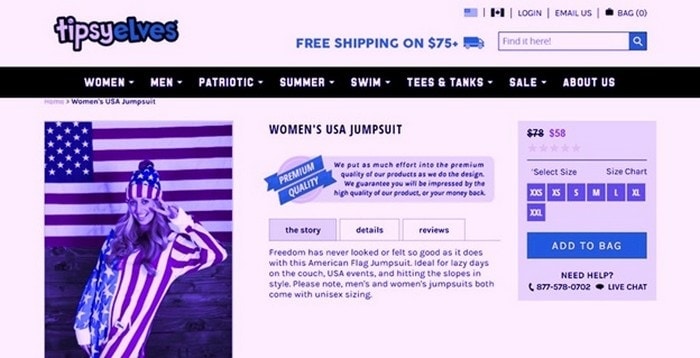 You can see in the image above; the product description is adeptly talking about the key benefits of the product.
Two sentence description of Jumpsuit is informative, interesting, sweet, and short. The description is also saying that product is the right fit for the events and lazy days on the couch in the USA. However, bullets are not used in this description, and it is not scannable.
Let us have a look upon another example that is scannable-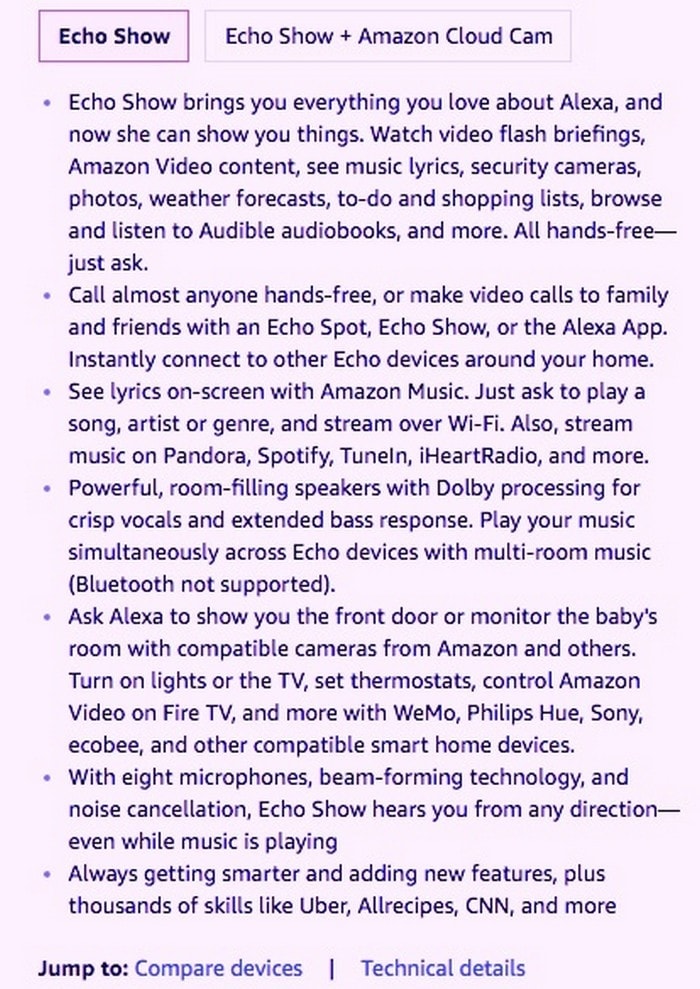 This product description is good in creativity and provides complete details of the product. It also has bullet points that make is scannable.
In Conclusion…
So, that is all you need to know about product descriptions and creating one.
We hope that these tips are helpful to you when it comes to the creating of amazing product descriptions for your online store.
What do you consider the most important feature of a convincing product description? Tell us in the comments below.
Liked this post? Check out the complete series on Digital Marketing