Do you want to know how to start a blog? Willing to pen down your thought or earn a handsome income by building this digital asset? It's fairly simple task.
Starting a blog isn't sophisticated at all. Here's your step-by-step guide on "how to create a blog" without any technical skills.
There are plenty of reasons to start your blog. Some of them are mentioned below:
Express your thoughts
Passive Income
Influencer
Fame
Engage with new people
Place yourself as an expert
Free kinds of stuff for review
Or any other reasons, apart from the ones mentioned above.
But, if you are a newbie and want to know more about blogs, then you have first to understand what a blog is.
What is a blog? 
A blog is a shortened word of "weblog," which can be categorized as a digital magazine, teaching hub, latest news, informative post, place of learning, and anything that you can share with your writing.
Blog readers can communicate with the author using leaving a comment on the blog post or emailing the author.
Within the next few minutes, you'll be able to start blogging on your own.
How to start a Blog in 7 easy steps? | How To Start A Blog?
Follow these simple steps to start a blog within minutes:
Step 1: Select a niche for your blog
Step 2: Pick a domain name & hosting
Step 3: Make a choice of the blogging platform
Step 4: Get the best theme according to your niche
Step 5: Write your first post
Step 6: Promote your blog
Step 7: Make money from a blog
Let's kick off your blog!
Step 1: Select a niche for the Blog
In the beginning, don't opt for a vast topic, instead, go for a niche for which you are passionate about.
A niche is not just a topic, but it's an approach towards your audience to whom you're going to provide value. It's up to you whether you'll select a niche or not, but the intention to choose a niche is that it keeps your focus on a particular area.
If you're writing for everyone, then you end up writing to no one. You've to understand that you can't to everyone, instead, figure out the audience who will show interest in your niche.
And, if you're not sure about the niche, below are some of the topics you can start with:
Life Experiences: Everyone has a story based on his or her life struggle. You can share the life experiences that can be of help to others who are dealing with the same phase of life. For example, I once helped my friend to start his blog about being the child of a soldier. He goes through a lot of different experiences, but know how proud to be a soldier's child. Now, you can think about your life experiences, and it can be relatable to your family, your work life, your entrepreneur's journey, or any other which can help others.
Travel: Sharing knowledge about the places that you have travelled all around the world. Help people to explore places, and the best food or most exciting part of visiting at that particular place. You can also make videos and images so that other people will get to know how actual the site looks like.
Health & Fitness: One of the essential parts of everyone's life is their health and fitness. You can help your audience by providing tips for being healthy. Tell the people how vital fitness in today's world.
Or any other depending on your passion or personal interest. More examples are Technology, Motivation, Photography, Wedding, News, Finance, Event Management, Review site, Dieting, Sports, Beauty, Online learning courses, Personal blog, etc.
Once you have selected your niche, it's time to go for your blog name.
Step 2: Pick a domain name & hosting
Getting a problem in choosing a domain name?
Firstly, look at your niche and uncover what your niche is all about as your domain name is the first thing that the audience will see in the search results. And, people often judge your blog by your domain name, which tells them what you're writing about, what values you're providing and many other things relating to you.
Picking up a web hosting
Always prefer .com domain unless you're specifically targeting a specific country. Other two things that you should keep in mind while picking a domain name are:
Your domain name should be easy to remember.
Your domain name should not confuse your audience.
Now, it's time to choose the best hosting platform for your blog. Web hosting is a server that stores your blog posts, images, videos, and everything related to your blog.
There are plenty of hosting service providers, but Bluehost is idle on amongst all the others for your blog. With Bluehost, you'll get:
Free SSL Certificate
Unlimited storage
A free domain name for 1st year
Live chat support
30-day money-back guarantee
Uptime of a web server is the most important thing that you have to take care of while choosing a web hosting service. Bluehost has an average of 99.99% of uptime, which makes it the best hosting service provider in the market.
With Bluehost, you'll be able to integrate many other apps and install a content management system like Drupal, Joomla, and more. It also allows access to the Content Delivery Network (CDN), which hosts your large files. Through CDN, your website will load quickly all around the world.
As a beginner, you might not like the service of migration provided by Bluehost. It's not because of their service is slow or any downtime, but the cost that matters. The one-time fee for website migration is $149.99 that includes up to five websites, 20 email accounts, and databases used in those websites.
Get started with the Bluehost.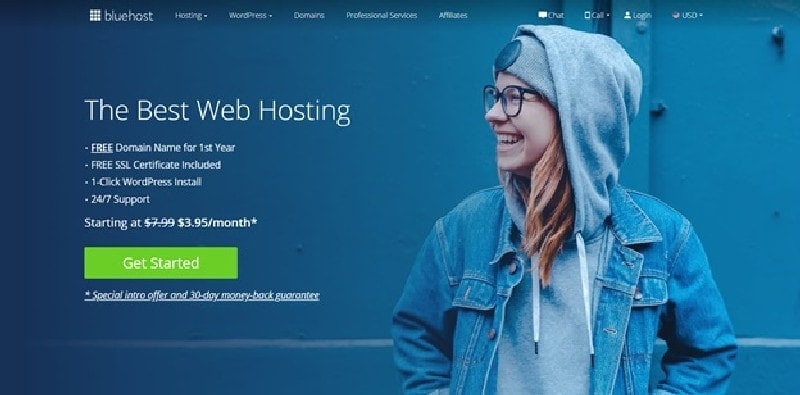 Choose your plan
If you are a newbie, then you can select the basic plan, but I recommend the Choice Plus plan because it comes with all the features that a blogger needs. Choice Plus differ basic plan by providing "Domain Privacy & Protection," which protects your personal information from the outside world.
You can select the Bluehost plan by clicking the green button of one of the plans.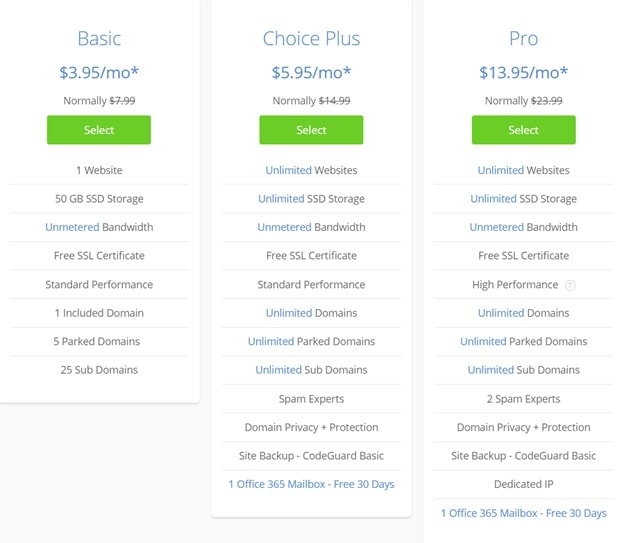 Create your domain name
After selecting a hosting plan, you have to create your domain name. You can use a domain if you have already owned it.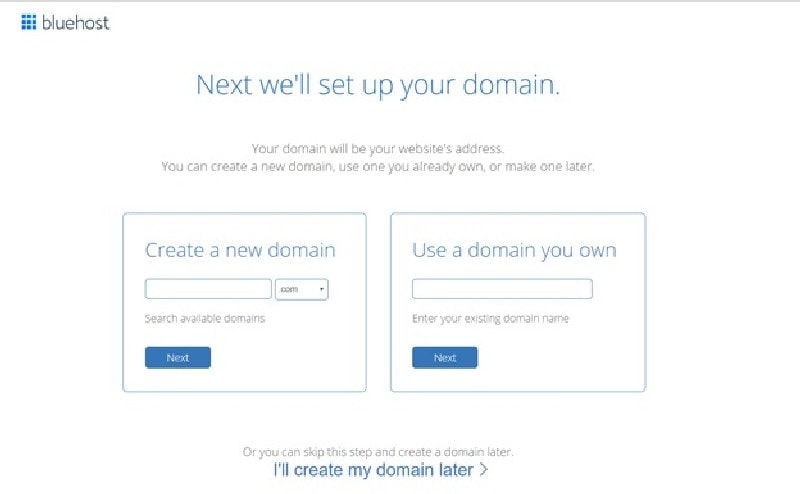 If you are still confused about your domain name or the domain name of your choice isn't available, then you can skip this part and select "I'll create my domain later."
The last step is the signup process.
Create your Bluehost account
Start filling your information like your name, address, country, phone number, and up-to-date email address as all the login details will be sent over to the mail. You can also connect the Bluehost account with your Google account for Sign up. Either of them works!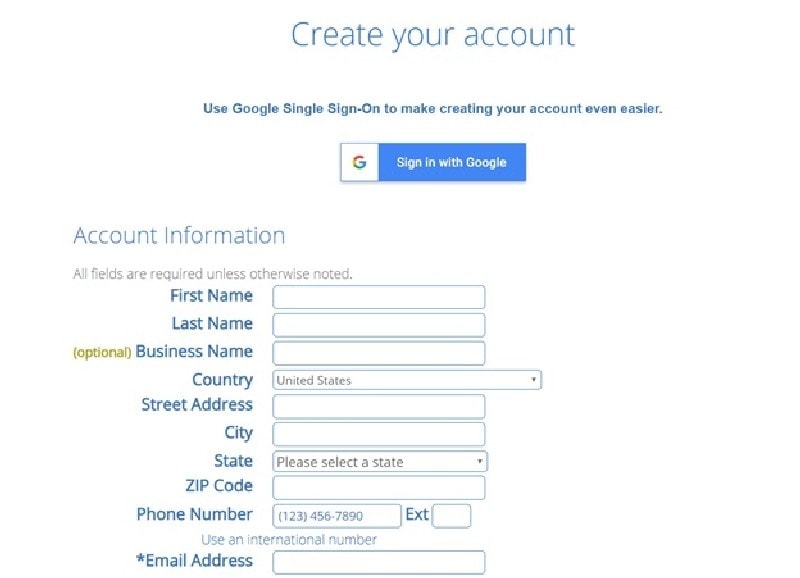 Select the best package according to your budget.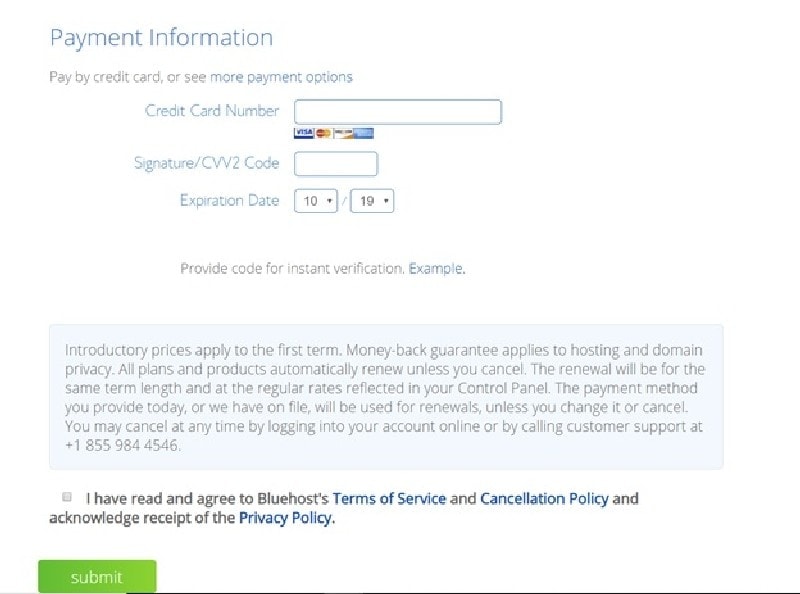 You've completed the steps of creating a Bluehost account. Now, you have a domain name and web hosting.
Alternatives to Web hosting platforms
Bluehost is the first choice for most of the bloggers. But, there are other hosting platforms that are used by other bloggers.
Siteground
Siteground hostings are well-known for their fast and reliable hosting service, and customer support is one of the best in the industry. They offer a free SSL certificate, but the storage is limited. Although, the storage is quite enough for a blogger. Their hosting plans include SSD storage, Free SSL certificate, one-click WordPress install, Cloudflare CDN, and free migration.
Cloudways
Cloudways offers you to scale up your server anytime, so you don't have to worry about the storage. It also gives you the option to choose the hosting options from the top-level 5 cloud hosting services. Cloudways is extremely easy to use, but there are some technical parameters that you have to understand.
Their supporting staff is technically sound, so you can take help from them as their support system is available 24*7.
Step 3: Choose a blogging platform
There are a lot of blogging platforms available in the market, and people have distinctive opinions about all of them.
WordPress is one of the most adopted CMS in the world by the bloggers and the marketing agency. There are more than 100 million active users of WordPress.
Let's look at some of the basics so that you'll understand why WordPress is the perfect platform for your blog.
What is CMS?
A Content Management System (CMS) is a set of software applications, where you'll be able to design, write, and publish your content online. It also helps you to organize your content, upload images, videos, and GIFs, and use other custom design elements.
WordPress is the most popular CMS, and you'll be surprised that around 60% of blogs run on this CMS. Websites like Forbes, NBC, TechCrunch, BBC America, The New York Times, Sony Music, Mercedes-Benz, and many others, also used WordPress.
Should I start with WordPress? Is WordPress Free?
WordPress is an open-source platform, which can be used by anyone. It allows you to customize the website according to your needs without any restrictions.
You don't have to worry at all as you can create a blog, a small business website, an e-commerce platform, a marketplace, a membership website, sell online courses, and many others. There is a high probability that you'll get a plugin for your concerned website without any difficulty.
Unlike many other website builder platforms, WordPress doesn't come up with a built-in drag-and-drop editor. However, you can use the page builder plugins for doing the same. You can increase security, make backups, and install updates for your website.
I recommend the WordPress site to start with your blog. As it's the most flexible, reliable, and provide countless plugins and add-ons to give your blog a professional look.
But, there's one thing that you have to watch out for. Don't confuse yourself as WordPress comes in two different platforms, that are WoredPress.com and WordPress.org. There's a huge difference between the two:
WordPress.com:
Limited theme support
No Plugins provided
Limited Monetization
Pay to remove ads
Finite SEO support
Built-in stats for analytics
Cannot create an online store
Site maintenance is done by the staff
WordPress.org:
Full theme support
Countless plugins
Complete Monetization
No ads
All SEO features
Third-party analytics for accurate analytics
Create a complete e-commerce store
Maintenance has to be done by own
Since I started my career in the world of blogging, I've been using WordPress.org for my blogs, which are hosted on Bluehost.
Alternatives to Web hosting platforms | How To Start A Blog?
Personally, I use WordPress most of the time, but there are also other website builder platforms which may you like.
Wix
Wix offers hundreds of customized templates, a simple drag-and-drop editor, and access to various customizable products on the Wix app market. You can create a new website without any technical skills. To grow your business, Wix helps you by providing SEO features, an e-commerce platform, and a newsletter builder.
One of the failing elements of using Wix is it's limiting the templates' design, as you'll be unable to edit HTML and CSS. Although Wix offers a blank canvas to create your website from scratch, this is not an ideal option if you are a beginner.
If you want to create a different mobile website, then Wix should be your first choice. As, Wix lets you customize a mobile website without affecting the desktop version, with the help of a mobile editor.
Squarespace
Squarespace offers 100+ templates that are mobile and tablet-optimized. The designs of the templates are modern and eye-catching. A significant advantage over Wix is that you can switch between templates without losing any content.
For Bloggers, it can be a piece of gem, as they provide commenting feature, the capability to schedule the post and host a podcast also.
Unlike Wix, you can add HTML code using the developer platform. With the developer platform, you can also edit the source code of the template.
Sitebuilder
Sitebuilder is a self-hosted website builder used by freelancers and individuals. They also offer professionals to develop your site. Means, you can hire professionals from their website, and allow them to build your site.
However, you'll get all the features, but SEO tools are only available with Premium plans. So, you have to spend a few bucks if you want to make an SEO friendly website.
Sitebuilder offers a 14-day money-back guarantee which allows you to use their platform, and if you like it, you can opt for the same. Also, their customer support is available 24/7, and their staff are very professional.
Step 4: Choose the WordPress theme
As a beginner, don't buy a premium WordPress theme. Instead, use a free website theme available for your niche, until you build a good audience.
WordPress has hundreds of free themes for your blog. To choose a theme, follow the step as Appearance > Themes > Add New Theme.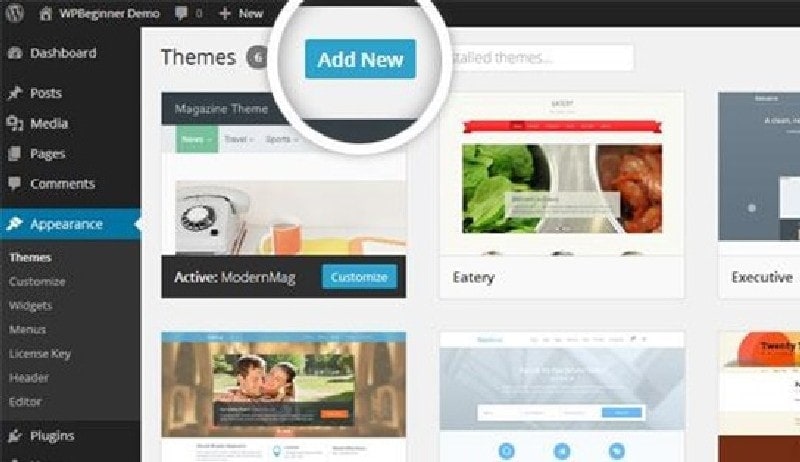 Don't spend too much time in selecting the theme, as you can come back to change it anytime later.
Design is not just about how it looks like, but it also depends on how it works. That's why I recommend looking at some of the things before going for a particular theme.
Simple: The central part of starting a blog is to share your knowledge and experience. Hence, your blog should easily be readable. Don't go for some fancy theme, unless your niche allowed to do. Keep it simple!
Supported browsers: Some of the themes don't run on every browser. And, your reader doesn't always come from a single browser. So, you have to check if the theme you are opting for is supporting every browser or not.
Supported Plugins: Plugins are a piece of a gem that gives you the extra functionality within your blog. If your theme doesn't support all the popular plugins, then it may be frustrating for you at the end of the day.
SEO Friendly: Search Engine Optimization (or SEO), is an integral part when it comes to organic reach of your blog. Some themes use dense codes, which makes it challenging to rank in search.
Responsiveness: Your website should look great on a laptop as well as on mobile. In today's world, people surf more from mobile devices as compared to a desktop. And, if your website isn't mobile-friendly, then there's a chance that you'll lose your audience.
After choosing the theme, you should set up your website by adding pages like About, Contact, Privacy Policy and any other depending upon your blog.
In about page, introduce yourself as who you are, and what's your experience in that particular stuff. If someone wants to reach out to you, then that way should be mentioned in the contact page. The contact page can have your email, or your social media accounts link.
If you're running an affiliate program then you've to mention your privacy policy, or else you can make a disclaimer containing all the relevant information.
Here are some of the best themes you can opt for:
GeneratePress
GeneratePress is the generalized and multi-purpose theme, which can be used for any website irrespective of your niche. This theme is also favored by professionals and experts.
GeneratePress is a free theme, but it also has its premium version. You don't have to worry as the free version gives you all the features that you need as a beginner. However, the premium version gives more functionality, which may be useful when you generate a good amount of readers to your website.
It allows an optimized performance with fast page load timing. You'll get a lot of customization options and control over each piece of content.
Astra
Astra is super lightweight, and the loading time is less than half a second as per their developer. It distinguishes from other themes as it integrates with popular page builders like Elementor, Divi Builder, Gutenberg, and many more.
One of the things that have been loved by many bloggers is that you can modify a theme's design entirely according to your needs. Even, you'll discover pre-build designs for blogs, online shops, portfolios, and more.
Astra is a free theme, but they also offer their pro version with $59 per year. As a beginner, you can go for a free version, but after some time, you'll end up using their pro version.
Step 5: Write your first post
Fun time begins from here!
The first step is to tell the people about you as the one who is reading out there wants to know you from a deeper level to understand your thoughts. You can tell them about your life experiences, your profession, and other things you consider.
The central part is to tell people, "Why are you blogging?" as if people don't know why you're doing blogging, then they have no reason to trust you.
Stay focused on a particular topic, and this will increase your authority in the blogging world. And, it will make an impact on your audience as an expert for that specific niche. Always provide value to your audience, irrespective of whether you're going to earn from it or not.
From the first post onwards, you've to involve your readers.
Encourage them to have views on your post by posting comments.
Allow them to post their thoughts as a guest.
Let them know about how can they reach out to you.
Make sure to encourage disagreements also.
Welcome, everyone's feedback.
Don't hesitate to share your goals with your readers. You can tell them about:
What are you looking to achieve?
How many days or months will it take to reach that goal?
What's your expectation for the next 3-6 months with the blog?
If your audience trusts you, then they will help you directly or indirectly to achieve your goals.
Here are a few tips which you can consider while writing your first blog post:
There's only a single person who is reading your content at that particular time. So, whenever you are writing your blog, write it as there's a person sitting next to you. Use words like "I" and "You."
Try to include every detail regarding your topic, and don't worry about the words count. Even more words, the better the chances to rank in the search results. At least, write 1000+ words in each blog post.
Always take screenshots whatever you're proposing to the readers. Do not use the images from Google. The reason behind this is that the readers will trust you as you've firstly applied yourself, then providing the values to them.
You've to try to visualize your readers, and to do so; you have to use images and videos as much as possible. You can use YouTube to embed videos in your post.
You're ready to start with your first blog post. Now, we will see "how to write and publish posts on WordPress?"
Go to the left menu bar and click on "Posts," then "Add new."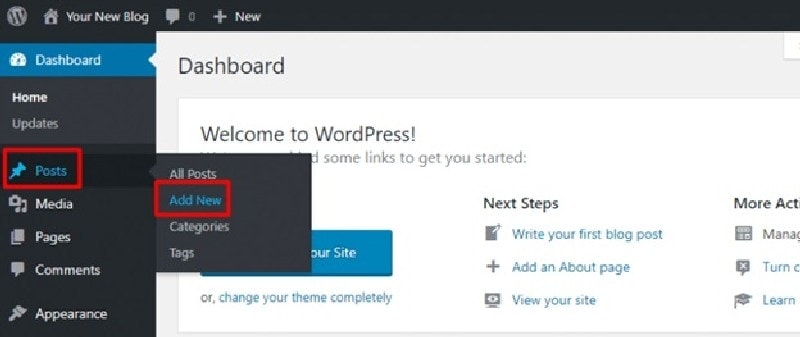 Next, you'll be on the post editor screen. Enter the title of your post and start writing your first blog post.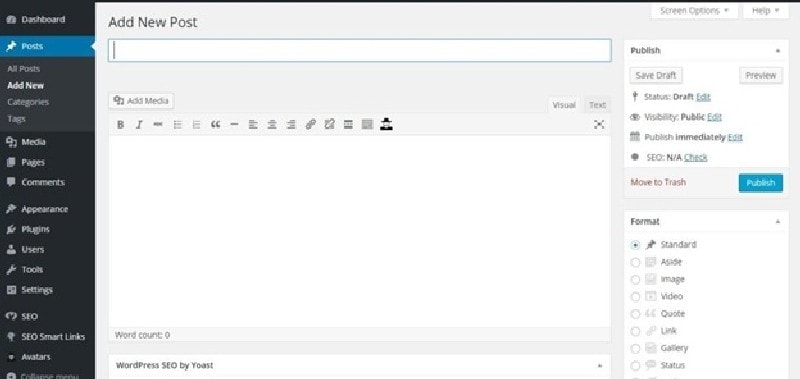 You can also add an image to your post by selecting the "Featured Image."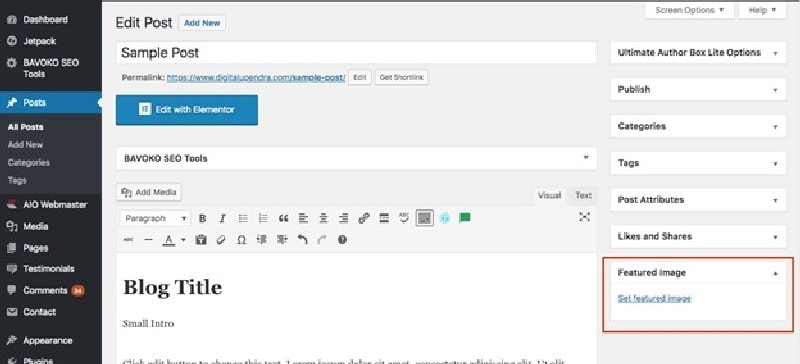 And, the last step is to publish your blog post. If you're not sure to publish your post, then you can also save it by clicking "Save Draft." Before publishing, you can also see a preview of your post.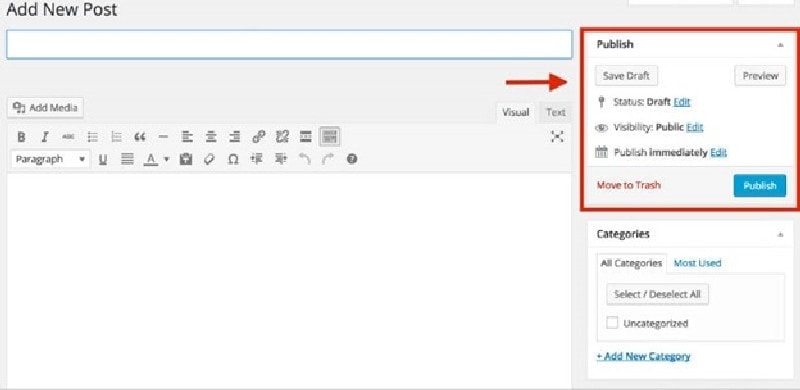 Congratulations! You've now learned how to write a post and publish it.
After publishing your blog post, you're ready to generate traffic and make money through blogging.
Step 6: Promote your blog
You've successfully learned how to start a blog, but "How to drive traffic to your blogging site?"
If you are writing great content, but unable to generate traffic to that blog, then the hard work of yours got in vain. If you want to build a successful blog, you should know how to promote it.
In fact, you should spend more time on promotion as compared to content writing.
Here are some of the mediums through which you can promote your posts:
Use Social Media
The best place to promote your content is social media. There are several biggest networks like Facebook, Twitter, LinkedIn, Instagram, Pinterest, Reddit, Snapchat, YouTube and many others. You don't have to promote on all social media platforms. Instead, select the platform that suits your niche and audience interests.
Different platforms can be used for different types of content:
Facebook: Videos and visual content
Twitter: News and blog posts
Instagram: Quotes and stories
Pinterest: Infographics
LinkedIn: Professional content and career advice
Guest posts on websites like Medium, Quora, and others
One thing you have to take note is: Bloggers always help each other in their own way. And, guest post on different blogging sites helps to connect with an audience that has already been established.
As a beginner, you can opt for Medium – a free platform used by readers and writers all over the world. They also offer "Medium Publication," in which you can submit the post of your niche.
One of the strategies can be considered via Quora – a question and answer website that lets anyone solve any other person query. You can search questions indicating your niche, and provide them value with your experience. And, turn them to end up reading your full blog on your website.
Be active in the forums and online communities
Rather than randomly putting content on social media, it's better to target forums and online communities according to your niche. You'll observe a better return if you find the right group of people.
Solve people's problems by providing them with values for free. Assure them that you're an expert in your niche. And, it will increase your following, which ultimately helps your blog to grow.
Use Newsletter
An email newsletter is still one of the most powerful ways to keep your audience excited and engaged with your blog posts. A newsletter should be set up as soon as you set up your post or a blog.
This method allows you to communicate with your readers on a more personal level. You can manage the email list by various service providers like AWeber, MailChimp, and others.
There are many other ways through which you can promote your blog. It's just a matter of trial and error. Try different platforms and ways to promote it, and record the performance based on the growth.
You're just a step away to start making money by your blog.
Step 7: Monetize your blog
One thing, I would like to mention before the start of the last step is that monetization shouldn't be your first priority. Instead, you should first provide values to the readers and build a relationship with them.
Here, I am mentioning some of the ways to generate money from the blog:
1. Affiliate Programs
Affiliate marketing is a great way to start a passive income every month. I earn a good amount of money from affiliate marketing.
Here's how it works: You get a unique link (or URL) from your affiliate partner. Now, you can use this link within your blogs, send it to your personalized email subscribers, or anywhere you can reach out to your readers. When someone completes a purchase through that link, then you earn a commission on that purchase.
In simpler words, you're getting a commission for referring customers to use a product or a service of your affiliate partner.
Many big platforms offer affiliate programs like Amazon, Walmart, Bluehost, and many others. You can even build an audience and approach small companies, or startups to provide you with compensating for bringing new people to their platform.
2. Online Courses
If you are good at some skills, and others want to learn those skills. Then, it's comparatively easy to make an online course of your skills as a tutorial, strategies, and tactics. And, give your audience access to that course on a subscription basis.
Discover the biggest challenges of your readers and solve them with your skills, knowledge, and experience. If you're able to do so, then afterwards, you'll be able to end up them on pre-ordering your course.
3. Sponsored Content
When a company or an individual wants to promote their product or service in front of your audience, then they pay you a fee for doing the same. Sponsored content seems to be the easiest way to earn, but the company will only approach you if you have a broad audience.
Once, you have a good number of readers; you'll get sponsor content without any difficulty. Almost all the brands around the world provide sponsor content via different platforms to promote their content.
There some other ways like:
Freelancing
Joining Ad Networks
Webinars
E-commerce (Sell physical goods)
And many others.
Different ways to earn money depends on the size of your audience. You can opt for different ways to earn according to the size of your readers. I would recommend you to implement them one by one.
Final Verdict
You have to give people a reason to read your content. Write valuable content, connect with the right audience, and share your knowledge and experience with full transparency.
Now, you're ready to join thousands of bloggers and make an impact to the readers.
Liked this post? Check out these detailed articles on
Topic of Blogging
Alternatively, check out the Marketing91 Academy, which provides you access to 10+ marketing courses and 100s of Case studies.