The domain name is one of the important aspects when starting a new website or blog. Finding the right domain name may not be as easy as it seems.
You may have thought of an interesting domain name that is rich enough in a keyword and quite catchy and sure to get a good response. Suddenly, you find that the domain name is gone or become a premium one that sells at an expensive price tag.
How would you find the right domain name and opt for a few domain name suggestion tools? We present you with a few excellent options that would be helpful enough.
Table of Contents
How to Search a Domain Name?
Make use of keywords
Modify the Domain if it is taken
Stay Unique with your Domain name
Add your location
Pay Attention to Search Phrases
Opt for a Domain name Suggestion Tool
Best Domain Name Suggestion Tools

DomainsBot
Panabee
Namestation
NameTumbler
Lean Domain Search
Nameboy

The Concluding Thoughts
How to Search a Domain Name?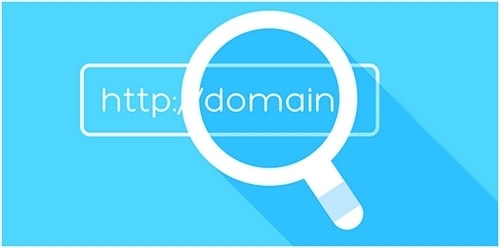 Well, the .com domain name has always been one of the best selling domain name extension. It has been the most popular extension for a domain name and stood behind the success of a host of enterprises and corporates.
However, what would you do in finding the best domain name for your new website or a blog? We know you are a newbie and looking for the best possible suggestions in finalizing the best domain name ever. The following tips should ideally help you search for a perfect domain name.
Make use of keywords
Keywords play a major role in search ranking and driving traffic. If you are looking for a new blog that performs well, incorporating the right keyword in your domain name would be equally important.
Modify the Domain if it is taken
Researches have proved that users tend to click on a domain name that is rich enough in terms of keywords. Yes, trends suggest that people would click on a domain name that has at least one of their search terms.
But yes, ensure that you use the right kind of keyword that is relevant to the niche and content of your blog.
Has the domain name that you have been looking for is already taken or turned premium? No worries, you can slightly modify the domain name to suit your needs.
How about opting for a reference to your business and slightly modify the domain name? However, make sure that you are not choosing one of the domain names that has been popular enough. You may end up confusing your dedicated client base.
Stay Unique with your Domain name
Just the way you create content that is unique and ensures it gets better traffic by using the right sort of keywords, it would be imperative to stay unique to your domain name as well.
While you search a domain name, try to stay unique in your own right. There are plenty of examples of this unique place that has created a few unique domain names that have become a brand name.
Facebook, Twitter, and Tumblr are a few good examples of how a unique domain name brings better traffic and gives a new identity to your brand.
Add your location
Your business may be catering to a local audience. In such a scenario, it may be practical to add the location information to your domain name. This can help you become locally relevant.
One of the prime examples we came across includes http://www.ncrsystemsolution.com. The service center is located in the NCR region of the Indian capital and rightly makes use of the location information in their domain name. This helps when people are looking for local searches.
Pay Attention to Search Phrases
Give a thought to what your potential visitors are searching for when they conduct their search in Google. You can check out the search words or phrases people use and include them in your domain name.
Ensuring that your domain name consists of the local search phrases can dramatically improve your visibility and search engine ranking. Think of the words and phrases the users are likely to include in their search queries.
Opt for a Domain name Suggestion Tool
If you are not able to find a good domain name and lost for choice, the domain name suggestion tools can be an excellent option. Many domain name suggestion tools can be quite helpful and suggest you a few good options based on your criteria.
Most of the domain name registrars offer the services of domain name suggestion tools within their interface. There are several options available in this sphere. And that essentially brings us to the next part of this post.
Best Domain Name Suggestion Tools
Now that we explained what a domain name suggestion tool is capable of, we would not go into the details once again. Instead, we would check out a few good domain name suggestion tools right away.
DomainsBot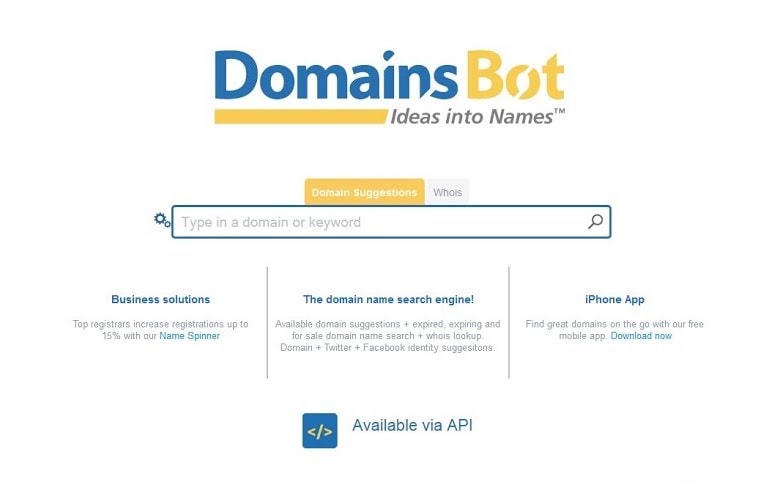 DomainsBot is ideally a unique tool in every respect for finding the right domain names. It offers you a host of search options so that you would end up with a few excellent domain names. A wide range of criteria would translate into thousands of names.
You can search for a domain name based on an existing domain name or check out the options available based on the keywords.
Once your initial domain name suggestions are available, you can further refine your search by looking for specific extensions, synonyms, and other options. The tool also shows you the expired domains that fall within the search criteria.
Panabee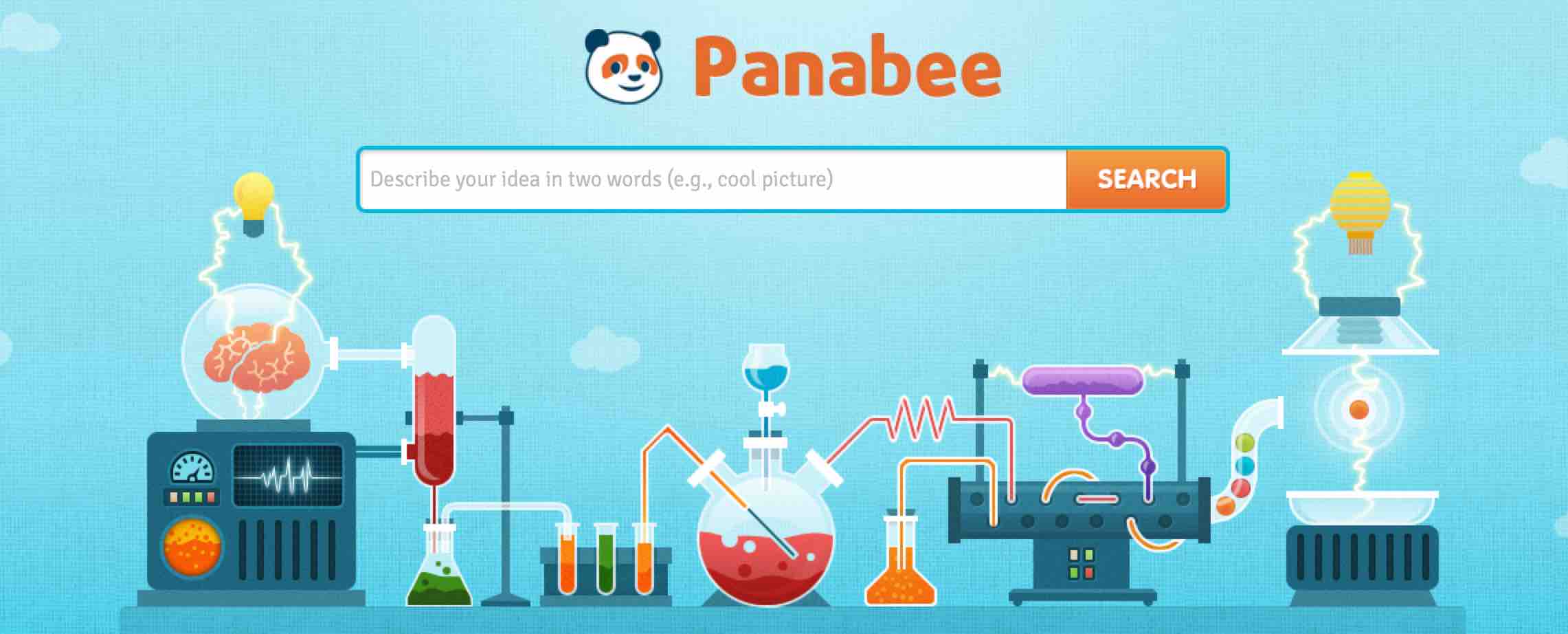 Just enter your keywords and get an enormous list of domain name suggestions. You will have access to a wide range of suggestions with multiple permutations and combinations of your keywords.
There are additional sections within the Panabee which offer you a rich repository of related keywords based domains. The service also offers you a price comparison of different domain names.
Apart from letting you choose from the different varieties and combinations of domain names based on your keywords, you would also have access to a good deal of social media names.
Namestation

Namestation is one of the excellent tools if you are searching for a domain name. It has been considered to be a great tool in comparison to most of the options available at your disposal.
Just enter the niche or the type of websites you would want to search domain name for along with the required keywords, and you are good to go. The tool will handle the rest of the tasks on its own.
The tool also comes with an option wherein you can search for a domain name that is currently available. This would probably be one of the best options to help you ease yourself of unnecessarily checking the names that have already been taken.
NameTumbler
If you have a large list of keywords that you want to search the domain name for, NameTumbler should be an excellent option for your requirements. You can enter a series of multiple keywords.
The domain name suggestion tool would help you find the multiple keywords, and topics so that you can make a perfect choice of the domain name.
You can specifically look for the best domain names with the top-level extensions like .com, .net, or .biz. The list of the potential domain names provided by the tool would offer you an excellent choice.
Lean Domain Search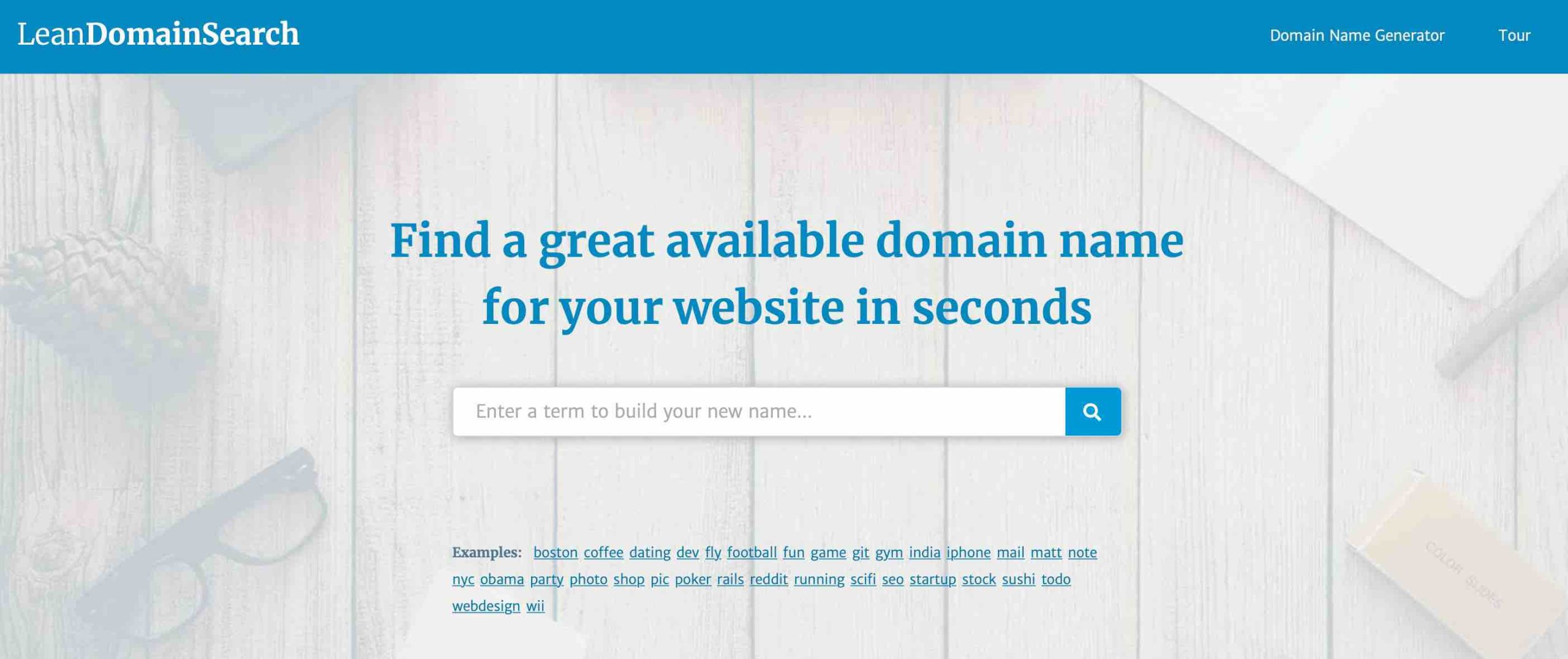 If you are looking for shorter domain names, the Lean Domain Search should be your perfect option. The domain name suggestion tool comes with an effective keyword tool and a domain name generator.
Enter your preferred keyword into the tool, and you will get a massive list of domain names that come with multiple keyword combinations. You will also find the modifiers attached to the keyword if you are using a popular keyword.
The number of search results provided would make the tool a great option in every right. A single keyword will provide you with hundreds of domain name options.
Nameboy

Nameboy is yet another domain name generator that would help you combine two keywords. In addition to suggesting you multiple domain names involving your keywords, the tool also lets you know the availability status of the domain names. So, if you find a domain name that is already taken, you can opt for the variations.
The domain name suggestions will be offered with the extensions .com, .net. .org, and .info. One of the best parts that we liked with the tool would include the simplicity and shortness of the suggested domain names.
So you do not need to remember extremely longer domain names.
The Concluding Thoughts
That was all about how to choose a domain name wisely enough. Do note that we have focussed on the beginners in the blogging arena and their exact needs.
Instead of complicating their learning process, we have kept the discussion at a simpler level so that they would not be overwhelmed with information overdose.
Keep one thing in mind – choosing a domain name is not something you would be expected to do in a hurry. Put your creative side to a perfect test and arrive at the best domain name for your new blog.
Of course, the domain name suggestion tools outlined here should help you in this venture to a greater extent.
Liked this post? Check out these detailed articles on
Topic of Blogging
Alternatively, check out the Marketing91 Academy, which provides you access to 10+ marketing courses and 100s of Case studies.