Having an impactful visual appeal is very important to engage the audiences. Still, many marketers and SEOers do not know how to optimize images in the right way.
Images are highly important in deciding the overall SEO performance of your webpage.
They require similar attention you pay towards the SEO of the entire content on your webpage. In this article, we will know about image optimization in depth.
Knowing how to optimize images for SEO will help you in many ways. Let us have a brief look upon some of the key benefits of SEO optimized images-
Optimize Images for SEO | Key Benefits
Offer best User Experience
Quicker Page Loading
Make your recognizable and finable to search engines
Better Ranking Opportunities in SERPs and Image Search Results
Despite offering such amazing benefits, there are search marketers that are often blank about image optimization. For them creating a compelling and quality alt tag is enough to get the best SEO from the image, but there's a lot more.
Let us understand all the factors that work together in image optimization for SEO –
10 Steps to Optimize Images for SEO
#1 SEO Friendly Alt Tags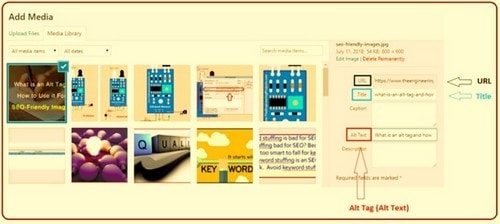 Alt tags describe your images. Plus, it is one of the most prescribed on-page SEO practices that can help your site gain better Search Engine Rankings.
Alt description is an HTML attribute for images that offer text alternative so that Google can recognize that image. So, Google receives the key information about your image through Alt tags.
It should be short and précised. Irrelevant keyword stuffing should be avoided entirely. There are many more factors of good alt description; you should keep them in mind while creating your alt description for the image.
Key practices that Alt tags should have…
Having less character count is considered good as preferred screen readers cut off Alternative text approximately at 125 characters
Image description should be as specific as possible, as they explain images to Search Engines that cannot understand the meaning of the image without Alt tags
Inclusion of focus keyword is important here, as this will let search engines consider your page more relevant to a particular search query associated with your focus keyword
Never opt for keyword stuffing in your Alt tags
Search Engines do not read text used in your images, so you should not use your image as text
Alt alternative should never start with 'image of' or 'picture of,' as alt text is by default used for images
For the longer descriptions of complex images in Alt tags, you should use longdesc= ""
#2 Name of your Image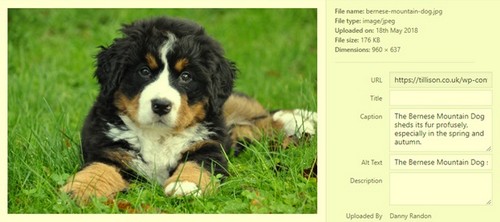 Name of your image plays a major role in deciding the SEO performance of your webpage.
Make sure that the name of your image clearly describes the image. It should not look irrelevant and discrete to the actual image. If your image is about "cars," name it accordingly that Google recognizes your image as a car.
It is important for you to help Google understand your images in the best possible manner possible.
Being descriptive is important here, but you should never stuff keywords in that.
#3 Focus on File Type
Yes, the file type of your image matters in deciding the SEO performance of your webpage.
The images on the web are mostly found in.JPEG.PNG and.GIF format. The point that draws our attention is that their compression is also different as their extension.
The page loading time matters a lot in deciding the SEO performance of your webpage. Size and the file type of your image is a crucial factor in deciding the page loading time; hence, you must pay attention to that as well.
As per the set rules; photographs should be in JPEG format, moving images should be in GIF format whereas drawings and texts should be in PNG format. You can adjust the size accordingly.
Use photo editing tools; from there, you can extract the images in the desired format. Let us now see how you can optimize different image file types-
Optimizing JPEG Images
The JPEG format is useful at the time when an image is compressed or resized, and you want to ensure good quality in your image.
With JPEG format, you will be able to display a high-resolution image of many colors, patterns or shadows, etc.
With JPEG, you can get quality images in small file sizes. Sometimes quality suffers because of your setting. It also does not support a transparent background.
Optimizing PNG Images
If you are downloading or editing files from Adobe, then this one is one of the most preferred files.
It can handle transparency.
For logo images, it is preferably suggested.
Optimizing GIF Images
It is a bitmap image format that is preferred for animations and arts.
GIF images are also quite useful for company logos and some of the page elements. But, it is not advised for photographs or images used in the posts.
#4 Never miss out Dimensions
The maximum width of your blog content is 720px; hence, images are never displayed any wider than that. Now you should keep this in mind while uploading the image on your website.
The higher resolution of the image is equal to the larger size, and this reflects in the page loading time.
We suggest you edit your image accordingly and make their resolution smaller than 720px so that it doesn't cause any detrimental effect in your webpage's SEO performance.
Big sized images are one of the key reasons behind the slow page loading speed.
You can use tools like Smart Resize for compressing the size of your image.
#5 Know the Optimal Image File Size for SEO
To optimize Images for SEO, it is very important to know the optimal image file size for your site. This way, you will be having the image of good quality without slowing down the site speed.
Compressing image size might not sound convincing to you but believe me, it will boost up your webpage's SEO by a great margin. Most of the time, there is hardly any noticeable difference in the two images, which are 50% larger/smaller to each other.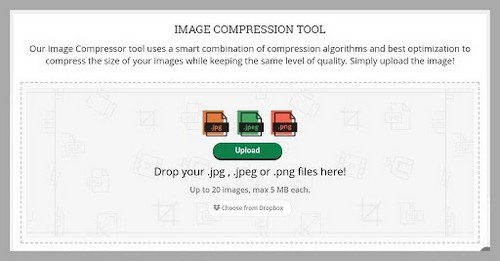 If you upload a big sized image, it will slow up the page loading speed, which is never a good sign for your webpage's SEO.
There are many tools available on the internet from where you can adjust the size of your image and then upload it onto your website. Adobe Photoshop offers 'Save for Web' feature that will compress or resize your image as per the specific requirements of your site.
PicMonkey, Pixlr, etc. are some other tools that you can use to resize and optimize images for SEO.
#6 Know when to use Vector Graphics
These days, vector graphics are widely used by many websites for their logos and other similar elements. Vector Graphics uses Points, polygons, and lines for image representation, so they are best fit for images that have different geometric shapes.
Scalable Vector Graphics are widely popular among users, and these vector graphics are based on XML hence browser these days are compatible with them.
They are quite good for icons, logos, text, etc.
Use these vector graphics as they are insanely small in size, and they serve the purpose extremely well. You can expect a good SEO performance from your website if you are using them.
They are known for offering sharp images that can be used with all the zoom settings and resolutions.
#7 Image Sitemap
Creating image sitemap (read this to learn more about website sitemaps) is extremely important if you don't want to miss out a single factor in your SEO campaign.
If you are using WordPress or Yoast SEO tool, then image sitemap is created automatically, but you can create it manually as well if needed. WordPress plugin 'Google XML Sitemap for Images' alleviates this task for the WordPress owners.
Google itself suggests websites to create Image sitemaps; hence, you can never miss out these.
Image Sitemap, i.e. 'image-sitemap.xml' lets search engines have the ability to find out all the images on your site that further offers better chances to get displayed in image search results.
#8  Make your images responsive
This is one of the most crucial points that you should keep in mind while creating images for your webpage and thinking to optimize images for SEO
Not everyone will open your website in PC/laptop; a lot of users are actively using Smartphones these days or tablets. Your image should load on those devices in the same way it loads on pc/laptop.
HTML Code for having Responsive Images
You should use "srcset" HTML code while uploading an image on your webpage.
This code directs the browser to load the image on a different screen in different resolutions without tampering the quality.
WordPress is very good at this, as it automatically adjusts the image so that it becomes responsive to any screen or browser.
#9 Schema Markup
This is a recently launched feature by Google where you use this markup to let Google know the actual content on the image. This is extremely crucial for SEO, as well.
Whenever someone makes a Google Images search, schema markup plays an important role in deciding the ranking of your image over there.
As of now, you can add four schema markups-
Products
Recipes
GIFs
Videos
Using these badges, you can improve your image's ranking on the search engine's image tab.
#10 Use a CDN
Content Delivery Network is extremely important for SEO when you are making your images accessible from all parts of the world, and you don't want to cache to create any issues.
Using a content delivery network, you can provide the users with the ease to load the images from the closest server to them, which reduces the loading time.
Some of the most popular CDs for you are-
KeyCDN
Cloudflare
Google Cloud CDN
Amazon CloudFront
For the WordPress website, the process is more convenient. Just register for a CDN and then start using plugins such as W3 Total Cache, WP Rocket, CDN Enabler, etc.
Final Thoughts
So these are a few of the most important tips that you need to follow to optimize Images for SEO.
You should keep in mind that paying attention to image optimization is very important for the overall SEO of your webpage.
What do you consider the most important factor for image optimization? Share with us in the comments below.
Liked this post? Check out these detailed articles on
Topic of SEO
Alternatively, check out the Marketing91 Academy, which provides you access to 10+ marketing courses and 100s of Case studies.