The first step of learning Facebook Marketing is knowing the right way of creating Facebook Page that can generate leads, ensure branding and automate conversions for you.
If you have a business that you want to be successful, then you need to make sure that you are adeptly using the power of social media in optimizing the reach and presence of your business on the web. And when it comes to social media, Facebook is the one medium that tops the chart.
Nothing can come close to the power that is represented by Facebook.
So, if you know how to create Facebook page, then you can be pretty much sure that you will have success with your business.
The statistics also say that Facebook pages tend to attract more and more people every single time. So, there is no doubt about the fact that creating a Facebook page would be a good step for your business.
But it is easier said than done right? We mean that you might just create a normal Facebook page. But creating an attractive page that appeals to the people that see it is something else.
You need to make sure that you have the proper guidance if you want to create Facebook page for your business.
Well, this is why we are here to help you out.
With the help of this guide, you can easily create Facebook page in a better and more interesting way. So, why not listen to us and be successful?
8 Steps To Help You Create Facebook Page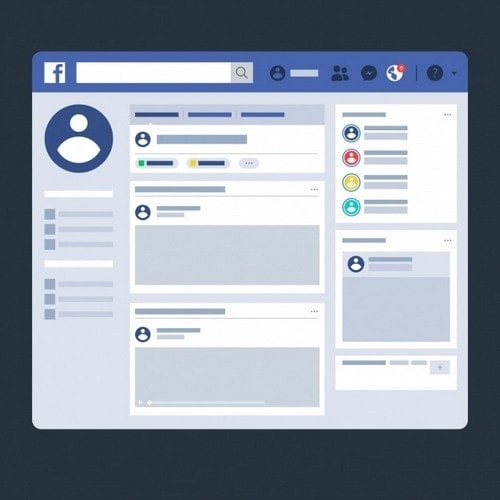 Here we have some of the tips that will help you create Facebook page in the best way possible. Make sure that you follow each and every single step as they are all very important.
1) Signing Up
Before anything else even comes into your mind, you need to take the first step to create Facebook page. You need to log into your Facebook account and then go to facebook.com/pages/creation and there you can choose your Page type.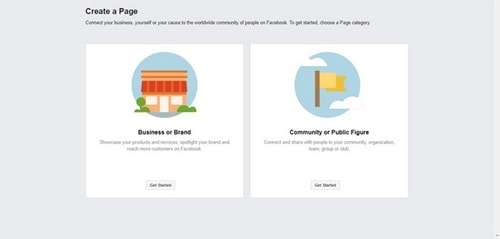 If you are creating a page for your business, you just need to select a business or brand here.
What you need to do in here is to select the type of the page that you want to create and then you can easily start your process of creating the Facebook page. It is pretty much a very simple step and anyone can do it.
In the next step, you need to give Page Name for your Facebook Business page that has to be your business name.
After you do that, you will be ready to create the category of your page.
2) Categories Of Facebook Pages
Once you are all signed up on the process, you need to site the type of business page that you are going to create on your Facebook profile.
After that, you might have to put in some other details that are mentioned in the fields of the pages.
The business name, the address, and the category of the page that you are creating are some of the most important details that you absolutely have to fit in if you want to have a business page that everyone loves.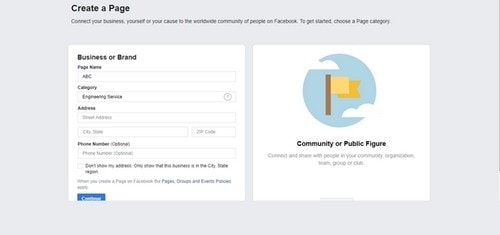 This is a very important step and you always have to do it if you are creating a page on Facebook.
3) Adding Profile and Cover Pictures
Any Facebook page would look very bland if it didn't have any images attached to it.
So, the next step in this particular procedure would be to add some interesting profile image to your page.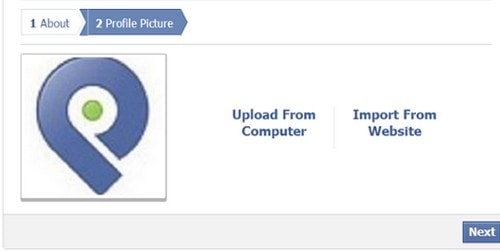 Your viewers need to have a good impression about the page and images will help you in achieving that goal for sure. You need to pick out the pictures that represent the brand that you have.
Adding the cover picture is also very important for you and you should add a cover picture that adeptly describes your brand. You can also change cover pics based on different new launches, events, etc. Now, you can also add Facebook cover videos to make your Facebook page.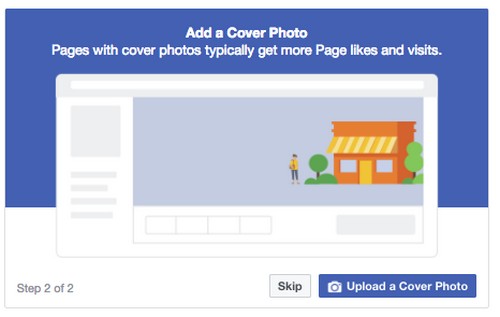 This way, people will be able to identify the page that you have and feel connected to your business. Uploading the profile picture and the cover image is the first thing that you will do.
4) Adding About Description is Important
Your Facebook page would be nothing without a proper description that is added on the front of the page. Your viewers need to know what they are looking at and the description of the page will help them in doing so.
This is something that you definitely cannot ignore when you create a Facebook page.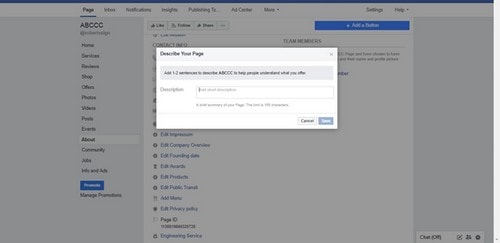 However, make sure that you don't give away many details as well. The description needs to be crisp and short in order to be interesting to the people.
So, keep your description that way and it should do the trick for you. Provide all the necessary information to the viewers on the page and that will be enough for sure.
You can also provide other specific details related to your business for example business details, start date, mission, email, website, company overview, etc.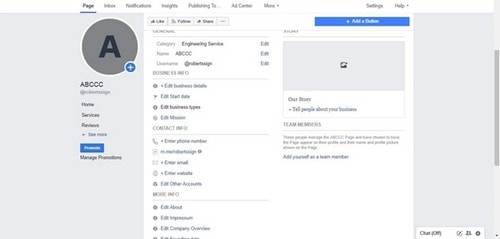 5) Choose your Facebook Page Username
Having the perfect username for your Facebook page is another important thing for you. It is also known as your vanity URL that will decide how people will find you on Facebook.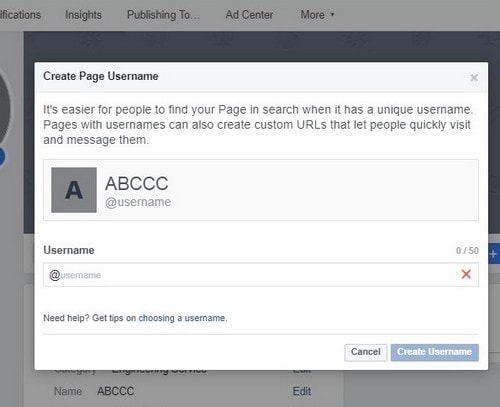 Using your business name can be the best thing for you here. Or else, you can opt for some other popular alternative related to your business.
6) Explore The Page and Complete all the details
So, now that your page has come to life, it is time to make sure that it is able to sustain that life for a very long time. Keep in mind that there are still many things that you need to do with your page.
You need to make sure that you have all the necessary features added on the page.
Take a quick look at the page and create the changes that you want to in there. In case, this is your first time building a page on Facebook, there will be some prompts that will help you out with the process.
This is something that you always need to keep in mind.
After all, if you don't even know where each and everything is in your page, then how do you expect the people to find it out?
You need to Edit Page Info and complete all the specific details that you want to be projected on your Facebook page.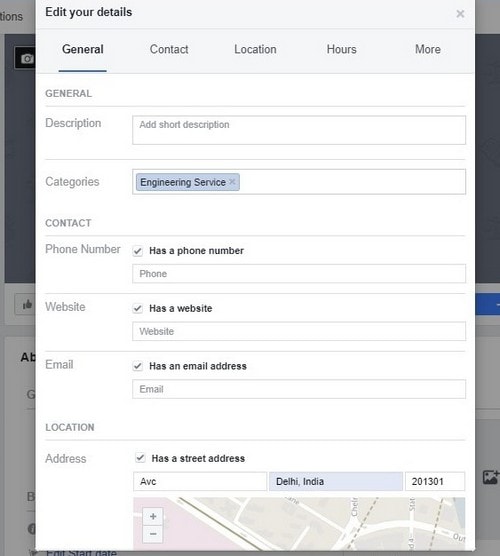 Create your Facebook page by filling all the information that is related to your business.
When it comes to creating a page on Facebook, you need to follow the right guidance.
These steps that we had mentioned above for you in here will definitely help you to create a Facebook page that will be helpful in generating more leads and conversions for your business.
Now, as you are done with creating a page on Facebook, the next thing comes is composing your first post on Facebook. This is the equally important procedure that will set the tone for your brand on Facebook.
7) Creating the first post on your Facebook Business Page
You need to create some relevant, engaging, informative and entertaining content on your page based upon the kind of industry your page is related to.
You can also share content of thought leaders and industry experts of your niche.
Specific posts, product offers, event announcements, etc. can also be created by you to pull in your prospects.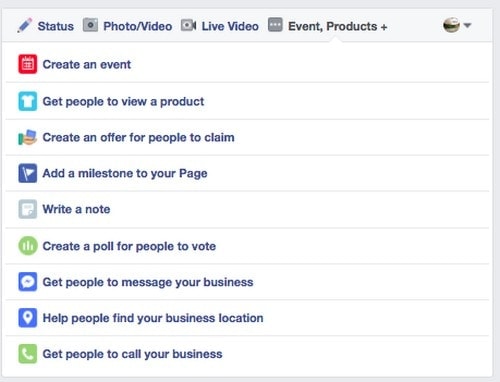 Your first post should be adding value to your prospects, as only then it will help you in widening your audience base on Facebook.
Once your page is having some powerful, contemporary and conversion oriented content on it, you can invite prospects to like it.
Engaging with your audience is very important here, as this will promote your page in the most effective and result driven manner. You should use other channels like Twitter, Website, LinkedIn, etc. to promote your Facebook Business page.
8) Things you can try on your Facebook Page to Boost Engagement
When you create a page on Facebook, making sure that your audiences are engaged on there is very important for utilizing the right potential of Facebook. That is why; we are enlisting different things here that you can try to engage your audiences-
Show your brand theme and personality
Share relevant and engaging images
Ask Questions and use fill in the blanks
Give an inside look of your company on your Facebook page
Be specific and give attention to the type of content your audiences respond to
Share content from other experts, businesses that are related to your niche
Use simple posts that can offer some value
Always have fun, so your audiences can feel your warmth
In Conclusion…
So, following aforestated steps will help you create a Facebook business page for you.
In our next guide, we will be covering how to create a community page on Facebook and then we will come up with a guide on how to optimize the Facebook page.
So, keep reading, keep learning and continuing sharing your queries with M91 team.
Liked this post? Check out the complete series on Facebook Marketing