Facebook is immensely popular all over the world. It is a social media platform that gets 2 billion active users every month.
These numbers make Facebook one of the most powerful mediums for the brands, startups, established businesses, public figures, NGOs, Colleges, Communities, Politicians, etc. to use it for optimizing their presence. In addition, when you create a Facebook Business Page, it also offers you the opportunity to run business-oriented campaigns to generate more leads and ensure more conversions.
It not only helps in generating traffic and leads but it is also the top-rated platform for best engagement with audiences. For branding or awareness, Facebook is going to be the top platform for any kind of business. It increases the audience base and with the advent of Facebook Ads, it offers the potential to generate more business and ensure more sales.
To create a Facebook Business Page, having a Facebook account is the only prerequisite. If you have the one, you can create it in a few minutes. The whole process revolves around a few simple steps.
But, the important thing why you need to dive deep into this post carefully is-
We are not going to just tell you the steps to create a Facebook Business Page, but we will be empowering you to create an awesome and well-optimized Facebook page that will help you get more likes, more followers and more profits.
We are going to educate on how to create a Facebook Business Page that enables your brand to leverage Facebook's popularity in the most profit-oriented manner.
Tips to create a Well-Optimized Facebook Business Page:
1) Sign-up
The first step is to set up your Facebook business page. For this visit facebook.com/business and click the button 'Create page'. The first thing that you will be asked is about your business type. Select from the given options. After that, some more questions will be asked regarding the name of your brand, address and page category. Page category is a sub-category of the larger category of the business you chose. After selecting it from the list of options click on 'Get Started'.
2) Add pictures
The next step involves adding the profile and cover picture on the business page. Choose them carefully because they will represent what your brand is all about and what message you want to deliver. The profile pic can be the logo if you are a big enterprise, a personal photo if you are a celebrity and your best products if you are a small business.
3) Explore the page
If you are new to the business page of Facebook, we recommend you to explore every feature of the page. You will be asked to take a view of each function of the page through prompts. If you do not know how to operate a Facebook business page, it is advisable to follow the prompts.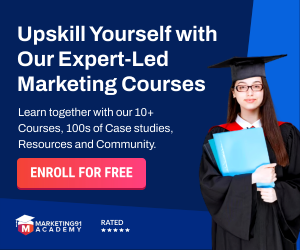 4) Write short description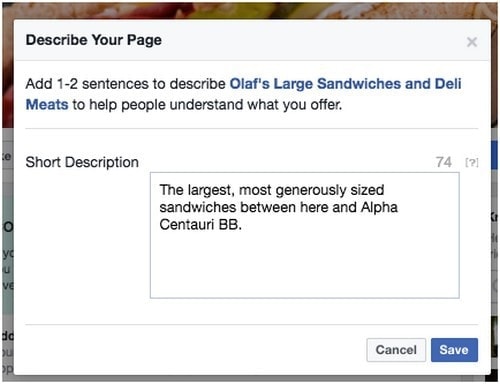 The short description allows you to share with your audience about your business in a very concise and clear way. Just add a few lines to give a brief intro about your business to the audience. In this step, you do not need to elaborate much. In the later steps, you will get the opportunity to talk about your business in detail.
5) Create username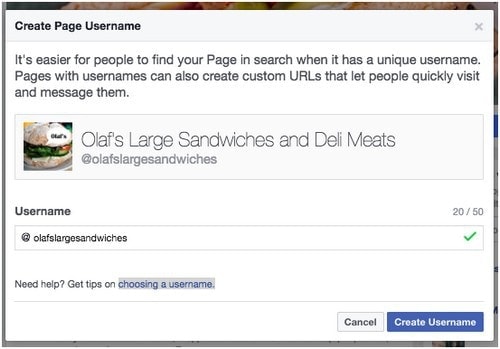 Select a good username. Remember that, this will also feature on the page URL.  The username enables people to find you on Facebook. You get around 50 characters for your username, but just keep it short and simple. You want a username that is easy to type and remember for the audience. Moreover, when you go for long usernames and use complicated ones you may appear spammy.
6) Write About section
Now, about section is an important part of the Facebook business page, so write it wisely. Apart from including all the details about your business, also add the website link here. It will also serve you well if you include information like when your business is open, what is the response time of your customer care executive, links to other social site pages and contact details
7) Create the first post
Now, that you are done with all the steps in creating your Facebook business page, it's time to create your first post. You can create some interesting posts yourself or can share a relevant post of some important person in your industry.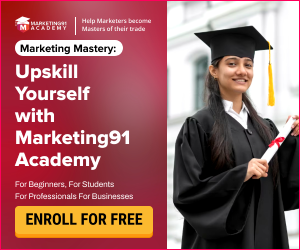 8) Engage with your audience
Once you create a Facebook Business Page and start posting content, it is very important that you engage with your fans and followers. You can also utilize your site and another social platform to promote your Facebook Business Page. You may ask your followers to review your page. You should respond to their comments on your page. Running different campaigns that engage your audiences is also important.
9) Add a call to action
Adding a call to action is one of the best practices you need to pay heed upon when you create a Facebook Business Page. CTA plays a significant role in influencing your page visitors do what you want them to do on your page. Send Message button on your page is provided by default and you can change it by hovering your mouse over Send Message CTA. After doing this, you need to choose Edit Button and then, you can choose the specific CTA that you would prefer to have on your page. Then complete the next steps and click finish to let your CTA be live on your Facebook page.
10) Use a Pinned post

If you have a post, any special event or information that is highly relevant for your business and audience, you can make that post into a pinned post. This will optimize your Facebook Business Page. Such posts will be displayed on the top of your page just below the cover pic.
When you create a Facebook Business Page, it is inevitable to use such tactics that instantly grab the attention of your audiences. You can easily click Pin to Top of Page on any post to make it a pinned post. Such posts will have a blue thumbtack icon at the rightmost side.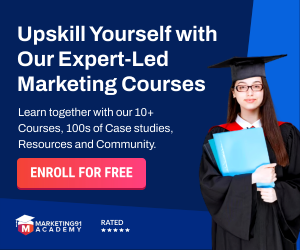 11) Create a Custom Tabs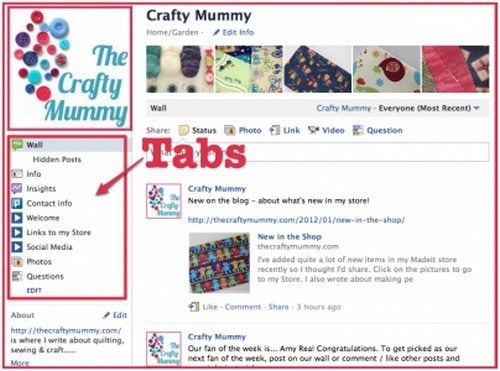 You are also allowed to use custom tabs when you create a Facebook Business Page. You can see Tabs on the left-hand side of a Facebook Business Page that comprises some of the regular options like About, Photos, Videos, and Events etc.
Some of the Facebook apps like TabSite can help you create custom Tabs here for your business. Using these tabs, you can easily run different campaigns, promote special offers and generate more leads. Tabs like Chat with us, Free E-Book, etc. can be added here.
12) Get Verified
Having a page that is verified will let your audiences feel that you are the legitimate product or service provider that they are looking for. They would prefer to use your services, as they would be clear that they are not interacting with an impostor. Many Blackhat marketers on Facebook instantly create any popular Facebook page to make quick profits. That is why using a verified Facebook Page will help you generate credibility in the mind of your users.
Review your Facebook Page Settings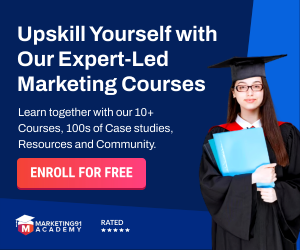 To create a Facebook Business Page that offers the expected outcome, the intelligent use of Settings is very important. You can use Settings to decide who will be administering that page, locations where the page will be visible, different words that are not allowed on that page, and so forth.
Some other details about who opted to make your page favorite and how your fans interact with your page are also provided in settings. They are like the back-end of your Facebook Business Page that helps you intelligently use different parameters that can make or break your page's performance
13) Pay Attention to Page Insights
When you create a Facebook Business Page, it becomes must to measure the performance of your business page. You need to know the inclinations of your audiences, their purchasing behavior and how your page is being successful in ensuring all this.
Facebook Insights will enable you to find all such important details, so you can make your Facebook Business Page highly result-driven. You can find data concerning your Facebook Content and your audiences' behavior. You can get data about the demographics of your potential customers and check the engagement that your page is offering to them.
Running a well-targeted Facebook campaign can only be possible if you use Facebook Insights intelligently. You can use it to know who have clicked on your CTA, who landed on your site from the Facebook Business page and many other details.
All the aforestated steps will help you create a Facebook Business Page that is best suited to your business model, target niche and expected outcomes. You will also be able to measure the performance of your page to create a Facebook Business Page that is adeptly customized to your audiences.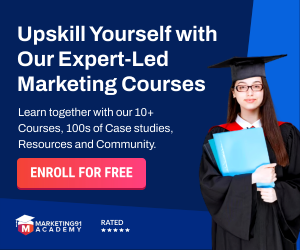 Liked this post? Check out these detailed articles on
Topic of Facebook Marketing
Alternatively, check out the Marketing91 Academy, which provides you access to 10+ marketing courses and 100s of Case studies.