Looking to learn how to build a community that can optimize the presence and performance of your business?
Then the first thing that you need to understand that making good connections and relations help you in boosting up your business.
Building a community on social media is one such technique that can help you in turning your followers, fans, or potential audiences to be your customers.
So, what is a community?
A community can be described to be a group where various people come together to bond on a particular interest.
A community is mainly based on a specific interest or passion or a common purpose, and it can be a great place where relationships are made.
How to build a community?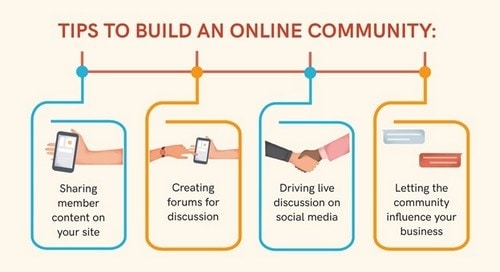 There are a few simple steps that can enable you to build a community that can supercharge your lead generations, conversions, sales, and customer base. Let us have a look at the steps that can help you in building a community-
You need to know the needs and interest of your audiences, potential customers, followers and fans
You need to find out the common connection between you and your target audiences. Finding out a shared connection is a very important step to understand how to build a community
Find out the leaders that can connect, convince, and convert potential audiences. Right communication skills can also be useful in establishing productive connections with the audiences
Include a strategy to gain community members. You should target like-minded people. For sharing experiences, organizing events are also needed to develop a sense of community. Also, incorporate a few powerful activities that can ensure conversations.
Your community should have equal space for everyone, and decisions should be taken together. For empowering your community, you must find out negative minded people in the community, and then you should remove them.
Ensuring equal participation in your community is also significant in making community building a result-driven system. Sharing emotions and letting your community members feel valued are also important strategies of community building.
Why you should build a Community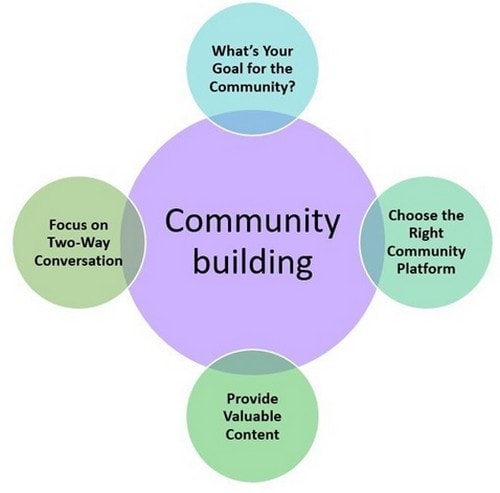 Currently, the need for such communities has become a must. Why is it so? There are several reasons why it is a great idea to build a community.
1) Adding Value
A good community is always something that people wish to join. After all, who will not wish to be in a place where he or she can find other people of the same interest?
Most of the people join communities to get more knowledge about the particular field of interest of topic or even to get a problem solved with the help of the suggestions pouring in from different members of the community.
Apart from the members of the communities, it can also benefit you in several ways. One of the major ways is to let you know about the current market situation. Secondly, it can increase your share of voice or SOV in the market.
Having close attention to what the members are discussing the community, you can know about the current market condition and tastes and can make strategies according to it.
2) Know Your Customers
A community can always provide you a field where you can know more about your customers. You can have a close look at the conversation of the members and can know the latest interests about the customers.
At times, you can also know about what the customers actually expect and where you are going wrong. This is helpful for you in understanding your current customers and correcting the loopholes so that you can meet up their expectations and sell better.
3) Get Brand Ambassadors
Initially, you may have to work on getting the right members for your community and build a brand community, but later on, you may get great brand ambassadors from the community. Thinking how?
Well, there can be several members in your community who may get so much excited about the community that they may make your work easier by advertising about your brand on their own and bringing in more members for your community, of course, benefitting you for free.
4) Customer Retention
It has been noticed that having a community can help you in retaining your customers but a rate of at least 5%. Though the retention rate may seem small, it is enough to increase the profit ratio by somewhere in between 25% to 85%.
It takes about 80% lesser effort and investment in retaining your existing customers rather than bringing a new one. Hence, build a community, retain your existing customer and they will bring you new ones so that you can earn profit from both.
So, when you have understood the benefits of building a community, it will be easier to understand how to build it. Here are the basic steps that can help you in building a community from scratch.
5) Starting Small
Of course, some communities are huge but to get there; it is important to start small. When you start small after some time, you can see the community grow automatically.
You can start by adding up friends from the email list, or by organizing a brunch party to start up a community with those people or so.
You need to take the initiative in making the community interesting and worth so that the members insist others also to join the community. Let others also take part in the various activities going on so that they can feel important and can take up the initiative to bring in more members for your community.
6) Exclusivity Is Important
When the community is small, you can provide authority to everyone about initiating activity or doing something in the community. But when the number of people increased in the community, it becomes quite difficult to manage everyone and the actions conducted by everyone.
In such a scenario, providing exclusivity is highly important. You can offer some special rights to the exclusive members such as the ones who were your initial members when you started the small community, or it can also be some such members whom you think to be better in handling in the activities.
This will make it easier for you to handle the community in a better way and also handle other tasks around you that are equally important.
7) An Ethos Of Helpfulness
If the community is all about just promotion of the products and the brand, it will not impress the community members much. It may even happen that the members may remain in the community but may not be active most of the time.
It has even happened that some of the members also leave the community after a point of time.
You have created the community thinking a lot about the prospects. Losing everything will be just a waste of time and effort. If you do not wish something like this to happen, one of the best thing that you can do is to introduce the ethos of helpfulness.
Add a description to the community that members can discuss the problems and matters on a particular topic. For example, if you have started a community about digital marketing, add up a description that the aspiring digital marketers can discuss the current trends of digital marketing.
This will help the members to ask questions, provide information, have debates, and discuss new things and many others. In this way, the community will become an interesting place to be in, and hence, the members will keep on increasing.
In such conversations, one or a while, you can introduce your marketing talks so that you can also get benefitted out of it.
8) Do Not Interrupt Much
One of the basic rules that you should follow while you build a community is that you should not interrupt much while your members are communicating with each other.
Your only responsibility is to make connections with the persons so that he or she can become a member of the community, rest you should leave them.
The members will discuss things among themselves, will ask questions, will solve issues, and will communicate with each other to build up great relationships. But does this mean that you should not be a part of the community at all? It is not that, but you need to know your limits.
Your major responsibilities should be to resolve an issue if the members are not able to do it on their own, initiate a new topic if the members of the community has not been interacting for a long time, come up with new ideas and activities to keep up the interest factor of the community, and so on.
Apart from this, you should stay away from the general communications of the members.
9) Increase Your Members
Though at times the members of the community do it for you and the members keep on increasing, but if it is not, you need to take the initiative to increase the members of the community.
There can be several ways how you can do it. Some of the ways that you can take help from are:
Referral Program: You can start a referral program in which you can motivate the already existing members of the community to bring in several members in return of a small reward. To make it interesting, you can also create point systems and a leaderboard to show the members who brought in members of the community.
Create Newsletter: Another great way is to create a newsletter about the community. Share the newsletter through emails to your existing customers and let them know about the various benefits and profits about joining the community.
Social Channels: Social channels are always a great hit in bringing in people together. There are so many Facebook groups available today that has so many members in them. You can start up such a community and talk about it on the social media platforms to bring in more members.
Inviting Influencers: if the community that you have created is open to the outside world, apart from the customers also, then you can always invite the people who are influenced by the idea of your community.
Personal Network: This is quite obvious. If you have a huge list of followers or fans, you can always invite them to be a part of your community.
Now when you have known how to build a community, it is also important to take care of several important tricks that will be quite helpful for you. Here are some of them so that you can build a successful community.
Do not sell things directly in the community,
Make sure you research well before you speak up anything,
Create a community that is based on a viral topic or concept,
Make use of the hashtag skills,
Make use of your authority whenever needed,
If possible, bring the online community offline too, at times.
Conclusion
When you have known the various benefits of building a community, you should not delay in building it soon.
The process of building the community around your brand and increasing the members is not that difficult. It is only that you should take care of some of the important tricks and points, and you will be surely able to build up a successful community soon.
Liked this post? Check out the complete series on social media marketing