There are about hundreds and thousands of the tweets sent every single day of the week on Twitter. Sometimes, it happens that the number reaches up to millions as well. So, there is no doubt about the fact that Twitter has got a massive user base. Don't you think it will be valuable if you advertise on Twitter?
Well, Twitter will make sure that your thoughts reach out to a very large gathering of relevant people at the same time. Opting to advertise on Twitter is one of the best ways of social media advertising that is offering great returns on investments for the businesses.
What are you waiting for then?
Go ahead and get started with the Twitter ads.
Don't know what they are?
You are in the right place as we are going to discuss what Twitter ads are and how exactly can you use them in order to advertise on Twitter.
Twitter ads will be able to provide you with an opportunity so that you can easily send your message to the people who will definitely be interested in the products and the services that you have.
The data from Twitter's surveys show that due to the Twitter ads, there has been an increase in the rate of engagement up to about 69% in total. This has led to a 28% drop in the amount of money spent per engagement.
So, would you like to know how to advertise on Twitter? Well, let us just have a look at the Twitter ads guidelines and you will be all set.
First thing first, why do you need Twitter Ads?
Three prime reasons for this are-
You can expand your influence in a result driven manner
You will be connecting with new and highly relevant audiences
You will be able to control your own budget to advertise on Twitter
Now, the next thing that you need to pay attention to are the things that you can do with Twitter advertising. So, let us delve into those as well-
What you can do with Twitter Advertising?
Generate Awareness by promoting your Tweets and optimizing your reach
Boosting Tweet engagements by promoting your Tweets and getting more likes, retweets, replies, etc.
Promoting your account and getting more Twitter followers
Promoting your site and getting more traffic via Twitter advertising
Promoting your mobile application and increasing the number of downloads via Twitter Ads
Next thing that comes up here now for you is types of Twitter advertising options, as this will help you know which kind of Twitter advertising would be the best fit for you.
What are the Twitter Advertising Types
Three types of Twitter advertising are available for you. Let us deep dive into those right away-
1) Promoted Accounts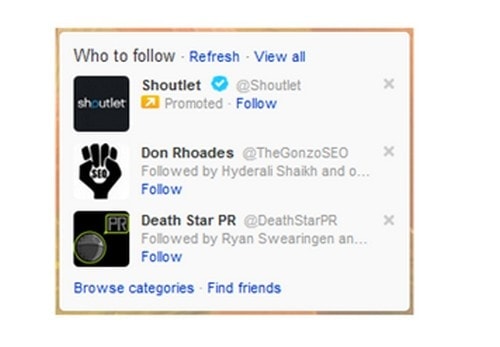 With the help of Promote Accounts, you will be able to promote your Twitter account, so your audiences can follow you back.
2) Promoted Tweets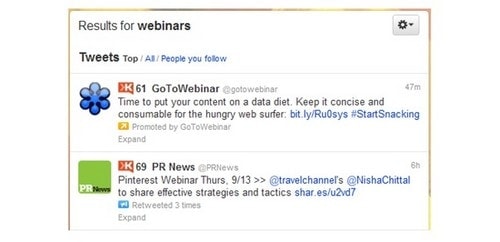 By using Promoted Tweets, you can promote any particular status and ensure better exposure for your status.
3) Promoted Trends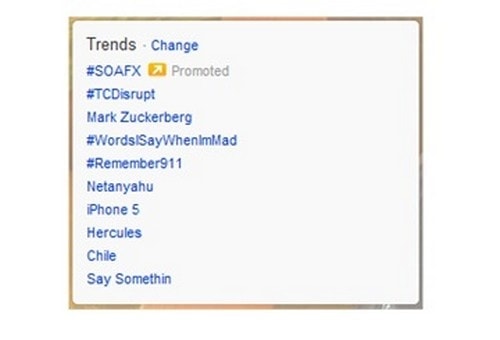 With the help of Promoted Trends, you can promote any particular Hashtags or topics, so they can be placed amongst the trending topics list of Twitter.
Once you are well aware of the things that you can do for your business through Twitter Ads, you are ready to know how to advertise on Twitter. So, let us now dig deep into those steps-
How Can You Advertise On Twitter?
Here we have got some of the ways by which you will be able to advertise on Twitter.
Make sure that you follow these tips carefully because these will definitely help you out in the process. So, without any more ado, let us get started-
1) Set Up The Account On Twitter Ads
For those who aren't really used to the Twitter ads format, there is an imminent need to create a particular Twitter ads account.
The entire process is pretty simple and easy to follow. All you have to do is go to the Twitter account that you have and then log in.
When you log in, you will have to visit a particular site that will take you to the Twitter ads accounts.
After providing some details such as the time zone and the country, you can log in successfully.
Doesn't that seem to be pretty simple and amazing to understand? Well, you need to try it to understand how it works.
2) Choose The Objective That You Have
The ad campaigns on Twitter are something that will be based on the business objective that you have. So, you need to make sure that you decide the goals for which you will be using the Twitter ads in the first place.
Make sure that you think very carefully people.
The reason why we ask you to do this is that it totally depends on the business goals that whether engagement type with the customers will be direct or indirect.
So, make sure that you sit and think about the different goals that you have for the business.
Whether you want to have more engagement for the tweets or you want to create awareness for the brand, you need to have all the goals clear in your mind in order to have the best results.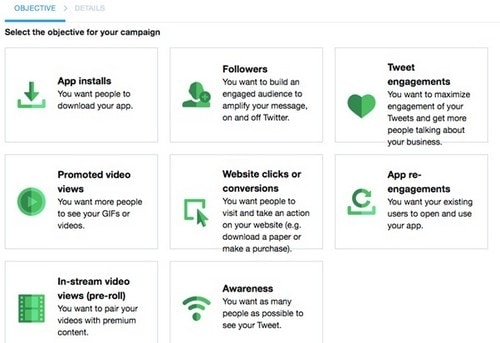 Some of the objectives for you are-
Awareness
Followers
Tweet engagements
Website clicks or conversions
App installs
App re-engagements
Promoted Video Views
In-Stream Video Views
3) Set Up The Ad Group And The Bidding
After the creation of the account, you need to make sure that it is set up properly.
You will see that there is a page named 'create your ad group'. You might be wondering what that is. Well, the ad group that you have will be the sub-category of the campaign.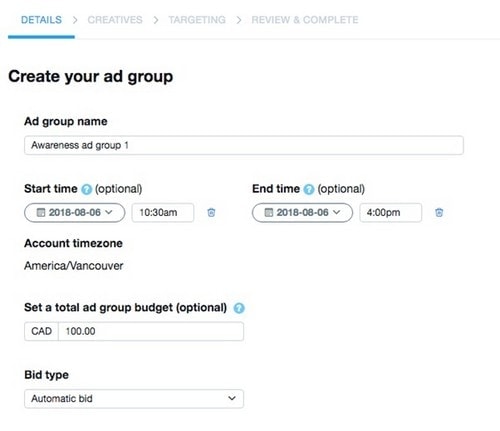 When you are starting out new and this is your first Twitter campaign that you have for your product, then you might want to start out a bit slow.
You need to make sure that you always start with a single ad group for your product campaign.
However, as time goes by, you can be more and more into the Twitter campaign things. Then, you will be able to create more ad groups for multiple products as well.
Try this out and see for yourself whether it works or not.
You can also control the bid amount and for this, ad interface will let you see the suggested bids.
4) Choose The Ad Placement
Once you are done with the ad group on the Twitter ads account, you will see many ad samples and tweets provided to you by Twitter.
These tweets are the ones that were previously created by you and you can promote them as well.
However, if you don't feel like doing that then you can be a little more creative and then try to get a new tweet for yourself.
After the selection of the tweet, you need to check for the placement of the ad as well. The ads are generally placed on the timeline of the user and the detail pages of the tweets.
5) Target The Audience That You Want To Reach
Just posting up the ads will not provide you with the customers, right?
If you want to properly advertise on Twitter, then you need to make sure that you reach the particular audience group who will find your product or service actually helpful.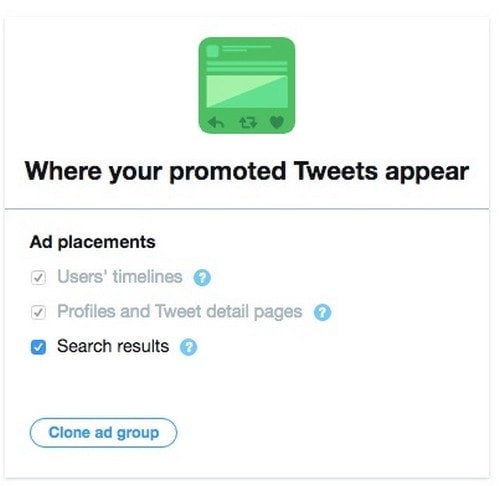 This means that you need to find out the target audience that you have.
Start with the demographics targeting, sort out by different categories such as age, gender and so much more and you will be all set for sure.
6) Launch The Campaign
It is time for the finals step people.
You need to make sure that you have checked each and every piece of information carefully before you launch in the Twitter ad campaign that you have.
All you have to do here is to click on the section that says Launch Campaign and you will be all ready to see the magic happen. So, make sure that you try it out and see for yourself people.
Finally, let us discuss some of the tips that you need to learn to understand how to Advertise on Twitter in a result driven manner possible-
Twitter Advertising Tips
Introduce yourself in Twitter Ads by using some of the images, video or copy to showcase your USP in the Twitter Ads
Always use Call to Action in your Twitter Ad. You can use CTAs like 'Register Now', Follow Us' sorts of CTAs to make your Ad very effective
When running a sale, always try to showcase the percentage discount in the most emphatic manner possible
Use cards in your Twitter ads to including some additional functionalities such as App Installs, site previews, etc. This will make your Tweet more engaging and result driven
You should test your Ad format, the tone of voice, length of copy sorts of key features to making your Ad highly productive
Do not opt for one-size-fits-all and try to use customization that best fits with specific ads, audience group, demographics, etc.
When you advertise on Twitter, always use high-quality images and videos
Wrap Up!
So, these are some of the ways by which you will get to advertise on Twitter.
It is not really a very difficult process if you understand the steps and then follow them. You just need to pay attention to the aforestated tips and you will be able to run an effective Twitter Advertising Campaign.
How do you advertise your business on Twitter? Share your tricks in the comments.