Now that you have gathered enough information on how to use WordPress to create exciting posts on your WordPress blog let us check out the additional functionalities of the content management system. ant to embed your videos in WordPress easily? The following tips should be helpful enough in that venture.
How to add Videos to WordPress Blog Posts?
Videos are essential elements that would bring new life to your website and they can be helpful to a greater extent in bringing better user engagement as well. Embedding a video to your blog is quite smooth enough. However, in addition to the built-in support for adding videos to your site, WordPress also offers you other options for the same purpose.
Let us explore these options in more exquisite detail.
WordPress Auto Embed Feature
WordPress comes with an Auto-Embed feature. It can get the embed code directly from the popular video sharing websites like YouTube, Vimeo, and Dailymotion among others.
The step is easy and straightforward enough to follow…
Click the place where you want to add the video to your content inside the text editor.
Copy the URL for the Video for your source
Paste the URL in the text editor.
Please note that you should not paste the video URL as a clickable link. In case, you are pasting the video link in the Visual Editor mode; WordPress will fetch the embed code automatically. The video will be automatically displayed.
However, do note that the Auto-Embed feature is supported only on a few select video sharing websites only. In fact, WordPress calls these websites as Whitelisted video sharing websites. The select Whitelisted video sharing sites are
Animoto
Blip
Cloudup
CollegeHumor
DailyMotion
Facebook
Flickr
com
Hulu
Imgur
Instagram
Issuu
Kickstarter
com
Mixcloud
Photobucket
PollDaddy
Reddit
ReverbNation
Scribd
SlideShare
SmugMug
SoundCloud
Speaker Deck
Spotify
TED
Tumblr
Twitter
VideoPress
Vimeo
Vine
WordPress plugin directory
tv
YouTube
If you are trying to embed videos from other sites, you will need to get the embed codes from your sites and then paste them into your WordPress text editor.
Upload Videos to Your WordPress Content
What if you are trying to add the video content from your local storage to your content on WordPress? In fact, you should be able to do it by uploading your videos to your blog, just the way you can upload your images to your site.
However, we do not recommend opting for this option ideally. WordPress blogs are typically set up on shared hosting services and thus uploading the whole video to your WordPress site can take up a lot of resources. It would be a better option if you can upload the video to your YouTube channel and embed it on your WordPress site.
In any case, if you are interested in uploading the video on your WordPress, here are the steps you can follow –
From your Text Editor screen, click on Add Media.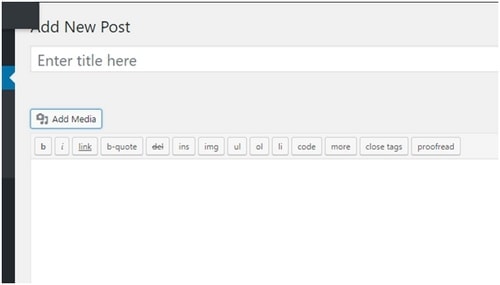 Choose the option for uploading the media files.
Click on Select Files.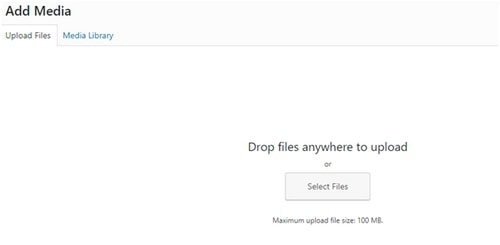 Browse and click on the files you want to add
Wait until the files are uploaded.
Once done, click on insert into the post.
That does it. You have successfully uploaded a video into you're your WordPress content.
Use Shortcode to Embed Videos
Like we stated already, YouTube does not need you to enter any shortcode for adding your videos to your WordPress site. However, if you want a little more control over how would the video appear on your blog – it may be a good idea to opt for an appropriate shortcode.
A typical code you can use for embedding your video can be of the form
[ embed width="123″ height="456"] video URL [ /embed]
However, not every site may be compatible with WordPress when you use the shortcodes for adding your videos to your website. We would advise you to check out the preview before going live with your shortcode for the video. If the video does not load properly for any reason, you can revert back to the normal Auto Embed option.
Which is the best option for Embedding videos in your WordPress?
Ideally, we advise you not to go with the option of uploading your videos directly to your WordPress site. It would be advisable to go with the option of creating a video shortcode or embed code so that you can use it on your site.
Why? Well, we have our own reasons here. Let us explain them one by one.
Most of the WordPress sites are hosted using the shared hosting accounts. Uploading your videos directly to the website can make use of a lot of resources on your server. In case you tend to get a huge number of visitors to your site, you may end up with a crashed site.
Then there are other repercussions of direct upload as well. YouTube has a considerable number of visitors coming from YouTube to any site if you are using an embedded video. If you upload the video directly, you will end up losing the traffic that comes from YouTube or other similar video sharing sites as the case may be.
It may be a good idea to choose any of the third party websites to upload your videos and then use the Auto-Embed option to add your video to the WordPress content. If you have a choice, it would be a good option to go with YouTube.
In Conclusion
That was a simple explanation on how you can add your videos to your WordPress site. In fact, there are a few plugin based option you can use for embedding your videos to your WordPress website. However, we do not find any practical reason to use the plugin functionality when the service has an efficient option to embed the videos more simply.
It was indeed a core in the days gone by to include a video to your WordPress blog, but not anymore. The easy functionality and simplicity should efficiently help you. Which tools do you use for embedding your videos and which ones do you like? Share your thoughts with us.
If you liked this article, we bet that you will love the Marketing91 Academy, which provides you free access to 10+ marketing courses and 100s of Case studies.