WordPress tags come in play when you create a WordPress Post. They enable your site to appreciate the best taxonomy, plus they can help SEO execution in a very effective way as well. The right use of tags can help you enjoy higher positions in search results, but to make most of such abilities of Tags, the first question that should pop up in your mind is how many WordPress Tags you need to use in a post.
By the end of this post, you will be able to get the answer to this question, but before that, you need to dive deep into key idiosyncrasies of WordPress Tags.
Knowing how many WordPress tags is the most viable method for making your blogs rank higher in SERPs.
It will alleviate the SEO implementations of your site.
Actually, at whatever point you make a blog post, three factors play key roles- Title, Content, and Categories.
However, in addition to these, Tags are also one of the most powerful factors that can offer really impressive results and for this, you will be required to put a little effort.
So, let us unfold the concept by understanding what Tags are –
WordPress Tags : Definition
Different 'How many WordPress Tags Guides' suggest that tags are a couple of words that quickly portray what your complete blog post is about.
Tags are keywords excluding focus keywords. With the help of Tags, search engines can categorize or index your blogs.
If simply put, tags are the additional phrases that can also describe your blogs in an immaculate manner.
With the help of WordPress Tags, you can make it simpler for the web crawlers to discover your blogs.
In addition, when your audiences utilize Search Engines to search for those 'Search Phrases', Search Engines will have a less demanding time in discovering your content and displaying that to those searchers.
But, here comes the confusion between Keywords & WordPress Tags!
To know, how many WordPress tags you should use, it is important to be clear about the difference between Keywords & WordPress Tags-
Difference between WordPress Tags & Keywords
One of the biggest confusions is thinking that keywords and tags are equivalent. They are not equivalent at all.
Let us understand the concept-
It is inevitable to find out the keywords before you compose your blog.
This will help you know precisely the sort of substance you have to serve to your target audiences; in addition, this is going to increase the opportunity to appear in SERPs. You can use keyword tools to know the best keyword for your blog post. When you write quality content around some of the best-suited keywords, Search Engines display your post higher in Google results.
Tags can be equivalent to those keywords, but with tags, you get a chance to go much deeper and come with those phrases that can also be used by your readers to find out the information offered in your blog.
Let us understand this with an example –
The keyword for this blog post is- 'How Many WordPress Tags'.
But, we are also providing comprehensive information about WordPress Tags, WordPress Tags & Keywords, benefits of WordPress Tags, etc. So, some of the tags that we can use for this blog post is-
WordPress Tags
WordPress Tags & Keywords
Benefits of WordPress Tags
Actually, tags let you use additional keywords for creating extra pages on your blog for those keywords. All those extra pages will also be Indexable and rankable.
So, you added different tags and published your post. After this, WordPress will make a page for all the tags that you had utilized. This will offer you a chance to create links to those pages and get them positioned for each one of those additional keywords that you could not utilize in your blogs.
However, there is a fundamental issue of duplicate content with WordPress tags. The situation of Duplicate content occurs when Google finds diverse ways to a similar content on your site. Tags can create such issues and that is why guides on How many WordPress tags suggest you comprehend this concept to make the right use of WordPress tags.
Actually, one can access the same post via different paths such as- Post page, Archives, Category, Tags and so forth. This helps readers find the post of their need with great ease.
– But, for the Search Engines, reaching to the same post from different paths is termed as Duplicate Content.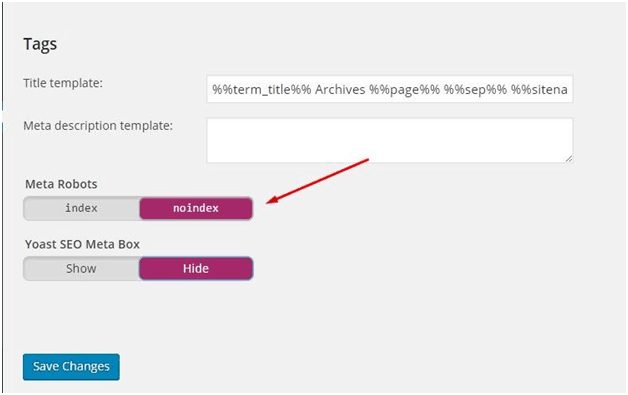 You can easily resolve this issue by utilizing the Noindex directive, as this will let Google understand to not index WordPress tags.
However, these tags are not just another way of providing different paths to similar content. They are much more than that and some of the notable benefits of WordPress tags for the site owners are-
Benefits of WordPress Tags
With the help of WordPress tags, you will be able to create more content that can bring more traffic to your sites.
For example, if we add Tags like 'Benefits of WordPress Tags, 'Keywords Vs WordPress Tags' along with the keyword 'How many WordPress Tags' for this post,  people who use search phrases – "Benefits of WordPress Tags, Keywords Vs WordPress Tags" will also land to your site along with those who search for "How many WordPress Tags".
When you start using same tags repeatedly in different posts, you begin adding more and number of contents in a tag page that will ultimately increment their significance in the eyes of Search Engines that will finally help those tag pages rank better in search results.
The most amazing thing is that all such favors will happen behind your back and for this; you will not be making any real efforts. Things will be getting processed at the back-end in an automated fashion. Just by adding Tags to your post, you can easily start enjoying the benefits of WordPress Tags.
Now the time has come to know the exact number of WordPress tags that you should have in your post. So, let us decipher that concept as well –
How many WordPress Tags in a blog?

Like most of the other things, when you just stuff Tags for the sake of adding tags, it will never offer any concrete benefits.
You should add those tags that are justified and fit well with your blog post. The right use of tags will help you offer more quality content in front of Google.
Therefore, it would be ideal if you make sure to utilize 3 to 10 WordPress tags for your post. In e-commerce post, tags play a key role because generally one Category is suggested for e-Commerce sites.
Utilizing tags that are contemporary to the search phrases that your prospects type in Google will always empower you to get more numbers of relevant traffic and hence good search engine ranking.
Summing Up!
Now, we have come up to the concluding part of this post, and we hope you would have understood how many WordPress tags would be the best fit for your site.
Actually, these tags are the best technique for identifying any piece of content with the help of some specific but additional keywords. You just need to choose a few words or phrases that perfectly highlight the complete theme of your blog post. Tags highlight specific things that your blog post is going to talk about.
So, just use those tags that are going to be an integral part of your blog post.
Topic of Blogging
Alternatively, check out the Marketing91 Academy, which provides you access to 10+ marketing courses and 100s of Case studies.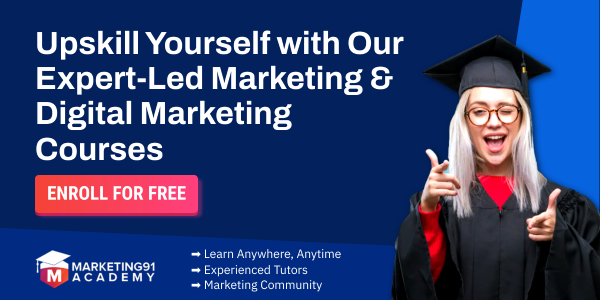 Liked this post? Check out these detailed articles on