For long, there has been a big competition brewing between the top 2 companies that focus on Internet services. The different marketers and the agencies are now focusing on this great question. The question is that which one of Google Vs Facebook will be able to produce more sales and revenues for the clients' businesses in the coming years.
So, to answer this particular question, we have to get into one of the most popular debates that have been going on: Google vs. Facebook.
However, in the process, we are not saying that the other internet channels are not that important. There are so many other platforms such as Instagram, Twitter, YouTube, and LinkedIn that are on the internet and they play a very important role in the generation of traffic for the people. But then again, Google and Facebook are the sites that are considered the most as they have got a bigger audience.
Let us first start with some of the powerful statistics of Google & Facebook –
Google Vs Facebook: What Statistics Tell
Google
Google enjoys more than 2 trillion searches per year
More than 117 billion people use Google
23 Million is the avg. number of Google Searches per second
Google's market share for US search is 75%
20% is the Gmail's share on the global email market
Around 44% of global online advertising revenue is earned by Google
2 Million is the approximate number of Google AdSense publishers
Facebook
Facebook boasts approximate 2.01 billion monthly active users
Around 50 million businesses around the world opt for Facebook pages to optimize their business
Number of users who sign up on Facebook every minute is 400
Approximately 22% of the global population is utilizing Facebook
Facebook pages appreciate around 2.6% organic reach
The avg CTR of Facebook ads is 90%
Around 93% of social media marketers and advertisers prefer using Facebook
So, statistical data just proves that both of these giants are immensely powerful in their respective target niche. Let us go deeper and understand their significance in their respective fields-
Google Vs. Facebook : The War Goes On
Well, it is now to decide which internet platform is more useful for your business. Let me tell you here that both of these are very powerful in ensuring expected results, and as per your business needs and dynamics, your choice should vary.
Let us begin the journey of Google Vs Facebook with Google. -We all know what Google is. It is a company that has specializations in the search-related functions. If someone is referring to Google, they would say that it is a search engine. But that is not all that Google is right? There are so many services and products that Google provides. With the help of Google, you will be able to have many services such as online mapping, office productivity, Gmail, web browsing, and so many other functions as well.
Apart from that, it is also very good news that Google has recently ventured right into the era of mobile phones, as more and more people find the Google app on the operating systems of their smartphones. It also offers one of the most popular Operating Systems i.e. Android. Ever since its existence in 1998, Google has been serving the people by providing information and servers that are spread worldwide. With the help of Google, accessing search queries has become a lot easier.
But when it comes to Facebook, the story is a little bit different. -We all know Facebook as a site that can be used for social networking. That is the sole purpose of the site and it has been doing the job properly for a very long time.
Facebook has also surpassed the other competitors such as MySpace and Friendster as well. With the help of this platform, the users are able to have a proper source of communication with individuals and groups from all over the world. Sharing the posts and media is also possible with Facebook. When it comes to popularity, Facebook has got a lot of it.
After its launch in 2004, this platform has quickly taken over the reign from MySpace, the leading networking website during that time. It is almost a surprise to know that Facebook has currently got about 2 billion active users all over the world.
Some quick factors to notice here are –
Google was started 6 years before the Facebook.
Primarily Google is a Search Engine while Facebook is a Social Media Platform.
When we talk about the number of employees of both the companies, Facebook has a lot less than Google.
Also, in the case of the revenues, Google still beats Facebook.
The functions that Google has are definitely more diverse and it provides the facilities and functions that are not provided in Facebook.
However, it is also true that Facebook is currently experimenting with different services and there might be some new ventures in the future.
Organic Traffic In Google And In Facebook: Which Is More?
It is a fact that beyond the world of advertising, the platforms of Facebook and Google offer methods for people to engage in brand content services and messaging.
When it comes to Google, the different SEO practices and web pages are a great help in getting the desired ranking for the websites.
While on the other hand, the content that is shared on the Facebook platform gets more shares as well as likes from all the followers that follow or like a particular brand page.
However, the platforms that are in question here have got their very own algorithms and it is not really clear what these particular algorithms hold as a priority while deciding the ranking of a post or content. In fact, information about generating traffic is provided in pieces by both the platforms.
Google often says that inbound links and quality content is the way of generating traffic and Facebook ensures that some content types get more visibility than the others such as the ones that have better loading speeds, live videos, and better-timed posts.
Offering value to the users is one factor that plays a significant role in both the platforms while deciding the ranking of different types of content.
A Short Comparison between Google Plus and Facebook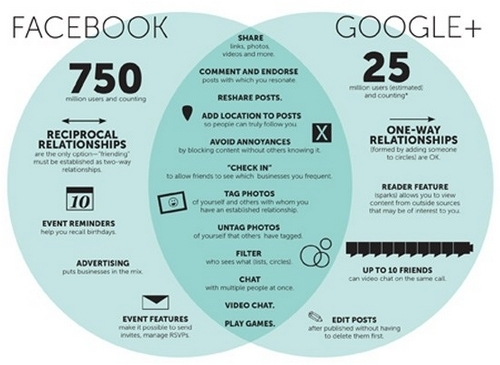 You certainly might have seen many cartoons that poke fun about the rivalry that has been going on between these two brands. But it is not all fun as there is some truth to it. Google has for long been trying to overthrow Facebook in the war for being the social media king.
For that reason, Google has come up with a new contender and it is known as Google+. But is that worth the fight? I guess we will find out.
Facebook can easily be called the biggest website for social networking. A website that helps in connecting with users worldwide is surely fun right. Also, it is a platform where you will be able to share your pictures, videos, posts and do so much more. Making profiles and communicating with people becomes a lot easier with Facebook. There is an online chat feature available as well.
Google+, on the other hand, is quite similar as it is a social media networking site as well. However, the functions are a little bit different. On Google+, you will be able to sort people into various groups that are called circles. These are either private or displayed for public view. You will also get an online chat function here as well.
Be that as it may, but when it comes to Social Media Advertising Potential, Facebook is a sure shot winner. You can create a Facebook business page that will empower your business multiply revenues in the limited possible time.
Google Ads vs. Facebook Ads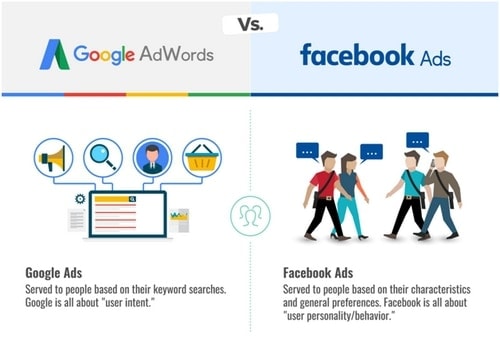 The dominant forces that govern the world of advertisement are Facebook ads and Google ads. However, choosing the best one between the two can be a bit of a difficult as they both provide marvelous services to the advertisement space.
Facebook Ads will let your customers find you while Google Ads lets you find customers
Google Ads or AdWords work on PPC advertising model while Facebook ads are paid social
Google has the most immense audience and a wide range of Ad formats while Facebook Ads enjoy better audience granularity and better visual appeal
Conclusion of Google vs Facebook
So, the debate still remains the same, as it is quite confusing to choose between the two competitors.
 They both have their unique qualities and they both outrun each other in their respective fields. We think that deciding which one is better will take some more years.
It would be prudent to consider both of these in a complementary manner. Using both paid search and paid social will be the most effective online advertising strategy for you.
If you want to learn more how Google and Facebook Ads can benefit you then share your business details in a comment below.
Liked this post? Check out the complete series on Digital Marketing