The tough war between Google vs Facebook (the two giants in technology space) began ever since Facebook started gaining more popularity than any other brand in the social web. Google's product portfolio consists of more than 100 products, as Google wanted to have its presence in every product which is used on Internet. This led Google into concentrating on continuous acquisitions in the market mainly Orkut, Youtube and others.
Google Started off late in 1998 by three people Larry page, Sergey Brin, Eric Schmidt. The company started with a core idea of being one-stop search engine for Internet users in getting all the information around the world in a single mouse click. Google's strategy is to constantly innovate and engage in acquisition and partnering with other companies beyond the core business of providing search engine. Google's broad classification of products includes web-based products, operating systems, desktop and mobile applications, hardware etc.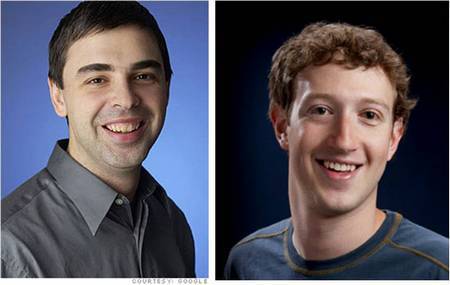 There is a saying "Curiosity is the mother of invention", but here the idea of search "curiosity" itself made a great revolution in web space. Google's revenue generation model is mainly from advertising and its main motive is to make people stay more time on its webpage. Along with search engine advertising, there are products like google adwords and google adsense which allows marketers to advertise and earn revenue respectively. Adwords and adsense contribute heavily to the revenue generated by Google. Google advertising covers 41% of the $31 billion US advertising market. When Google has shown such a rapid growth ever since its launch, what made Larry Page to go for Google plus? Which was a similar concept of like and share in Facebook!
The revenue from search advertising were slowly declining as the companies started concentrating on advertising in social networking giant ruling the social web, Facebook. Facebook has a user base of over 800 million and a survey says that an FB user spends an average of two hours daily. So, it is easy for the companies to capture them in Facebook over any other forms of advertising.
Banner –ad revenue is expected to rise by 81%, which will result in decline of Google's online advertising market share from 41% to 34 percent in the coming year. Forbes magazine has released the annual list of richest Americans, in which Mark Zuckerberg has pushed Larry Page behind. Mark Zuckerberg CEO and president of Facebook was in 35th position last year and has moved to 14th position with a net worth of $6.9 billion. Now that's growth!! Larry Page who was in 11th position last year is in 15th position.
The war between the duos of Internet space has started and Larry Page took a counteroffensive defence to defend the market share by introducing Google plus. Mark zuckerberg's recent announcement to go for IPO , also alarmed Google to retaliate in order to retain their position in Social web. Orkut which belongs to Google was once the most preferred social networking site, but Orkut rapidly faced a decline in the number of users after youngsters found FB to be more interesting as it had new features. Google also tried introducing google buzz which appeared to be a twitter clone trying to leverage the power of google. But buzz too was a failure.
This clearly shows that any company in technology space has to constantly upgrade in terms of features and creativity to appeal the audience. A recent report by Enders Analysis has mentioned about Google Plus that it will be a Niche product and will remain to be niche and has a huge scope to regain Google's lost market share in Social networking. The rivalry started from "Facebook Vs Orkut" and then to "Facebook Vs Google". Presently the war is getting tough like a head on head competition between Larry Page and Mark Zukerberg.
Google has a better work culture compared to Facebook, in terms of the freedom given to the employees to take up their pet projects. Every employee can work 20% of their work time in concentrating on their pet projects. This means the employee is allowed to spend 20% of allotted time in his own area of interest apart from his assigned projects. This is considered as an opportunity for innovation as people tend to exhibit more productivity only in when they like the job.
Facebook's only area of focus is Social networking whereas Google has a chain of products complementing each other like Gmail, Picassa and Youtube etc. Any technology innovation is subjected to sustain only over a short period of time. Hence Facebook is more vulnerable in the years to come as youth's tendency is generally to look for new arrivals. As learning from Orkut the user loyalty to such products is generally low and there are also professional networking sites like LinkedIn etc. On the other side the reason for the Facebook success is all about the "Curiosity of knowing what others are up to!"
Larry Page, Google CEO and founder who is 11 years older than Mark Zukerberg is facing the heat as Facebook in showing their dominance over Internet. Both are great visionaries in tech world in terms of their innovation and accomplishments. In the end the debate boils down to this – "Necessity or entertainment?". Google is a necessity as people need to search. They need google's product such as the search engine, gmail and youtube. But Facebook is complete social entertainment and that's something people love. People may not need Facebook. In fact Facebook is a time sink. If you wanna be unproductive – log into facebook. But that's the fun. If you want to escape from work online, and catch up with friends. Facebook is your way out. It is your hangout.
So we come down to the basic point. Who will win in the end? Only time will tell. Till then, keep searching, and keep sharing.