According to reports, for every dollar an advertiser invests in AdWords, he makes double. That means advertisers through Google AdWords are doubling their income.
Consider investing in PPC platforms such as Google AdWords because they prove highly beneficial for businesses. This definitely sounds wonderful but you have to know certain things before you can go ahead with Google Advertising.  The first and foremost thing in this context is how much Google advertising cost.
We will go in the details of Google Advertising Cost, but before that, let us have a look at the benefits that you are going to get from Google AdWords –
Benefits of Google Advertising –
Optimized Brand Awareness
Quicker Result than SEO
Ability to outrank your Competitor Ads
Power to convince the audience to make the purchase
Boosted ad visibility in front of a high-quality audience
Continuous testing to let the best Ad win
Ability to run campaigns based on the demographics of users
Right scheduling of Ads to Reach the Audience at Right Time
Remarketing features
Optimized Audience reach with RLSA & Broad Match Keywords
Therefore, investing in Google Advertising Cost will let your business appreciate such amazing benefits.
Now, let us proceed with all the budget details and the initial capital required to run the Google advertisements. The very first thing you need to understand here is the dynamics of Google AdWords cost –
Google Advertising Costs
Before launching any PPC campaign, always do your research. How much each keyword is going to cost you, depends on your particular industry. Again, if you want to use keywords that get a ton of volume and have high monthly search rates, they are going to be expensive.
Each click based on your industry will decide the cost you would be required to pay for your PPC ad. Your Google Advertising Cost depends on what you are going to advertise, your target niche and specific keywords that you are going to target to promote your business.
Here, you need to understand Google Advertising Cost on the basis of the keywords that you are going to use.
Calculate Google Advertising Cost with Keywords

For finding the keywords for your Google Advertising Campaign, you can use different Keyword research tools like SEMrush.
So, go to SEMrush search for the words and phrases that are related to your business.
Before going for certain keywords, you need to know which are the words that people may use that are related to your products. Just think on your own about the phrases that your audiences would use. For instance, if you run a flower house, you may try 'local flower delivery' or 'best flower store' sorts of phrases.
If you are still finding it difficult to get those phrases, you can just use the Keyword Planner tool of Google, which is free. This can be found in your AdWords account.

When you select the keyword planner, a list of options will appear, click the first one on it.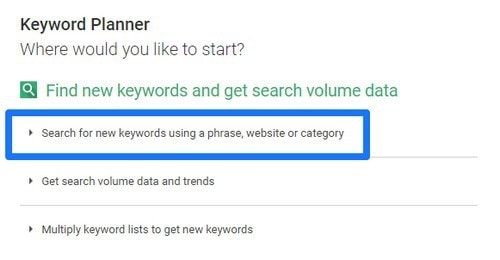 After that, you can enter your home page if you have one. When you search with your homepage or landing page, a list of keywords will be generated.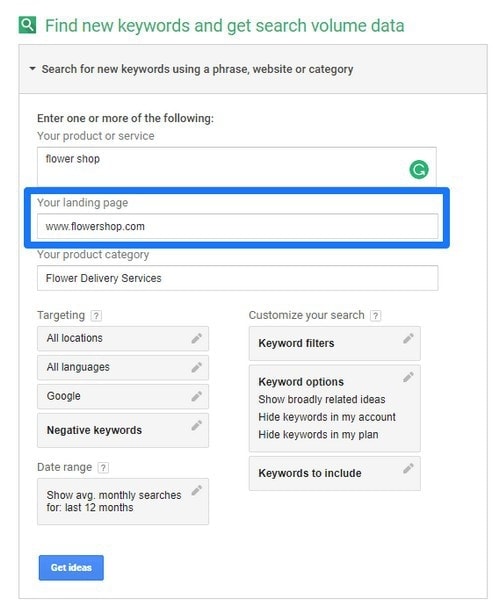 When you do a search by using a landing page of your site, you will easily find a comprehensive list of best-suited keywords related to your industry. You should download that list and then come back to the dashboard of SEMrush. Now, you can put these keywords in SEMrush to find out the data and information related to CPC for those keywords –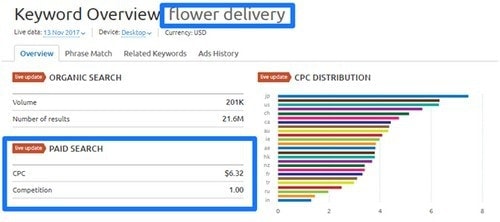 Extract this valuable data to Excel and include the following things :
Now, that you have the data regarding keywords and their costs, you can decipher your budget. After this, based upon your industry, you have to determine the average click-through rate of the keywords you have selected.
Suppose you have a keyword volume of 1000 searches a month, then with an average 1.91% CTR you can expect to have 19 clicks a month.
To make it easy below is the formula :
Keyword Volume*Average CTR (For your particular industry) = Clicks per month
After doing this, you need to use CPC of your keyword and multiply that with monthly clicks.
For calculating the monthly cost of your keywords, you can use-
Clicks per month * cost per click = monthly cost for that keyword
Repeat the process of calculating the cost for each keyword on your list. Now, you will have the figures ready, which point on how much it will cost you to launch the Google advertisement. Since you have now determined how much your monthly budget should be, let us now discuss how to come up with the capital investment.
Now, the next thing that you need to do is auditing your existing Advertising Cost to ensure that you are not wasting your budget on other platforms.
How to Audit your Advertising Budget to Manage Google Advertising Cost Smartly?
We can suggest you some options by which you can manage to arrange the money for Google Advertising-
1) Evaluate labor cost and adjust from there
For example, if you are spending x amount of money for 10 hours on a social media campaign, cut off it to 5 hours. This will create a good room in your advertising budget that you can use in Google Advertising Cost.
For calculating the labor cost of a particular task, you can use this formula-
Hourly rate * hours spent working on X task = cost of that task in labor
Let us now understand this with an example- suppose your hourly rate is 40$ and you spend this for 10 hrs in a week for channelizing any Social Media Campaign. Then, you can cut it off to 5 hrs and hence you will save 200$ in one week and $800 in one month. You may now use this extra money for advertising on Google.
2) Generate budget by Trading Platform
Suppose you are spending $99 dollars in a month for email marketing. If you feel the result of email marketing is not that impressive then you can use that money to cover the Google advertising costs.
If a platform is taking too much of time and money but not offering the needed revenues then you can consider trading platform to Google Advertising. This will help you generate money to be used as Google Advertising Cost. You need to find out the ways to eliminate those platforms that are wasting your money. Opting for such techniques will create room for Google Advertising Cost.
You can analyze conversion data via Google Analytics that will also help you measure costs and goal completions. With the help of your average lead value, you can find out the cost of your existing advertising platform- Total revenue generated by closed leads / total number of closed leads
This will help you check the value of an existing advertising platform offering to you. For example, you start using Facebook Ads for advertising and it is offering 2 leads every month. Then, you should multiply it with the avg. lead value and then find out the money you are spending on Facebook by calculating labor and direct spend.
In case you see your direct and labor spend are greater than the avg. lead value or monthly ROI from Facebook leads, you should dump using Facebook Ad and generate a budget for investing in Google Advertising.
3) Check you Tool expenses
Usually, marketing activities involve a ton of tools like monitoring tools, keyword research tools, social media scheduling tools and more. Based on the value created by each tool determine the use of which tool you can let go off. Though cutting off a tool should be your last resort.
We would suggest analyzing in detail which tools are directly linked to conversion in your business and which are not and based upon that, you can choose to let it go off to have the Google AdWords budget. Some of the most common tools that are used in Google Advertising are Evernote premium,  Slack premium, Milkshake, Moz and so on. You just pick the one that is not offering expected outcome and eliminate that from your list. For example, if the functionality of Evernote does not suit your advertising, you can exclude it and add its budget to AdWords.
Opting for such way of auditing will help you have enough budgets to decide Google Advertising Cost ensure competitive bidding. After all Google AdWords is always going to be the best platform to offer the best revenues.
Still, have any doubt about Google Advertising Cost? Share your queries in comments below.