Do you wish to wish to learn how to turn visitors of your Facebook page into fans? Well, this is the place where you will find the answer to every single question that you have. We will discuss in here about the different Facebook page tabs and how can you use them in order to make your Facebook page a bit more popular amongst the people.
Stay tuned if you want to know a bit more about how to use Facebook page tabs to generate leads and ensure conversions for your business.
There is absolutely not a single speck of doubt about the fact that Facebook is one of the most popular platforms of social media that people use. When it comes to the use of Facebook, we can say that there are many in line. Not only does it prove to be a great tool of communication, but it also makes sure that the different brands and businesses get all the promotion that they need.
Variety of Facebook marketing and advertising techniques are there that increase sales potential of business in an effective fashion.
There are so many different companies that spend millions of dollars on different Facebook marketing strategies but tend to ignore one of the most important things on the platform. That is the Facebook page tabs and customized way of using them.
So, if you overlook this part then there are chances that you might not get the followers that you want.
Before going deep into the key idiosyncrasies of Facebook Page Tabs, first, let us have a look on general Facebook Page Tabs used on HubSpot Facebook page –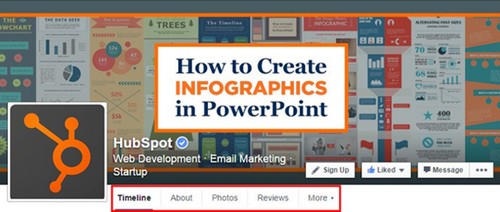 So, you would have noticed how adeptly tabs on Facebook let you describe key details related to your business in front of your audiences to aware the more about your brand.
Now comes the key thing- i.e. Custom Facebook Page tabs that empower you to showcase your key features in a more emphatic and interactive manner. You can easily add custom tabs that can highlight key features out there. In below-given image, you can notice the adept use of custom Facebook page tabs –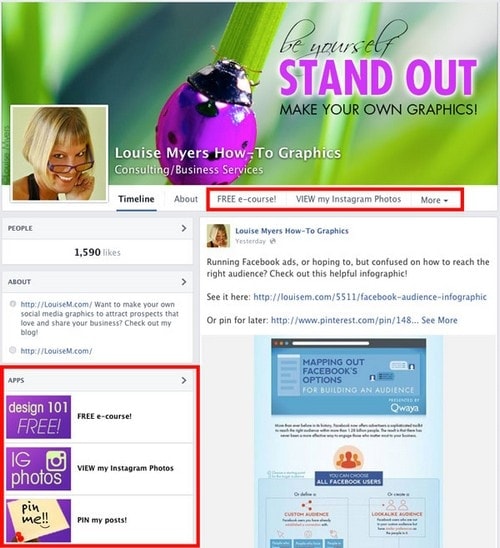 You can see how Louise Myers How-To Graphics page is promoting their Free E-Course, Instagram Photos, etc. via custom Facebook Page Tabs.
You can use custom tabs for different purposes, such as-
Different purposes for which you can use Facebook page tabs-
For promoting your website or blog subscription
For showcasing custom testimonials, case studies, etc.
For driving page users to other Social Media Profiles
For advancing registration of your next webinar, event, etc
For adding your e-books or other downloadable stuff
Let us now dive deep into some of the other tips that will help you use Facebook page tabs in the most effective manner possible.
Using Facebook Page Tabs: Tips to Help
Here we have some ideas with which you can easily use the Facebook page tabs and make sure that people follow your page on Facebook. Read on till the end if you want to know more people.
1) Ask People For A Like
The Facebook page tabs are the perfect place where you can ask the people for liking your page.
This way your page will have a presence in the online community and that is all that you really want right?
Make sure that you try this method out and you will see the best results for sure.
Asking people to like your Facebook page can be easily done with the help of the Facebook page tab and with that you will be able to grow your Facebook community. Why wouldn't you try it then?
2) Provide Different Engagement Opportunities
You need to make sure that you provide people with some opportunities to have interactions with you on your Facebook page.
Why else would they want to interact with you if you don't provide them with enough reasons to do so, right?
You can easily use the Facebook page tabs to make sure that people interact with you in the best way possible.
You could invite them for contests, have polls, invite them to share posts and pictures on your Facebook page. All of that can be done very easily with the help of these Facebook page tabs that you have.
You could also use a long tab which would allow the visitors to have a better view of the page that you have.
3) Use Some Current Events
One of the most important tactics that you can use with the Facebook tabs is combining the promotional stuff that you have with the current events that are an interest to the people.
You can easily use the Facebook tabs to make sure that you are able to post some promotional videos about your brand or company along with the current events so that people have an interest in the page of yours.
This is one of the most important tips that we have for you here.
What are you waiting for people? Go ahead and try it out to see the best results possible for your Facebook page. You will certainly be impressed with what you find.
4) Provide Links To The Custom Applications
Let us give you an example to explain this point. Starbucks is a very famous brand and it has a page on Facebook as well.
The Facebook tab of Starbucks has got a link for the users who can use it to go to the Starbucks application where they can easily manage the accounts that they have with the brand.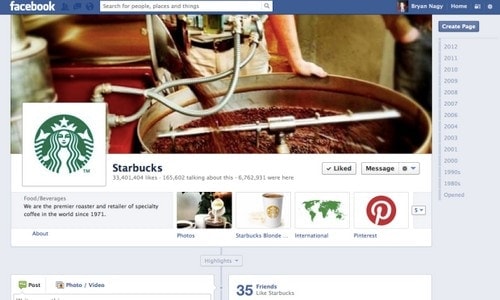 So, why wouldn't you want to try it as well?
We are pretty sure that the results that you will get will be amazing for the growth of your Facebook page. There are many companies that have tried this thing out with their Facebook page tab and the results are truly amazing.
So, don't waste any more time and try it out right now.
5) Don't Beat Around The Bush
When you want to use your Facebook page tab in order to get more fans, you need to be more direct with your approach. Beating around the bush and providing information that they don't like is not the solution to that.
You need to make sure that the visitors can get straight to the main deal without wasting much of their time.
That is the only way by which you can get people to like the page that you have on Facebook.
This is another one of the most important things that you need to keep in mind if you want to make proper use of the Facebook tabs. If you do that then you can be pretty sure of positive results.
You should directly land your visitors to the web-pages, blogs or events where conversion may occur, as this will help you get most out of your Facebook page tabs.
6) Create Fun And Exciting Engagement Options
If you want to make people interested in your Facebook page, then you have to make the experience a fun one for them.
This is where the Facebook tabs come to help you out.
Providing easy methods to do tough things is one of the ways by which you can make the interaction fun for the people.
You can land your visitors to downloadable guide, subscription page, app store, etc. by adeptly using Facebook page tabs.
You will see the results if you are following each and everything carefully.
This is certainly one of the things that you definitely need to keep in mind when you are using the Facebook page tabs.
So, these are some of the tips and ideas that will for sure help you use Facebook page tabs in the most effective way possible.
Now, the time has come to understand the steps of adding a custom Facebook page tabs on your Facebook page. So, let us delve into those-
5 Steps to add custom Facebook Page Tabs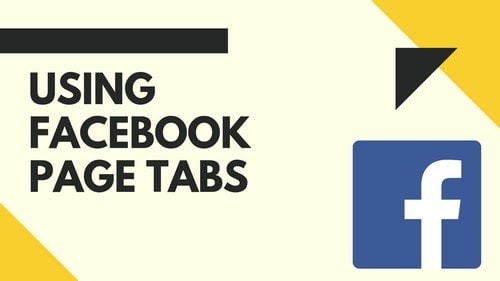 1) Creating content to be used in your Facebook custom tab
The very first thing you need to pay attention to the content that you want to display through your Facebook page tab.
Facebook allows you to create any type of content, plus Facebook also lets you do this by drafting a web page.
You will be creating this web page outside of Facebook that will later be added to your Facebook page. A few key things to notice here are-
Your web page needs to have a secure URL
To ensure proper display of your webpage on Facebook, you should set your page width either at 810px, 520px or 100%.
Videos, images, etc. that you use on your page should also less than 520px or 810px based upon the width of your tab content
2) Logging In into Facebook
Next thing that you need to do here is logging in into Facebook as a Facebook Developer
For this, you need to go to https://developers.facebook.com/apps
Just give your usual Facebook credentials, and you will be successfully logged in
3) Creating a new tab and naming it
To create your new Facebook page tab, you need to click on '+ Add a New App' and then choose 'Website' button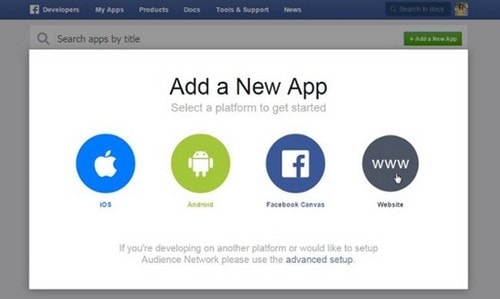 Here you should opt for 'Skip and Create App ID' button and should not use the "Quick Start" wizard

Now, you need to give Display Name of your Tab or App. For tab creations, you should choose 'No' for the question about test versions and finally, you will be required to choose 'Apps for Pages' for category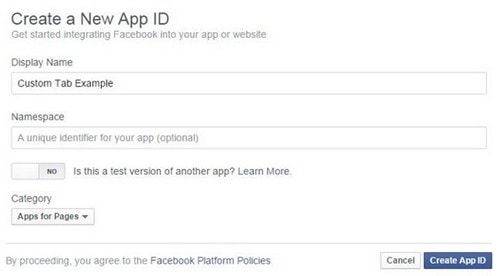 Then, you need to choose the 'Create App ID' option that will lead you towards the App dashboard for the next steps
4) Configuring your custom Facebook Page Tab
In the App Dashboard, you need to click on the 'Settings' and then on '+ Add Platform'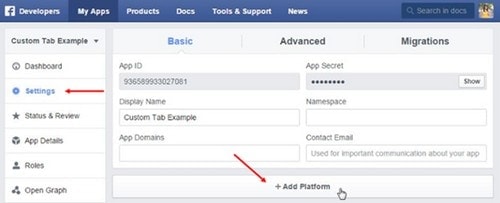 In the next step, choose 'Page Tab' as a platform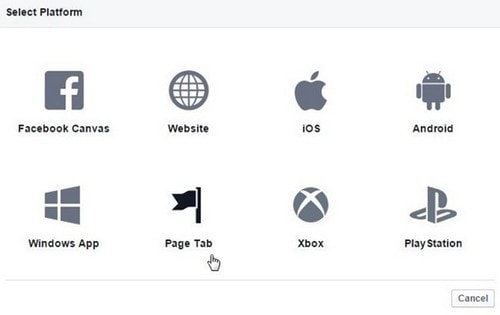 Now, you need to include the 'Secure Page Tab URL' of that web page which you had created in 1st step
Secure URL is needed here. You would also be required to give the width detail of your page tab. 810px is good as this will let your content fill the complete wide of the page tab
Once your editing is finalized, you need to click upon the 'Save Changes' button
5) Adding Your Custom Page Tab to Your Business Page on Facebook
For this, you would be required to modify below-given link-
http://www.facebook.com/dialog/pagetab?app_id=YOUR_APP_ID&next=YOUR_URL
To modify this link, first thing first- change YOUR APP ID and YOUR_URL section with the APP ID and Secure URL of your APP.
After doing this, you need to open the link in your browser. You will see a pop up asking you to Add Page Tab.
There you need to choose the page where you want to add that page tab. Now, your Custom Facebook Page Tab is ready to use
You can also rearrange the positioning of Facebook tabs, so you can adjust the positioning of your Custom Facebook Page Tab as per your choice.
Wrap Up!
So, adept executing of aforestated steps will help you create custom Facebook page tabs as per the specific needs of your business.
Use of Facebook page tabs is one of the most significant methods of using Facebook to promote key features of your business, so you can target, connect, interact and convert number of relevant audiences.
So, are you also considering to add the Facebook page tab on your business page on Facebook? Share your business details with us in the comments below, and our experts will suggest you the right tab for your business.
Happy Learning!
Liked this post? Check out the complete series on Facebook Marketing