So, you have a business profile on Facebook and you want to know how to use the Facebook Messenger for marketing your business to the people in the digital world? Well, you are definitely at the right place then. We are here to talk about the use of Facebook Messenger Marketing in the field of marketing and advertising.
After reading this post, you will certainly have an idea about using Facebook Messenger as a tool for proper Facebook marketing for sure. Stay tuned if you want to know more about it.
Actually, social media is certainly one of the best things that we have so far these days. Plus, when we talk about social media, there is always the talk about Facebook, which is no doubt the most powerful and profit-driven Social Media Marketing Channel for businesses.
There is no doubt about the fact that Facebook is one of the most famous social media tools that we have so far. Not only has this platform helped millions of people connect with each other in the best possible way but it has also paved the way for the businesses to increase their name.
In the digital world of Facebook, having a proper Facebook marketing strategy is very important. There are many different tools that can help you with that. However, we are going to talk about one such tool in particular.
Don't know what we mean? Well, we are talking about the Facebook Messenger tool, of course.
There is no doubt that it is one of the best tools that Facebook has provided us. With about 103 billion users, this tool proves to be an efficient one for marketing.
If you have a brand that you want to promote on Facebook, then we are pretty sure that the Facebook messenger will be able to help you out. It even offers a better Open Rate compared to Email Marketing Campaigns.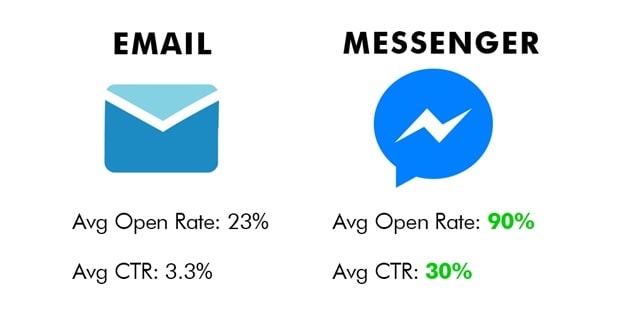 But do you know how to use it in order to get the best results? Well, this is why we are here.
We are going to tell you all about it. Make sure that you read all the way till the end if you want to know about the whole thing.
Let us start with understanding this new marketing strategy that is taking the use of Facebook messenger to the new heights-
Facebook Messenger Marketing- The New Strategy
It has been anticipated that in the next few years, the business relationships with the customers will be taken care of by technology itself.

This will be done with the help of various messenger options that will not only help in providing great customer services but also will help in increasing sales.
Among various messenger options available for such strategies, the Facebook messenger is one that is growing much faster.
Facebook Messenger Business Tools
Similar to the Whatsapp Business, Facebook Messenger Business tools also offers a number of options that can do great for your business.
Some of the tools that can actually help out are the Messenger Greetings to greet the customers when a conversation is initiated, Instant Replies that will not let the customer wait for a reply, and Saved Replies.
These tools actually work as strategies in order to bring a good bond of trust in the customers for the company.
Apart from these amazing tools, there are also other options such as the customer cards that are exclusive now on Messenger. This can offer you some of the important details about the customer such as the local time, the location, and also the order history.
The Reason To Use It
There are many reasons why making use of options such as Facebook Messenger for business can be of great help, especially for small businesses or startups.
The first and the foremost reason is that it helps in streamlining the customer service with the help of its features such as Messenger Greetings, and Instant Replies.
Currently, customers get irritated more often calling at the call centers. Hence, they prefer to get through options such as messaging and hence here the Facebook Messenger can be of great help.
There are a high number of people who wish to engage with a company that can allow them to message directly for business or for any customer support help. This offers them convenience as well as it increases trust.
Facebook Messenger can be also a great strategy where you can display advertisements alongside having a conversation with the customers.
How to do Facebook Messenger Marketing?
For the proper promotion of the brand that you have, you need to use Facebook Messenger in the best way. But how are you going to do that if you don't even have the slightest hint? Well, this is why we are here with the best tips and tricks. Follow these to have the best results.
1) Share The Content That You Have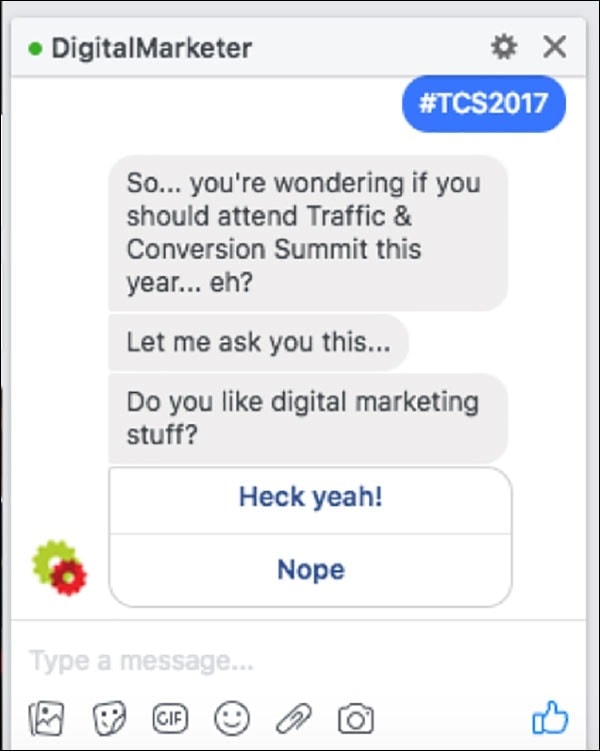 We all know that most people go for the email approach when they want to provide the content to the users via messaging or something else. While that is also a very good example of marketing, it doesn't really use Facebook for it.
You will be surprised to know that Facebook Messenger can actually help in providing the quality content to the readers out there. Plus, you will not even have to make sure that the people are filling forms in order to get the gated content.
So, why not skip the email marketing approach and choose Facebook Messenger instead? We are pretty sure that you will love the results that you get for sure.
Apart from that, there are chances that more and more people will open and click on the content that you are sharing if you use Facebook messenger for sending it. After all, there is a reason why it is called Messenger, right?
2) Help The Followers Get Relevant Content
Not only will you be able to push your content to the users of Facebook Messengers but you will also be able to make sure that they are able to find content on their own as well.
You can make suggestions about the content that they should be a reason and you can do all of that with the help of the amazing Facebook messenger tool that you have. This can be a great deal for content marketing as well.
To be honest, Facebook Messenger is not really that intrusive and that is always a pretty good thing because you will not be annoying the followers with the content that you share. You can easily make sure that your target audience reads the content that you are sharing without bothering them too much.
3) Increase Engagement During Contests
Another one of the best ways by which you can increase the engagement is by providing information to them about different events that are taking place near them.
You will be able to send information that is actually important and valuable to the users. Apart from that, Facebook Messenger is also a great tool for sending reminders about contests and other events as well. With that, the response rate of people will also increase a lot.
Now, wouldn't you want that to happen for your brand? If you have a contest anytime soon, then use Facebook Messenger in order to get the word out to the people.
4) Get Some Proper Sales Leads
You can easily get the attention of the people if you are using Facebook Messenger. Now, why is that you might ask? Well, it is because the tool is particularly new and one and more people will be interested in discovering what lies underneath it.
So, when you use Facebook Messenger for your business page, you will ultimately be able to generate more leads for the sales of the company. Such is the popularity of the tool. So, wouldn't it be a great idea if you got to try it out? We are pretty sure that it would.
5) Personal Contact With The Target Audience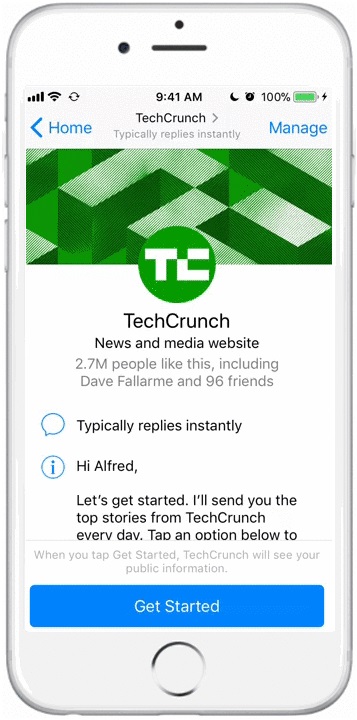 We all know that email marketing is a method of reaching the target audience. However, it has become a mundane more indirect approach for the businesses. Facebook Messenger, on the other hand, is more personal and direct.
You will be able to connect with people on a more personal basis. So, doesn't that seem to be a good idea for the brand?
6) Messenger Ads
Facebook Messenger Ads are also a great initiative for business.
Whether it is an image ad or a video, the Messenger icon can be integrated that will navigate the viewer directly to messenger on clicking it.
Also, there are many ads where the Messenger Greetings is also integrated.
Understanding the Future Of Facebook Messenger Marketing
As of now, there are as many as 1, 00,000 chatbots available on the Facebook Messenger.
 The number will surely keep on increasing with the passing time. With the help of AI technologies, their system will be even more simplified. This may offer you many more features such as reminders, and many more.
Small businesses can make use of Facebook Messenger in not only streamlining the handling of customers better but also in different sales strategies.
Facebook Messenger has come up a long way today from just a personal chatting place.
It offers a dynamic future to the business houses with various upcoming features. Not only these features will be a great benefit for the business houses but also for the customers.
Conclusion
So, these are some of the tips that we have here for you. Use these tips to market your brand properly with the help of Facebook Messenger.
Want to know how you can integrate Facebook Messenger Marketing in your Social Media Marketing Strategy? Share your campaign details with our team and they will be taking you forward.
Liked this post? Check out the complete series on Facebook Marketing