Many businesses have been using Facebook as a part of their marketing campaign, whereas some are just waking up to the importance of this social media channel as a marketing tool. If you are a newbie to realize that including Facebook to market your service or products is necessary, we have just the right steps ready for you to devise the perfect Facebook Marketing plan for your business.
Diving deep into this post will help you find steps that will enable you to use the powers of Facebook to optimize your online presence, leads, and sales –
11 Steps to Make a Result-Driven Facebook Marketing Plan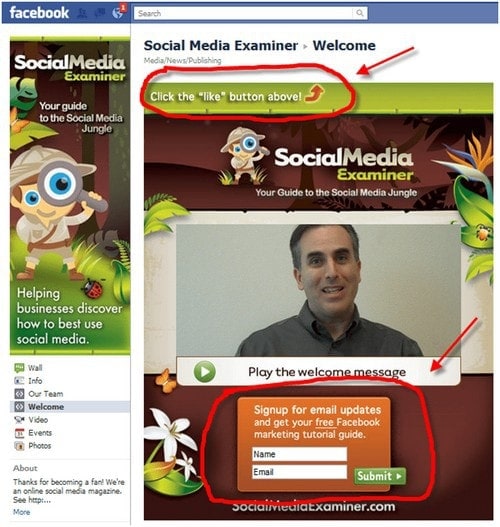 1) Identify your audience
When you know who your audiences are, carrying out your marketing plans becomes easy. First, define who falls under your target audience and then implement your promotion tactics. For example, if you deal with Stilettos, your target audience is women and can fall in the age bracket of 16-45 years.
2) Be clear on your Goals
When you decided to increase your online presence on Facebook, what led you to this decision?
Was it to increase traffic to your business website, improve conversion rate, to grow Facebook following, save money on marketing or to enhance the promotion of the brand? Sometimes Facebook is also used to drive traffic from it to other websites or to inform the audience more about business offerings. Below given Social Media Examiner Fb page is showing how the use of 2 CTAs is helping it to achieve 2 goals- the first one is increasing Fb Page Likes and the Second one is Getting new Email Subscribers-
3) Develop and implement your plans
Now that you are clear on your audience and goals, it is time to develop and implement your marketing plans on Facebook to achieve your objectives. You can do this in many ways, through creating Facebook contests to start conversations, posting pictures to highlight certain aspects of your products, sharing a post with links to direct traffic to other sites and posting the latest news and offerings on your products.
4) Use the Right Content Mix in your Facebook Campaign
After setting up your Facebook Marketing Goal, using the right kind of content is highly important. You can follow the 80-20 rule that is also known as the Social Media Rule of Thirds.
As per 80-20 Rule, you need to use Fb posts that are 80% educational, informative and entertaining while 20 percent promotional. This will help you build a relationship and promote your brand that helps in increasing brand awareness and sales. When your Fb page ensures value addition with its 80% of posts, the audience will opt for the promotional 20% section as well to get more profits from you.
In the same way, you can also opt for Social Media Rule of Thirds for designing the right content for your Facebook Marketing Plan. As per this rule-
1/3rd of Content should use stories and ideas
1/3rd of content should ensure personal interactions with fans and followers
1/3rd of Content should promote your business
Facebook wants businesses to come up with the posts that their fans and followers are liking, loving and sharing. You should also pay attention to this. You should also find out the best time to post on Facebook using Facebook insights to share your content at the time when your audiences are ready.
5) Create a Facebook Business Page
Creating a Facebook Business Page is one of the most guaranteed ways to ensure effective awareness and conversions around your business. With the right audience, proper goals and conversion-driven content strategy, you will be ready to create a Facebook Page that will enhance your brand image, optimize reach and boost ROI.
You can create your Facebook Page and start posting relevant content without paying any amount. It is also going to offer highly favorable results at the limited budgets. For creating a Facebook Page, you need to follow these steps-
Use your Page name which is either your brand name or Searches Friendly or both
Use a URL that relates to your brand and consistent on other Social Platforms as well
Make About Section impressive and authentic. Give all the important details over there. You should also tell your followers how they can contact you
Use impressive and relevant cover and profile pics
Add CTAs to let your customers do what you want them to do to favor your business or brand
6) Start Posting Content on your Facebook Page
You can use different types of content to post on your Facebook page. Some of the options that are available for you are-
Facebook text post
Facebook photo post
Facebook video post
Facebook Live video
In comparison to text posts, other visual posts are considered more engaging and effective. Video posts are new trends and businesses love using videos for creating brand awareness in a limited possible time. Live videos are the latest trend in video content and they ensure better engagement, lead generation, and conversions in real time compared to other forms of content.
7) Consider creating a Facebook Group
Using Facebook Group in your Facebook Marketing Plan is going to offer great benefits to you. Around 1 billion people use Facebook groups on the monthly basis that makes groups on Facebook very important to widen the business reach and lead generations.
Facebook Groups are the places where followers and participants of particular niche love to come and engage in some constructive discussions. Sharing of great ideas, product information, and posts that solve problems will help businesses have a great following on Facebook Group.
By incorporating Facebook Group in your Facebook Marketing Plan, you can gather your fans and followers at one place. This will build a community of individuals who have same kinds of inclinations to your products and services. You can share valuable knowledge in groups, facilitate some kinds of conversations, run any campaigns, etc. to engage your group members. This will be very effective in boosting your presence on Facebook.
8) Use Facebook Ads
Next thing that you should include in your Facebook Marketing Plan is Facebook Ads. These ads are paid Facebook Advertising Campaigns that promote your brand in front of right audiences. You pay for such ads, so they can be boosted to more focused audiences. With the help of Facebook Ads, you can increase brand awareness and engagement. These ads are also quite effective in accomplishing different marketing objectives, such as-
App Installs
Conversions
Brand Awareness
Engagement
Product Catalog Sales
Lead Generation
Traffic
Reach
Store Visits
Video Views
Different types of Ads that you can run on Facebook are-
Photo Facebook ads
Video Facebook ads
Slideshow Facebook ads
Facebook Carousel ads
Facebook Collection ads
Facebook Canvas ads
Facebook Lead ads
9) Monitor your performance
After implementing your marketing tactics on Facebook, you need to monitor the performance. While some monitoring can be done through well-defined metrics but other times, you need to manually figure out the outcome of your action. Comments and other feedbacks constitute the performance parameter that needs to be manually evaluated for positive or negative results.
Apart from this, Facebook gives you the powerful tool i.e. 'Facebook Insights' where you can view the reach, engagement, and likes of your posts. Use of these data along with Google analytics can help you draw a comprehensive report disclosing the progress of your marketing activities.
10) Adapt Change for Progress
When you draw out your performance report, you can easily find out if your marketing strategy is working or not. If you are not getting enough followers, enough likes and positive comments use the performance data to make some changes to your actions and test whether they are working this time.
11) Use Analytics & Reporting

With the help of analytics and reporting on Facebook, you can find out important metrics that can tell you about the performance of your Facebook Marketing Plan. Below you can see the example of a Facebook Report-
You will get to know if your plan is helping you in offering the expected results or not. Different types of marketing goals that you can analyze are the increase in Fanbase, clicks on CTAs, form submission, and so on. Tools like Facebook insights and AllFacebook Stats will help you find the reports to check the performance of your Facebook marketing and advertising campaigns.
Summing Up
Aforestated steps will enable you to make a Facebook Marketing Plan that helps you achieve your marketing and advertising goals via the most powerful and result-driven Social Media Platform i.e. Facebook. Therefore, use them prudently as per your target niche and enjoy boosted presence, lead generations and conversions for your business.
Did we miss any step in our Facebook Marketing Plan rundown that you consider highly important in accomplishing the business goals via Facebook? –Share with us in comments below.
Liked this post? Check out these detailed articles on
Topic of Facebook Marketing
Alternatively, check out the Marketing91 Academy, which provides you access to 10+ marketing courses and 100s of Case studies.