The Facebook Blueprint is known as the best certification available for social media marketers now. Hence, it can be said that you have achieved the certification, you can be sure that you have attained mastery in the Facebook marketing skills.
It also is beneficial for the candidate because many of the customers and other marketers will take you to be someone highly professional and qualified and hence will come up to you for a great Facebook ad campaign.
Everyone is looking for a perfect Facebook ad campaign in order to stay ahead of the crowd. Facebook Blueprint certification offers you a platform through which you can get some of the best knowledge and expertise over Facebook ads and campaigns. This will surely help you in creating strategies that gain provide guaranteed results.
People who have a marketing agency often look forward to a trick that can help them in having a successful business. This can be said to be one such strategy that can help them in providing the best results to their customers.
It is not that you need to have a marketing agency to get this certification. You can always have this certification attached to your resume and can provide service to the other marketers and advertisers through freelancing. There are a number of people who work on a freelance basis and such candidates with such certifications are always preferred by the marketing experts.
Also, candidates who have this certification attached to their resume have a fair chance to get recruited in a big marketing organization with a good salary package.
Delighted by the benefits, if you are also thinking of getting the Facebook Blueprint certification, it is first important for you to know something more about it.
The Concept Of Facebook Blueprint Certification
Facebook Blueprint Certification is mainly the Facebook ads certification and comes up in two variants. The first variant is for planning and the second one is designed for buying. These certifications are mainly designed for the high-proficiency experts who wish to excel in Facebook ad campaigns.
Candidates who wish to gain this certification need to appear for an exam that deals with the advertisement skills on Facebook. Some of the topics that need to be covered are the platform of the advertisement, developing strategy, reporting and tracking, troubleshooting, measuring performance, and many more.
To gain the certification, the candidates need to study a lot and also should have experience in the field. As it is quite challenging to pass in the exam and get the certification, it is known to be one of the most respected certifications as of now in digital marketing.
You need to dedicate both money as well as time for the certification. But you should accept this fact that they will add up a skill to your resume and career ahead.
There are a few of the specifications that you need to know in case of the Facebook Blueprint certification:
There are two exams for the certification and the total cost that you need to invest is $300.
You need to retake the exam each year to keep it updated.
The exam has to be completed within 75 minutes.
The exam can be taken at any location such as your home with a safe browser.
Before appearing for the test, you need to have 15 minutes so that the proctors can a scan of the environment.
It is the high security of the test that makes the certification highly integrated and professionally reputed.
The Need For A Facebook Blueprint Certification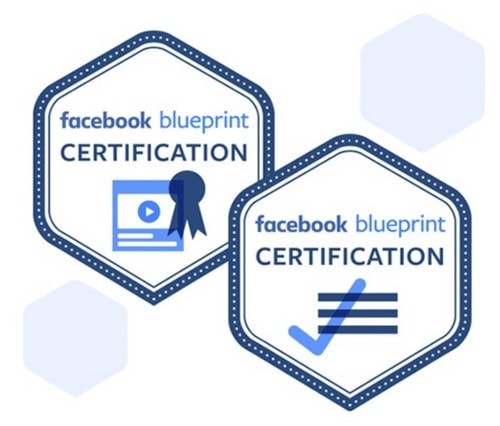 Facebook marketing is now the necessity of almost all popular brands. There are so many advertisers and brand owners who are considering to create and run ad campaigns on Facebook individually.
But it is not always possible to get that professional campaign ready with that not so expertise knowledge. This is the reason many of the marketers will look forward to a candidate who is learned, skilled, and also experienced. In this context, candidates with the Facebook Blueprint certification are the ones who are preferred the most.
These candidates are clear about the basic knowledge and are also professionally experienced so that they can handle any of such projects in a great way.
Candidates who have gained the certification are known to be of high importance in many of the companies and marketing agencies by now. Also, they are paid well because they have that skill to run an ad campaign in the best possible way.
Preparation For The Certification Exam
The exam can be taken up directly by signing up on the website of Facebook Blueprint. There are two exams, planning and buying respectively. Candidates for both the certification exam have one subject in common to prepare and give exam for and that is the proficiency in the core principles.
To pass the exam, candidates need to get 700 out of 1000 for each certification. Retaking the exam will, of course, incur extra expenses. If you do not wish to do that, you need to pass the exam in the first instant. In order to do so, you should have proper knowledge of how to prepare for the exam well.
For the certification in planning, you need to have expertise in a number of things such as the Facebook pages, audience insights, ad objectives, and so on. It also deals with a number of marketing strategies.
To get certification in this section, you need to pass two exams and these are:
Exam 310-101: Facebook advertising core competencies,
Exam 222-101: Facebook Planning.
Similarly, for certification in buying, you need to have expertise in creating, purchasing ads, managing, meeting KPIs, Facebook Pixel, and so on. It also needs expertise in many other sections such as targeting the right audiences, troubleshooting issues, and many more.
For this certification, the candidates need to go for two exams and these are:
Exam 310-101: Facebook advertising core competencies,
Exam 221-101: Facebook buying.
Candidates can take either of the certifications or also can take both of them. It is always better to get both the certification to have a full package of the skills.
Start Preparing
Now when you have understood the basics of the exam and how it is conducted, it is the time to prepare for it in a full-fledged way. As it has been mentioned before that it is not an easy examination and hence preparing for it in the best way is extremely necessary.
The exam preparation needs both studying as well as practical experience. Some of the resources that you can make use of for your studying preparations are 'The Beginner's Guide to Facebook Advertising', 'The Evergreen Guide to Facebook Ads Optimization', and many similar.
Make sure not to depend on one single resource for your knowledge. You should refer to at least 3-4 books and sources so that you can have a piece of proper knowledge about all the terms and strategies. Along with studying, having practical knowledge is also important so that you can pass the exam in the first instance itself.
For practical knowledge, nothing can be as better as doing it yourself and learning out of it. Facebook Ads Manager though may seem to be difficult in the first look, but it is not what it seems. You will already have reference to all the resources that can teach you about the different options and features of the ads manager.
Apart from this, when you will start proceeding with an ad, you will automatically know how to do what. You should start making ad campaigns and running them to know how you are doing it and what responses you are getting on them.
It may happen that you may fail in the first few instances but soon you will see improvements in the performance of the campaigns. This will happen when you learn from your mistakes and will keep on practicing more.
Practicing more will get you more experience and will make you more skilled in the activity and hence making you a perfect in the field.
After getting perfection in the ad campaigns, you can take the exam surely you will be able to crack through it in the first go itself. There is an option to retake the exam if you fail but it will mean an investment of the money once again.
In order to save that extra money, preparing for the exam in the right way can help you gain the certification in the first chance itself.
Conclusion
The Facebook ad has become one of the best ways to promote a business or brand.
But the competition has increased even in Facebook marketing and hence one needs to be the best in order to gain traffic and attention on the ads. This is only possible when the best strategies are used keeping the basics strong.
Facebook Blueprint certification is all about making sure that the candidates are expert in Facebook marketing. Hence, the candidates need to start from the basics and need to go the extra mile and have practical knowledge in the field so that they can crack the exam.
Having a certification of Facebook Blueprint is highly reputable in the digital marketing field by now.
Liked this post? Check out the complete series on Facebook Marketing