If you own a company and wish to ensure effective advertisement, then this is absolutely the correct place where you've dropped by. Marketing is the key to ensure a company's success. I say so because the more publicity a brand receives, the more people get to know about it.
Thus, spreading awareness amongst the masses about your company's establishments, products and services are highly essential. Companies have special marketing cells that come up with strategies to meet the profit aims of the company. This is done by reaching the sales target. There are several means of promotion such as the traditional newspapers, radios, televisions, billboards and banners, and, the relatively new platform of social media.
In the past, social media was only considered as the way of re-connecting with old friends and family members. However, this conception has changed over the years. Smart marketers have also identified it as a great way of establishing contact with existing as well as potential customers. This is why you may often see new age companies adapting to social media marketing. This simply means that companies now advertise about their inception, services and products online.
Talking about social media, the first name that comes to mind is undoubtedly Facebook. Literally, everyone is on Facebook; be it the auto driver on the streets or the richest man in the country. This is one platform which gives an equal voice and representation to every individual who makes a profile on it. Thus, marketing on Facebook is highly recommended. But, the very next question like to come to your mind is that how to do Facebook marketing. You'll be surprised to know that there are several effective Facebook marketing strategies that you may undertake to ensure the success of your organization.
Most Effective Facebook marketing strategies.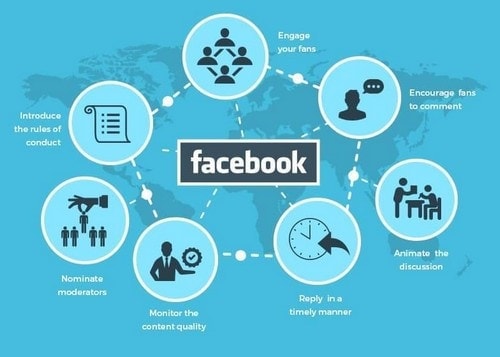 1. Facebook groups:
Do not confuse a Facebook group with a Facebook page. This is a very effective Facebook marketing strategy. Groups are basically associations of people who have similar interests and wish to represent a common agenda. This is what is pertinent to Facebook groups as well. This means that Facebook groups help you a great deal in easily reaching out to the target audience.
In fact, unlike Facebook pages, not everyone can be a part of a group. Requests are sent by those who wish to join. You too can promote your group by sending invites to people to join. These groups not only help out to reach people but also help you to get in touch with your clients. This is more like a liaison between the manufacturers and consumers.
Consumers also get an opportunity of stating their grievances or happy experiences with you. This, in turn, develops strong relations and a sense of security amongst the buyers. Please note that Facebook groups may be close groups, open groups or secret groups. This depends on you or the admin of the group.
2. Collaborations
This means to get in touch with an influencer, blogger or key opinion leader (KOL) and work with them. These are usually people who have a huge fan base. They post reviews and experiences with products and companies. Their feedback is trusted and followed by innumerable people. This is what may prove to be highly beneficial to you.
Collaborations are effective Facebook marketing strategies since you gain visibility before a larger audience. In collaboration, you work with bloggers either on payment basis or on the barter basis. In case of a payment basis, you pay the influencer in exchange for promotions.
In case of the latter, you need to send your product or service to the influencer and then they promote your company. Then, you do not get back the product as it is retained by your chosen influencer. Please note that at times, these opinion leaders may ask for both the product and payment, depending on their popularity.
3. E-mail/message signature:
If you're an iPhone user, you'll definitely know about the "Sent from my iPhone" signature. Similar to that, you may have also noticed e-mail signatures consisting of "Regards…" and so one. This often includes the name of the company along with the respective phone numbers. Now, to use it as an effective Facebook marketing strategy, you can include the link to your page or the page name in the message signature. This means that each time you message someone, your page details will also be sent along. This is a good way to let people know about your brand and enhance its image.
4. Correct timing
Did you know that according to research and statistics, there are certain days and times of the day when the social networking site receives maximum traffic This means that at a particular time, several people are active on Facebook when compared to other times of the day. You can develop a deeper understanding of this by researching or by simply going onto the insight section of your page posts.
5. Facebook Insights
Facebook posts can be checked in terms of their engagement and effectiveness through Facebook Insights. This lets you know the time when maximum people visited your page and post, how many people "liked" it and, it also lets you compare two posts. Now, this is indeed needed as you can draw easy comparisons to study what is more effective.
Thus, you can then follow the same trend of posts if this was on point. In case you missed the bull's eye, you can then implement corrective measures and take the necessary steps. Marketing must continue on lines which are effective to the maximum. Or else, all energy, resources and time will be the total waste.
4. Facebook ads
Facebook ads stand for Facebook advertisements. This means that your posts and page will pop up on the screens of those users who engage in similar content, even while offline. Facebook ads are paid services which help you to effectively use the social networking site for your brand's promotion.
The amount you need to pay depends on the duration of the advertisement, the number of audiences that you wish to reach out to and the number of days you wish to continue with the endorsement. Facebook ads may not only promote a page or business, but also specific posts and events. At times, there may only be directions to lead a potential customer to download your app. Other items that can also be promoted through Facebook ads are flash sales, contests, giveaways and merger opportunities.
5. Novelty
Forget others and think about yourself for a minute. Do you engage in reading the repetitive content? Do you like to see dull pictures? Do you ever follow one page and then start following another which is exactly the same as the first one? The answer is "NO"! Same goes for others.
No one would like to follow two pages which post the same thing. Thus, novelty is very important. You must be able to easily grab the attention of those who do not know about you. Only then is your base of operations likely to expand. It is imperative to be creative and come up with something that is least expected. The motive is to become the talk of the town and maximize curiosity as well as your profits.
6. Share button
Maintaining the privacy of posts is a must and should be taken care of. This means that no one must be able to steal your work or take credit for your creations. Thus, it is very important that you put your watermark on all that you post. However, it is advised to keep the option of "Sharing" on.
This allows interested people to share your posts on their profiles. In fact, they may also share it to the timeline of their close ones. This ensures that more and more people get to see your name and posts. This may lead to a further interest amongst people regarding your work and company. You must also keep the option of commenting on your pictures on. This means that others may be able to comment and also tag others on your posts.
7. Visuals
Visuals have a stronger impact than text. What meets the eyes is often retained for longer by the brain. This is why the visuals used should be colourful, vibrant and compelling. These must be high definition pictures. In fact, image optimization is also highly recommended. Remember that no picture should take time to download. If this happens, most people are likely to think that the page is corrupt and therefore unable to download.
This is an age where everyone and everything Is fast. So is the wifi connection! Texts should also be within a less number of characters and be relating to the picture. Have you heard of call-to-action? This means that you may use captions such as "tag…", "comment what you feel about….", and so on and so forth. These are statements that ask people to engage in particular actions. The increase in the number of comments is likely to feature on the timeline of others as well saying that "So and so commented on this post".
8. Hashtags
 Never forget hashtags. These are very important. It a common mistake to think that hashtags are only pertinent to Twitter. Hashtags essentially help similar hashtag users to see what others are posting regarding one common topic. Hashtags work similarly as tags. Thus, they are very useful as effective Facebook marketing strategies.
Trending hashtags must be used to feature on the search list of users and gradually gain traffic. You must ensure to do this regularly and you are bound to notice and the effective boost in your company's profits. But, do not commit the error of using too many hashtags. This may actually annoy your loyal followers since a lot of people have been noticed to post too many of them. Just one or two trending ones must do the magic for you. Ensure that you know what most people are engaging in!
Thus, there are several effective Facebook marketing strategies. However, you must note that what works for someone else, may not work for you. In fact, what does a wonder for you may also prove to be a total failure or disaster for someone else! Marketing is all about trial and error. It is your job to come up with new ideas for the promotion of your company and actively keep trying to bring about changes in the methods that you employ. If you feel that marketing not your area of expertise, then you may also hire those who are professionals in the field of social media marketing. However, ensure that be it you or someone else, whoever handles marketing for the company, must be aware of tools such as SEO (search engine optimization) and image optimization.
Liked this post? Check out the complete series on Facebook Marketing