WordPress has been one of the most common content management systems for a long time. In fact, if you are a blogger yourself, you would find it an excellent choice for almost all your needs.
However, if you are looking for alternatives, Joomla and Drupal are other two capable content management systems that have been giving WordPress a tough competition, though they haven't been as popular and user-friendly as WordPress is.
So how do Joomla and Drupal stand against each other? Let us check the two CMS options and explore their differences.
Drupal vs Joomla – An Overview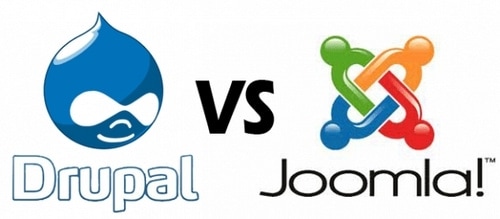 Drupal traces its origins to the time when even WordPress was not launched.
Launched in 2000, it is one of the oldest Content management systems prevalent which is popular even today. Drupal powers over 3 percent of the world's websites and has a market share of around 6 percent globally. A CMS solution written in PHP, it is a free and open source tool. The security features have been one of the prime reasons why it has been a preferred option for corporate, government and political websites.
Joomla came into existence in 2005. It is one of the excellent options practically designed for online E-commerce stores and similar high-end options. However, later on, the platform extended its performance beyond boundaries and extended itself to sites ranging across multiple features – online pools, blogs, online store and what not.
What is similar between them?
Before we can dwell into what differentiates the two capable CMS tools, it may be a good idea to understand the features that they share between them.
Both of them are free and open source. You can download and install them for free. They also come with hundreds of free themes and plugins to bring in new functionality and appearance to your site. Installation is another option that makes them similar in terms of their functions. Of course, you will need access to hosting plans, unlike other cloud-based platforms.
With a focus on mobile-friendly websites growing, both Joomla and Drupal offer you the option of themes with responsive design.
The Key Differences between Drupal and Joomla
Some of the features that differentiate Joomla and Drupal can be summarised based on the key features. Some of those features are :
1) Ease of Use
Most of us like to own websites but tend to back out because we do not have any knowledge of technical back-end. That is precisely what makes a CMS one of the excellent options. It eases out your tasks and helps you to work with your site without any technical know-how.
Joomla has an easy to use interface and offers you a seamless experience. The easier management is one of the best options that is loved most. Just like WordPress, it offers you all the editing options at once. The dashboard offers you complete details of all your tasks including language manager, media manager, content manager and a host of other options.
Drupal has the tabs organized in a technical manner and that makes it a little difficult to handle multiple tasks together. If you are not tech savvy enough – this may not be something you would be comfortable with.
2) Security
Both the systems offer you the security as part of the core system, and thus are less prone to security vulnerabilities. Joomla offers you advanced security functionalities like two-factor authentication and encryption options.
Drupal does have a considerably good deal of functions and features from the security point of view.
If security is of utmost concern for your requirements, Drupal should be your best choice in every aspect. It provides you with top-notch security that has been considered to be on an enterprise level by every standard. The fact that it powers most of the government websites in itself stands as a proof to the top level security that it comes with.
3) Customization Options
Joomla comes with its own set of templates and themes. No matter which type of site are you planning to create, you have access to a good deal of extensions and templates for your exact requirements.
Both Joomla and Drupal do not let you install plugins straight from the admin area. Joomla has an extension that helps you use the install from web option for the extensions. However, when it comes to templates, you need to search for the templates and then add their URL for installing them.
Drupal also comes with similar functions. While it offers you themes and modules, installing them is once again an issue. From the perspective of modules and add-ons, both Drupal and Joomla offer you similar functionality.
4) Performance
Drupal requires heavy resource requirements. It makes around 100 database queries per page load. This forces the heavy caching needs and thus it is more complex. Compared to Drupal, Joomla is lightweight and have a much faster core.
Joomla comes with a memory requirement of just 512 MB while the same for Drupal is 2 GB. This in itself gives an idea of how resource hungry Drupal can be. Benchmark studies have clearly indicated that Joomla is much lighter and resource intensive. Drupal can get faster with caching applied, but still, if you do it properly – Joomla tends to be faster than Drupal even without caching.
Though Drupal is scalable, and that is one of the reasons why it is preferred by bigger websites instead of going with WordPress or Joomla. In fact, in case you are an advanced user – you will prefer going with Drupal instead of Joomla because of the limited customization options available on Joomla.
5) The Accessibility
Drupal will need you to be tech-savvy to be able to use it in the best possible manner. It is quite complex in nature and best suited for those who are proficient in coding. You will need to go through a sharper learning curve if you want to master it. You will have no access to a text editor toolbar option. You need to compose the content in HTML, thus making it necessary to learn the basic HTML for efficient content management.
Joomla, on the other hand, does come with a text editor and also offers an HTML editor embedded within. It also comes with an Instant On function which will aid you in getting rid of all coding functionalities and use the platform as a simple option for text editing. This is in sharp contrast to Drupal which makes it compulsory to indulge in complete design for every project you take up with it.
6) The Community
When we discuss a Content management tool, one of the major feature that needs specific attention is the online community of users since most of the CMS tools tend to be open source and do not have a dedicated support channel of any nature, these online communities of users serve as the best means to address any of the concerns you may come across while using these tools.
Joomla has a community quite larger compared to Drupal (but falls considerably shorter than the leader WordPress) and offers easier advice and resolutions to any of the issues you may be going through. Joomla is almost community driven, but still, it can be considered to be slightly tech oriented.
Drupal is way too complex, and this reflects in the community as well. They have a considerably smaller user base, and it may not be an easy task to understand the concept. To know the support provided by the online community, you need to have sound technical knowledge of your website.
A Tabular Side By Side Comparison
We thought of listing out the features and differences of Joomla and Drupal by placing them side by side. In fact, this kind of comparison can indeed be much use in understanding the differences or similarities in a clear manner.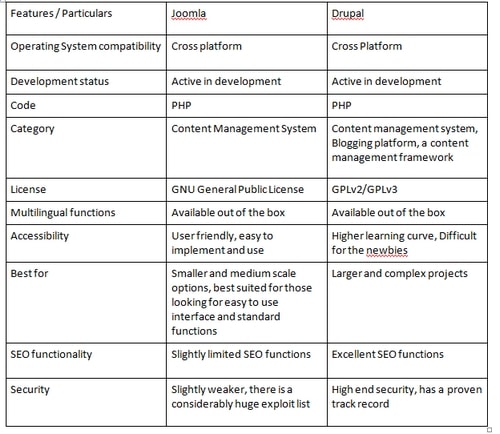 The above table should ideally provide a glance into what you can expect from either of the content management systems. Drupal is specifically designed for those who are accomplished developers themselves and have been into the technical side of the website building and all the intricacies therein. Joomla can be one of the best options for those who are not much tech savvy. However, even with Joomla, you are expected to have enough knowledge of the technical aspects of website creation and content management.
Drupal is quite complex and needs you to have the technical expertise to work with the concepts involved. In fact, that should work as a means of helping you building an excellent website rich in high performance, stability, and security combined together.
In Conclusion
Well, if you are looking to choose the best alternative among Joomla and Drupal, our vote would go to Joomla. In case you are aware of how to use Drupal, you can opt for it by all means, but still, remember that it is quite complex and may need occasional assistance from a third party dedicated Drupal developer. Given the fact that Drupal is not blessed with enough user base, you may end up shelling out more money as the Drupal developers are much difficult to get and as a result, they charge high.
Which among them would you choose for your website creation and maintenance? Share your opinions, thoughts, and experiences with either of the content management systems with us as it would help us and our readers have a more clear understanding of the concept that keeps both these platforms running in spite of the ruthless onslaught by WordPress, which has been the uncrowned king in the realm of CMS tools.
Liked this post? Check out these detailed articles on
Topic of Blogging
Alternatively, check out the Marketing91 Academy, which provides you access to 10+ marketing courses and 100s of Case studies.