So finally you have decided to start a website for your business and can't see how to go about it. You are not alone! There are several enthusiasts out there who do not know how to go about launching one's own website.
You may be confused over whether to start a site based on HTML or WordPress. How different are they from one another? Is an HTML website beneficial than WordPress or is it the other way round? Well, let us examine both scenarios and understand the advantages and disadvantages of both these options in finer detail.
Differences between WordPress and HTML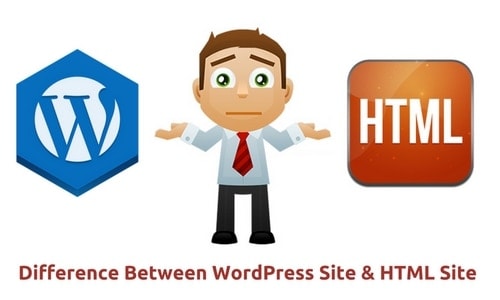 Most of us think that a static website would be enough to bring a good performance for your business. Most of those in favor of static sites created with HTML would be like "I am online, and people will find me."
Well, that may be wrong. How? Let us explain.
What is HTML?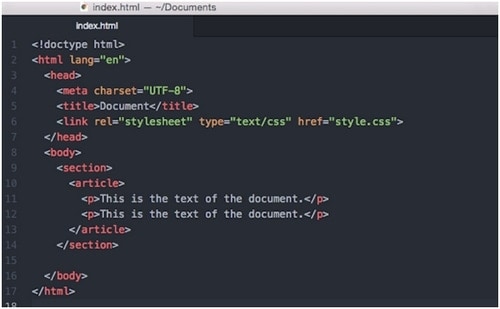 HTML was what made a beginning regarding displaying the web pages. It was the markup language that was initially launched as a means of showing your web pages.
Creating a website with HTML may not be easy. You may need to hire a web developer for creating your web pages as it is not easy to design & build a website yourself. It requires other elements and technologies like HTML, CSS, and JavaScript.
In sharp contrast to CMS tools, an HTML website will store all the content as static pages. The CMS software tools, on the other hand, make use of databases to save the files and then retrieve them.
The HTML websites came into existence in the 1900s when the concept of the internet began fast catching up, and businesses started exploring the need to make use of these technologies. Once the website was created and running, there was no looking back at its maintenance.
What is WordPress?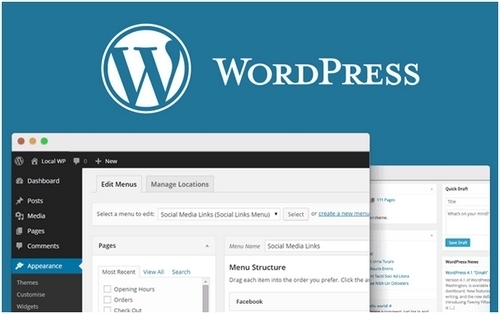 WordPress is a Content Management System. Being a CMS tool, it depends upon the Databases to store the content. This provides a dynamic functionality for your website.
The interface has an 'Admin' area from where you would be able to control the functions of your website and make changes therein. This is an excellent content management option even for beginners. Though we have several CMS tools, WordPress has been one of the most powerful options and powers more than 26 percent of websites globally.
You do not ideally need to hire an expert for launching and setting up your website for business. Almost all the tasks are user-friendly, and you will be able to configure on your own- although you might need to watch a few tutorials and learn a few basic things. The tool and the features therein are easy and straightforward to learn, thereby making it an excellent tool even for the newbies.
Advantages of WordPress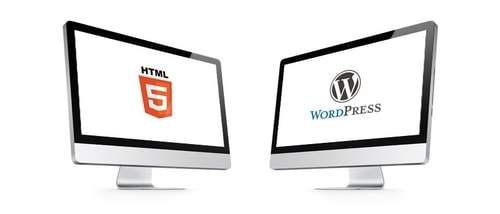 Here are the benefits of WordPress as a content creation tool.
The tool is simple and easy to update. You need to login to your admin area and add new pages or posts to your website. You would not need to pay your developer for any updates.
Even the newbies can easily use the software. The intuitive user interface makes it easy to work with.
WordPress offers you hundreds of professional quality templates online- many of them free of cost. Developed by professionals globally, they are the best to provide exceptional functionality to your website and enhance the looks.
The plugins make your WordPress based websites more powerful and functional. You can practically add any level of features to your site with ease using plugins.
Complete control over the website is one of the excellent features that WordPress would offer you. Make any of the changes you want and make these changes live within an instant.
Advantages of HTML
So, what benefits does an HTML based website offer you? Not many, but there are a few advantages you would stand to gain with HTML.
HTML does not need any maintenance. Once the site is live, you do not need to install any updates as such. Configure your website once, develop enough content and forget it. Of course, you can create a backup once if needed. There are no recurring maintenance charges involved at all.
An HTML website does not require heavy resources or other requirements. While WordPress or other CMS tools need PHP or MySQL, an HTML website does not need anything like these. The ability to run on lower resources makes HTML sites faster and lighter.
The Disadvantages of WordPress and HTML
There is nothing called "better" between an HTML and WordPress site. The right choice would be dependent upon the requirements you may have. However, now that we know the advantages that each of these two platforms come with how about checking out a few disadvantages?
Disadvantages of WordPress
WordPress is an excellent option in every standard. But still, it does come with a few problems on its part.
WordPress comes with a sharper learning curve. Of course, it is the best option when it comes with usability and simplicity. But it will need you to learn the basics so that you can begin using the tool quickly. However, you can always hire a Wordpress developer for doing these tasks for you, but it will come at a price.
WordPress needs a paid hosting service for optimum functionality. It also requires you to keep it updated for security reasons. You will also need to keep the themes and plugins updated at regular intervals for optimum functionality.
Disadvantages of HTML
Being an old option for creating web pages, if you use it for building websites – you are likely to experience a few issues that would affect the functionality to a greater extent.
If you want to add a new feature or include additional material to your website, you would need to hire a web developer. Updating it on your own will not be possible like in WordPress where you can make any updates even when you are a beginner.
Since HTML needs some extra training, you would need to hire the services of an expert even for a few smaller tasks. If you are looking for constant updates and numerous fixes, the costs can be quite high.
HTML does not provide you with additional features than just a website. In case you need those high-end features, you would need to upgrade to WordPress or similar CMS alternatives or use any other languages in conjunction with HTML.
Which One among them is Better?
Well, that is something that would have a bearing on what your requirements are. If you are creating a website that you would never or very rarely update, an HTML based site would be a good choice.
However, if you are looking to have complete freedom and control over the website and are continually updating your site, WordPress can be a good choice for you. In fact, rather than paying hefty fees to the web developers, WordPress will be an exceptional choice for your requirements since you can manage the site made using Wordpress yourself easily.
There is nothing that would be better among those two options. WordPress uses HTML, CSS and JavaScript for its different components. As such, differentiating them may not be practical in the real sense of the word. Both of them come with their own set of merits and demerits.
However, before we conclude, we consider WordPress an excellent option for building your websites when compared to HTML. Unless you do not have much to update on your site and are looking for improved performance, WordPress is an excellent option.
Liked this post? Check out the complete series on Blogging