You may have many doubts if you are new to the world of PPC or Google advertising. And the most common doubt that beginners have is what the cost to advertise on Google is. In this article, we will answer many of your questions regarding the cost of Google Advertising and guide you to see if PPC is for you.
Seeing the potential of Google and its success ratio, businesses nowadays prefer to use this platform to advertise their products and services. While having a discussion with advertisers, the first question that they ask is what would be the cost to advertise on Google.
So, the first thing that you should know here is that cost to advertise on Google does not have any direct answers. It depends on so many factors. We will try to start giving you the answer by breaking down some of the factors of Google advertising in a simple manner.
When you know all these different factors, you will have the clear picture of the cost to advertise on Google. This will enable you to keep a certain budget aside to get on with the advertising activities.
Let us start exploring the world of Google Advertising and understand keyword expenses, upon which Google advertising is based –
Cost of Keywords for Google Ads
The cost of keywords can range from a few pennies to hundreds of dollars.
Some of the highly popular Keywords can be highly expensive. For instance, if two international companies want to go for any popular keywords, they will have to get engaged in a bidding war that naturally gets translated to keywords getting pricier.
Do not worry! This does not mean that you have to pay a huge sum of money for your keywords because the cost of the keywords largely depends on which industry you belong to.
For example, keywords of law, finance, and insurance industries are costly. For finance, the highly priced keywords can go up to $400 t0 $500. However, it is very important to understand here that opting for costly keywords is not going to guarantee success for you. Having a smart PPC advertising strategy will do the trick for you. You can get a keyword in around 1$ and ensure success for your campaign if you are implementing right PPC strategy.
So, are you confused what should you do for this?
First, you just learn how you can find the cost of keywords that are best suited for your business. So, let us understand that-
How to find the Cost of your Keyword?
Several factors contribute to the cost to advertise on Google. But starting with keywords is a good idea. To get a rough estimate on how much keywords are going to cost, you should use the Keyword Planner tool.
In the keyword planner tool, you just type in your industry term or the desired keyword. It will generate many other relevant keywords that you might consider using. Keyword planner tool can also refine your result based on the country you belong to.
After the results are generated, turn your attention to the 'suggested bid' section. Here, you will get the estimate of many of the keywords based upon the current advertising rate at which they are running.
Now, when you have the rate you can determine if the cost per click is more or not. Quality Score of your PPC ads is one of the most important factors that will decide your cost to advertise on Google.
Role of Quality Score (QS) on Cost to Advertise on Google
After the average bid of your keywords, Quality Score is the most important factor in PPC advertising. Having a good quality score will save your cost to advertise on Google. Plus, it will also let your Google ad rank higher. You will be paying less per click in comparison to your competitors. While if you have a bad quality score, you may pay 100% more just for competing with other advertisers.
Optimizing landing pages and using relevant keywords can help you improve quality score. It is going to be the deciding factor in between profitable and unprofitable campaign. Let us understand what QS is-
What is Quality Score in Google Advertising?

It can be understood as the rating given by Google to any PPC ad. This is the rating of quality and relevancy of PPC ad and associated keywords. Your quality score is multiplied by the maximum bid, and accordingly, ad rank is decided in the auction.
The quality score also decides CPC. Some of the factors on which it depends are-
Click-through rate(CTR) of your Ad
Relevancy of the keywords used in the ad group
Quality of Landing page and its relevance
Relevancy of your Ad text
Performance of your AdWords account
Other factors that decide cost to advertise on Google are –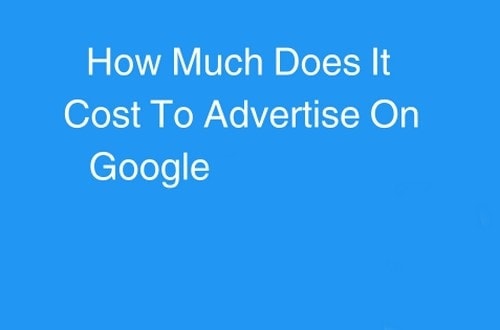 1) Device Targeting
Today, people do not just browse the internet through desktops. Mobiles and tablets are also equally used to surf the net. This means that you can target people not just on websites opened at desktops but can choose to target them on other devices too. The feature to target the audience on different devices is present on Google AdWords. Based on which devices you target and on how many of them, your CPC is going to vary.
2) Competition
Google advertising works upon auction bidding system and that is why CPC for every keyword varies as per the industry niche and related competition. For highly competitive industries such as car insurance, payday loans, finance, etc, you would be required to pay more. If you are bidding in less popular industry, you will be paying comparatively lesser.
3) Location
Via Google Ads, you can target different locations all around the world. However, locations have a huge effect on the cost to advertise on Google. Developed countries come under tier1 and they have higher CPC. While on the other hand, lower tier countries have lower CPC. Therefore, while setting up your Google Ad, you need to pay heed upon your target location to appreciate the best-suited cost to advertise on Google.
4) Network
Google has two different networks and they are Search & Display. Your cost to advertise on Google will also vary as per the network that you choose to run your Ad. Choosing Search network will let you run Ads on Google Search Page while display network will let you run ads on different websites, blogs, and portals. Display network ensures better reach while search network ensures immediate results.
5) Manual & Automatic Bidding
Google allows bidding in both a manual and an automatic manner.
Sometimes users want to be in control of it, while other times they want Google to be in control.  When you want to be in control of the charge, you have to disclose the maximum cost you are ready to pay for that keyword, rest Google takes care.  Entering too low of a number will not generate any result. When you want people to view your ads, you must bid the little more than the average industry CPC.
In addition, if you belong to an industry that is highly competitive, it's best to leave the bidding to Google automation. The prices change quite fast, so it is always advisable to go for bidding automation systems rather than resorting to manual bidding.
In case you want to place your Ad on the top 4 spots on the Google then it is advisable to bid more compared to your competitors, and pay attention to the quality score of your Ad. Let us now estimate the cost to advertise on Google to be on its first page-
The cost to Advertise on Google to come on 1st Page
When you run a Google advertisement and want to come on to the first page of Google, you need to understand that it solely depends upon the keyword you are going to target. Therefore, if your keyword does not have any serious competition, you will be on the first page just by spending a few bucks.
But if you are targeting a keyword that has always been there and many businesses are targeting that, be ready for a serious competition to rank on the 1st spot. In such a case, you would be required to pay more. You should try to pay an extra 20 to 30% of Avg price and check how it affects your ranking. Adjusting your bid and checking the outcome along with maintaining good quality score will help you rank on the first page of Google.
Now, the time has come to conclude this post and we hope you would have got an idea of how the cost to advertise on Google varies.
With a good quality score, your chances of ranking well on Google are always high.
Liked this post? Check out the complete series on Digital Marketing