Are you looking for a fast, secure, high-performance WordPress hosting that is in your budget as well? That seems to be impossible at first, but Cloudways is the first name that pops-up in my mind whenever I thought of the best hosting platform available in the market.
Cloudways is one of the simplest, affordable, and yet efficient Webhosting platforms available. And you don't need much technical expertise to deal with it.
In the process of finding the best performance-based hosting platform, I end up my search by testing the Cloudways.
Firstly, I would like to tell you that I'm already using Cloudways for all of my personal and my client's sites. Let's dive in for a more in-depth review!
Overview of Cloudways
Cloudways is a platform-as-a-service cloud-based hosting platform that offers you dedicated resources for better performance of your application.
The best thing with the Cloudways is that you don't need to have a piece of technical knowledge. Instead, they set up all the stuff for you. They also help us in the installation process, security options, backups, etc.
Cloudways support various applications, which include WordPress, Drupal, Joomla, Magneto, PrestaShop, Laravel, and other PHP based web applications. You can also clone any of your web applications, or servers if necessary.
You've to understand that Cloudways doesn't own any physical servers. Instead, they provide the infrastructure from the top cloud providers like Google Cloud, Amazon Web Services, Vultr, Digital Ocean, and Linode.

You can run multiple websites on a single server, but your server should have enough resources to host those web applications. Plus, the point is that you can scale your server whenever you lack the resources.
Features of Cloudways
Cloudways has various features provided for WordPress sites as well as for custom web applications.
Here, I am listing some of the features that you should know before going for other hosting platforms:
1. Dedicated Environment
In shared hosting, your website has to share resources with others on the same server. But, this type of hosting cannot handle the site that has a lot of traffic. The worst part of sharing resources is that the loading speed increases, which in turn reduces the overall performance.
Cloudways offers you a dedicated server for your websites, which means you don't have to share resources or servers. You can scale up or scale down depending on your needs without facing any downtime.
You've got the total control over your server through which you can increase the resources like RAM, bandwidth, storage, and processor of your server.
2. Free WordPress Cache Plugin
Breeze Cache plugin offers better WordPress performance, which comes pre-installed on the Cloudways platform.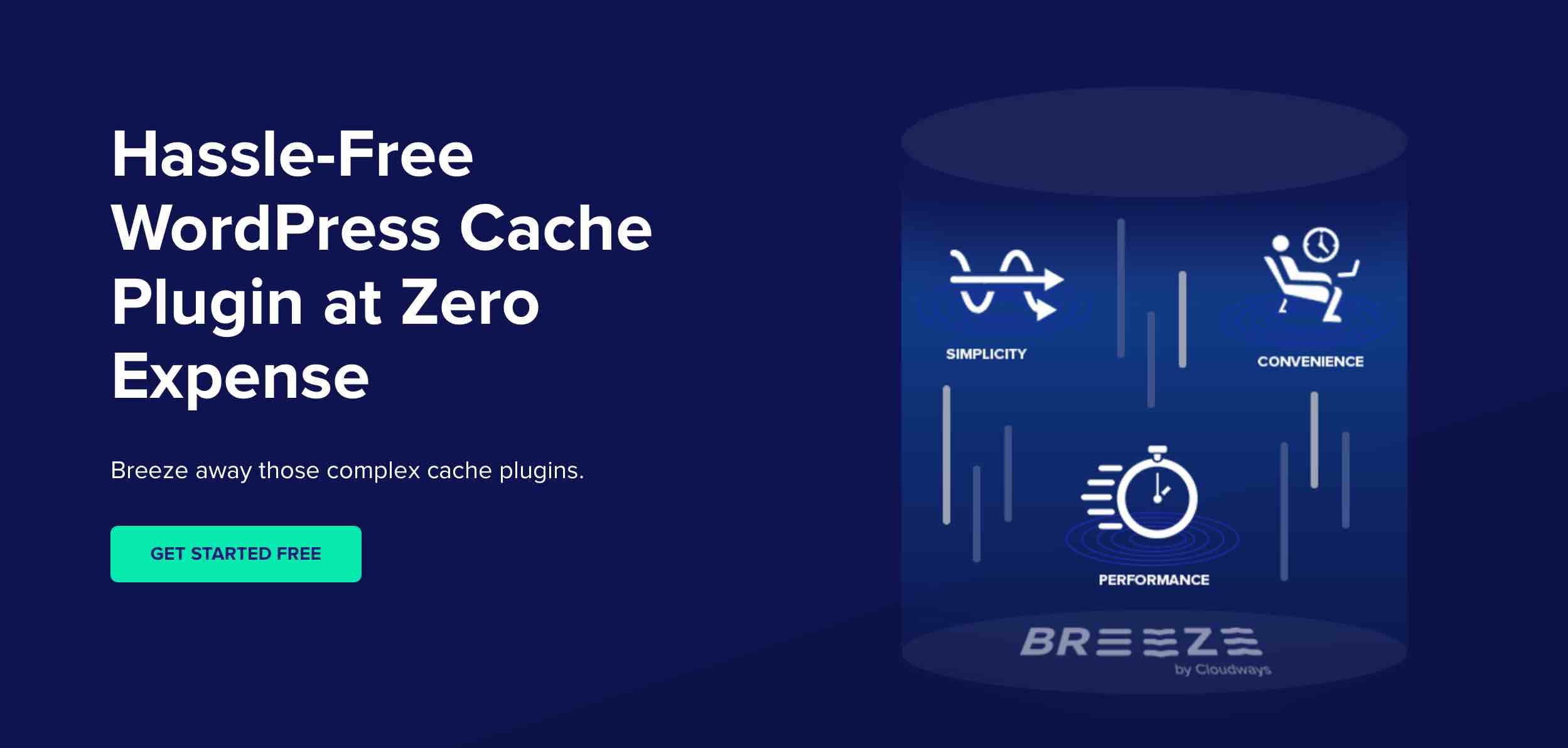 The servers come pre-installed with Varnish cache, which combined with Breeze to reduce the page-loading speed. Breeze also optimizes databases to reduce the size of the database, which in turn decreases the response time of the database.
Breeze is also compatible with WooCommerce if you're interested in the online store. And, it supports the integration of WordPress multisite. Both of the combinations don't require any unique configurations.
3. Security
Security is one of the concerns for any website owner in today's world. And, Cloudways knows very well that's why they worked more on the security practices to keep your servers safe from malicious activities.
Cloudways regularly perform OS patches and firmware upgrades. And, it also protected by OS-level firewalls, which make sure that there are no intruders on your server.
You'll get a free Let's Encrypt SSL certificate, which makes your website more trustworthy. You can also use their IP Whitelisting for more secure options in which you've to collaborate with other networks or regions with unrestricted access.
4. CloudwaysCDN
Cloudways Content Delivery Network (CloudwaysCDN) is used to reduce the load of traffic, which ends up in high-performance of your website in terms of loading speed.
Technically, it stores the static assets of your site. It caches all static content like HTML, CSS, JS, jquery, images, videos, etc.
With this feature, the geographical restrictions come to an end as the cached web pages delivered to the user from the nearest server.
You can contact Cloudways Customer Support to remove cookies from CDN, enable SSL for a custom domain, set the default cache time, or enable WebP files.
CloudwaysCDN is yet affordable as the monthly subscription costs you $1 per 25 GB of bandwidth for a single website.
5. Collaborative Workflow
You can add team members from any geographic location to distribute your work. And, you've got the power to allow them limited or full access. The access can be given to a particular server or an app. You'll be able to create one account and be in multiple teams.
With a single click, you can quickly transfer ownership of your server or app to any of your client, or any other individual. You can even migrate your WordPress site from any other hosting service provider to Cloudways for free.
6. Fewer Restrictions
If you're having a shortage of storage, but very much satisfied with the other resources. Then, Cloudways allows you to scale up storage space without changing other parameters. Also, you can increase resources like RAM, CPU, storage, or bandwidth seamlessly.
They recently added the latest version of MySQL and MariaDB, which supports all of their servers, and you'll be able to switch between these databases according to your needs.
There's no contract to use the hosting services. You only have to pay what you've used.
7. 24/7 Support
Cloudways has one of the best support staff in the market. You have to place a query, and one of their super technical team will solve your problems within minutes. Even though, they also provide ticketing system through which you can keep track of a specific issue.

Some of the bloggers come up with an issue whenever they have to perform the migration of their website.
Hence, Cloudways experts will do this job for you, you have to tell them, and they'll migrate your application in a single step. Meanwhile, you can relax and have a cup of coffee.
You can also check their online community, where the experts answer the other's problems. And, the experts also share their knowledge and experience, which in turn helps many individuals in many different ways.
Cloudways Add-ons
Cloudways are trying every possible aspect to make its platform convenient as much as possible. Adding to this, Cloudways offers various add-ons to extend the functionalities for its customers.
Rackspace is the most reliable email hosting service available on the Cloudways platform. The one-click installation is secure, and there's no complication at all. You don't have to worry a bit as they offer a guaranteed uptime. You'll be able to maintain calendar, create notes, and reply to emails with your mobile phone, which can be sync through their platform. The price of using Rackspace email hosting starts from $1 per mailbox per month.
Whenever emails are routed through Gmail SMTP, then the chances of being spam of an email minimizes. You can send 99 emails in a day, and the most exciting part is that you don't have to pay a single penny to activate this addon. Technically, the Gmail SMTP server doesn't use port 25 for its delivery. Hence, there's a negligible chance of getting blocked by ISP.
The visitor can reach your website from any geographic location without any hiccups. This addon provides high-performance with a variety of services like maintaining infrastructure, updating network configurations, and much more – the DNS support several protocols, which include HTTPS, HTTP, TDP, and UDP. You have to pay a small fee of $2.5 per 5 domains to activate the addon.
The job of upgrading an application will be done by the Cloudways experts. And, before upgrading, they study all the inner details of your web apps, and the server, so that no issues will come up in the later part. You don't have to pay monthly fees for upgradation. Instead, you've got to pay for the updates that you want in your web apps. During the update process at the backend, they'll make sure your website doesn't get any downtime. The price of upgradation starts from $50 per upgrade.
If you're looking for the migration process of your website, then the headache of migration will be gone. Cloudways experts will take off the migration with minimum downtime of your website. The fee that Cloudways take for website migration starts from $25 per application, but the price varies as per your web apps. The good news is that you'll get a free migration for one of your sites.
Cloudways Pricing
Cloudways offers a "pay-as-you-go" model, which is a very flexible pricing model for everyone. Cloudways has five different hosting partners:
DigitalOcean
Linode
Vultr
Amazon Web Services (AWS)
Google Cloud
Digital Ocean:
Plans start from $10 per month and end up to $80 per month. You'll get RAM from 1 GB to 8 GB, one core to 4 core processor, 25 GB to 160 GB of storage, and bandwidth of 1 TB to 5 TB, all depending upon the plan you opt.

Linode:
Plans start from $12 per month and go up to $90 per month. You'll get RAM from 1 GB to 8 GB, one core to 4 core processor, 20 GB to 96 GB of storage, and bandwidth of 1 TB to 4 TB, all depending upon the plan you opt.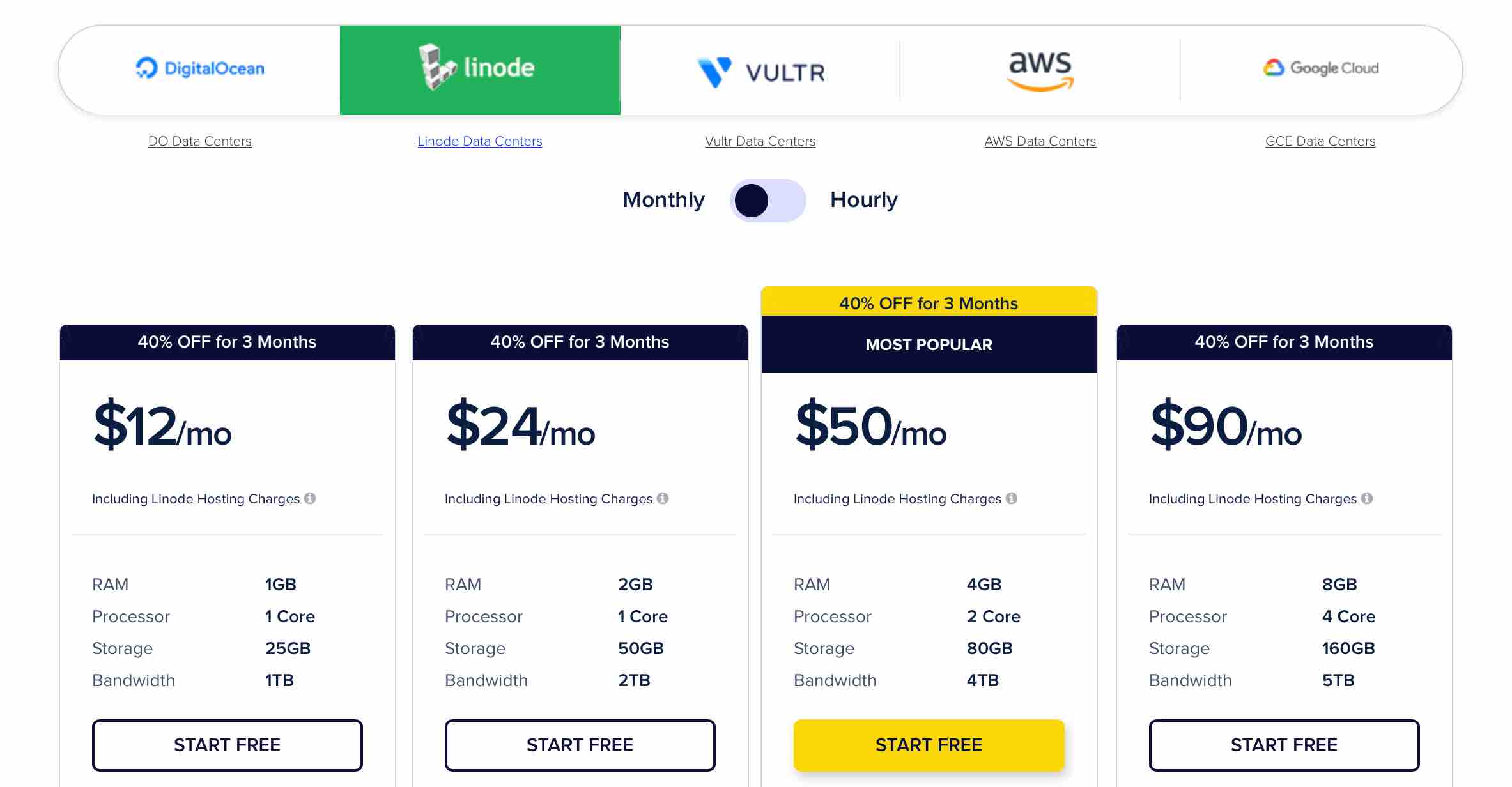 Vultr:
Plans range from $11 per month to $84 per month. You'll get RAM from 1 GB to 8 GB, one core to 4 core processor, 25 GB to 100 GB of storage, and bandwidth of 1 TB to 4 TB, all depending upon the plan you opt.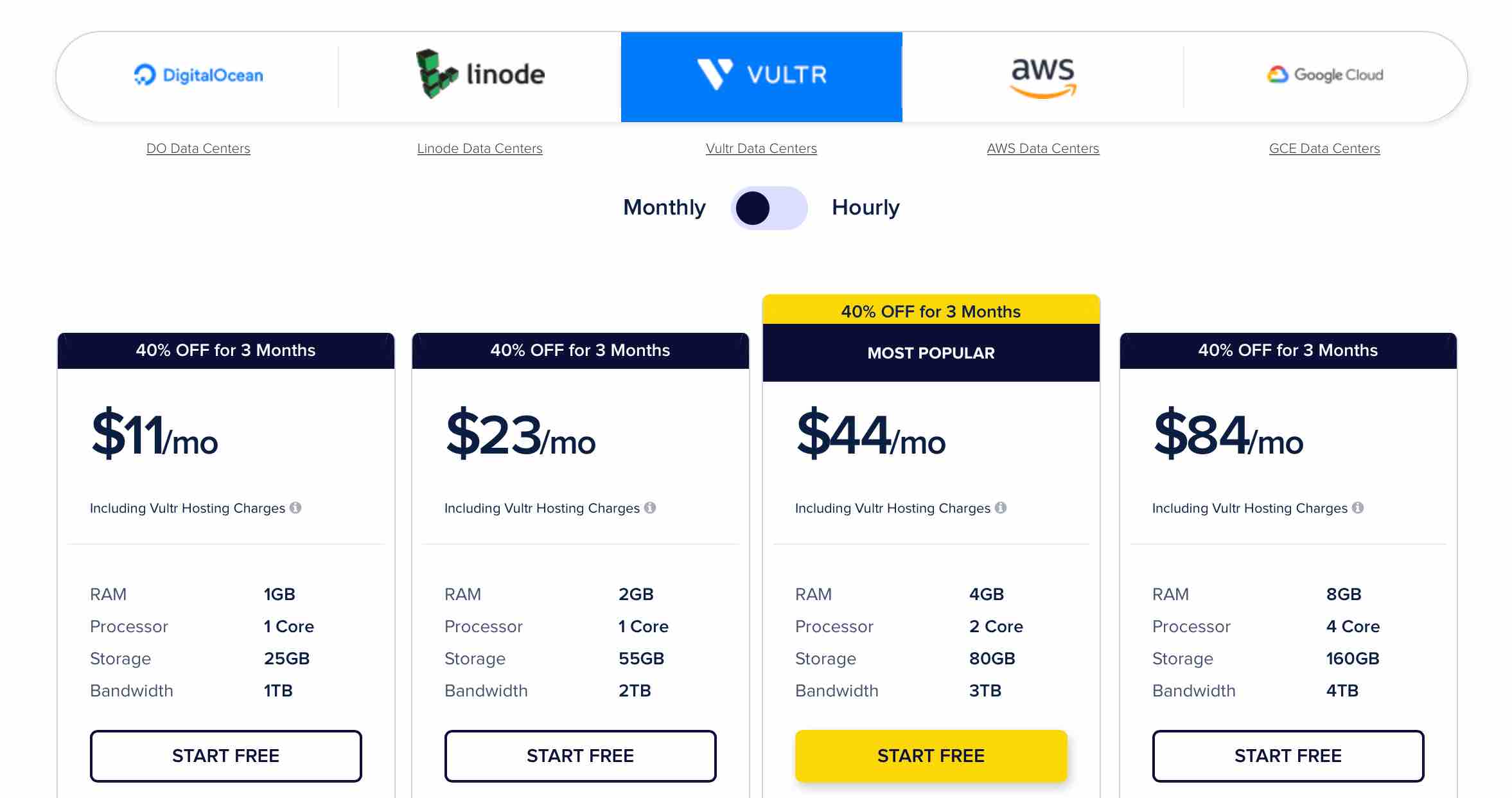 Amazon Web Services (AWS):
Plans start from $36.51 per month and end up to $274.33 per month. You'll get RAM from 1.75 GB to 16 GB, one core to 4 core processor, 20 GB of storage, and bandwidth of 2 GB, all depending upon the plan you opt.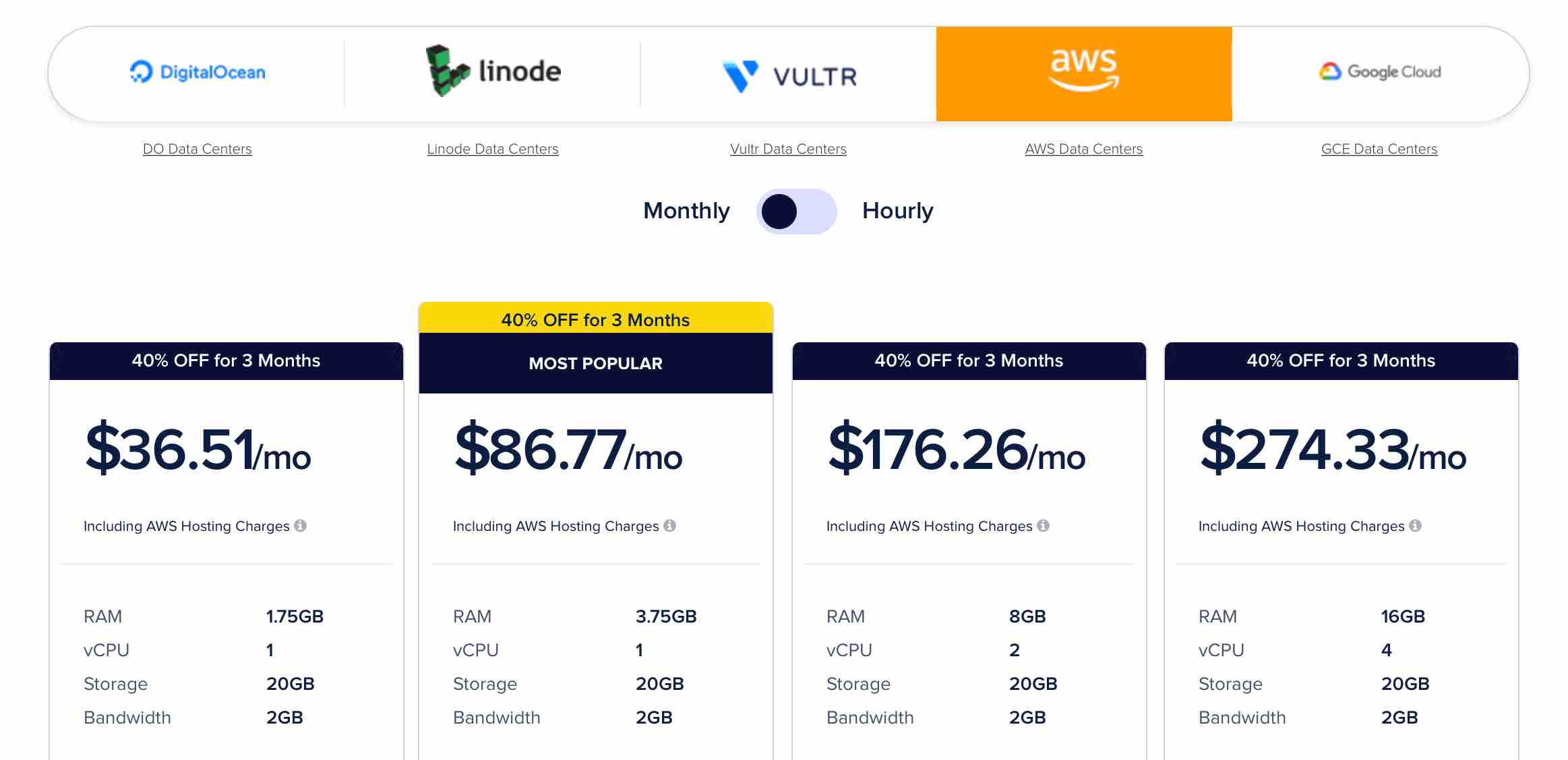 Google Cloud:
Plans start from $33.30 per month and end up to $226.05 per month. You'll get RAM from 1.70 GB to 15 GB, one core to 4 core processor, 20 GB of storage, and bandwidth of 2 GB, all depending upon the plan you opt.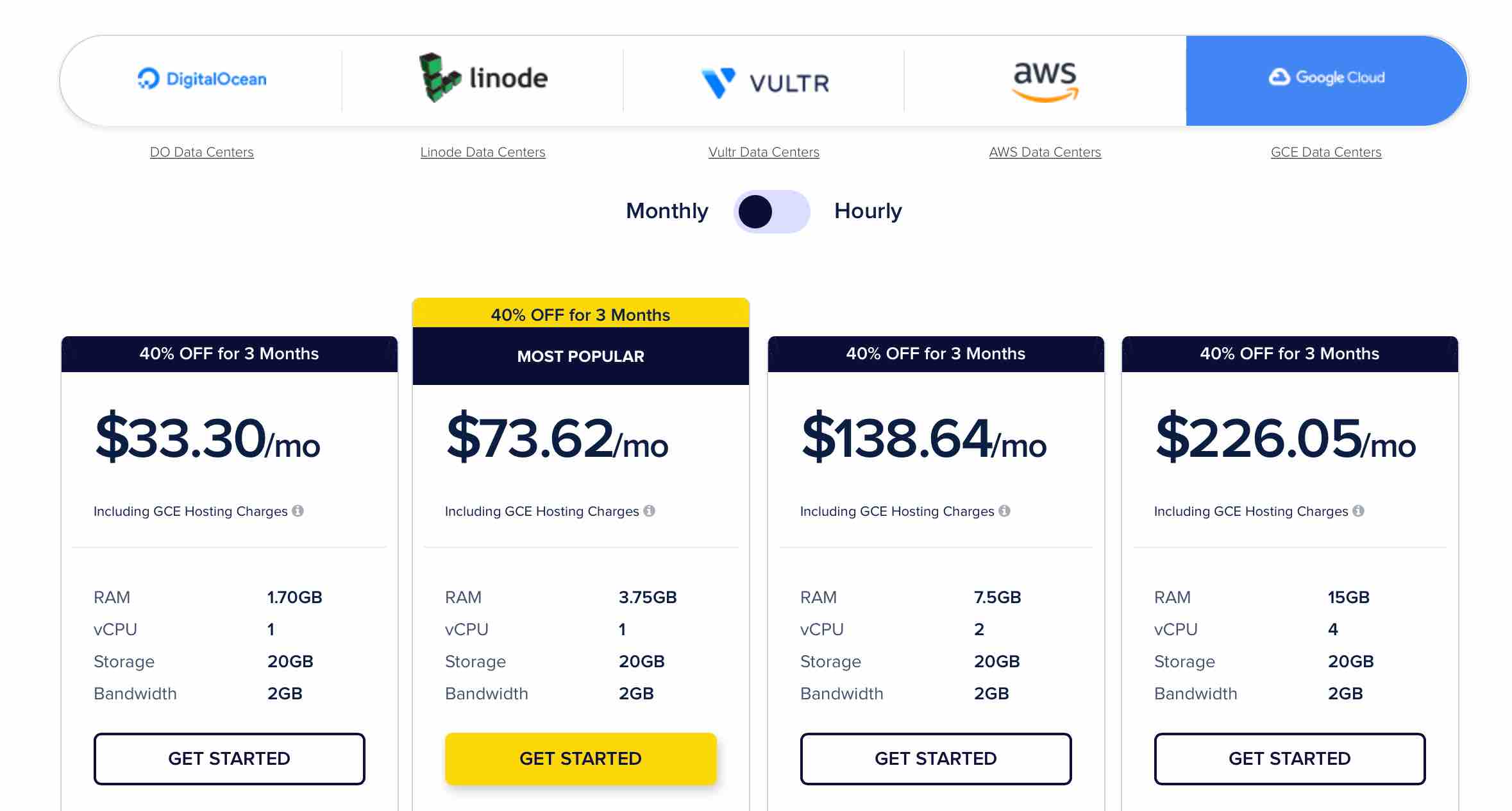 For all the five hosting providers, you'll be charged $0.33 per GB per server for offsite backup storage. And, you can configure disk sizes and bandwidth on a pay-as-you-go basis only on AWS, and Google Cloud.
If you're a beginner, then you should go for either DigitalOcean, Linode, or Vultr. But, if you're a heavy user, then you should make a plan of AWS or Google Cloud.
Maybe a question arises in your head: Why can't I go directly to the above companies if I get a lower price compared to what I'm getting on Cloudways?
Nice Question!
It's your choice to go personally and opt for hosting services directly from their platform. But remember there you've to set up everything by yourself.
Cloudways takes an extra fee, but they set up a server for you, and you'll be free from doing some complicated technical task.
If you're still confused, then you can take a benefit from Cloudways as they offer a three-day trial before you purchase any of the hosting plans.
It may look like a short period, but it's enough to set up a server and try all the features of Cloudways. But the three-day free trial is not available for AWS and Google Cloud.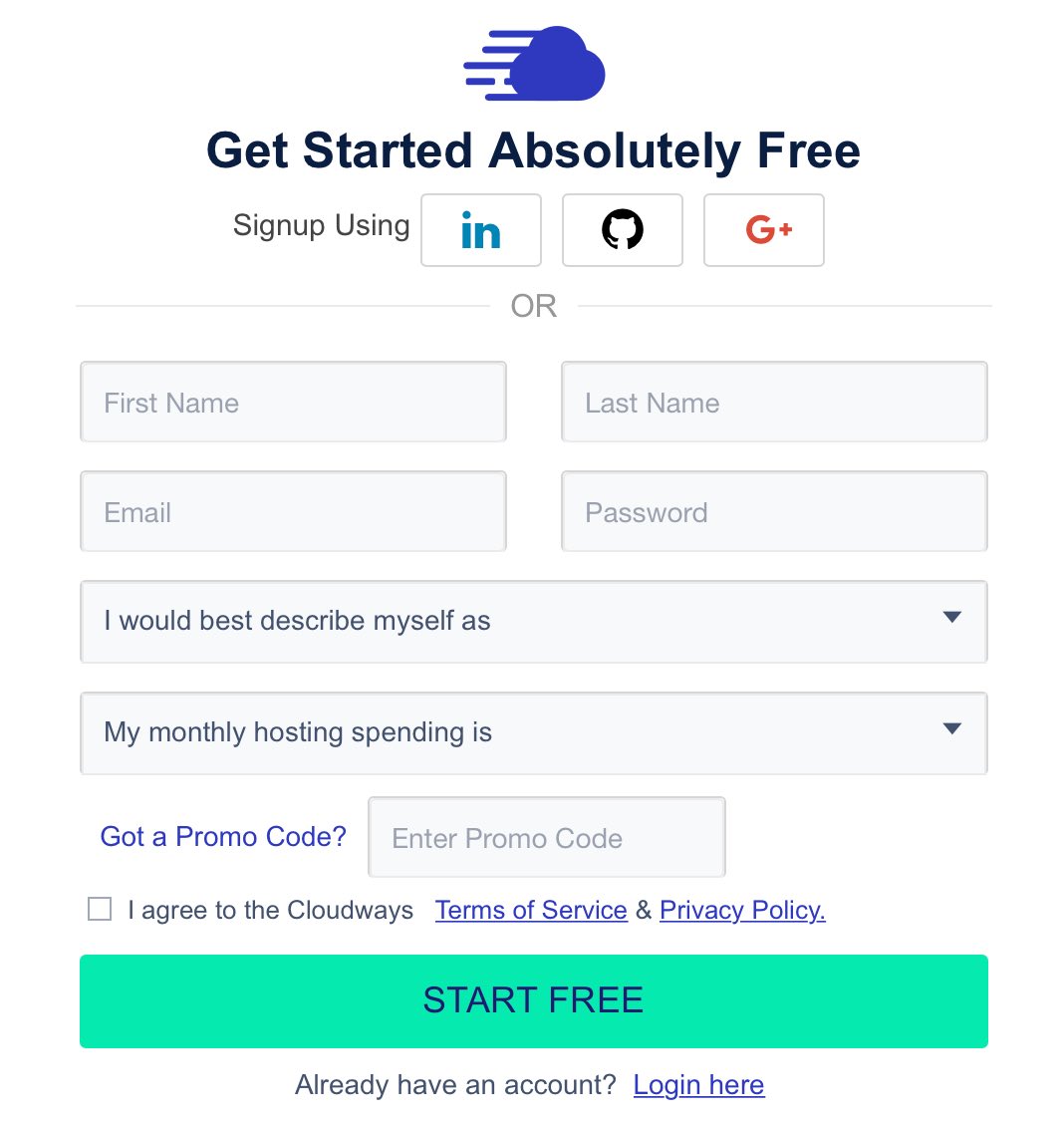 With vertical scaling on Cloudways, you don't have to worry about the cost structure. You can scale your server whenever you feel like it. You can avoid locking yourself with costlier plans that don't suit your work.
Reasons to choose Cloudways over other hostings
As I'm using Cloudways over a long period, there's a lot of reasons to choose it over other hosting providers:
1. Free Trial Period:
Most of the companies don't allow a free trial period. And, if there are some, then they've often asked for your credit card details to use the free trial. But, this is not the case with the Cloudways, you can use their full features with your website running on their server without giving them your credit card details.
2. Vertical Scaling:
You can scale your server whenever you need it. Scaling works in both directions mean you can scale down your server also.
 
3. Host Unlimited websites:
All hosting puts restrictions on the setting of several sites on different plans or subscriptions. While Cloudways offers you to set up unlimited websites on any plan, and this feature is useful when you want to test various sites, and you can do so without any plan upgradation.
 4. Free Website Migration:
If you're already using some other hosting service, and wish to switch to Cloudways. Then, you don't have to worry a bit as they provide free website migration. Additionally, you can ask for experts to migrate your site, and they'll do it for you without any extra fee.

5. Automated backups:
Backups are one of the most basic stuff that is given by almost every service provider. But, still, Cloudways offers backup in two modes: automatic and manual.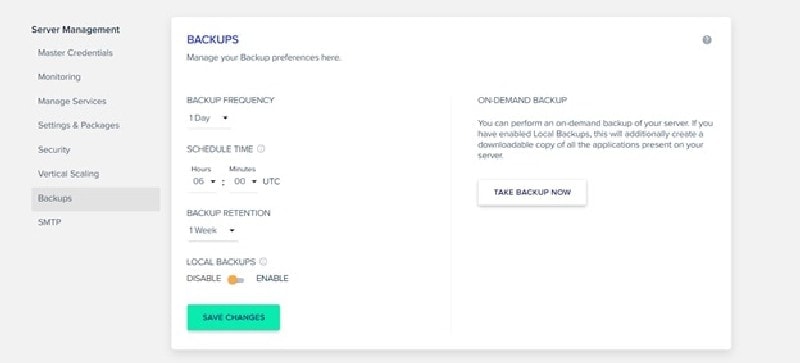 You can take backups whenever you want to. For doing that, you have to click "Take Backup Now," under On-Demand backup. Cloudways also offers local backups, but you can enable or disable according to your choice.
6. Server monitoring:
You can monitor every aspect of your server. Those aspects can be listed as :
Free memory
Free disk
Idle CPU
Reads per second
Writes per second
Incoming network traffic
Outgoing network traffic
Monthly bandwidth
Varnish hit rate
MySQL connections
With the monitoring of the server, you'll know how your activities are taking place. Whether there's a need to scale up your server or not.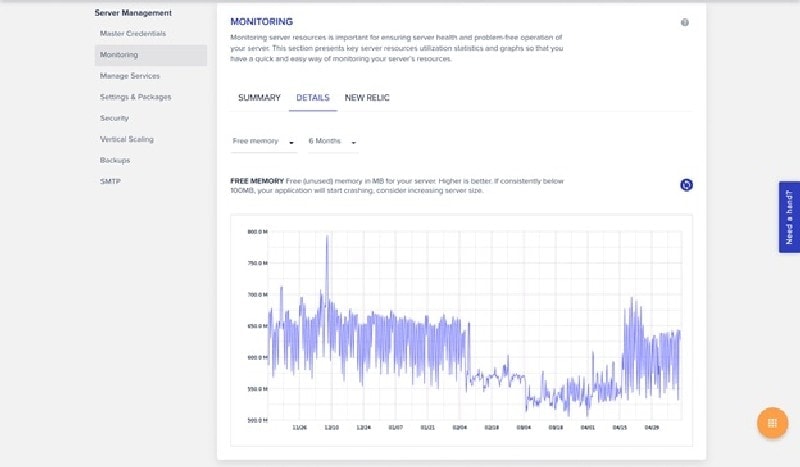 You'll also find an option of "New Relic," through which you can have a closer look to your server. You can directly connect your server to the New Relic, but for doing so, you need some technical skills.
7. CloudwaysBot:
CloudwaysBot is an artificial intelligence-based bot, which gives real-time alerts, or notifications related to the server health, and updates.
It also recommends the optimization of your server and application. And, on a single click, you can activate or deactivate notifications depending upon your interest. Once, I have received a notification when my two-factor authorization is not enabled on my account.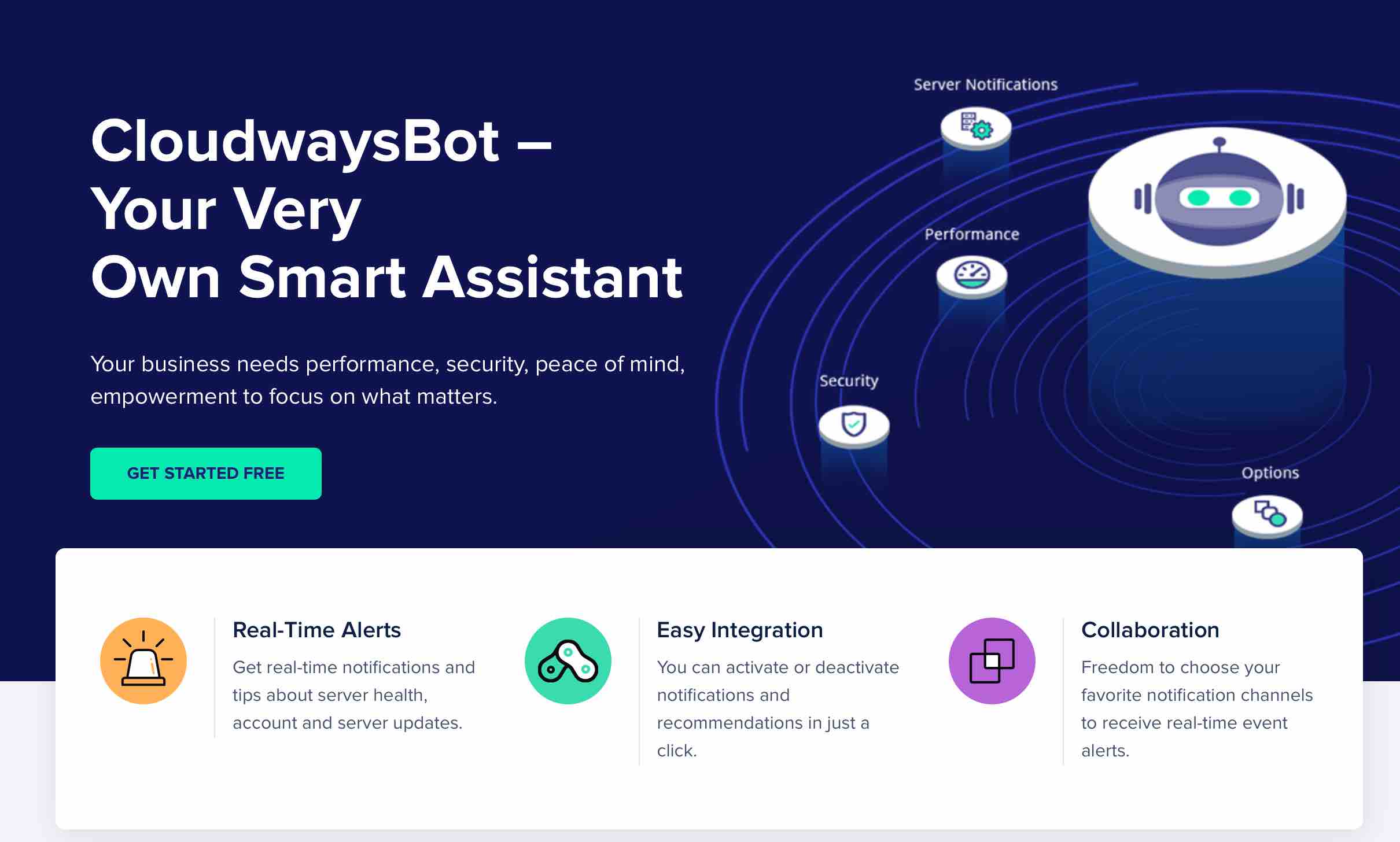 CloudwaysBot is a seamless solution to agencies, e-commerce, and developers. Team members can collaborate easily when notifications sent to each.
You can optimize your online store by receiving real-time updates and alerts. Whenever new APIs arrived, as a developer, you'll receive updates that stay you on the top.
Getting Started with Cloudways Hosting
Creating and setting up an account with Cloudways is a very simple process.
Follow the below steps to create and deploy your WordPress website on the Cloudways hosting servers.
STEP 1:
Go to the Cloudways and click on the "START FREE" button on the top right.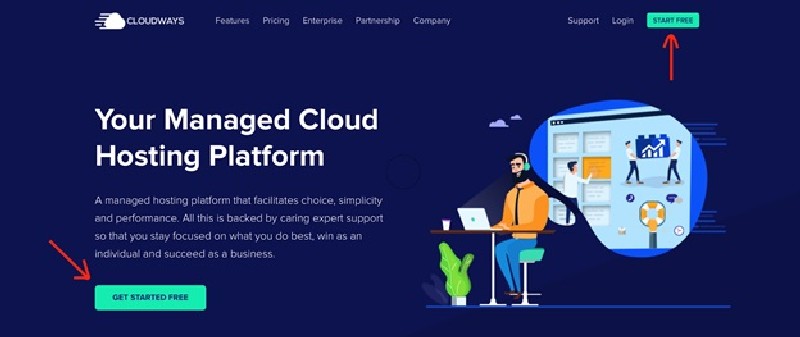 STEP 2:
Enter your details to create an account or sign up through Google, or Github to quickly complete the process.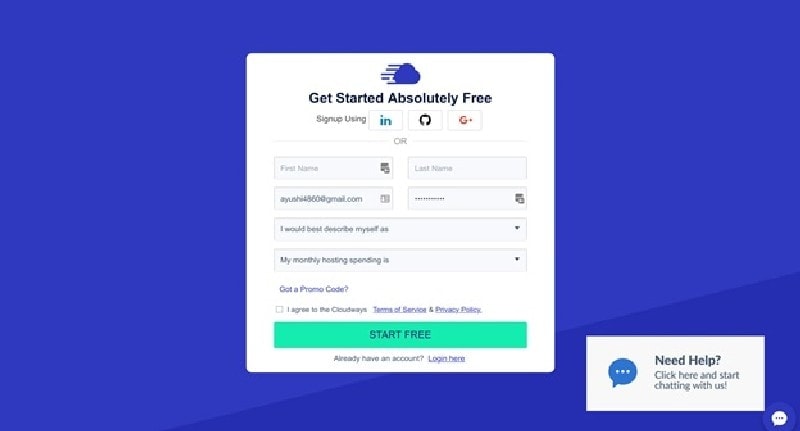 STEP 3:
Now you will have to verify your email address and phone number to complete the account verification process.

STEP 4:
Once your account is verified, select the server of your choice, server location, and the server size, and click on the "Launch now."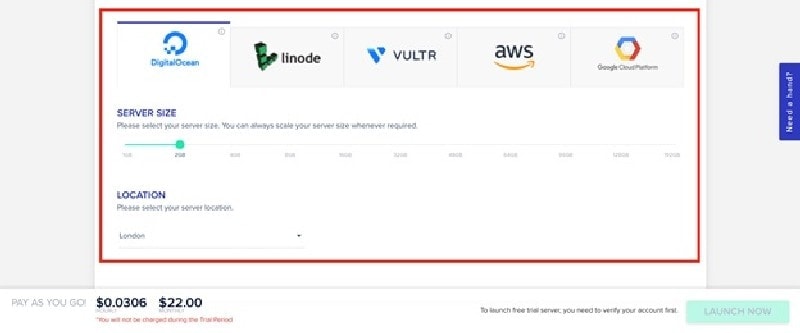 After that, your server will be created in a few minutes.
You can then start with either a new WordPress site or transfer from your old hosting to Cloudways.

To connect your domain with your server on Cloudways, you will have to set up the DNS. For that, go to your domain registrar and enter the IP address of your Cloudways server.
Now within a few minutes, your site will be live from the new server.
But you will also have to enter the domain in the specific app in the Cloudways server, so go to the Application in your Cloudways dashboard, and then in the app, you want to connect with your domain.
Go to Domain management tab in the left sidebar and then enter your domain and click on "Save changes."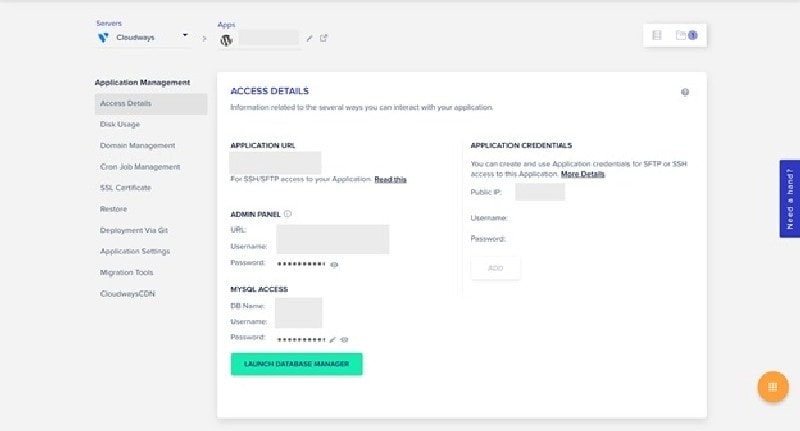 You can also install the free SSL provided by Let's encrypt in the "SSL Certificate" tab.
For the server details, you can go to the Server and then in the Monitoring tab. There you will find all the information about your servers like disk space, RAM, CPU, and Bandwidth usage.
Cloudways Alternatives
Cloudways is not the only option for cloud-based hosting. There are other service providers also which compete with Cloudways in their manner. Some of them are:
1. Kinsta
Whenever you ask for the best alternative to Cloudways, you'll always get an answer as "Kinsta" from all the experts, or the person who used both platforms. There are some legitimate reasons for being the first choice of hosting after Cloudways.
Kinsta is a premium WordPress hosting provider that provides you with all the features that your website needs. Their primary focus is to offer speed, reliability, performance, and security, and it has been built on cutting-edge technology.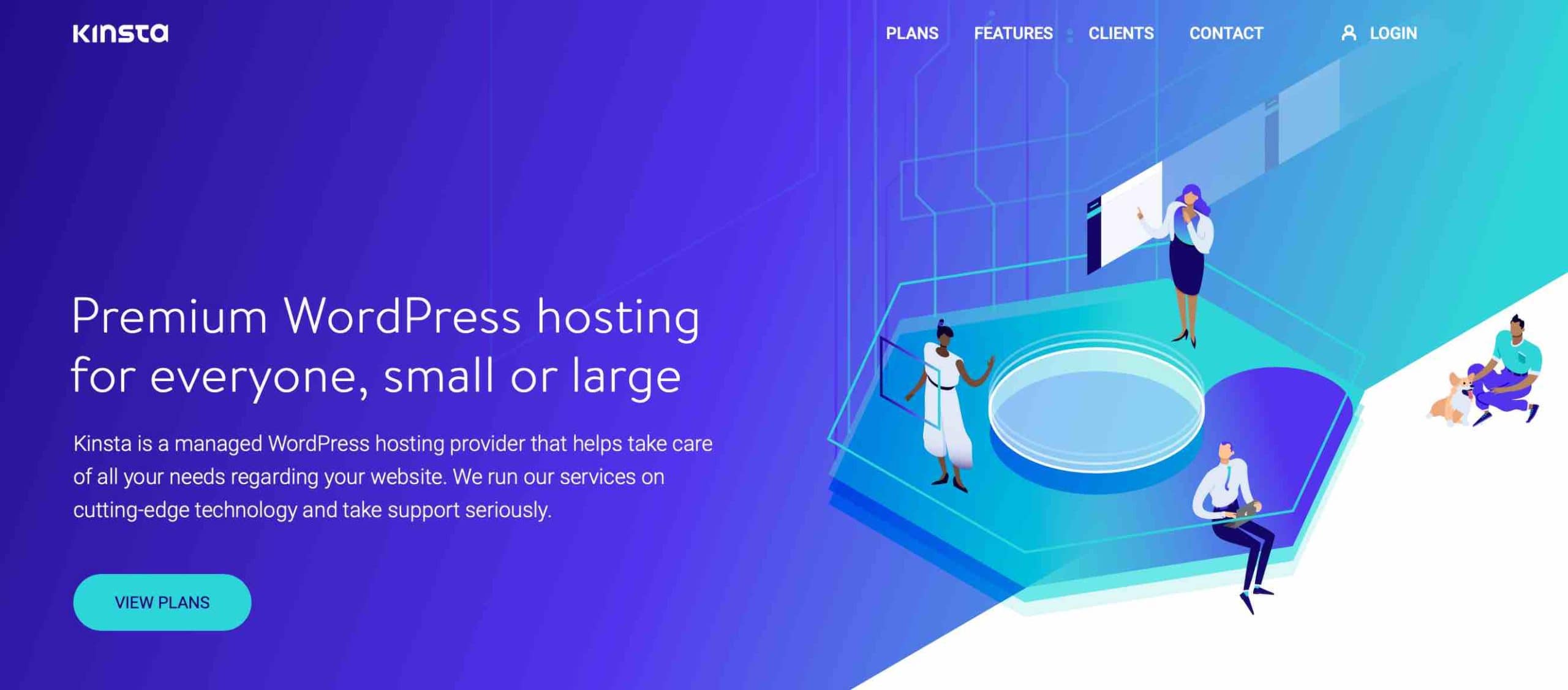 The high speed of the website increases the chances of a high conversion rate. Hence, Kinsta uses Google Cloud Platform to offer a remarkable loading speed to your sites.
When switching to hosts, you don't have to pay a fee for migration, and also, you don't have to do it yourself. Experts from Kinsta will do it on your behalf. I have migrated once in a while, and I didn't find any problems with the migration process.
Kinsta makes sure that your website should prevent any of the malicious attacks. Therefore, you'll get high-end security with their hardware firewalls, two-factor authentication, SSL support, and GeoIP blocking.
And, in case your site attacked by an intruder, then you don't have to worry as Kinsta will remove that malicious activity without taking any fee.
Kinsta pricing ranges from $30 per month to $1500 per month. They offer plans with four different categories, namely Starter plan, Pro Plan, Business plan, and Enterprise plan.
They don't offer a free trial period as the Cloudways does, but they offer a 30-day money-back guarantee. So, if you don't like their platform or service, you can request them within 30 days for money back.
2. WP Engine
WP Engine is a WordPress web hosting service provider, which manages optimization for the specific platform. WP Engine's plans aren't cheap when compared to other WordPress hosting providers available in the market.
That's why you should all the facts and features related to their platform and service before making a buy.
WP Engine is one of the most famous names because of its WordPress-specific hosting and features. You'll get a free SSL certificate for your website for more security.
Even, you'll get an open Content Delivery Network (CDN) in all the plans. They also provide a feature called GeoTarget, which helps you to optimize your site for some specific geographic regions.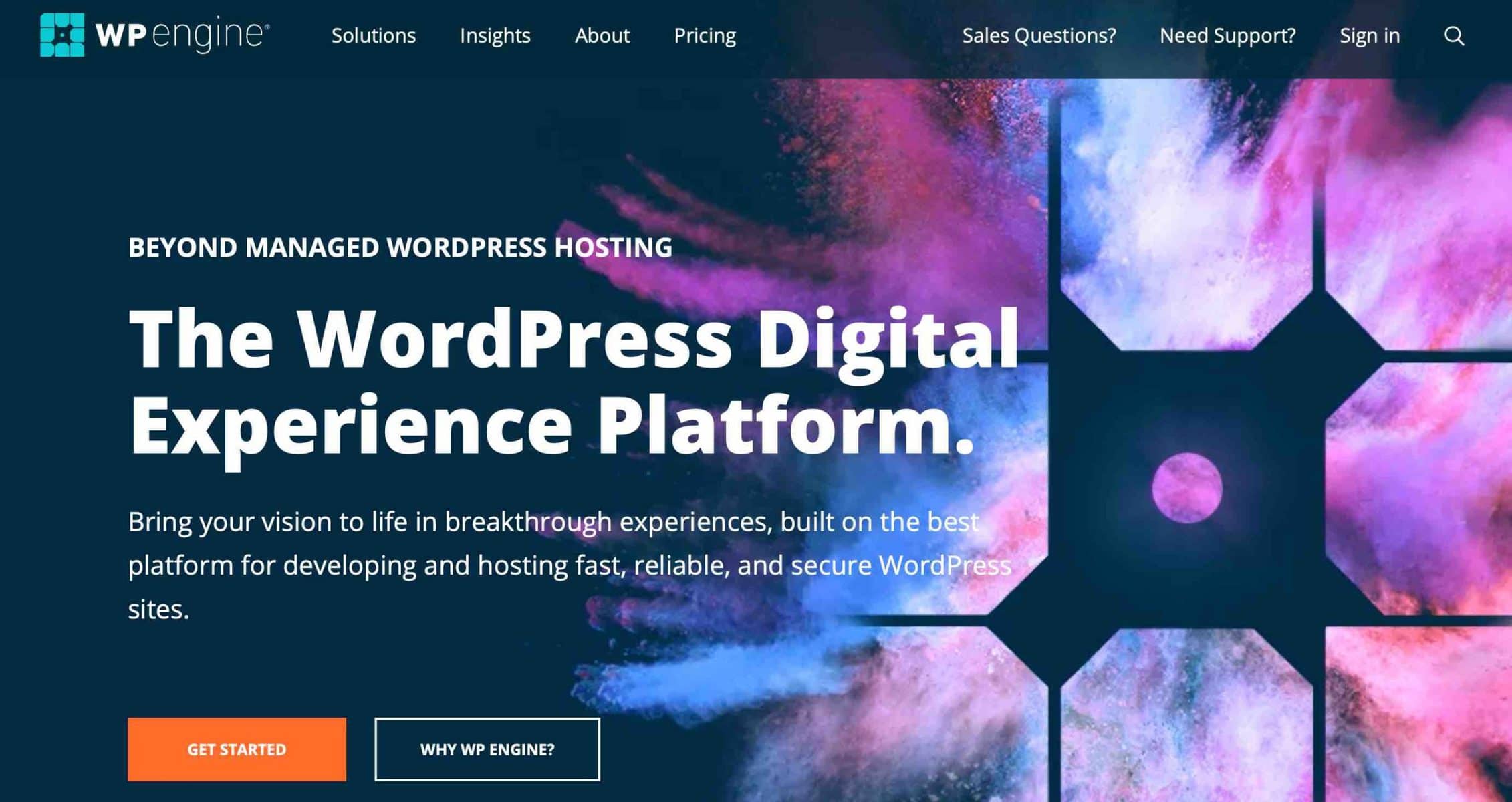 They offer plans in four different variants as Startup ($35 per month), Growth ($115 per month), Scale ($290 per month), and Premium and Enterprise.
The last plan that is Premium and Enterprise is a custom plan, which will vary according to the resources and support allocated to you.
If you're not willing to pay such a high price in the beginning, then you can take benefit from their 60-day money-back guarantee program. You can use their platform and service for 60 days, and if you're still not happy, then you can make a request within the allotted time for a full refund.
The plans won't fit everyone's budget. Additionally, they manage to host on shared servers unless you take a custom plan where you'll get a dedicated server.
3. Dreamhost
Dreamhost hosts over 1.5 million websites all around the world. Their hosting service is not restricted to bloggers only, and even a developer can take advantage of their platform. They support apps like Ruby on Rails, MongoDB, and the servers can be set up within 30 seconds.
It's interesting to know that for every hour your website goes down, Dreamhost will credit you a day's hosting service. So, you can trust their servers uptime as Dreamhost spending its own money on downtime.

The Solid State Drives (SSDs) are installed on shared and VPS plans, which in turn helps to increase the site's speed and performance.
The easy installation process for web apps like WordPress, Drupal, Shopify, Wix, and others. A free domain is given, including in all the plans from starter to VPS.
Dreamhost offers 97 days of the money-back guarantee, which is one of the most extended money-back guarantees in the hosting marketplace.
You're eligible to get a full refund if you request within 97 days. But, this offer is only valid on shared hosting, and not on others.
You've to spend a few bucks if you want to migrate your website on the shared hosting. They charge a $99 one-time fee for a single site to migrate, so it can be out of budget if there are lots of websites of your clients to be relocated.
Dreamhost offers various types of hosting plans:
Shared hosting plans
VPS hosting plans
Dedicated server plans
Managed WordPress hosting
Cloud hosting
Cloudways Pros and Cons
Nothing in this world is perfect, and hence, the same is the case with Cloudways. Now, we'll look at some of the key pros and cons of Cloudways for a specific understanding of the hosting platform.
Pros:
Five cloud hosting services
Free Let's Encrypt SSL certificate
Free WordPress Cache Plugin
Easy to use
Less technical knowledge required
One-click WordPress install
24/7 Live chat and support
Pay-as-you-go pricing model
Free three day trial period
Free site migration
Cons:
No cPanel or File Manager
Can't buy a domain name
Multisite SSL limited to 100 sites
No email hosting
Final Verdict
Cloudways is a scalable, reliable, cloud-based hosting service provider. The pricing model may be confusing at first, but it's an ideal one for small businesses or individuals who have a limited budget. One-click installation of web apps makes it easy to set up.
If you're looking for the best performance at an affordable price, then Cloudways should be your first choice.