The Click through rate is the rate at which an ad is clicked by the target audiences or site visitors. You may also understand it as the number of clicks that an online ad receives divided by the number of times the same ad is shown. It is determined by dividing the number of individuals who clicked on an online ad by the total number of visitors.
A click-through rate ctr is a metric that is utilized to measure the potential of an ad, email, landing page and search ad, etc. CTR is normally used to quantify the progress of internet marketing and advertising efforts.
What Is the Click-Through Rate?
Definition: Click-through rate or CTR is the ratio of the number of people clicking on a given link, ad, or page to the total number of people who view that link, ad, or page. It is one of the crucial metrics used for measuring the performance of online advertising, digital marketing, email marketing campaign, display ad, etc.
It measures how effective an ad has been in converting its target visitors to perform any specific CTA or call to action. The higher the CTR, the more fruitful the ad has been in creating revenue. Since online users have become incredibly desensitized to online ads, the typical CTR might be something like two users for every 1,000 impressions which is 0.2%.
Understanding Click-through rate
In simple words, click-through rate or CTR is a term utilized in online advertising that alludes to the percentage of individuals visiting a web page from an advertisement or organic search result.
When target audiences click on the advertisement, search ads, display ads, etc, it sends them to a web page associated with that product or service. This way, it measures how fruitful an ad has been in catching a site visitor's revenue.
A high CTR demonstrates the higher ranking of a page or ad in a Google SERP. This implies that your website is producing more traffic per impression on Google.
A high CTR can likewise show optimized lead generations which can further increase the conversion rates if your landing page is capable of converting your potential customers into buying customers.
While investigating click-through rate, you should pay heed to your industry as well as the set of keywords and long-tail keywords you're bidding on, and the channel of the webpage or ad, as this will help you in running more effective campaigns to generate best-suited click-through rate for your industry-driven campaign.
Importance of CTR for Online Advertisement
Click-through rates are an important metric for figuring out the performance of online ads. By setting the CTR of one ad with regard to different ads, it becomes conceivable to benchmark the performance of online ad campaigns.
Brands can use CTRs to analyze the performance of various advertising channels. It can be used for banners, videos, display ads, and other types of campaigns.
This way it lets advertisers decide their adequacy, assisting with figuring out where to invest to optimize favorable outcomes from online ads.
Email marketers can also use it to check the click-throughs they get for their email marketing campaigns. It helps in improving ad position and hence high CTRs are crucial for optimizing lead generations and ad performances.
How Do You Calculate Click-Through Rate?
For calculating the click-through rate, you should take the number of times an ad or webpage is clicked on and afterward divide it by the number of impressions it has.
After having the number, you should be taking it and multiply it by 100 to get a rate or percentage. The outcome is your CTR. The formula for calculating CTR is-
CTR = Total Measured Clicks/Total Views or Total Measured Ad Impressions (Views) x 100
What's A Good Click-through Rate?
A good click-through rate depends on so many factors as it varies from one campaign to another, and even from one keyword to another. All the factors involved in the way your ad is shown have an impact on deciding a good ctr.
So, from your ad copy to the ad's positioning on the SERPs will decide good ctr. The average click-through rate will differ by industry, and your good CTR primarily relies upon your ad's rank along with other factors. In general, the average or typical click-through rate CTR in Google Ads is 1.91% for search and 0.35% for display ads.
However, this is average but as a guideline, a good Google Ads click-through rate that brands should try to accomplish is 4-5%+ on the search network or 0.5-1%+ on the display network.
Role of CTR across different Marketing Channels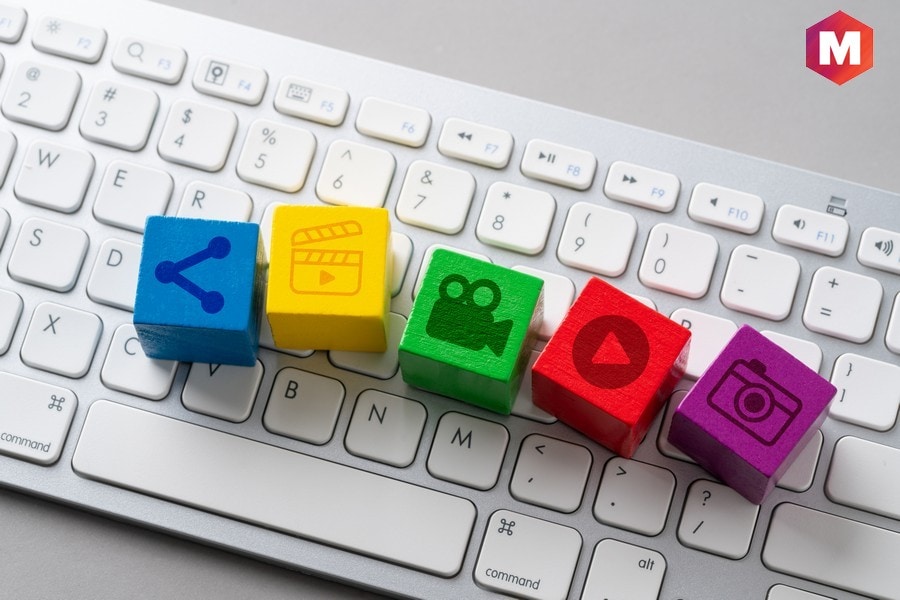 CTR being an important metric has different ways of affecting different marketing channels. Let us understand how it plays its role in different marketing channels-
1. Paid Media
When it comes to Google and BingAds, each advertisement and keyword has an identifiable CTR which is an important determinant of the quality score as well.
This further impacts ad rank and cost-per-click. For pay-per-click paid search advertisers, CTR is one of the most ideal ways to check which keywords and advertisements are generally interesting to target audiences.
2. Email Marketing
Many e-commerce stores run e-commerce email campaigns in which they incorporate trackable links to the store's site. The Click-through rate assists email advertisers with assessing the viability of an email copy.
The open rate tells how leads respond to a title, while CTR tells who has already opened the email. A high-performing email effectively persuades readers to click the given link to the website.
3.  Search Engine Optimization
Search marketing experts can also impact organic CTR. Different factors that come into play here are the page's title, URL with relevant keywords, description, and appealing copy.
These factors can captivate target audiences or readers to click and find out more.
Click-Through Rate vs Conversion Rate
A brand having a high click-through rate will have lots of users clicking on an ad, but it won't tell whether those users are converting for a sale or not.
While on the other hand, through conversion rates, the same brand can know how many of those who are clicking on an ad is converting for the same ad, making a purchase, and increasing the sales of the brand or business.
CTR & Ad Rank
CTR isn't simply a sign of how useful and relevant ads are to their target audiences, it likewise adds to the Ad Ranks in the search engines.
We all know that Ad rank decides the place of your ad on the search results page or SERP. Getting the top position in SERP doesn't go to the highest bidder, instead, it goes to an ad that has the highest Ad Rank, and CTR is a gigantic factor in the Ad Rank formula.
Google algorithm gauges your actual CTR against the expected CTR. This means if a brand has run plenty of ads with a low CTR, the Google algorithm will expect that any new ads that the brand adds to its Google Ads account are additionally going to have a low CTR, and may rank them lower on the page.
Therefore brands should grasp the CTR concept for their ads, so they can improve the CTR of their ads. If a brand will have a poor CTR, it will get low ad positions regardless of the amount it bids.
CTR & Quality Score
Quality score refers to the relevance of the advertiser and it connects with keywords, landing pages, and ad copy.
A brand with highly relevant ads and landing pages for its client will have better chances of having higher Quality Scores.
Quality Score is determined by the search engines' estimations of anticipated CTR, landing page experience, and relevance of the advertisement.
A brand with a decent CTR will acquire higher Quality Scores.
Achieving good CTR in PPC
To accomplish a good click-through rate for a PPC ad campaign, you need to pay heed to-
Targeted keywords for bidding upon
Generating cost-efficient clicks
Use of right tools and tactics to adeptly integrate keywords with ad text and landing pages
Segmenting keyword groups to generate closer targeting
While running PPC campaigns, you should understand that the higher your click-through rate is directly proportional to better Quality Scores which ultimately is the most crucial indicator of successful PPC campaigns.
4 Tips to Improve CTR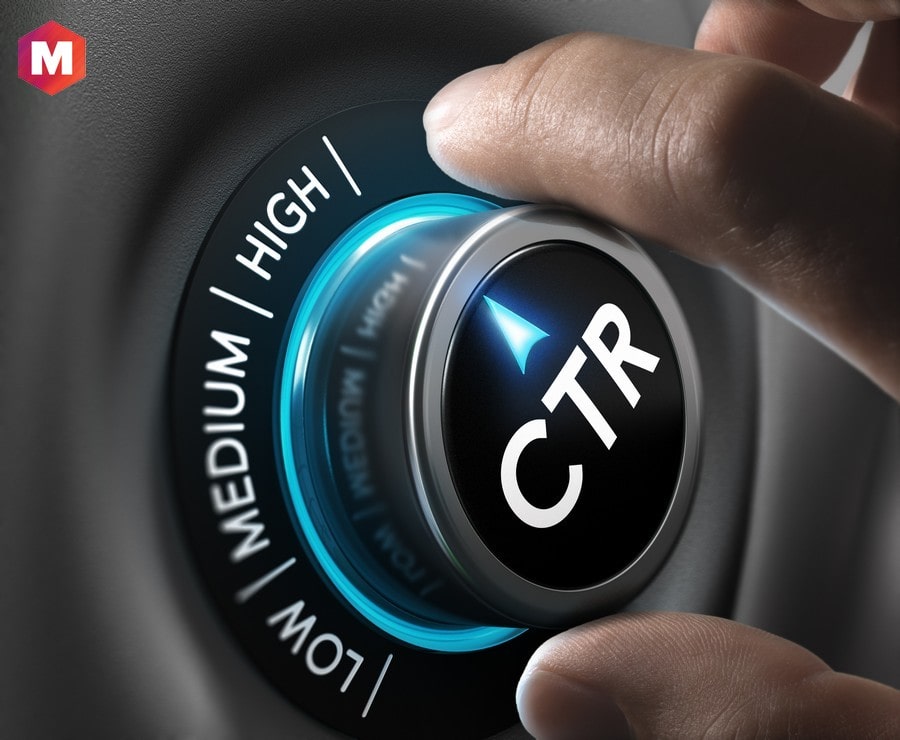 Online advertisers need to pay heed to numerous factors while attempting to expand CTR across various online advertising channels. How you increment CTR relies upon where you need to optimize it.
For instance, assuming that a brand has a low CTR on Facebook or Twitter, it should then consider which hashtags could assist with extending its reach to its target audience, but when a brand attempts to improve CTR on a PPC ad, it should give really close consideration to its headline and copy.
Four key tips that will help you increase user clicks and ensure higher click through rates are-
1. Optimizing your headline and copy
You should utilize one or two focus keyword(s) in your headline and copy, plus you should try to appeal to the feelings and necessities of your target audiences. Your content should solve their problems
2. Including CTAs
Brands should include an immediate and convincing CTA or call to action that ought to be welcoming and capable of convincing your leads to click
3. Using pictures
You should use images as it is an extraordinary method for optimizing CTR. As per the advertising or marketing channel, highly relevant pictures might perform in converting audiences to the desired action than other methods. You may run A/B tests with various sorts of pictures to figure out what works best for you
4. Utilizing hashtags
With the help of hashtags, you can increase CTR across numerous platforms such as Facebook, Instagram, Linkedin, and Twitter. Brands should do some research on well-known hashtags in their industry
Conclusion!
In the end, it is clear that the click-through rate is the ratio of users who click on an ad, link, or CTA to the total number of users who view that ad, link, or CTA.
Now, how important do you consider a click-through rate in understanding the effectiveness of a campaign? Share your opinion with us in the comment section below.
Liked this post? Check out these detailed articles on
Topic of PPC
Alternatively, check out the Marketing91 Academy, which provides you access to 10+ marketing courses and 100s of Case studies.