The toughest challenge relevant to any kind of online business is to build an online reputation so that your customers are impressed. Even the businesses which are new to the market want a reputation that matches to those who have spent their years in business. It takes a lot of time for the business organization to build their online reputation and takes only a few minutes to erase the reputation. So, what are those main sources for building online reputation?
Well, there are many but the main ones are the Yellow Pages, Yelp etc. This is because billions of people visit these sites before they decide to take any step. There are many people out there who use this power of the online reviews in the wrong way which is known as review spam. These reviews can be given by some organizations or any individual. However, there is nothing to worry much as the online review sites have certain rules and regulation that helps in removing those negative reviews if they are identified as frauds.
Being an owner or manager of the business, one has to keep on checking the online reputation management of the business. There are maximum cases where a bad customer experience goes viral within few minutes and affect your business. Things can go worse if you have no idea about what is going on and have no hold on that situation.
10 Tips to Help You Build Online Reputation for Your Company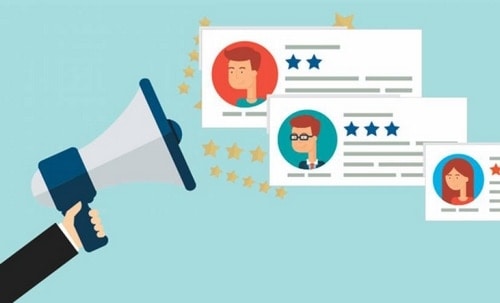 Here are a few things that you should do in that situation which will prevent from harming your online reputation –
1) Get Yourself Updated With Your Brand News
The first and foremost thing to do while managing your online reputation is to keep yourself updated with all the information of the business. Look what other people are talking about your brand and where is your business going.
You can get many monitoring tools like Mention that will help to monitor your brand and manage them to keep on the top of its reputation. One more thing that you can do is to set Google Alerts. In this way, you will be able to check what others are saying about your business.
2) Make Your Presence On All Relevant Networks
If you want to appreciate good online reputation management then having a social media platform is a must thing. One should at least have Facebook, Twitter and Google+ accounts. This may be ok for the newbies but if you have been in the competition for a long time then it is important to be on maximum social media sites as possible.
Some of the social media sites are relevant to your business specifically. For many organizations or business that have employees and executives, collaborating with LinkedIn may be of great use to them.
If you have business on products that are visually oriented then Instagram, Pinterest and Flickr will be best for them. Along with these, there are many businesses that get benefitted by sharing a number of videos via sites like Vimeo or YouTube.
3) Endorse Good Reviews
Whenever someone posts something good about your business then don't waste a single second to release the review online. This is because the search engines pick up the online press very easily which will be a great benefit for your business.
4) Cite Your Business In Local
Citation enables to name your business in the popular web pages of the internet related to your business or the locality of the business. It can include a lot of things like your phone number, the name of your business, full address etc.
However, since you are going to post this citation in more than one sites, so, it is important that you give exact same details in each and every websites. This will for sure be very productive and help you build online reputation management for your brand.
5) Use Search Engine Optimisation
Nowadays, whenever we think of buying a product, we always search for the online review of the product first. Now, this point is more than enough to make anyone understand the importance of SEO. If you optimize your business properly then it will help in ranking your business higher in the search engine and bring a good growth in your business.
Next, for the search engine optimization, it is important that you are using the perfect keywords that are used commonly in the searches. However, if you are not sure about the keywords then Google Keyword Planner will help you with it. It is important to optimize the blogs and websites with perfect keywords.
6) Keep Your Social Media And Website Updated
You always have to keep on posting and maintaining relevant things if you want to maintain your position higher in the search results. To this, you have to keep your social media and websites always updated.
So, it is important now to keep the content always fresh and pay close attention to the strategies of social media. You can also hire some content creators that can help you focus more on your business aspect. All you have to do is keep on posting the freshest and relevant posts. This way it will bring the other stuff down in the search results.
7) Stand For The Person That Are Related To The Business
It is vital that you develop a strong presence in the social media with the name of your owners, founders or executive particularly in the case when they are unique ones. One thing to keep in mind when you are doing an online business then it is important that you are not too private about your profile.
This is because it might leave you more prone to get defamed. There are very fewer numbers of businesses where the identity of the business is shared with their executives. So for such cases, a strong strategy to build online reputation is needed.
Most of the people always search by the name or lawyers, doctors, teachers etc. So, if these individuals don't have any collateral rank of themselves then make sure you create one.
8) Appliance Of Authorship
Sometimes authorship can turn out to be the best technique of marketing if you implement it in a proper way. This is helpful for those kinds of businesses where the founder of the business is in very close terms with the identity of the business. There is no doubt about the fact that Google would want the authors that create everything to be basically individuals.
So, it is a necessity that there is a particular author tag that is associated with every single individual that has a profile on Google+. Having an author tag for the business page wouldn't really count as helpful in such cases. This is one of the most important things to keep in mind when you want to build an online reputation.
When you are utilizing the tag of the author then it will be implied that you are actually doing some work as publishing the blog posts and articles with the passage of time. Otherwise, the entire process is just futile.
9) Listen With Your Ears Open
Whenever you make any posts or create articles on the Internet, it is certain that there will be some negative as well as some positive reviews. So, it is really important that you know what to expect. Responding to the negative comments and reviews that you get can sometimes have an effect on the reputation of the business that you have.
Whenever you do respond to such negative comments that are made online, you need to actually evaluate what they are trying to say. This means that you have to actually consider that there might be some sort of fault in the process how you are doing things. This is especially the case when you start getting negative comments all the times for some specific posts. This is something that you always need to keep in mind.
Do you remember that the customer always tends to be the right one in the field of business?
Well, this is what you have to stick to when you get some negative comments. Try and actually listen and improve on the things that need improvement. Another thing that you need to make sure is that you properly react with prompt action to the comments that you get online. That way, you will not lose the faithful followers and this is one of the top ways of online reputation management.
10) Request Some Positive Feedback
It is a known fact that all the comments that you get will not be positive ones. But that doesn't mean that you cannot request your faithful followers to give you some great positive reviews, right? This is especially when you are in the need for positive reviews.
You need to make sure that your followers post some good things about you and that way your online reputation management will be well intact. This is one of the best tricks that you can use. Also, make sure that you don't find yourself arguing with someone on the internet. That can ruin your reputation in the worst way. Plus, it is very bad business. So, take care of that for having a proper online reputation.
So, these were some important tips for effective online reputation management. In case of any doubts, do share your queries in the comments below.
Liked this post? Check out the complete series on social media marketing