Is your website engaging? Are your visitors staying on your blog for a long time? Or they are leaving quickly? How can you measure these events to prepare a plan to improve your sales? Luckily, there is a metric which shows the various incidents around this event called as Bounce Rate.
The website performance is calculated based on the Bounce Rate as it determines the visitors in and out ratio. In this article, I have analyzed the different reasons for high bounce percentage on the website/blog and how can you improve the same.
The so-called successful blog or the website is the one, which brings in more leads or more sales. But do you know that the Bounce Rate also determines the sales to some extent?
And reducing this ratio can definitely help improve sales and revenue for any blog/website.
So, let's get started…
What is Bounce Rate?
It is a metric in the percentage that tells the people behavior on your web pages such as the time start when they land on your page and then leave after some time.
There are two reasons because of which users tend to leave a website/blog sooner are poor navigation and/or non-user-friendly website layout.
The Google Analytics states that it is the percentage of a single page visit (or session).
Why is Bounce Rate Important?
This metric helps to analyze the site performance in terms of conversion that may be leads or sales.
A high bounce rate indicates that your website visitors aren't looking for the content they actually should read and ultimately spend some time on your website as more time means more engagement and higher chances of the making the sale.
Especially, if you have started a marketing blog, a high bounce rate is really a very scary thing for marketers.
What is a Good Bounce-Rate?
So you may now have a question about what is the good bounce-rate and bad bounce-rate. What is the mean value so that as a webmaster we can concentrate and take actions to improve it?
A Bounce Rate in the range between 20 – 40 percent is excellent and between 41 – 55 percent is average.
Similarly between 56 – 70 percent is slightly above average mark and anything over 70% is at an alarming level.
This standard thumb rule fits most of the blogging industry, news industry, event blogs etc.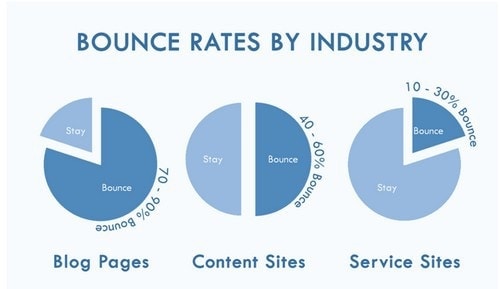 But depending on the type of website you have, sometimes a higher bounce rate does not create any problem as there are a lot of reasons which can cause the same such as on affiliate sites, users are forced to visit the affiliate link and that can cause a higher bounce rate but ultimately that is good for the business.
Causes that drive people away quickly:
Check your Google analytics account for the average bounce rate record of last few months.
If it is at an alarming level, then you should find the reason and kill it to increase the revenue from your blog.
Let us discuss the various reasons that can cause a high bounce rate and forces people to leave the site quickly.
1.) Slow Page Load:
There are so many case studies that show people give up after 4-secs and they close the browser session and look for another site.
So, this is the first place to work to decrease your bounce percentage.
Cheap Hosting, Non-optimized images, buggy scripts, nonsense java scripts, un-necessary third party plugins are the bottlenecks.
Use the tools like Pingdom, GTMetrix, and Google Page Speed Insights to find the list of bottlenecks and put some efforts to fix it.
Any page that loads within 2-secs are considered good.
2.) Too many ads:
People visit any site to find some solution or to get an answer to their query or question.
But, if they are welcomed with pop-ups, intrusive ads, and unnecessary content before showing the actual useful content, they just leave the website.
Too much of anything is nothing and hence having the ad/text ratio within the limits is highly recommended as earnings are important but without the visitor, there can be no earnings at all.
3.) Totally different content:
People get annoyed when you deliver something that is totally irrelevant on what they actually came looking for.
In the search snippet (title and description), you wrote something about a subject and when the visitor land on your page and if they found different information, they leave quickly.
 How to decrease bounce rate?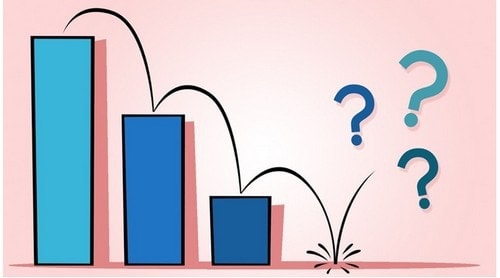 Since the Bounce ratio is directly correlated with the site performance, it is an obvious thing to decrease the percentage to the least possible level.
Low Bounce rate improve email signups conversions, helps to get more leads and acquire more clients, increase your search ranking etc.
Let us discuss some necessary actions to decrease the bounce rate and increase sales and revenue.
1.) Improve Content Readability:
Blog content is not an essay writing and people find it difficult to read content with poor formatting and grammar. Break your long paragraphs into shorter sentences.
Give a proper title to each paragraph to let people know what exactly you have written and what they will get after reading that.
One image speaks 1000 words, hence add images, graphs, and illustrations etc.
2.) Improve UX / UI:
Improving user experience has been a vital factor that helps in decreasing the bounce percentage.
Concentrate on your website layout and the location of various elements in the web page such as text, images, ads, widgets etc.
Avoid using the pop-ups, as they are very annoying and usually lead to a higher bounce rate (but you can configure your pop-ups on the basis of user's exit intent as that is more user-friendly and converts very well).
3.) Produce Quality Content:
The blogging industry has improved a lot towards delivering quality services and products to the customers.
Write fresh and quality content with necessary references, charts, images, case studies to add some more value to your content.
4.) Make people take some actions:
After you have attracted the visitors to your blog, push them to take some actions by placing proper call-to-action buttons, forms etc.
Making people take action on their own helps in making them staying long on your blog.
Conclusion:
The bounce rate is an important factor to consider when determining any site performance.
It tells how much your website/blog layout is interactive with your site users and in the eyes of Google.
Always keep an eye on the Bounce Rate percentage in your Google Analytics and consider taking action as described above to decrease the percentage.
Liked this post? Check out the complete series on Blogging