Gone are the days when just having a particular website for the business was enough to have a presence in the online world. Nowadays, you need to have much more than that to make sure that you are known on the web. Be it small marketers or the biggies, online presence today is something that one can count upon.
This is all thanks to the changes that have been made in the algorithms of different social media platforms. There is just so much to improve on the strategy that you use that it can literally blow your mind. The better social media presence you create, the better will be the position of your business or brand. In a nutshell, you can say that what online marketing gives you is in no way possible by anything else.
Gone are the days of pamphlets and billboards. However, any and every strategy does not work for developing your online presence. There are certain strategies that you need to follow. If you want to survive online and want your business to thrive, there is no doubt that you will need a proper online presence. This is one of the most important things that you need to focus on.
If you make improvements to your business strategies then it can help a great deal in creating the proper online presence that you need.
Businesses these days are using these tactics in order to make sure that their brands and names are all over the internet.
So, why wouldn't you want to try it as well?
But the question that we have in here for you is that how are you going to boost your online presence?
Well, this is where we come forward to help you out. Don't know what we are talking about? Well, scroll down and read the rest to have an idea.
9 Tips For Boosting Your Online Presence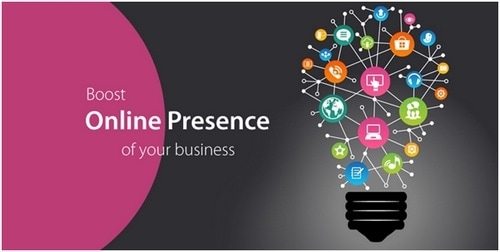 Here we have some of the most amazing tips that will be a great help in boosting the online presence for your business. Make sure that you follow these tips that we have for you and you will see the results for sure.
1) Get Proper Marketing Done For The Business
There are many businesses that don't even get to see the light of success and that is because they don't know how to market their products properly. This is something that you need to know if you want to have a good online presence.
Well, there are many problems that can come while proper marketing of the business and the products. So, the best way to make sure that you are easily able to market the product is to get some professional help.
We are talking about the marketers that will help people see your products as the only good thing in their lives. That would ultimately increase your online presence as well. Proper marketing online is really important to have a presence that no one can diminish.
2) Mobile Friendly Websites Are A Must
When you want to have an online presence for your business and brand, you need to make sure that people are more comfortable with it.
Nowadays, it is all about the mobile phones and people who are successful with their brands have got websites that are mobile-friendly.
If you want to make sure that you have a proper presence online, then this is something that you have to consider. Even research shows that the brands that are successful have got websites that are user-friendly.
If you don't believe us yet, then you can try out what we are recommending you and that will prove our point for sure. Make sure that your website is mobile-friendly and you will see improved results when it comes to your online presence.
3) Take Active Part On Social Media
There is no doubt about the fact that social media is one of the most important things that will help in the exposure of your presence in the online world. After all, the world today is based on social media and it is really important that you understand that.
The content that you post on these social media sites is linked directly to the presence that you have online. So, make sure that you keep your content relevant and relatable. That is the best way to reach more and more people which will ultimately help in the improvement of your presence online.
Try out some amazing sites like Twitter and Facebook and you will see that it provides great results for your brand and yourself as well. Go ahead and give it a try people.
4) Try Out Some PPC Marketing
When it comes to getting more attention for the brand and business, there is one thing that can provide you with better results than anything else we mention here.
The thing that we have for you in here is PPC marketing and that will allow you to promote your business on your as well as other sites.
Now doesn't that seem to be a wonderful method which can let people know what you do?
Don't you think that it will boost the presence that you have online?
In any case, if you are ready to spend some amount of money on the advertisements, then it can be a really good thing for you. Stuff like ads and promotional things can really help to put you and your brand on the map where people can see your online.
5) Optimization Helps A Lot
If you have an online business then you might have come across a term which is known as Search Engine Optimization. Yes, this is the term that holds the most important for your presence in the online world.
You need to make sure that you research well and give some importance to SEO as it will save your business in a great way. If your website appears on the first pages of search engines, then there is no doubt that it will be a great thing for your presence online.
So, why wouldn't anyone want to try it, right?
SEO is one of the most important things that help in building businesses and we are pretty sure that everyone else will agree to what we have to say in here.
6)  Ask product managers to market your product
Studies have found out that most of the businesses fail within its first ten years.
This mishap occurs not only because the business has a weak product or does not deliver appropriate customer service.
This is because you are not looking for the right kind of solution to promote your business online.
It is the product manager who is capable of identifying the hurdles and finding solutions to it. The role of a product manager is to study the current situation of the market and act accordingly.
7) Require close collaboration between departments
Not many firms accommodate their departments into one close-knit unit.
When all your team members are reading an email, it does not mean that all of them are grasping it in the same way or interpreting it in a similar manner.
For delivering a consistent message to your audience, it is very important to have collaboration between the product management team, sales team, marketing team, designers and writers.
It is necessary to undertake the current market trends. However, you need to go through the evolution in technology and adapt it to make an effective online presence.
8) Create a rich user experience
The truth is online customers are ever demanding.
They have very less patience. No one is ready to wait for years for loading your websites.
Further, none of them is going to spend the time to look for something that is not opening in a few clicks. To avoid such circumstances, it is better to use user experience (UX) as it is the number one search engine.
It has been tested that almost more than half of the web users leave a page when they notice that the page is taking time to open.
9)  Showcase premium products
Customers are very lazy and confusing. When they are landed into a sea of similar kind of products, they get puzzled as to choose which one to choose and which one to discard.
Studies have revealed that making a decision is mentally exhausting. The consumers today want to reach to a conclusion very soon. Again, the millennials do not exactly know what they want. So, instead of putting stress upon your customers, it is better than you put a list of offers to them.
Opting for different online means to promote and highlight your premium products and services on the web will help you enjoy an effective online presence on the web.
 Conclusion
When it comes to online presence, then you can be pretty sure that there are a lot of benefits that are associated with it. But one thing that you need to keep in mind is that you have to make better decisions regarding your presence online if you want the best results.
Finally, your online presence is your face in the digital platform. So, making it free from malware, attractive, and modern is your duty. We hope that these tips that we have for you in here will help you in achieving the results that you want.
Liked this post? Check out the complete series on social media marketing