When Facebook first came into existence, it was just a social networking site that connected people. However, now it has become one of the most powerful marketing & advertising platforms that empower businesses to target new audiences, generate more leads and optimize sales. Benefits of Facebook marketing for business include the variety of upsides that ultimately help in focused targeting and boosted ROI.
The right use of Facebook marketing ensures the avalanche of relevant traffic for any business in the quickest way possible. Now, Facebook is giving a tough competition to Google marketing in optimizing the online presence of businesses and generating conversion driven traffic.
According to the latest stats –
Around 60% of businesses in the US use Facebook Marketing Strategy for boosting leads, awareness, sales, and ROI.
All these benefits of Facebook marketing for business make Facebook the inescapable platform of online marketing.
Facebook is all over the place!
It enjoys around 1.47 billion daily users and 2 billion monthly users who use Facebook on regular basis. Around 5, 00, 000 comments and 3,00,000 statuses along with 1,36000 photos are posted on Facebook every minute. It is used in 100+ languages and penetrates around 35% of the global population.
When you want to appreciate the benefits of Facebook marketing for business, you can efficiently use Facebook Pages, Ads, Groups, etc. to increase your brand awareness and generate more revenues by targeting people who will love to find your business on Facebook.

Now, we are going to discuss some superb Benefits of Facebook Marketing for Business
1) Massive Exposure
Facebook is the big mammoth of all the social media platforms. It has around 2 billion user accounts. Plus, it is a popular social media channel around the world and is popular in all age groups. Again, some features of Facebook like Ads, pages and groups make Facebook an ideal place for a brand's massive exposure.
2) Efficient Communication Channel
One to one communication is made easy with Facebook. Since Facebook allows the sharing of posts, videos, and blogs, it is an ideal platform where companies can inform customers about their latest products, answer industry-specific queries and solve customer's purchasing issues.
3) Budget-Friendly
Choosing Facebook for promoting your business has another advantage- It is inexpensive. Anyone or any business can create their own business page. Further, the business page can be used to share posts to create engagement among the audience. In addition to these, Facebook ads are also very budget friendly.
4) Laser-Focused Targeting
Facebook holds data of its enormous user base. This serves as a highly valuable source when it comes to launching ads because this database allows Facebook to bring forward your ads to the right audience.
5) Useful Insights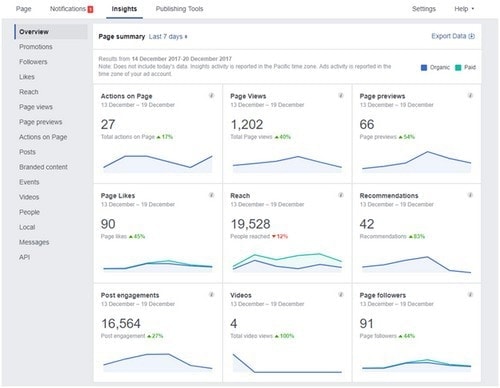 Facebook impresses you not only in the targeting of the ads but also in analyzing its performance. Facebook insights will provide you with all the information regarding your ads such as post views, post likes, reach of the post etc. With the valuable information through insights, you can better manage your ads.
6) Brand Loyalty
Facebook is the perfect place if you want to build brand loyalty. This is because the platform allows you to hold one to one conversation between your audiences and when people see you responding to their queries and comments, you appear as a brand concerned about their issues and the seed of loyalty automatically gets sown.
7) Competitor Analysis
It is always important to have an eye on what your competitor is doing. Since Facebook is a social media channel that promotes getting connected to one another and build communities. Therefore, it easily enables you to view what your competitors are up to. With access to the information on how your competitors are performing, you can streamline your marketing efforts to bear better results.
8) Increases your Site Traffic
Amongst the different benefits of Facebook marketing for businesses, this one is one of the most advantageous ones that will increase traffic to your company site and ultimately help you boost your search rankings. You can use the site link of your Facebook page to guide your FB fans to your website.
Users who come to your site from Facebook will also be more inclined to your products and services. They would prefer landing on your site after seeing the benefits that your brand offers. When they would land on your site page, there will be brighter chances of converting them to make a purchase or do some other favorable actions. You can use Facebook Ads to generating traffic on your site pages. You can give the link of your site page in the About Section of your Facebook Page. This will increase the chances of boosted online presence and optimized conversions of your site.
9) Effective Mobile Marketing
The benefits of Facebook marketing for business include the ability to target mobile customers in a more productive and profitable manner. Your prospects also invest most of their times on mobile devices. Facebook lets your business reach in the palms and pockets of your potential and existing customers.
Easy accessibility on mobile devices helps brands enjoy more lead generations and sales. This is very helpful for those businesses that do not have mobile-friendly websites. Mobile Marketing is ensured in the most convenient and profitable manner via Facebook.
10) Word-of-Mouth Promotion
Facebook lets your audiences like and share your posts that act as word of mouth promotion. Anyone who sees your Facebook posts and then likes or shares it with those who would like to see that kind of content helps in word-of-mouth sort of promotions. Some special campaigns like Contests that influence your users to share your posts. Using entertaining, relevant, educational and informative content will influence your viewers to share your content.
11) Helps you Share All Important Details of Your Brand
You can use your Facebook page for sharing a comprehensive view of your business. You can share details regarding business hours, special offering, policies, brand stories, special events, recognition etc. on your Facebook page in the most authentic and appealing way possible. This will help your page viewers know everything important about your business, products, and services that will convince them in taking favorable decisions.
12) Helps in effective Market Research
You can use Facebook Insights to find analytics details about your target market. You can find all the details of organic and paid Facebook campaigns. Facebook will help you get a better sense of your target niche, demographics, locations and other things that can help you figure out a most effective strategy for better targeting and conversions.
You can find the most authentic and relevant data and information about the age, location, gender, race, job title, language, education, and other sorts of details to understand inclinations and preferences of your existing and potential customers. Accordingly, you can create personalized posts, campaigns, and ads that will ensure great results for your business.
13) Ensures Long-Term Productive Relationships
When you use Facebook for promoting and advertising your business, you create an awareness that develops a long-lasting relationship. Audiences who convert from Facebook enjoy the value addition you offer from your Facebook Page. Benefits of Facebook Marketing for business offer the engagement that satisfies your prospects who prefer opting for products and services repeatedly. Facebook helps you understand your audiences, their preferences and other specific data and information to run personalized campaigns.
14) Availability of Facebook Marketing Tools
One of the best benefits of Facebook marketing for business is its ability to let you run Facebook Marketing Campaigns without needing too much of workers. You can use Facebook Marketing Tools to schedule and automate your Facebook Campaigns. Just by understanding the basics of Facebook Marketing and using any one of the Facebook Marketing tools given below, you can start generating good revenues –
Agora Pulse
EdgeRank Checker
ShortStack
Facebook Page Barometer
AgoraPulse Contest
Conversation Score
Likealyzer
FanPage Karma
Wolfram Alpha Personal Analytics
Postplanner
Pagemodo
The right use of these tools will enable you to run well targeted, scheduled and automated Facebook Marketing Campaigns to generate good returns from your Facebook investments.
Having any doubts about the benefits of Facebook marketing for Business shared in this post? Share your queries in comments below.
Liked this post? Check out the complete series on Facebook Marketing