Facebook marketing is the new trend that everyone is accepting in order to gain a good amount of traffic on the Facebook page as well as the official website. There are strategies and ways that are being used in order to get a successful ad campaign on Facebook. Among various strategies that are being used, one of the most common ones is that of the Facebook Lookalike audience.
Marketing on Facebook is becoming a trend with the passage of time, people are indulging themselves into it more and more. No matter which campaign, you are running your first goal is to get an audience. And in those audiences, comes a subcategory of Lookalike audience- They are basically a type of audience who somehow shares their interest and demographics with your existing followers. These audiences possess a high chance of conversion. In this article, we will be talking about Facebook Lookalike audience and how they are important for social media marketers.
So what are these Facebook lookalike audiences?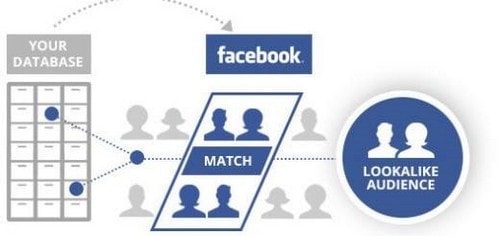 In a brief way, it can be described that Facebook tries to search for the people who match the type of audience that you already have such as your Facebook page fans or your followers or even those who have got converted into your customers and so on.
When talking of their importance we need to understand that they already possess the similar interest and demographics to those of your followers and you are wise enough to gauge that these users are among the most favorable audiences.
Now due to improved algorithms of Facebook, it has become really easy for you to get Facebook Lookalike audience whom you were unaware of before.
In this way, you can reach the best type of audience in the most cost-effective and most convenient method.
Let us now learn how you can build Facebook Lookalike Audience:
How to Build Facebook Lookalike Audience for your Business Page?
First of all, you are supposed to choose the group/page/lists from where you want your lookalike audience to come. According to Facebook standards, you need to have at least 100 people in that group but here we will suggest you have more than that because it will provide Facebook with ample amount of data to observe and work upon. You will get better results in this case.
In this step, you have to select the audience size. Always remember the greater the size the less precision will be there. Suppose if you are looking for those type of audience who can be converted fastest then we will suggest you lower this size bar as you will get the most precise results. You can set the size according to your preference.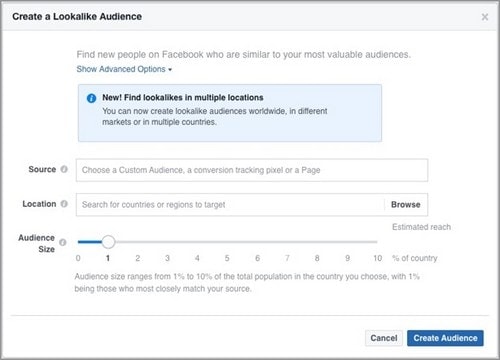 You can also target a specific demographic group. Suppose if you want to target audience from the 25+ age group who belong to Nevada and are females then you can actually set the standards according to that and you will get the matching results as well. This type of sorting is highly preferable when you are looking for an audience similar to your existing customers.
Now in the final step, you can create your advertisement as per your requirements. Here we suggest you create an engaging advertisement which contains the simplest form of vocabulary along with eye-catching headlines and images. Such ads are going to fetch you best results fastest.
Now, this was all about Facebook lookalike audience and how can you create one.
Finding audiences which match the interest and demographics of your existing followers or customers is no more difficult and you can get to them with the help of Facebook's bots. You can then easily convert these audiences into your potential customers.
Why Businesses Need to use Facebook Lookalike Audiences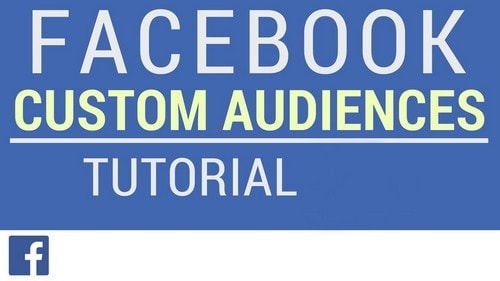 When you are entering the world of Facebook marketing, among various terms that you will be coming across, one of the most recent ones will be that of Facebook lookalike audience. This particular concept is highly renowned today because it is known to offer some of the best conversions to the business houses and also reducing the ROI. Hence, the business houses who are making proper use of the lookalike audience are quite successful in their ad campaigns and are earning a good amount of profit due to the higher conversions.
There are a number of benefits due to which a large number of people are today going ahead for the use of the Facebook Lookalike Audience.
So, let us have a closer look at the benefits associated with Facebook Lookalike Audience-
Key Benefits of Facebook Lookalike Audience

1) Better Results
One of the most common benefits is that you can get much better results than what you have expected. When you are showing your advertisements to some random people, you are not sure whether you will respond positively to it or not.
On the other hand, if you are showing the ads to people who are somewhat similar to the audiences that you already have such as your fans and followers, the chances of getting them converted become much higher.
You just need to take help from the tools to get the exact Facebook lookalike audience and display the right kind of advertisements in front of them so that you can grab their attention well and can convert them into your potential customers.
2) The Audience Size
The best thing is that you can choose your own audience size and accordingly get through the audience type that you wanted to have.
For example, if you think that you are getting the higher conversion from the audiences who have become your followers rather the ones who have liked your videos, you can go for the Facebook lookalike audience of the ones who are your followers.
Target such audiences with the help of the right kind of advertisements and you will be able to get a much higher response from the people. Also, it may happen that some of the people from these audiences can get converted into potential customers and can do some transactions on your website.
3) Conversion Rates
The most common reason of why many of the people are making use of the Facebook lookalike audience is that the conversion rates increase to a good number. When you have already known which type of audiences are likely to get converted, you can easily target such type of audiences and hence the risk of not getting conversions reduces down.
You can put up a good advertisement in front of such type of audiences because you can be sure that the conversion rates will be much higher and you will be able to get some great profit in your business out of it.
4) Monitoring Performance
Not only has the Facebook lookalike audience allowing you to target similar audiences so that you can increase your conversions. The option also helps you in monitoring the course of conversion and how your ad campaigns are going.
One of the most eminent things in any Facebook ad campaign is that you need to also monitor the advertisements and the responses of the customers on it. If you are not registering the responses, you will be not able to know what the outcomes of your strategies are and also what are the new options that you can try up ahead in the future.
In this, the Facebook lookalike audience tool can also be highly helpful. The option helps you in getting across similar audiences and also let you monitor how these audiences are responding in your advertisement. Depending upon the results, you can make up further strategies to have a successful ad campaign.
5) Improving The ROI
When you have understood eh concept of the Facebook lookalike audience, you will be surely able to make use of them properly. But in order to make use of the option properly and get higher conversion rates, you need to create such advertisements that are highly relevant to the audiences that you are targeting. If you are creating relevant advertisements and are targeting the right audiences, of course, the conversion rates increases.
When Facebook notices how your advertisements are relevant to your audiences and you are getting many responses in it, it brings out more relevant or similar audiences, Further, when Facebook notices that how your conversion rates are increasing, there are high chances that it reduces down the Ads cost by providing you much higher Relevance score. So, in this way, you will be able to earn more by investing lesser on the ads.
In Conclusion…
Facebook marketing has come up a long way and it is still improving by each day.
Options such as custom audience, lookalike audience, and many others have made it convenient for the advertisers to target the right kind of audience so that many relevant advertisements can be created for such type of audiences.
If you are looking forward to having such a benefit from your Facebook ad campaigns, it is a great idea to learn the basics of the Facebook lookalike audience and learn to use them in the right way. There are so many benefits to it, such as mentioned above, that can make your ad campaign not only a successful one but also a profitable one for your business.
So, how are you planning to use Facebook lookalike audience for widening your reach and boosting conversions? Share with us in the comments below.
Liked this post? Check out the complete series on Facebook Marketing