All of us who are into the online marketing has surely heard of affiliate marketing. Most of the marketers got introduced to this term while seeing the ads like make money when you sleep. Different types of affiliate marketing are there to enable marketers to generate passive incomes and for this, it is important to understand the relationship between different components of Affiliate Marketing.
Components of Affiliate Marketing & their Relations
In general affiliate marketing is a kind of relation between the consumer, the publisher and the advertiser.

a) Advertiser
An advertiser can be anyone who wants to spend his money in order to promote his or her business. Also known as Affiliate Merchant, the advertiser can be a company, a creator, a brand, an entrepreneur who creates a product or service.
b) Publisher
The publisher is that individual or company that promotes the service or product from an advertiser and gets the commission for doing it. Publishers are also known as Affiliates or Affiliate Marketers who promote product or service of Affiliate Merchant on different mediums like sites or social portals, etc.
The advertiser and the publisher both work with each other in the contract and help the publisher with some amazing ideas which can be incorporated into the website. This is done for the purpose of promoting the service or the product.
c) Consumer
Affiliates market the product of Affiliate Merchant to consumers who make a purchase. The consumer is the type of person who takes necessary actions after going through the advertisement. The action taken by the consumers will transfer them from the website of the publisher to that of the advertiser. This is done so as to complete the action that is taken and is termed as conversion.
Now, as you are clear about the working of Affiliate Marketing, let us understand different types of Affiliate Marketing that marketers can use to promote products and services of a merchant-
Different Types Of Affiliate Marketing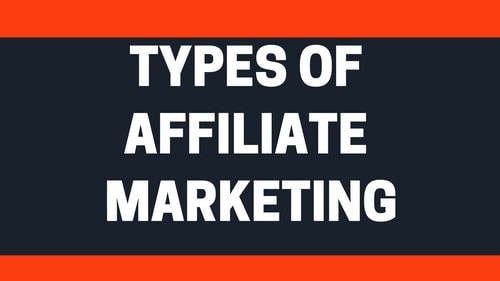 At present there are hundreds of affiliate marketers that are present in the market and all of them are different. So below here we have mentioned few types of affiliate marketing that you will want to work with-
1) Site Owners or Webmasters
Marketers who are the owner of their own sites and also those who like to build their own sites come in this category of Affiliate Marketers. There are a large number of webmasters that are available and the number is ever increasing.
They are signed up for different affiliate programs like CJ or Shareasale. Advertisers can contact them via the Affiliate Program or via their contact details for using sites to promote their services. Site owners with high authority sites drive relevant users to merchants' site and in exchange of deals, they get their share of profits.
2) PPC or SEO Affiliates
Such affiliates adeptly use PPC skills to send consumers to advertisers' site using AdWords, SEO or Social Media Advertising. They use their own capital so that they can optimize the search engine, social media advertising and many other paid advertising models so that an ROI can be generated for affiliate offers and also for themselves.
Knowing right PPC skills is must for such types of affiliate marketing, as affiliates will be paying for every click while they receive payments when the leads make the purchase. SEO and PPC types of Affiliate Marketing should be practiced by experts who can try different things to connect and convert leads.
3) Content Sites
Different types of content sites like blogs, portals, websites are preferably used as one of the most popular types of Affiliate Marketing. These kinds of people or affiliates are the best choice when it comes to post or write any kind of information about the company. Content sites are also used for writing reviews about any new service or product of merchants.
All you have to do is to send the samples of the product and ask the affiliates to write a review which will help to spread about your product in a better way. Site owners monetize their site users by sending them to the page of advertisers. All the reviews and the writing of the bloggers tend to rank higher in the search engines.
It is a very crucial thing to look for a blogger who is agreed to write about your product and your company and its services as well. Opting for niche content sites helps in generating more conversions. These types of affiliate marketing help you in getting a huge amount of traffic.
4) Emails or Newsletter
In such types of Affiliate Marketing, publishers have databases of user emails that they can use for sending out specific offers or newsletters related to the products and services of the merchants.
It is important that users are ready to accept those emails from the affiliates, plus emails should also be accumulated following the legitimate means. Such types of affiliate marketing offer easy ways to share offers and promotions.
Being CAN-SPAM compliant is also very important while using Emails for affiliate marketing.
5) Coupon Sites
Because of the prominence of smart shopping online, there are a number of people who have been searching for the coupons from all the marketers out there. So, this is the reason the coupon sites have become a really important associate for your marketing.
Most of the times these type of swords behave as double-edged swords. They have advantages as well as disadvantages. The positive part is that you will get a huge amount of traffic and thus your revenue gets increased.
However, the disadvantages of working with these types of affiliate marketing institutes are that these sites capitalize on the ranking that is associated with the name of your company and the word coupon code.
6) Social Media
Social Media is so prevalent and there are experts and influencers who enjoy great followings on Social Media Platforms that they use to send their followers on advertisers' site.
These affiliate marketers promote products and services through their followers, friends and members of different groups on Social Media channels.
Niche and topical influencers play significant roles as Social Media Publishers in Social media types of Affiliate Marketing.
7) Review Sites
These types of marketing affiliates create websites that are helpful in reviewing different websites according to a particular niche. Such types of review sites are mostly liked by the affiliate marketers.
Such hosting is commonly hosted by the hosts that are dealing with the variety of companies of different niches and domains. All of them are put in a single site and then an organic search is run in all the pages that have a different kind of reviews.
Doing this, the affiliates will earn some commissions when they refer business to the advertiser and thus make the review site large as well as converting demography for the marketing affiliates.
8) Incentivised Traffics
Such types of traffics come to merchants' site in exchange of some sorts of incentive or compensation for performing any desired actions such as registration or visiting a site.
Different sorts of incentives that are offered are often Cashback or virtual currency that one can redeem to make their purchases. This lets affiliate merchants enjoy boosted traffic of relevant audiences.
9) Shopping Services
In such types of Affiliate Marketing, sites are designed to provide specific services for boosting online purchases for particular brands.
Such types of sites can be price comparison sites, aggregators, review portals, metasearch engine sites and so on. Site users are redirected to merchants' site via site content to complete the desired action and boost sales.
With the help of these techniques, Affiliate marketer will be glad since they would get a commission while affiliate merchant will be happy because they would get more sales via affiliate networks.
Conclusion
So, these were some of the types of affiliate marketing that will help merchants enjoy better online presence, lead generation and boosted conversions.
Affiliate marketers can also choose any particular types of Affiliate Marketing that suit well with their skills to make a good commission in the process. These are for sure one of the most effective ways to widen the audience base on the web.
Which one of them did you like the most? Let us know.