Though some businesses have huge popularity in social media, sometimes the marketers think that they don't get the result compared to their hard work. Why is this? The main thing about marketing is that it allows you to keep doing things that you love and these days social media marketing is really an important thing.
If you really want to have a successful small business in social media then you really need some good marketing tips for this. So, to help you out with this we have come with tips for social media marketing for small businesses.
Connecting with customers via social media is an essential advertising methodology for all kinds of businesses. This encourages you to construct better branding, increment your client base and associate with local clients. Truth be told, around 90% of advertisers say online networking is essential to the online presence of their business.
Why Small Businesses have the advantage of Social Media Marketing?

Achievements via social media marketing do not rely upon what number of followers a business has. Rather, it relies upon lead generation, engagement and conversion that it gets via social channels. Social Media is very effective in optimizing online presence of businesses at the most affordable prices. Paid ads on social media is also quite cost-effective.
Guide to Social Media Marketing For Small Businesses
First of all, you have to know about all the basics that are needed for social media marketing for small businesses. So, below here we have mentioned some of the tips that will help you with social media marketing for small businesses.
1) Choose An Ideal Platform And Stick With It
It is obvious that all the social media sites are not equal. Different kind of business will attract a different kind of people. So, those different type of people will also have different taste of social media platforms.
It will be better if you figure out who are you trying to reach on social media and where you can find them. In order to do this, you will need the personas of the buyer as well as the profile information of the main types of customers which you can use to get your target audience.
2) Improve Your Brand
One of the best things to know about the personas of your customer is that they can be used for multiple purposes. Along with helping to find your target audience, they also help you with the brand voice.
Brand voice basically means it is what you say and the way you say it and with the same intent. It is one of the main factors for a better person of your brand. However, it is of no need to say that the brand tone should be created with the people with a good and creative mind.
3) Set Specific And Attainable Goals
The next thing that you have to do is to set up a marketing goal for your small business. However, make sure the goals you have set are stable and can be defined. Do not aim too high in the first attempt.
So, make sure you set clear and achievable goals in a given time. in addition to that, you should also have a backup plan always in case the first plan didn't go well.
4) Decide The Schedules Of Posting
Planning is really a crucial part. If you start to post randomly or irregularly then these are not all signs of a successful social media planner.
There is no fault in posting occasionally, as it is okay if you have something really interesting to share. But other than this, one has to keep on posting on regular basis and engage the audiences
5) Keep An Eye On Your Competitors
How is it possible to know that what kind of tactics will reel the target audience? You can check the similar kinds of business are doing with the same customer base. Of course, it won't help you much by keeping eye on your social media competitors but you can learn a lot from them.
Seeing the success and downfall of your competitors and with the help of your social media practices, you will get to know about what to do and what not to do. You don't have to go through the trial and error method. Let the other businesses do it and you learn from them.
6) Don't Trap The Followers On Platform Only
Only the social media will not be a great deal to your business. Though you are active and have a lot of followers, it will be of no use if they follow you endlessly. You should also want them to read your latest blogs, give a look at your new product and much more.
These kinds of things don't generally take place on social media. So, it is important that you ask them to visit your site. Make sure you are using the bio in the right way, as well as posts and tweets.
7) Keep Balance Between Promotional And Human Posts
It is obvious that your main goal is to get as much customer as possible. But this doesn't mean that you have to put a sales pitch on the caption or give a link to your online. This is because such kind of tactics gets old quickly.
Though it may be appropriate to promote in some cases most of your posts should be more humanly. You must keep up your personality and encourage the people to engage with you in a very positive way. This is one of the best tips for social media marketing for small businesses.
8) Paid Social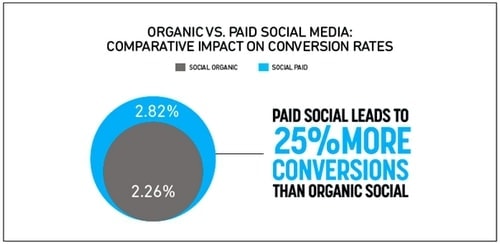 Tossing cash at paid social media ads will positively assist small businesses. You can easily run social media ads at nominal costs that will effectively widen the reach of your business in front of your target audiences.
Facebook Advertising Strategy is very effective as with regards to social promotions, Facebook is the best one in the marketing. Seeing how to target relevant audiences, generate leads,, retarget interested people and gauge the success is critical to any brand. Facebook advertising helps you do all this with great convenience and in a result driven manner as well.
Next comes in paid social is Instagram advertising. Instagram utilizes the Facebook Ad Manager as well that makes it at the second step into paid promotions via social media marketing for small businesses. In any case, there are a lot of subtleties for Instagram promoting that you need to master to promote your business at nominal costs.
Twitter Advertising Strategy is another important part of pair social. Keep in mind that brands see huge accomplishment with Twitter paid ads. In any case, simply tossing money at a campaign and trusting it will work is never going to work. You need to use a proper twitter advertising strategy to run promoted campaigns on Twitter in a cost effective manner.
In same manner, you can also run Snapchat, Pinterest and LinkedIn ads to reach your target audiences and convert them in a cost effective manner.
9) Track your progress via Social Analytics and Reporting
Keeping tabs on your marketing campaigns to guarantee achievement is something that plays very significant role in ensuring success for small businesses. The following are the absolute most essential metrics that you can follow to gauge the success of your social media marketing campaigns-
Impressions
Engagement
Engagement rates
Visits
Mentions
Followers
Engagement rates
Percentile ranking, etc.
In Conclusion…
Marketing in a social media platform is not an easy task at all.
One small mistake and you lose all the audiences forever. Paying heed to aforestated tips on social media marketing for small businesses will empower your business to target more relevant audiences and generate ROI.
Let us know which tip for social media marketing for small businesses do you feel is the most challenging one?
Did we miss any of the techniques that you use to promote your business on social media platforms? Share with us in the comments.
Liked this post? Check out the complete series on social media marketing