Content marketing has long been hailed as one of the most powerful marketing strategies. And guess what? It's not going anywhere in 2023! In fact, it's predicted to continue dominating the marketing landscape as a major trend.
According to a study by HubSpot, the majority of marketers (82%) are currently investing in content marketing. Only a small percentage (10%) do not use content marketing, while a few (8%) are unsure if their company uses this strategy.
So, it is safe to say that if you want to make sure your business stands out in the digital age, then investing in content is essential. Some of the most popular brands like Apple, Amazon, and Nike have successfully leveraged content marketing to build their brands.
But before we get into the latest trends in 2023, let's start by understanding what is a content marketing strategy and how it works –
What is Content Marketing? (Definition)
Content marketing is a strategic approach to creating and distributing content (blogs, articles, newsletters, social media posts, white papers, videos, emails, etc) that's valuable, relevant, and tailored for your target audience.
It helps you to engage with them, build trust, and ultimately convert them into loyal customers who will keep coming back for more. Content marketing efforts can be anything from blog posts and articles to videos and podcasts – as long as it adds value to the end user.
The goal of content marketing is to build a community of followers by creating and sharing valuable content that resonates with them. By engaging with your audience, you can gain insights into what they want from your brand and create content that serves as the cornerstone of all your other marketing efforts.
Why is Content Marketing Important?
Content marketing is pivotal for various reasons, but primarily because it drives visibility and credibility in the crowded digital landscape.
As search engines and social media platforms favor quality content, a robust content marketing strategy can increase your brand's discoverability, capture the attention of potential customers, and foster long-term relationships.
Furthermore, producing engaging content, such as a blog post, can establish your brand as an industry authority, inspiring trust, and loyalty among customers.
1. Visibility: Regularly publishing valuable content can improve your site's ranking on search engines, making your brand more visible to potential customers.
2. Credibility: High-quality, informative content can position your brand as a thought leader in your industry, thereby enhancing your credibility.
3. Engagement: Interactive content can encourage your audience to engage with your brand on multiple platforms, including social media and blogs.
4. Customer Relationship: Content marketing allows you to nurture relationships with your customers by providing them with relevant and valuable content.
5. Conversion: By targeting specific audience needs and preferences, your content can drive conversions and boost your brand's bottom line.
Types of Content Marketing
Offline Content Marketing
Offline content marketing includes traditional advertising methods like radio and newspapers. These strategies can help you reach a wider audience, build awareness of your brand, and generate leads.
However, this type of content marketing is not quite popular due to the increasing dominance of digital marketing but some of the traditional methods including direct mail, promotional events, print media, TV, and press releases are still effective in reaching out to customers.
Online Content Marketing
Online content marketing is an important part of any digital marketing strategy and it includes SEO, social media, blogging, email campaigns, video production, and more. Online content helps you increase your website's visibility on search engines, build customer relationships, and drive conversions.
So, in general, when we talk about content marketing in 2023, it refers to online content marketing and the different strategies associated with it.
1) Blog Posts
Blog posts form the cornerstone of any content marketing strategy. They not only build brand authority but also improve SEO. By writing informative, engaging, and SEO-optimized blog posts, you can drive organic traffic to your website, thereby increasing the chances of conversions.
2) Video Content Marketing
Videos are a crucial element of content marketing. Whether it's explainer videos, product demos, customer testimonials, or webinars, videos can significantly improve user engagement and conversion rates.
3) Email Marketing
Email content marketing is a powerful tool for nurturing customer relationships. Whether it's sending out weekly newsletters, transactional emails, or promotional offers, the right email strategy can significantly improve customer engagement, retention, and conversion rates.
4) Infographics
Infographics are an effective way to present complex information in a visually engaging and digestible format. They can boost social media engagement and are highly shareable, which helps in increasing brand visibility.
5) Email Newsletters
These are an excellent way to keep your audience updated about new products, industry news, or company updates. A well-crafted newsletter can help you build and maintain a dedicated customer base.
6) Ebooks and White Papers
Ebooks and white papers are long-form content that provides in-depth information about a particular topic. These are often used for lead generation as they provide value to the audience and help establish your brand as an industry expert.
7) Case Studies
Case studies are in-depth analyses of specific projects or client experiences your company has handled. These are great for showcasing your expertise and the value you offer to clients.
8) Podcasts and Webinars
Both podcasts and webinars are audio-visual formats that offer great opportunities to engage with your audience on a deeper level. They allow for real-time interaction and can help in building thought leadership in your industry.
9) Landing Pages
These are standalone web pages created specifically for marketing or advertising campaigns. A good landing page is focused on a single objective known as a Call to Action (CTA), driving visitors to take specific actions.
10) Content Marketing and SEO
SEO plays a crucial role in content marketing. By optimizing your content for search engines, you can increase your visibility in search results, driving more organic traffic to your website and improving the chances of conversions.
11) Social Media and Content Marketing
Social media platforms are an excellent place to share and promote your content. Whether it's a blog post, an infographic, or a video, social media can help your content reach a wider audience, thereby boosting your brand visibility and engagement.
Each of these content types plays a unique role in a content marketing strategy. By leveraging the right mix of these formats, you can effectively engage your audience, boost your online visibility, and drive conversions.
How Content Marketing Works
Content marketing operates based on a marketing funnel, which can be divided into three main levels: Top of the Funnel (TOFU), Middle of the Funnel (MOFU), and Bottom of the Funnel (BOFU). Each stage represents a different phase of a potential customer's journey and requires a unique approach to content marketing.
1) Top of the Funnel (TOFU)
At the TOFU stage, the primary objective is to raise awareness about your product or service and engage potential customers through informational and educational content.
This could include blog posts, social media updates, videos, ebooks, and informative guides that aim to solve a problem or answer a question that your target audience might have.
Key content types you can use in this funnel are-
Blog posts
Infographics
Social media posts
Video Ads
Short-form video
Podcasts
Webinars
Checklists
Ebooks, etc.
2) Middle of the Funnel (MOFU)
In the MOFU stage, consumers are already aware of their problems and are considering various solutions.
Here, the goal is to nurture leads and build relationships using content that showcases your expertise and the value of your solutions. Webinars, case studies, whitepapers, and free trials are examples of MOFU content.
Some of the MOFU content you should use in 2023 are –
Email Newsletters
Landing Pages
Case Studies
Product Demos
White Papers
Blog Posts
Interactive Content, etc
3) Bottom of the Funnel (BOFU)
BOFU is the decision-making stage where prospects are ready to make a purchase.
The aim here is to provide compelling reasons for the consumer to choose your product or service over competitors. Testimonials, product demos, and detailed product information can help seal the deal at this stage.
Let's have a look at the BOFU content type you should use –
Personalized Emails
Pricing Pages
User Generated Content
Video Content
Remarketing Campaigns
Competitor Comparison Blog Posts
Stages of a Successful Content Marketing Strategy
1) Awareness Stage
In the awareness stage of a successful content marketing campaign, the primary goal is to attract potential customers by creating content that engages and informs. This involves generating high-quality content that resonates with your target audience, addressing their needs and interests. SEO-optimized blog posts, social media updates, and educational videos are examples of content types used to build awareness and establish a brand's authority.
2) Consideration Stage
The Consideration stage represents the middle of the funnel where consumers are evaluating different solutions for their problems. The effective content marketing strategy here is to produce relevant content like case studies, white papers, and webinars that showcase your products or services' unique value proposition. This helps to foster a relationship with potential customers, steering them towards considering your solution as their preferred choice.
3) Closing Stage
In the Closing stage, the prospect is ready to make a purchase decision. The content strategy here is geared towards providing the potential buyer with all the necessary information and reassurance to choose your product or service. Detailed product information, customer testimonials, comparison blog posts, and personalized emails are effective at this stage, facilitating the prospect's journey from consideration to purchase.
Steps to Start a Content Marketing Campaign
1) Identify your audience
Understanding your target audience is crucial to creating effective content. Research their demographics, interests, and needs to tailor your messaging and ensure relevance.
2) Determine the right formats
Choose the content formats that resonate with your audience and align with your goals. Consider using a mix of articles, videos, infographics, or podcasts to engage and inform. You can start the content creation process after deciding the right formats for your target audience.
3) Determine how you'll distribute
Decide on the channels and platforms to distribute your content. Consider social media, email newsletters, website blogs, or partnerships with influencers to reach your audience effectively. Your distribution strategy should be apt for new customers as well as existing customers as per their stages in the customer journey.
4) Choose a sustainable schedule
Establish a consistent content creation and publishing schedule that matches your resources and audience expectations. Consistency builds trust and keeps your audience engaged. For effective online marketing, proper scheduling is crucial.
5) Follow best practices
Stay updated with industry trends and follow content marketing best practices. This includes optimizing for SEO, providing valuable insights, and maintaining a strong brand voice. Continuously refine your strategy based on analytics and feedback to improve results.
6) Measure your success
Track key performance indicators to measure your progress. Monitor website analytics and social media KPIs like engagement, reach, and impressions to evaluate the effectiveness of your efforts.
7) Adapt and refine
Use data-driven insights to optimize content for maximum reach, engagement, and conversions. Iterate on topics that perform well and adjust your strategy as trends evolve.
8) Invest in the right tools
Leverage content marketing tools to streamline and automate processes for greater efficiency. This can include a project management tool, keyword research tool, or analytics platform to help you measure success and uncover opportunities for improvement.
9) Focus on quality over quantity
Quality should be your primary focus when crafting content as readers tend to engage with well-researched and informative pieces. Prioritize creating content that is useful, relevant, and valuable to your target audience over simply churning out multiple blog posts a day.
10) Stay consistent
Establishing yourself as an authoritative voice in the industry requires consistency in your content strategy. Publish consistently on set days and times to build trust with your readers and show that you are a reliable source of information.
11) Promote and share
As important as it is to produce content, be sure to also promote it across the right channels. Share content on social media platforms, optimize for search engines, and collaborate with influencers or industry leaders to increase visibility and reach.
Benefits of Content Marketing
Content marketing is not just a buzzword in the business world—it's a fundamental strategy that can drive remarkable results for businesses of all sizes. By creating and sharing valuable content, businesses can build a strong relationship with their audience, improve their online visibility, and ultimately increase their bottom line.
1. Boosts brand visibility and recognition: Content marketing helps businesses to expose their brand to a wider audience, increasing visibility and recognition.
2. Improves customer engagement: High-quality content can engage the audience, encouraging them to interact with the business and become loyal customers.
3. Establishes authority and trust: With informative and useful content, businesses can establish themselves as thought leaders in their industry, boosting trust among their target audience.
4. Enhances SEO efforts: Content marketing is a key component of SEO. Fresh and relevant content can significantly improve a business's search engine ranking.
5. Increases conversion rates: An effective content marketing strategy can generate more leads and increase conversion rates, directly impacting a business's bottom line.
Metrics to Measure the Success of a Content Marketing
In the world of content marketing, it's essential not just to create and share content, but to measure its effectiveness as well. This is where content marketing metrics come into play. These metrics provide valuable insights into how your content is performing, helping you identify what's working, what's not, and where improvements can be made. By consistently tracking and analyzing these metrics, you can fine-tune your content marketing strategy to maximize your ROI.
Understanding the role of different metrics in measuring your content marketing campaign's success is vital. Various metrics serve different purposes and provide insights into different aspects of your content marketing efforts. Some metrics help measure audience engagement, while others reveal how well your content is driving conversions. Knowing what each metric signifies can help you make informed decisions and steer your content marketing strategy in the right direction.
| Metrics | Role in Measuring Content Marketing Campaign |
| --- | --- |
| Page views | Shows the total number of page views and gives an idea of the overall reach of your content. |
| Unique visitors | Helps identify how many individual users are engaging with your content. |
| Time on page | Gives insight into how long users are spending on your content, indicating their level of interest. |
| Bounce rate | Shows the percentage of visitors who leave your site after viewing only one page, giving clues to user engagement and content quality. |
| Conversion rate | Measures the percentage of visitors who completed a desired action, such as making a purchase or subscribing to a newsletter, indicating the effectiveness of your content in driving conversions. |
| Social shares | Reflects how often your content is shared on social media, providing insight into its virality. |
| SEO ranking | Shows your content's position in search engine results, revealing the effectiveness of your SEO efforts. |
Content Marketing Examples
1) Amazon Prime's The Anime Club
Over the years, the popularity of anime has skyrocketed, leading to various streaming services capitalizing on this trend. One such player in the game is Amazon Prime. What sets Amazon apart from competitors like Crunchyroll, Netflix, and Hulu? Amazon took a unique approach by collaborating with actress and content creator Cheyenne The Geek to produce The Anime Club web series.
The Anime Club recommends anime by genre and explores various topics commonly referenced in anime. All the anime Cheyenne mentions are available on Amazon Prime, encouraging viewers to subscribe to the streaming service.
2) Warby Parker's Email Marketing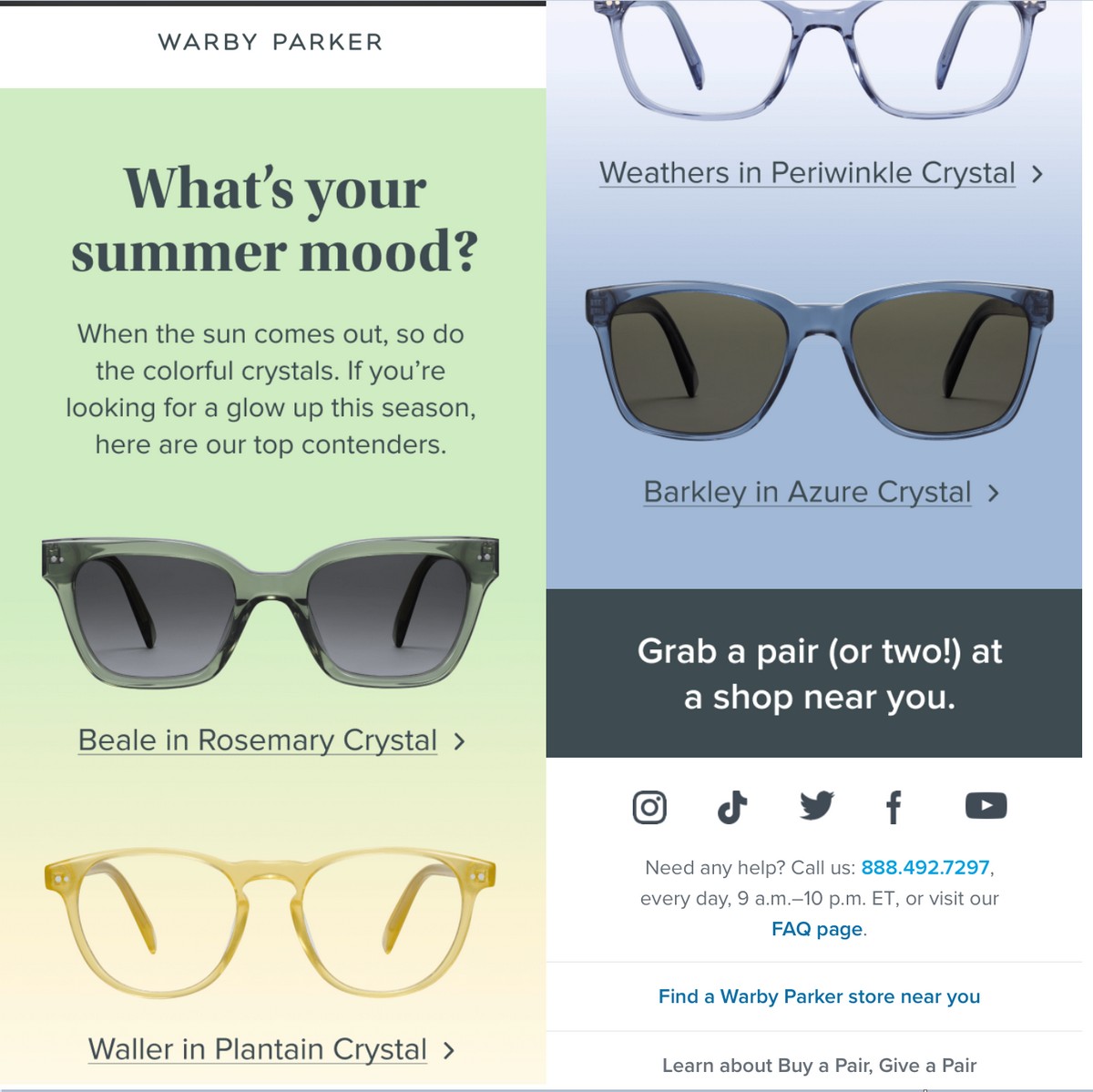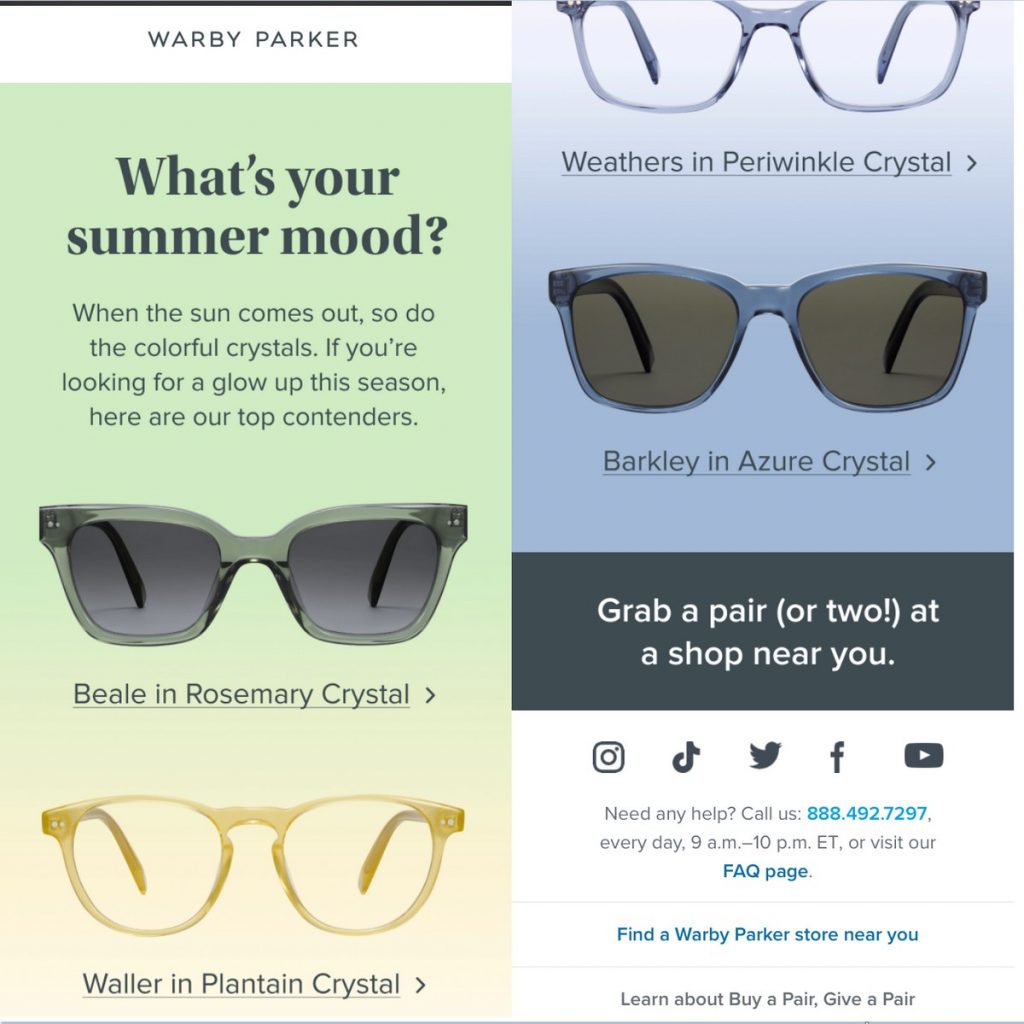 Warby Parker stands out among online glasses retailers with its creative email marketing campaigns.
In this example, they embrace summer with vibrant crystal-themed eyewear. The email effectively highlights calls to action, uses engaging colors, and prominently showcases social media accounts.
3) Canva Design School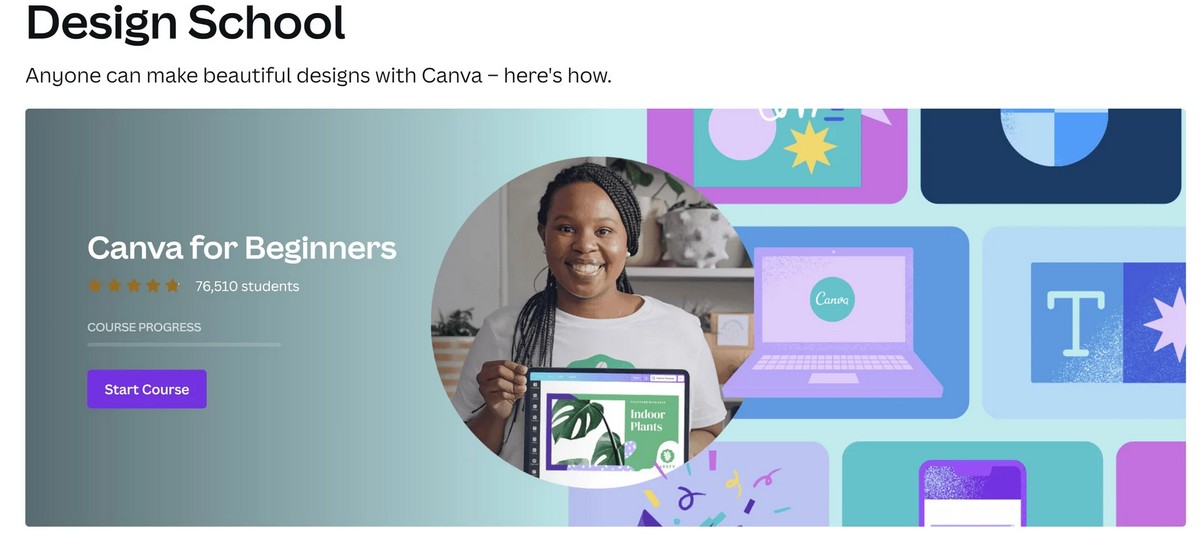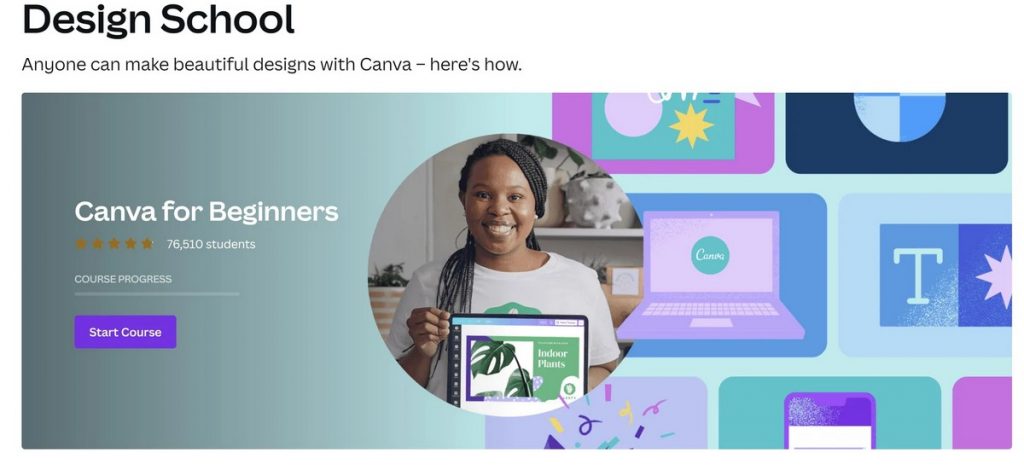 Canva's Design School provides users with the chance to acquire the skills to craft captivating images, even without in-depth design knowledge or complex software. Additionally, it effectively demonstrates the extensive array of design options that Canva has to offer.
4) Spotify Wrapped Playlists


Spotify Wrapped is a powerful content marketing initiative by the music streaming app. At year-end, Spotify users receive a fun summary of their music listening habits, including genres, years, artists, and more, presented with vibrant and visually appealing graphics.
By analyzing a user's frequently played songs, a personalized playlist is generated. Users can choose to share their curated playlists on social media, making it a yearly trend since its inception.
Content Marketing Trends in 2023
In the future, content marketing will become increasingly competitive as more and more companies create engaging and shareable content. To stand out, businesses should focus on creating high-quality content that is tailored to a specific target audience. Additionally, they should use interactive elements like videos and polls to engage readers.
With the rise of artificial intelligence, technology can be used to automate content production. AI-driven content creation will enable businesses to quickly create relevant and personalized content for a variety of channels.
In the next few years, there is likely to be an increase in voice searches as people become more comfortable using voice commands. As such, businesses need to incorporate SEO best practices into their content marketing strategies so that they can rank for voice queries.
Here are some of the key trends to keep an eye on in 2023:
The popularity of podcasts will continue to increase steadily.
Social commerce will be driven by shoppable content.
AI-powered content marketing will gain more popularity.
A data-driven approach will be more prominent in content marketing.
Short-form videos will continue to experience exponential growth.
Brands will enhance engagement through interactive content.
User-generated content (UGC) will remain a crucial strategy.
Integration of content, search, and SEO will be emphasized.
Visual variation will play a significant role.
Balancing AI experiments and user experience.
Creating content with empathy and a human-focused approach.
Developing value-driven content tailored to customers' needs, etc.
Liked this post? Check out the complete series on Digital Marketing