The founder of the Cab aggregator which builds up online Marketplace for Taxi, Bhavish Aggarwal started its entrepreneurial venture in the year 2010 when he experienced the deep routed problem in India quality Cab service and professionalism of the Cab drivers.
The brand has received series of funding from angel investors and companies like Softbank, Tekne Capital, Vanguard, Baillie Gifford and Yes Bank. Spurt with the growth in the demand, in 2017 the company has received $ 18 billion.
Segmentation, targeting, positioning in the Marketing strategy of Ola Cab –
Ola cabs have been using segmentation parameters such as geographically dividing the market it serves into urban & metro in order to devise promotional and business strategy based on demand in these markets.
Also, it segments customers on the basis of customer income profile such as Ola Luxury, Prime, Ola share, autos.
As the company serves different customer segments i.e. long route outstation customers, customers within 8 Kms, Shuttle service and shared services, therefore it uses differentiation targeting strategy.
Ola Cabs has positioned itself as a company making mobility easy, convenient, affordable and safe 24*7.
Marketing mix – Here is the Marketing mix of Ola Cabs.
SWOT analysis – Here is the SWOT analysis of Ola Cabs.
Mission- "Building Mobility for a Billion Indians"
Vision- "Not Available"
Tagline-"Chalo Niklo"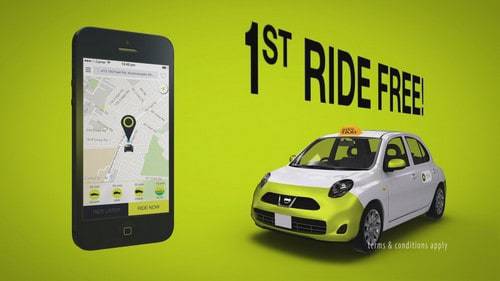 Competitive advantage in the Marketing strategy of Ola Cab –
1. Strategic Acquisitions:
 In order to strengthen its business, the company has been acquiring different companies such as TaxiForSure.com for $ 200 mn in 2015, to strengthen its shuttle service it acquired Geotag, an intelligent transportation firm in the year 2015, further to introduce Ola money it acquired Qarth in the year 2016 and recently it acquired Foodpanda to compete in the meta market.
2. Promotional Strategy:
Innovatively thought concept ideas and ads of the company such as Chalo Niklo, ?6/ per Km, Ola Share pass, Ola outstation, shuttle and Ola peddle has helped the company in being ahead of its peers.
BCG Matrix in the Marketing strategy of Ola Cab –
The Ola Cab operates in business segments such as Cab services for passengers, for corporate customers through Ola Shuttle i.e. daily office goers through fixed routes and Ola outstation.
Since Ola had widely penetrated through its Ola passenger segment even in the Tier-3 cities in India as compared to the peers companies and hold around majority of market share (around 40%), therefore it is Stars in the BCG matrix, and other two segments are in evolving stage and is question mark in the BCG matrix.
Distribution strategy in the Marketing strategy of Ola Cab –
Operating in 180+ cities in India Ola Cabs serves more than 8,00,000 customers every day by empowering and collaborating with around 10,00,000 drivers in its platform.
Ola Cabs works with a Platform wherein a customer can easily book a Cab and drivers can easily get passengers by paying commission to the company. In the process Ola Cabs does not need to own any car, any driver with duly authorized and verified by transport authorities can work with Ola.
Ola has a dedicated team of 6000 employees who work dedicatedly to provide best in technology services to its stakeholders.
Brand equity in the Marketing strategy of Ola Cab –
The Company has been promoting itself with new age popular production houses and short films such as TVF's Permanent Roommates, All India Bakchod (AIB), Rear View.
The brand has won various awards and accolades over the years such as in 2013 mBillionth Award South Asia, by IAMAI Best start-up of the year award, listed 30 in under 30 list of Forbes. The brand has been valued at $ 5 billion as on March 2017.
Competitive analysis in the Marketing strategy of Ola Cab –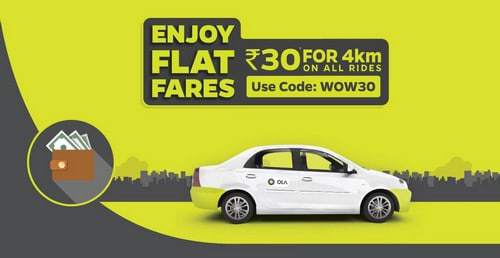 Competing in the market where the unorganized and several modes of transport already exists, has become easy for the company over the years since it started its operations.
Wide presence as compared to Uber which is present in only 55 cities and also Ola pays the drivers based on the number of trips as well as gross payment while Uber pays drivers based Daily collection by the drivers. These are some of the competitive strength that the brand has created for being ahead of peers.
Ola Cabs competes with operators in the markets such as domestic unorganized Taxi market, Uber, Meru Cabs etc.
Market analysis in the Marketing strategy of Ola Cab –
As per the reports of research firm ICRA, the domestic Cabs segment has high growth & strong potential (currently growing at 9%) supported by increased income level, purchasing power parity and low car penetration in passenger vehicle segment. The fleet sales of which cab aggregators such as Ola, Uber etc. are part will achieve the growth rate of 15-17 % by 2020.
For strengthening the brand offerings the companies are creating competitive deliverables such as Ola Cafe by Ola which failed to make its marks in 2016, later on, to which Ola acquired Foodpanda, UberEats by Uber.
Customer analysis in the Marketing strategy of Ola Cab –
The passenger Cabs services market has 4 segments of customers, those who don't mind sharing the cabs, the one who prefer taking personal Cab wherever they go, office goers and outstation / long journey commuters.
Most of the customers of the Bank across the segment are in the age group of 20-45 years, are young, office goers, and college student.
Liked this post? Check out the complete series on Strategies