Bajaj Auto is engaged in the business of manufacturing and distribution of automobiles such as motorcycles, commercial vehicles etc. and its accessories. The Company sells its products in India as well as various other global markets i.e. in more than 70 countries globally.
Bajaj Auto is the world's 3rd largest manufacturer of motorcycles and the largest manufacturer of three-wheelers. It has more than 10000 employees in its role supporting various activities of the company across the delivery chain.
Segmentation, targeting, positioning in the Marketing strategy of Bajaj Auto –
The Company segments the population on the basis of characteristics like age, gender, income group, region, family size, social class, price sensitivity, loyalty, expectations, personality attributes, and lifestyle. Bajaj Auto uses a mix of demographic and geographic segmentation strategy. This is because the distribution of this product matters a lot. The same way, demographic points like Earning of the individual also matters.
Differentiating targeting strategy is used by the company to be competitively ahead of its competitors and target the customer group with the distinctive features of the offerings. Pulsar is one clear such model where it has differentiated itself with its combination of design and power throughout the market.
The company has positioned its offerings as a fast and technically advanced automobile manufacturer. It uses user benefit and value-based positioning strategy.
Marketing mix – Here is the Marketing Mix of Bajaj.
SWOT analysis – Here is the SWOT analysis of Bajaj.
Mission- "Not Available"
Vision- "Not Available"
Tagline-"Distinctly Ahead"
Competitive advantage of the Marketing strategy of Bajaj Auto –
Subsidiaries & Joint Ventures: The Company not only have an operation in India but it operates in other parts of the world which helps the company in being competitively ahead of its competitors. PT. Bajaj Auto Indonesia, a subsidiary of Bajaj Auto with 99.25% share and Bajaj Auto International Holdings BV, Netherlands (BAIH BV) is 100% subsidiary of Bajaj Auto Ltd. These subsidiaries are involved in primarily manufacturing KTM range of motorcycles.
Renowned Indian Conglomerate- It is one of the 25 companies of the Bajaj Group which have more than 75 years of existence and have a presence in diverse businesses such as Electronics, Life Insurance, General Insurance, financial services and other businesses.
Well Established brand – The brand is well known and loved by the People of India from where it originates. There are models present in the Bajaj Auto Product portfolio which are very well known and adopted across the country and several parts of the globe.
BCG Matrix in the Marketing strategy of Bajaj Auto –
Bajaj Auto operates in strategic business units (SBU's) such as Bajaj Motorcycles, KTM Motorcycles, and Bajaj Intracity 3-wheelers.
The motorcycle business under the brand name of Bajaj and Bajaj Intracity 3-wheeler commercial vehicle business stars in the BCG matrix while due to the presence of a large number of brands in the racing motorcycle /high CC segments the KTM motorcycle business is a question mark in the BCG matrix.
Distribution strategy in the Marketing strategy of Bajaj Auto –
The company uses a mix of different channels of distribution for its different business segments such as for Bajaj Motorcycle and commercial vehicle segment it uses authorized distributors for sales & service, company-owned sales & service outlets, DSA ( direct selling agents) and e-commerce sites.
While for KTM motorcycle business vertical it distributes its offerings through distributors and e-commerce sites.

##Plant-wise capacities (in numbers) and Product Range
Brand equity in the Marketing strategy of Bajaj Auto –
Bajaj group's brand becomes famous from its ad "Hamara Bajaj". The company have high visibility in the market and had begged many awards and accolades over the years such as in the year 2016RS 200- Reader's Choice bike of the year by Auto Car & Times Now, by CNBC & overdrive RS 200 has been awarded as Viewer's choice bike of the year and other awards by Zigwheels, Bike India, BBC Top Gear.
In order to control cost on branding company has cut its advertisement spends in FY 2016-17.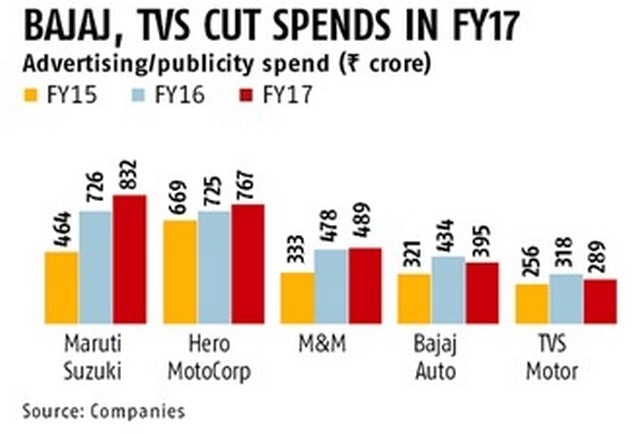 Competitive analysis of the Marketing strategy of Bajaj Auto –
The Company has been competing with another automobile in the market with the help of broad product portfolio in each of the business vertical like in Bajaj Motorcycle it has sub-brands Donmar 400, Pulsar, Avenger, Vikrant, Discover, Platina and CT 100; in KTM it has offerings such as KTM Enduro, KTM naked, KTM Sports Tourer, KTM freeride, KTM Supersport etc.

Market analysis of the Marketing strategy of Bajaj Auto –
Sluggish domestic growth and credit constraints, government regulations, currency problems due to demonetization, political, economic factors are affecting the industry not only to domestic market but also to exports.
Increasing suppliers & customers bargaining power due to a large number of options in the market and government changing regulations such as recently BS3 vehicles has been discontinued and BS4 has been set a minimum standard are driving the industry.
Customer analysis in the Marketing strategy of Bajaj Auto –           
Customers of Bajaj Auto range from travel enthusiasts to transporters, to auto drivers, racers, and students.
Customers are divided into passenger vehicles segment customers and commercial vehicle segment customer. Passenger segment customers are in the age group of 20-40 years while in commercial vehicle segment there are retail customers and B2B customers like transporters who use it for its own business.
Liked this post? Check out the complete series on Strategies