Bayerische Motoren Werke AG commonly known as BMW or BMW AG, is a German automobile, motorcycle and engine manufacturing company founded in 1916.It also owns and produces Mini cars, and is the parent company of Rolls-Royce Motor Cars. BMW produces motorcycles under BMW Motorrad. BMW has been winner of many racing championships.
Segmentation, targeting, positioning in the Marketing strategy of BMW 
The luxury car manufacturer segments its offerings on the basis of demographics, psychographics & Behavioural factors.
A typical customer of BMW is the one in the mid age (35-50), is excelling in his/her career, have a taste of aspirational products & values his own social status. The benefits required by these people are superiority, performance, reliability & quality.
BMW targets customers from upper class social group as they are the people for whom BMW will be affordable & moreover they will appreciate the masterpiece. The global frontrunner, BMW has positioned itself as a symbol of quality, technologically advanced, high performance & exclusive automobile brand. 
Marketing mix – Click here to read the Marketing mix of BMW
SWOT analysis – Click here to read the SWOT analysis of BMW.
Mission – "The BMW Group is the world's leading provider of premium products and premium services for individual mobility".
Vision- Not Available
Tagline – "The Ultimate driving Machine".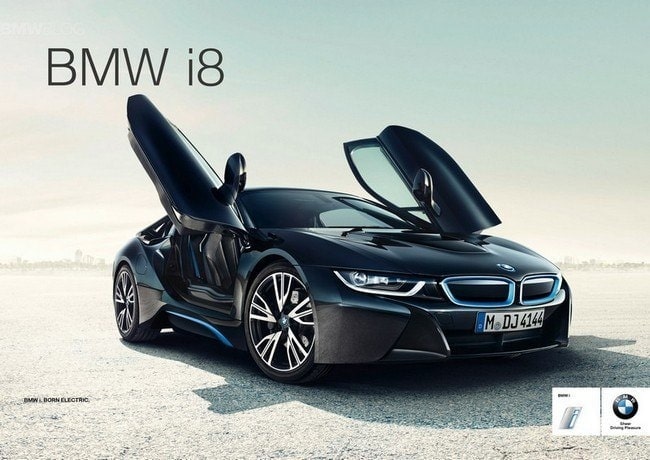 Competitive advantage in the Marketing strategy of BMW
Continuous process improvement & technological advancement in its R&D is the core of the competitive advantage of BMW. It is known for its quality, reliability & superior customer service support. BMW has adopted policy of customer service=growth driver as an underlying principle to grow its market.
It is Present in 150+ countries around the world, Europe & North America is the market from where 65% of its sales come from but with the advent of growing developing nations like Asian markets, company started focussing on these markets aggressively to drive the future sales. It has a Strong product portfolio from BMW M –Convertible, BMW – 3 & 5 series – sedan, touring to BMW X3 /X5 –SUV and have strong presence in every segment. 
BCG Matrix in the Marketing strategy of BMW
Using the BCG Matrix, we can say that BMW Group's automobile business is a star, in terms of large share in the premium market segment and a high growth rate for its models. Its motorcycle and financial services units are considered to be question mark.
Within BMW cars business-
BMW X3 /X5 –SUV is Question mark.
BMW – 3, 5 & 7 series – sedan, touring is Stars since these are the models that tops the sales under the BMW's portfolio.
BMW Z4, M & 6 series is star.
BMW MINI will always be a star because of competition from Beetle.
Rolls Royce is a cash cow and the Brand driver for BMW.
Distribution strategy in the Marketing strategy of BMW
Exclusivity of the stores is definitely a factor to leverage on for BMW; the company had & will continue to invest in the creation of flagship stores, so as to maximize the consumer experience. At the same time company is also expanding the number of authorized dealers.
BMW is currently operating its business through its 6000+ dealerships around the world. The logistics partners are the Local players in the respective country who help in making the product available to the customer @POS (point of sale).
Brand equity in the Marketing strategy of BMW
BMW's success lies in its strong sense of identity which is tied to the experience of driving the machine. BMW is considered as one of the leading producers of luxury & state of the art vehicles. BMW the world no.1 premium car company who owns Rolls Royce & MINI have established itself as a brand having conformance in brand image – status and driving pleasure –across the world.
The brand-image of BMW adversely got affected when they recalled over 7 lakhs cars in 2010 due to pump /Engine/ Battery cable over problems, they can't stand by what they meant to "The Ultimate Driving machine".
Over time however, BMW is leading the market with its innovations in design. The BMW I8 concept is one which has impressed many and so is the BMW fabric car known as GINA.
Competitive analysis in the Marketing strategy of BMW
BMW has head on competition with other players like Audi, Mercedes, Volvo etc. who are betting hard on Asian markets like China, India and developed markets like USA, UK and European nations.
BMW's SUV's X3 & X5 are not that successful even in the developed market while changing life style & increase recreation & tourism there is upsurge into increase in demand of SUV, resulting into loss of sales. Audi has some fantastic models up its sleeves and is known to be even more premium and the choice of A grade customers.
BMW, with its efforts to get some of the upper middle class segment, is losing the customer base of its A grade segment. Something which it is trying to improve with models such as the BMW I8 and GINA mentioned above. BMW is again marketing itself in the premium range to get back the ultra premium market share.
Market analysis in the Marketing strategy of BMW 
In an ever growing automobile market where growth of Luxury segment is something which is noticeable. Rising demand of luxury cars in Asian markets, changing lifestyle & growth rate of 33% in developing nation like India is something due to which the sales are rising and people are foraying into this premium segment of cars.
Large numbers of players are now fighting to eat each other over market share. In developing nation company's like Mercedes & Audi are playing aggressively while BMW is not able to sustain in these markets. Another advantage for these car manufacturers is the support of number of loans available for the purchase of vehicles in developing countries. 
Customer analysis in the Marketing strategy of BMW
Customer of BMW is the Upper middle class or upper class social group people who are in midst of their career & may be in the age group of 30-50 years. On getting associated with BMW these people have feel of pride or ownership. BMW belongs to the Demand segment in needs wants and demands, and it shows that the individual belongs to a higher social class.
Promotions in the Marketing strategy of BMW
One of the key points which makes BMW a unique brand is its promotions. BMW has over time established and reestablished itself to be a very smart marketer. Majority of the promotional campaigns of BMW market the products based on their superior technological advantages, design, and how it is meant to be for the premium people.
Naturally, when you group yourself in league with the top 3 premium brands out there, people look upto you. BMW has several times taken on the likes of Jaguar, Audi and Mercedes. Here are the best print ads of BMW which you can check out. I am also pasting a recent commercial of BMW which i loved. It shows all the cars in their arsenal.
https://www.youtube.com/watch?v=HuB1JCYXzSM
Liked this post? Check out the complete series on Strategies