Headquartered in Mumbai Tata Motors (formerly known as TELCO acronym form for TATA Engineering and Locomotive Company) are an Indian multinational automotive manufacturing company and a member of Tata group. Products offered by the company varies from cars, trucks, vans, coaches, military vehicles, sports cars, buses and construction equipment.
TATA Motors is ranked as 226th in the Fortune Global 500 list of world's biggest corporations as of 2016.
Segmentation, targeting, positioning in the Marketing strategy of Tata Motors –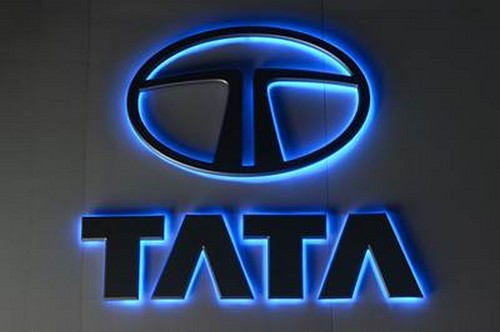 Tata Motors does not follow a single marketing approach or formula but it believes that all members of the community should be served. Brand targets crowd from the rural part to the metros with its offerings varying from NANO to Jaguar Land Rover segment.
It targets anyone above 4 Lakh p.a. salary, millennial employed as professionals, managers and all those looking to switch from 2-wheeler to 4-wheeler. The age bracket for brand's offering varies from 21-65 years with all Middle class. Upper middle class, High class and Affluent class in its target category.
Tata Motors offers products such as Tata ACE a mini truck mainly used for agriculture transport purpose, Tata NANO for the middle class, Tata Indica and Indigo for commercial purposes and Jaguar in the high-class segment thus creating the image that there's something for everyone in its huge line of offerings.
Differentiated targeting strategy is used by Tata Motors to target the customers and satisfy their needs and wants.
Marketing mix – Here is the Marketing Mix of TATA Motors
SWOT analysis – Here is the SWOT Analysis of TATA Motors
Mission – "We innovate with passion, mobility solutions to enhance the quality of life"
Vision  – 
"As a high-performance organization, we are by, FY2019
Among the top 3 in the global CV and domestic PV
Achieving Sustainable financial performance
Delivering exciting innovations"
Tagline – "Connecting Aspirations".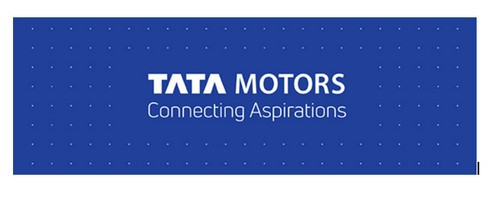 Competitive advantage in the Marketing strategy of Tata Motors –
Based in India serves as a huge competition for the company as it offers the brand low-cost labour base with the help which company not only targets the Indian market but also other emerging markets with a huge range of economical segment vehicles. The products thus offered are manufactured at a much lower cost and sold to new markets earning huge profits for the company.
The policies and regulations for the automobile sector in the country along with the least expensive automobile parts availability are the some of the major conditions which help the brand in its business expansion.
The excellent innovation and research and development at TATA Motors have set up an example for its competitors. With its various research centres across the country, the brand is working on the improvement of the engine efficiency, design, style and instrumentation of vehicles.
For breaking into foreign markets TATA Motors has over the years acquired various foreign companies. While the company has delivered amazing results in the domestic market, its subsidiary Jaguar land rover has broken all the records of competitors as a top luxury automobile manufacturer. This mega expansion mode calls for major product development, capacity capitalization and various national and international mergers.
BCG Matrix in the Marketing strategy of Tata Motors –
Indica being the most preferred commercial vehicle features in the star segment along with Safari Dicor, Manza, Winger and Magic.
With Safari, Sumo and Indigo CS being their cash cow, Nano& Zest still continues to be in question mark segment.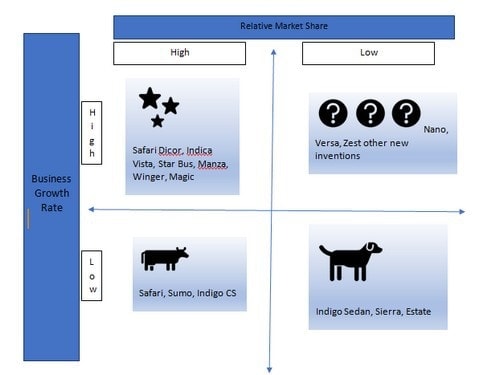 Distribution strategy in the Marketing strategy of Tata Motors –
With 576 car dealers across 424 cities in India, TATA Motors holds a robust dealers network in the country through it sells more than 56,000 in the month of July 2018. Brand registered a staggering growth of 64%  in its domestic sales for the first quarter (April-June 2018), FY19 at 164,579 units compared to 100,141 units over the previous year due to its strong network of dealers.
Brand equity in the Marketing strategy of Tata Motors –
TATA aims to fulfil the emerging needs of the automobile industry by coming up with a new range of products. These products are manufactured with the purpose of providing comfort, reliability, safety, capacity and value to the end customers. In order to stay ahead of the competition, the company is going for huge investments in the area of product development. TATA Nano carries an image of the cheapest car in the world, TATA Ace is being introduced in the commercial vehicle market for snatching the market share of its rivals. Another sporty vehicle Nexon with both diesel and petrol engine is also attracting customers already.
Competitive analysis in the Marketing strategy of Tata Motors –
With the Indian automotive market being overcrowded with a lot of national and international players following a red ocean strategy. Companies like Hyundai, Fiat, Maruti Suzuki, Toyota & Honda are giving a stiff competition to the brand with everyone eating each other's market share.
Market analysis in the Marketing strategy of Tata Motors –
With a market share of 44% in commercial vehicles segment in a 2017-2018 brand is a market leader in the sector.
With an initiative Turnaround, 2.0 company is targeting to regain its market share in Passenger vehicle segment. Part of this has already put in place which has already started showing signs of improvement for the company's PV firm.
With the focus on serviceability tapping and penetrating the growing markets will further help the company with its Turnaround 2.0 initiative in this highly competitive sector.
Customer analysis in the Marketing strategy of Tata Motors –
Customers of TATA Motors are the low, middle groups who are looking to switch to 4-wheeler from 2-wheeler who are looking to purchase a car for a family purpose at affordable prices. Customers of the brand also include youth and high-class business professional who is looking for innovative, trending vehicles with world-class safety features.
Promotional strategy in the Marketing strategy of Tata Motors –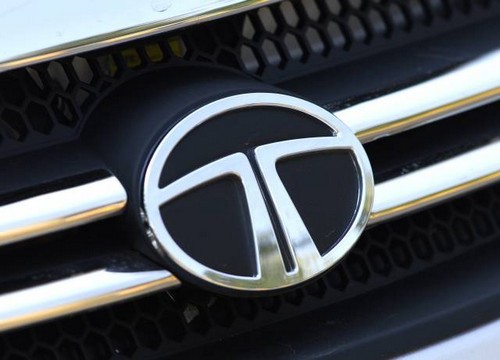 TATA Motors carries out its promotional strategy in 2 ways:
Above the line (ATL)
It includes: print ads (newspaper advertisements by local dealers, magazines)
TV, Radio
Below the line (BTL) Promotions:
It includes: exchange fair
Rural fair
Loan fair,
Society activities
Corporate display activities
Liked this post? Check out the complete series on Strategies