Definition: Strategy formulation in business involves creating a plan that outlines the intended direction and specific steps to achieve goals by utilizing the available knowledge. This process entails allocating resources, setting priorities, aligning with organizational objectives, and verifying business goals.
In the world of business, one cannot underestimate the power of a well-considered strategy. Strategy formulation, an integral part of any organization's success, acts as the blueprint for businesses to realize their objectives and mark their growth trajectory.
This detailed roadmap is not merely about setting goals; it's about precisely defining the steps to reach there, allocating resources wisely, and aligning every action with the broader organizational objectives.
What is Strategy Formulation?
Strategy formulation is the analytical process of developing a roadmap to guide an organization toward achieving its long-term objectives and overall mission. It is the backbone of the strategic planning process, ensuring that all business activities are aligned with the organization's unified vision, goals, and objectives.
An example of strategy formulation can be seen in the global giant, Apple Inc. The company identified a market need for high-quality, user-friendly devices with a sleek design. Their strategy formulation process involved developing a plan to create innovative products that combined functionality and aesthetics, positioning the brand as a premium choice in the technology market.
The steps in this strategic plan included heavy investment in research and development, strict quality control, and a strong marketing campaign emphasizing the uniqueness and quality of their products. This strategy has been successful, with Apple maintaining its position as a market leader and continually expanding its product range, all while staying true to its core brand values.
The strategy formulation process encompasses several crucial steps, including setting strategic goals, analyzing the organization and its environment, developing strategic options, and finally, selecting the most appropriate strategies. Successful strategy implementation, often considered the other half of this coin, relies on the effectiveness of the strategy formulation process.
It ensures that the strategies formulated are executed effectively to yield the desired results. The strategy formulation process aids in identifying the key areas of focus, while successful strategy implementation ensures that these strategies are put into action in a manner that maximizes their potential.
Steps of Strategy Formulation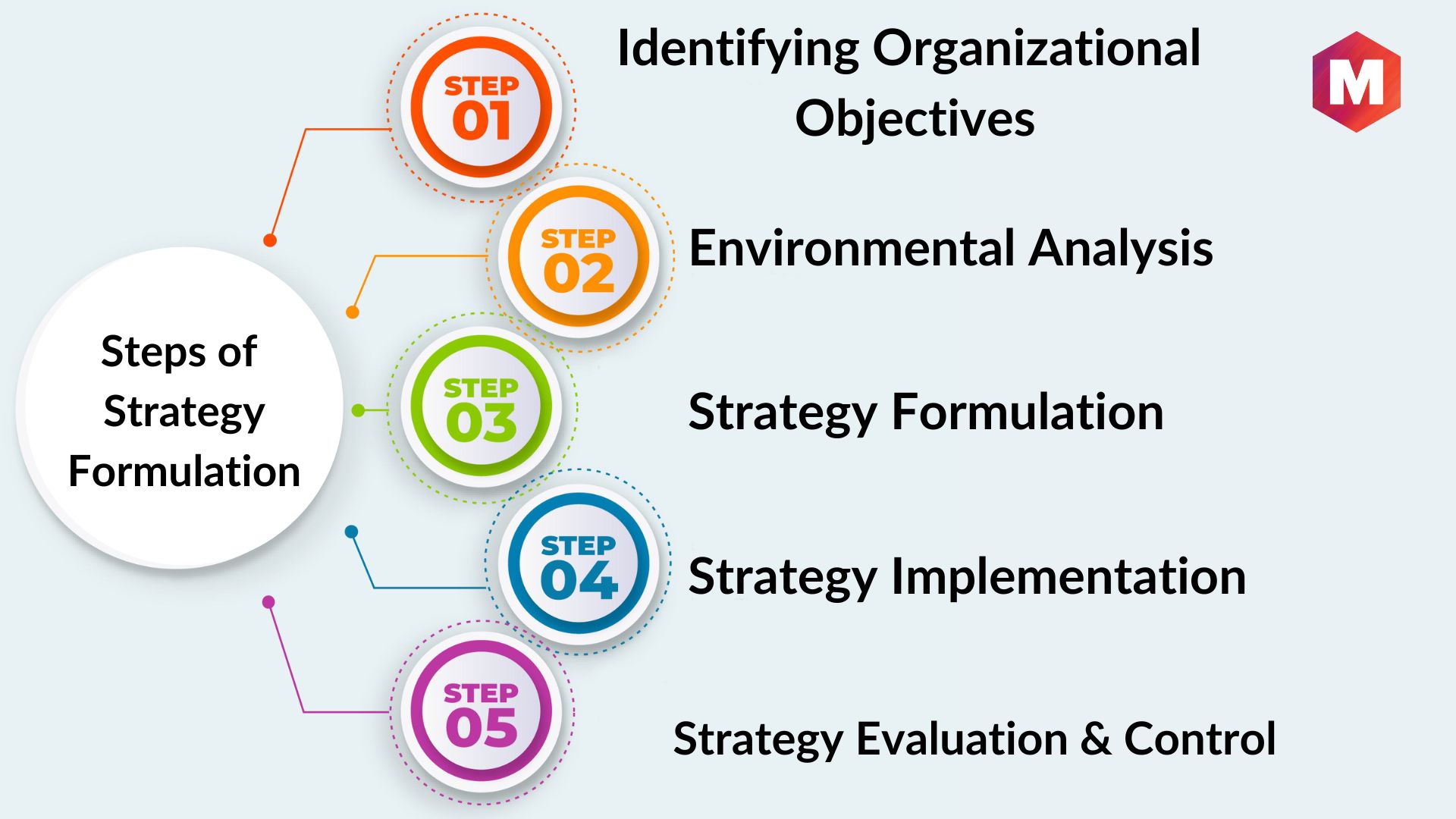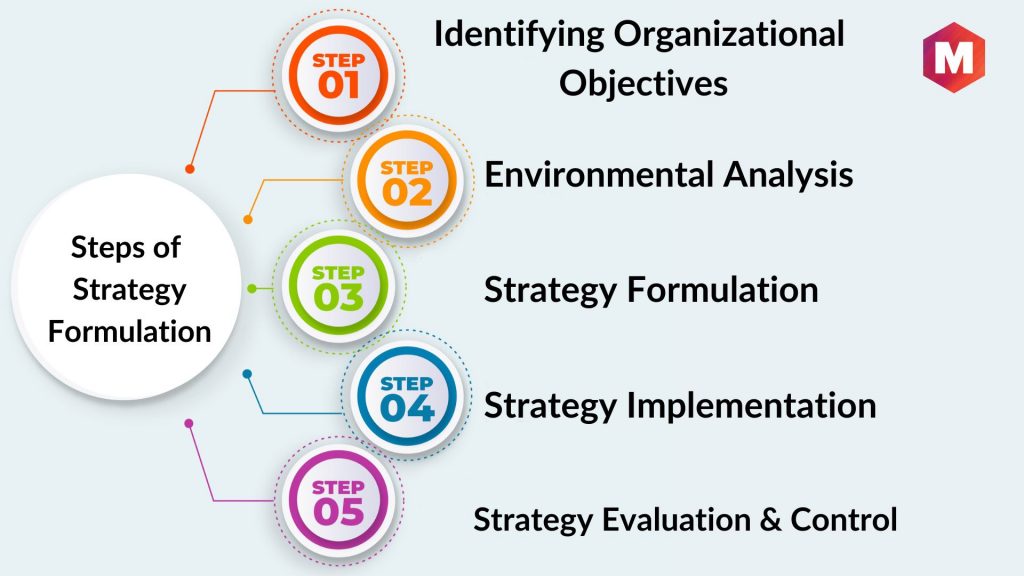 Step 1: Identifying Organizational Objectives
The first step in strategy formulation involves identifying the organization's strategic objectives. These objectives provide the direction for the whole strategy formulation process. These objectives must align with the organization's vision and mission.
Vision and Mission: The vision and mission of an organization are the guiding pillars for setting strategic objectives. They reflect the organization's purpose and the path it intends to follow to fulfill that purpose.
Objectives Setting: The objectives should be SMART (Specific, Measurable, Achievable, Relevant, and Time-bound). They provide the necessary specifics that enable the organization to measure progress and adjust the course as required.
Step 2: Environmental Analysis
Once the objectives are set, the next step is to perform an analysis of the organization's external and internal environment.
External Analysis: This involves studying the external environment, including market trends, competitors, customer behavior, technological advancements, and legal or regulatory impacts.
Internal Analysis: This involves assessing the organization's internal environment – its resources, capabilities, strengths, and weaknesses. Tools such as SWOT analysis (Strengths, Weaknesses, Opportunities, and Threats) and Value Chain Analysis can be beneficial for this purpose.
Step 3: Strategy Formulation
With the insights gained from environmental analysis, the organization can now formulate strategies.
Strategy Options: Multiple strategy options should be generated at this stage. It could include options like market penetration, market development, product development, and diversification.
Strategy Selection: The best strategy should be selected based on its potential to exploit the organization's strengths, mitigate its weaknesses, capitalize on opportunities, and neutralize threats.
Step 4: Strategy Implementation
After the strategy is formulated, it's time for execution. The implementation should be carefully planned and managed.
Action Plan: An action plan should be developed outlining the steps necessary to implement the strategy, including who is responsible for what, when and how tasks should be performed, and the resources required.
Monitoring: There should be a robust system to monitor the implementation and measure progress toward the strategic objectives.
Step 5: Strategy Evaluation & Control
The final step of the strategy formulation process involves evaluation and control to ensure that the strategy implemented is delivering the expected results.
Performance Metrics: The organization should define clear performance metrics to evaluate the effectiveness of the strategy.
Feedback and Control: If the strategy is not delivering the expected results, adjustments should be made based on feedback and control mechanisms. This ensures that the strategy remains aligned with the organization's objectives and the external environment.
Levels of strategy formulation
Strategy formulation occurs at different levels within an organization: the corporate level, the business unit level, and the functional level. Each of these levels plays a crucial role in shaping the strategy to align with the organization's overall objectives.
Corporate Level Strategy: At the highest level, the corporate strategy focuses on decisions related to the overall scope of the organization. This encompasses choices about which industries to compete in, how resources are allocated across business units, and how to balance risks and rewards. This level of strategy formulation often involves identifying potential synergies between different business units, managing the portfolio of businesses, and exploring growth opportunities through acquisitions, mergers, or partnerships.
Business Level Strategy: The business-level strategy is concerned with how the organization competes in individual markets. Business units or product lines within the organization formulate these strategies to gain a competitive advantage in their respective markets. This might involve decisions about targeting specific customer segments, differentiating products or services, or achieving cost leadership.
Functional Level Strategy: On the functional level, strategy formulation involves decisions about how different departments, such as marketing, finance, operations, and human resources, support the business-level strategy. Each functional area develops its own strategy, but these must be coordinated to ensure they support the broader business and corporate-level strategies.
Tips for Successful Strategy Formulation
Strategic planning, an integral part of the strategy formulation process, provides a competitive advantage in today's dynamic business environment. By considering all factors, including the organization's strengths, weaknesses, opportunities, and threats, a strategic plan addresses both internal and external environments.
This allows the organization to capitalize on its strengths and opportunities, while mitigating its weaknesses and threats, ultimately, giving the organization a competitive edge. This brings us full circle to the importance of a well-formulated strategy, serving as a compass directing the organization toward sustained growth and success. Some of the key tips you need to pay heed to are –
1) Align your Strategy with your Mission
Your strategy formulation should reflect and support your organization's mission. This alignment ensures that all decisions and actions taken are driving towards the same goal, thereby enhancing internal consistency and focus.
2) Emphasize Communication
Effective communication is a crucial element in successful strategy formulation. All stakeholders should understand the strategy, its objectives, and how they contribute to achieving them. This promotes commitment and engagement at all levels of the organization.
3) Involve Multiple Perspectives
Seeking input from various departments and roles within your organization can enrich your strategy. Different perspectives can provide unique insights, highlight potential issues, and contribute to a more comprehensive and robust strategy.
4) Regularly Review and Adjust your Strategy
Strategy formulation is not a once-off task. The business environment is dynamic, and your strategy should reflect that. Regular reviews and adjustments ensure your strategy remains relevant and effective, enabling your organization to swiftly respond to emerging challenges and opportunities.
5) Use SMART Goals for Strategy Formulation
In the context of strategy formulation, your goals should be Specific, Measurable, Achievable, Relevant, and Time-bound (SMART). This approach enhances goal clarity, facilitates progress tracking, and ensures the goals are realistic and aligned with your organizational mission. Ultimately, SMART goals provide a structured framework that guides your strategic planning process, ensuring effectiveness and efficiency.
Who is Responsible for Successfully Formulating Business Strategy?
The responsibility for formulating a successful business strategy lies primarily with the strategic management team of an organization. This team, often led by the CEO along with other top executives, undertakes performance analysis to evaluate the effectiveness of the current strategy and identify areas of improvement. In-depth performance analysis forms the basis of strategic decisions which shape the company's strategy and steer the organization toward its goals.
These strategic decisions branch out to include every aspect of the organization, influencing the course of action in each department. From marketing campaigns to manufacturing processes, each function aligns with the overarching strategic vision to ensure a streamlined approach toward achieving business objectives.
Successful strategy execution, however, is a collective effort. It extends beyond the strategic management team to involve every member of the organization. Each employee, in their capacity, contributes to the execution of the strategy, be it through their daily operations or decision-making roles.
Effective execution of a company's strategy is crucial, as even the most well-formulated strategy can flounder without efficient implementation. Therefore, while the strategic management team plays a pivotal role in formulating the business strategy, its successful execution is a shared responsibility across the organization.
FAQs
What is the Difference between the formulation and implementation of a strategy?
Formulation and implementation of a strategy, though interdependent, encompass different aspects of strategic management. Strategy formulation entails crafting and deciding on the organization's mission, objectives, and strategic direction. It involves an analytical process, assessing internal strengths and weaknesses, as well as external opportunities and threats (SWOT).
On the other hand, strategy implementation transforms the formulated strategy into action. It necessitates the alignment of organizational resources, structures, and processes with the strategy. While formulation is more about strategic planning and decision-making, implementation focuses on operationalizing the strategy, involving the active participation of employees at all levels.
Both stages are critical: a well-formulated strategy may fail due to poor implementation, and excellent execution can't rectify a poorly formulated strategy.
What is a good example of successful strategic formulation?
Amazon is a prime example of successful strategic formulation. In its early stages, Amazon was predominantly an online bookstore that faced stiff competition from established brick-and-mortar stores.
The company's leadership, led by Jeff Bezos, formulated a long-term strategy of becoming "the world's most customer-centric company," not just an online bookstore. Their strategy entailed diversification into other product categories and eventually into digital products and cloud services. They honed in on their internal strengths – a robust IT infrastructure, customer data, and operational efficiencies – while leveraging the emerging market trend towards online shopping.
Amazon's strategic formulation also included the creation of Amazon Prime, a subscription-based service that offers multiple benefits to customers, such as free one or two-day shipping, streaming services, and exclusive access to deals. This strategy has resulted in customer loyalty and recurring revenue streams, reinforcing Amazon's position as a global ecommerce leader.
Today, Amazon's successful strategic formulation underscores its transformation from a humble online bookstore to a global giant in e-commerce, digital streaming, and cloud computing services.
Liked this post? Check out the complete series on Strategy