There are various strategies which can be used by companies to gain market share and acquire new customers. Suthe ch strategies are known to give a "Competitive advantage" to the company. One of these competitive advantages is the Cost advantage.
Definition of Cost Advantage
The cost advantage is an advantage that the firm has over competitors in terms of costs. A company which can keep costs lower can have a great advantage over competitors who have higher costs and therefore the prices of their products and services will be higher.
There are many factors which can help in reducing the cost of a firm. Several such factors are discussed below in this article. However, a summary of these factors includes Distribution, technology, volume and scale of the company, raw material and procurement costs as well as processes adopted by the company. Innovation and research and development play a major role in acquiring a cost advantage.
For example – Firm A has a product which is equivalent in cost to Firm B. However, Firm A has a manufacturing which is much closer to the city. As a result, Firm A saves on transportation. However, Firm B Is located far away from the city and hence its transportation costs and therefore prices are higher. Due to the transport cost being lower for Firm A, it has the cost advantage.
Now Firm B spends good money in its R&D department and comes up with a product which has the same features but is 40% cheaper than the product of Firm A. As a result, even though Firm B is costly in transportation, its product is cheaper, and it now gains market share due to the innovation in the product. Ultimately, market share is being won by a company which is lower in costs.
Examples of Cost Advantage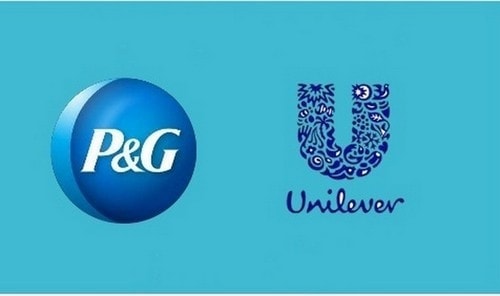 1) HUL & P&G
These 2 companies dominate the FMCG market due to one reason – Economies of scale. These companies are very large and have the massive presence which results in them having lower costs. Lower costs of transportation and distribution due to multiple products being distributed to the same retailer. Similarly low costs of raw material because they buy and product in huge bulks. Due to the economies of scale and therefore the cost advantage, these 2 companies are ruling in the FMCG market.
2) Amazon
Amazon has adopted the ed many different technological methods to reduce cost. It has started using robots for its warehousing purpose. This means higher work times at lower costs. Similarly, they are coming up with various AI an algorithm which is helping the company with automation, thereby reducing costs.
3) Airlines
Another industry which is focused on cost is the Airline industry. Across the globe, the brands winning major market share domestically are brands which have reduced their airline costs and hence are giving better prices to customers. Such airlines are winning from the bigwigs of the industry which have a lot of bloat in their infrastructure.
How can companies use Cost advantage?
Companies can use the cost advantage in two ways.
If the company has lower costs, then it can still increase the price of the product and get higher margins. This will make the company more solid and even recession will not affect the company.
If the company has lower costs, it can use penetration pricing in the market and sell at the lower cost then competitors. As a result, it gains market share and acquires customers, cutting costs further because of the volume of sales that it achieves.
Benefits of Cost Advantage strategy
1) Better Prices
The best advantage of this strategy is that better prices are maintained in the market. The company might have more margins or pass on the margins to consumers to gain market share. Nonetheless, better cost means better prices which is good for the company.
2) Market penetration
A major reason cost advantage strategy is used is when the product is selling in an existing market and the company wants to penetrate the market. If customers are getting a better price, they will definitely buy the product and this helps with market penetration and more volumes being achieved.
3) Focus on development and innovation
A company which wants to achieve cost advantage will always be focused on development and innovation. Such a company would want to find out processes and adopt technologies which will reduce the cost.
4) Can be a major advantage if sustained
One of the key word here is "Sustainable competitive advantage". This basically means to have a competitive advantage which is sustainable. A company which innovates and then patents procedures can have a sustainable cost advantage which will help the firm in the market for a really long term. Software companies are the best examples of such cost competitive advantages.
Problems with Cost advantage strategy
1) External factors play a major role
The Business environment plays a major role in cost advantage. Labour, Government policies, Costs of transportation and other variables play a major role in achieving the cost advantage. In the same way, they can disrupt any advantage the firm has.
2) Companies should not ignore marketing expenses
To cut costs, companies can ignore some key procedures which it should invest in to grow further. Example – the company can reduce marketing and branding expenses to reduce cost. However, these expenses are necessary for the company to become a brand in the long run. Just cost advantage should not be the focus. The focus should be on building a brand with many advantages.
How to get a Cost advantage over competitors?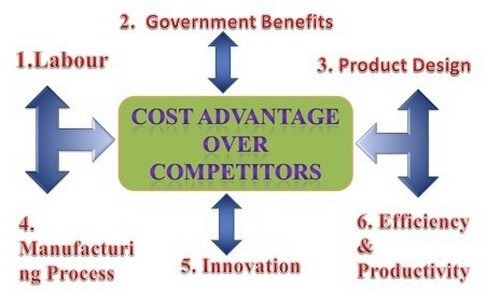 Companies need to lower their costs so that they can sell at lower prices than competitors. To do that, they can use many variables available to the company.
1) Labour
A major reason China is one of the highest competing nations in the world is the lower cost of labour. This basically means that the cost of production becomes lower as well. Companies can find out ways to reduce the cost of labour to control costs and arrive at a cost advantage.
2) Government benefits
In many products, there are government subsidies provided. Companies can take the benefits of these subsidies and lower the cost of the product. Examples include Solar and green energy products where the government wants such companies to produce products and provides subsidies because the cost of manufacturing is high. If a company is not using such subsidies then its costs will be higher and it won't have a cost advantage.
3) Product design
Companies can design the product such that the cost is reduced. This can include simple things such as replacing a stainless-steel build with an ABS plastic build. Replacing costlier spare parts with parts made of plastic or inferior material.
This basically means reducing the quality but also reduces the costs significantly. The customer can be offered both the variants – The high-quality one and the low-quality one and it is the customer's choice which one to choose.
4) Manufacturing process
Manufacturing processes can be high especially in the Pharma and Chemical industries. Over the years, many such chemical companies have been able to reduce costs by using alternates to costly chemicals and thereby reducing production costs. By focusing on manufacturing process and finding alternates, costs can be reduced, and a cost advantage can be achieved.
5) Innovation
The best way to reduce costs is through innovation. This is why many companies consistently have good expenditure towards research and development. This is done so that they can find products which provide the same utility at much lower costs.
If we look at various consumer durable appliances, they have reduced in costs over the years. A 40-inch television was worth a lot a decade back but is very easy to purchase one nowadays. This is because of innovation and the parts that have been innovated to give the same utility at much lower prices.
6) Efficiency and Productivity
The process of Kaizen and Kanban are processes which were invented to improve efficiency and production. Giving the same amount of time, if you improve your efficiency by even 10% then that gives you a cost benefit. Call centres and KPI's thrive on the efficiency of their processes. Such businesses even calculate minutes spent per call to measure the ROI. Thus, their focus is on improving the efficiency and productivity of their calls.
Overall, the above were the various ways a cost advantage can be achieved. The article also spoke about the pros and cons of having a cost advantage. A firm which is present in a market with huge competition, can use a cost advantage to its benefit and penetrate the market to obtain more customers.
Liked this post? Check out the complete series on Strategy