In the fast-paced world of global business, firms are constantly seeking effective strategies to expand their operations beyond their home borders. One such approach that's gained significant traction is the Transnational Strategy. It is a business strategy that allows a company to extend its reach globally, yet maintain a local approach.
The Transnational Strategy seeks to combine the advantages of a global reach with localized approaches to doing business. This strategy takes into account the fact that different countries and regions have their own cultures, customs, and laws that need to be respected. It guarantees responsiveness to local markets along with global integration at a high level.
What is a Transnational Strategy?
A Transnational Strategy is a business approach where a company operates globally but adjusts its products or services to cater to the local market's preferences and regulations. It combines elements of global integration and local responsiveness, aiming for cost efficiency, local responsiveness, and global innovation.
A prime example of a brand that employs a Transnational Strategy is McDonald's. While it operates globally, McDonald's adjusts its menu to cater to the local tastes and preferences of each market it enters. For instance, in India, where a large proportion of the population does not consume beef due to religious beliefs, McDonald's offers a menu that is vastly different from its American counterpart but still maintains the global standard.
2 Key Features of an Effective Transnational Strategy
Both global integration and local responsiveness are two key features of the transnational business model as a successful international business strategy. Let's go through both of these:
1) High Global Integration
One of the key features of a Transnational Strategy is high global integration. Global integration refers to the extent to which a company's operations are coordinated and managed on an international level. Some of the key highlights of global integration are:
Standardization: The company seeks to standardize its operations across all countries to promote efficiency and cost savings.
Global Strategy: A global strategy is created to guide the operations of the business on an international level.
Unified Brand Voice: When a company operates in multiple countries, it needs to have a unified brand voice that appeals to customers in all markets.
2) Local Responsiveness
The other key feature of a Transnational Strategy is local responsiveness. This means that the company must tailor its products and services to the local market, taking into account cultural differences, legal regulations, and customer preferences. Some of the key elements of local responsiveness are:
Customization: To be successful in a different market, the company must customize its products and services for that specific market.
Local Marketing: To appeal to local customers, the company needs to create marketing campaigns tailored to each region.
Adaptability: The company must be able to quickly adapt and respond to changes in a particular market.
Types of International Business Expansion Strategies
1) Multidomestic Strategy
Multidomestic strategies refer to low global integration and high local responsiveness. Companies that follow this multi-domestic strategy focus on adapting their products and services to local markets. They rely heavily on local marketing strategies, as well as the expertise of local personnel and affiliates.
2) Global Strategy
Global strategy companies refer to high global integration and low local responsiveness. This kind of global marketing strategy is more centralized with few regional variations, often relying heavily on cost-cutting tactics to maximize efficiency.
3) International Strategy
International business strategies refer to low global integration and low local responsiveness. Companies that follow this type of strategy focus on expanding to foreign markets without necessarily adapting their products and services to the local market. They typically rely heavily on exports, as well as the expertise of overseas personnel.
4) Transnational Strategy
Transnational strategies refer to high global integration and high local responsiveness. Companies that use this kind of strategy focus on maximizing both global efficiency and local responsiveness. This helps them in having a competitive advantage in the global market. Many successful international companies use this strategy to maintain their global standards and ensure a personalized approach for local markets.
How Transnational Strategy is Different from Other Global Expansion Strategies
| Strategy | Transnational | Multidomestic | Global | International |
| --- | --- | --- | --- | --- |
| Global Integration | High | Low | High | Low |
| Local Responsiveness | High | High | Low | Low |
| Emphasis | Balance between global efficiency and local responsiveness | Tailoring products/services to local markets | Cost-cutting and efficiency maximization | Expansion without significant adaptation |
| Example | Nestle adapting to local tastes while maintaining global standards | McDonald's offering aloo tikki burger in India | Apple's standardized product range | Luxury brands like Rolex maintaining consistent product lines worldwide |
How to Develop a Transnational Strategy?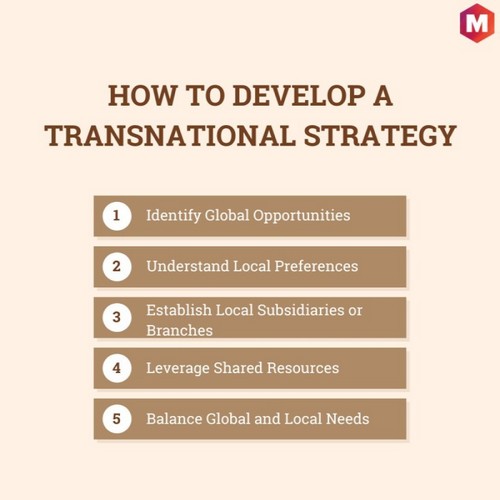 Identify Global Opportunities: Companies must recognize and respond to global markets and new opportunities in various regions. This step is crucial for understanding which markets are viable and profitable for expansion.
Understand Local Preferences: To be successful, companies need to investigate and comprehend the local nuances, preferences, and regulations of each market. This could mean adapting products to meet local tastes or adhering to local regulations and norms.
Establish Local Subsidiaries or Branches: Building a local presence through subsidiaries or branches can help companies connect better with their customers. It allows them to understand customer needs and preferences firsthand and respond to them effectively.
Leverage Shared Resources: Transnational companies leverage shared resources and capabilities across their network. This includes sharing best practices and knowledge between local branches and the global head office to improve overall efficiency.
Balance Global and Local Needs: The key to a successful transnational strategy lies in finding the perfect balance between catering to local needs and maintaining a consistent global brand identity. This requires a strategic approach that allows for flexibility and adaptation at the local level while maintaining global efficiencies and standards.
Benefits of a Transnational Businesses
1) Amplified Business Prospects
By venturing into international markets, companies can significantly enhance their business opportunities. They can leverage new customer bases, foster partnerships, and even tap into new talent pools.
2) Enhanced Market Penetration
A transnational strategy allows companies to deeply penetrate local markets by understanding and catering to local preferences. This makes it possible to create products or services that resonate strongly with local consumers, thereby gaining a competitive edge.
3) Cost Reduction
Having local branches or subsidiaries can lead to significant cost reductions. Companies can leverage local resources, reduce transportation and import costs, and navigate through local regulations more seamlessly.
4) Improved Efficiency
Sharing resources and best practices across global and local offices can lead to enhanced operational efficiency. It enables the quick implementation of successful strategies across different markets, contributing to overall business growth.
5) Superior Cultural Understanding
Companies employing a transnational strategy gain firsthand insight into the cultural nuances of each market. This understanding fosters better communication with local customers and partners and ultimately leads to more culturally sensitive and successful business operations.
Challenges of a Transnational Strategy
1) The Risk of Alienating Local Customers
While global companies often strive to cater to local preferences, there's always the risk of misinterpretation or a disconnect. This is particularly true for transnational businesses that try to balance global strategies with local needs. If not managed carefully, such businesses may inadvertently alienate local customers, causing damage to their brand reputation in that market.
2) The Challenge of Centralizing Operations Across Locations
One of the more complex aspects of a transnational strategy is the centralization of operations across global markets and local branches. This challenge emerges due to the differences in regulations, business practices, and cultural norms. Properly centralizing operations requires careful planning and a deep understanding of each market to ensure efficient and effective business operations.
3) The Need for High-Quality Local Talent
To successfully execute a transnational strategy, businesses need to have access to highly skilled local talent. This can be difficult due to the disparity in wages and salaries between different countries. It also requires companies to invest heavily in training and development which may not always be within their budget constraints.
5 Transnational Strategy Examples
Some examples of brands using transnational business strategy while crossing international borders and matching local preferences are:
1) Fast Food Chains like McDonald's and KFC
Fast food chains have established a presence in almost every country around the world. Through their transnational strategy, they endeavor to provide a similar customer experience regardless of location. This includes menu items tailored to local preferences and service delivered with sensitivity to cultural norms.
For example, McDonald's has adapted their menu items to include spicy options in India and serve Halal-certified food in the Middle East. In France, you can buy wine at McDonald's. In the same manner, KFC has developed many localized menu items including 'Krushers' in India and a wasabi sandwich in Japan.
2) Automobile Companies like Mercedes and Volkswagen
Automobile companies also use a transnational strategy to target global markets. They do this by understanding the preferences of customers in each country and tailoring their products accordingly.
For example, Volkswagen has modified its vehicles to meet the needs of different countries and cultures. In the US, VW vehicles are designed for a smoother ride and offer better fuel economy than their European counterparts. In Europe, the focus is on customization and performance. Mercedes-Benz has also tailored its product line to meet different customer needs in various markets around the world.
3) Technology Companies like Apple and Microsoft
Tech companies have embraced a transnational strategy to reach customers in different countries with their products. Apple and Microsoft have localized their content to appeal to various markets.
For instance, the App Store is available in multiple languages and lists apps tailored to local preferences. Similarly, Microsoft offers localized versions of its software like Windows and Office for different countries.
In addition, tech companies have adapted their marketing strategies to target specific markets. For example, Apple has used celebrity endorsements in China to promote its products while Microsoft has focused on digital campaigns in France.
4) Financial Services Companies like Citibank and HSBC
Financial services companies have also adopted a transnational strategy to reach global markets. These companies have invested heavily in technology and processes to meet the needs of customers around the world.
For example, Citibank has developed an international banking platform that allows customers to access their accounts from any country. Similarly, HSBC has localized its services for different countries by offering products tailored to local preferences. These strategies have enabled financial services companies to expand their customer base and increase their revenues from global markets.
5) Consumer Goods Companies like Unilever and Nestle
Consumer goods companies like Unilever and Nestle have also adopted a transnational strategy to reach customers in different countries. These companies have adapted their product lines to meet local needs, while also ensuring that their brands remain consistent across all markets.
For example, both Unilever and Nestle have developed localized versions of their products for different countries. For instance, Unilever's Axe brand is popular in Brazil, while its Sunsilk brand is more popular in India. Similarly, Nestle has localized its Kit Kat bar for different countries by offering flavors that are tailored to local tastes.
Liked this post? Check out the complete series on Strategy