Before understanding Horizontal Diversification, you should know what diversification is? Diversification is a corporate strategy that is used to bring new products into existing market or enter into a new market or industry where the business does not currently operate while there are new emerging products in the new market.
This is the riskiest section as the business will have no experience in the new market and do not know if the product will be successful or not.
Diversification strategies include internal development of new products or markets, having an alliance with a complementary company, acquisition of a firm, and distributing or importing product line that is manufactured by another firm. A combination of these options best does the final strategy.
This combination is got in the function of the existing opportunities and consistency with the objectives and the various available resources of the company. Apart from achieving higher profitability, there are many reasons for a company to diversify.
Why do companies diversify?
There are three types of diversification – Concentric, Horizontal, and Conglomerate.
Through this article, let us discuss the Horizontal Diversification.
Horizontal diversification includes providing new and unrelated products or services to an existing consumer. It also means adding products or services to the product or service line already existing. After adding, the existing marketing, technical, and financial expertise is also applied to the new products.
For example, when a notebook manufacturer starts to manufacture pencils and when they enter pencil manufacturing, then this is a horizontal diversification strategy.
Horizontal diversification can be seen in the following two forms – Concentric diversification and Conglomerate diversification.
Concentric Diversification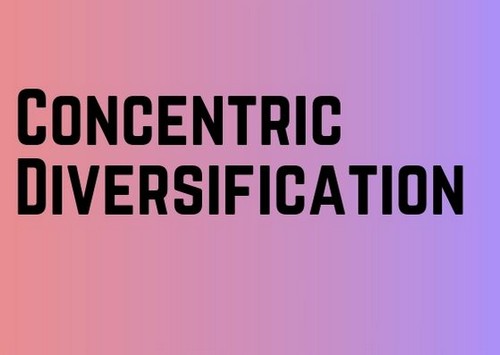 Concentric Diversification is a form of horizontal diversification where the companies perform the following:
Thus, in any of the ways, adding new products, either markets or technology to the existing products is known as concentric diversification.
Reasons for concentric diversification:
Concentric diversification is preferred by companies due to the reasons cited below:
Conglomerate Diversification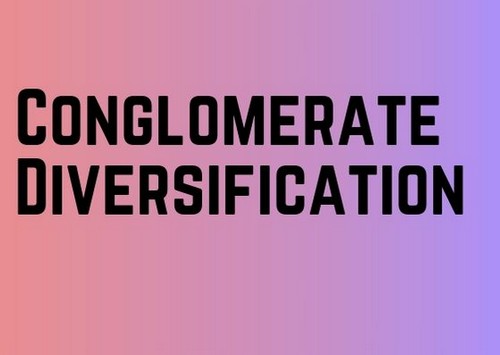 Concentric diversification is a related approach to diversification, whereas conglomerate diversification is an unrelated approach. It basically means to add dissimilar products or services to the current products.
Conglomerate diversification is diversification into new products, technologies, markets, or new market functions that do not relate to the existing business.
For example, Tata industries have shadowed conglomerate diversification by diversifying itself into many unrelated areas like iron, automobiles, telecommunication, consumables, and steel.
Reasons for Conglomerate diversification:
Advantages and Disadvantages of Horizontal Diversification
Undertaking horizontal diversification, the market tends to focus on wide applicability and good demand. However, the risk of fluctuating demand is basically less, but the risk that is involved in competition within the industry is usually high.
Advantages:
Cost Reduction – Having a standard offering will normally allow a company to operate at a large scale. The operational process will be scalable, and this explains the lower cost of per unit production.
Aside from the production scale advantage, the standardized products also enjoy the benefit of being automated easily that results in further cost savings.
Quality Improvement – As a company has standardized offering, it specializes in a single product or service, quality techniques are applied to the offering. It becomes easier for the company to identify various areas where they could improve the product or services.
Since the product or services tend to get into the maturity stage, it has merged feedback from various channels from many channels from various domains. Thus, creating products that have wider applicability as it can integrate well with the businesses.
Optimized Operations – When there is a standard product, it usually indicates that the complexities are minimized. There will not be any customization that suits the needs of the various market segments that will result in cost-effective operations. Hence horizontal diversification can help to support various optimization by expanding its products to fit in the market.
Increased Manpower – When the product or services is increased or standardized, the whole organization will have periodic responsibilities and can become experts in their own domain.
Every stage, right from procurement to production process, sales, delivery is a repetitive process, and due to this, the entire operation is easily scalable. A workforce leaves more scope for innovation and usually results in great productivity levels.
Low Barging for Customers – When a company caters to a wide customer base, they tend to enjoy high levels of price control. Comparing to the average spending of each customer, the customers will not be a hindrance to the pricing decisions of the company.
Disadvantages:
External Force Risk – When there is a horizontal diversification, any kind of regulatory changes will affect the offering and will also tend to have an impact on the company's future.
Apart from any technological changes that limit the application of the offering in the target verticals are indeed a potential threat to the top line. However, the success or failure of a single product determines the destiny of the entire company.
Customer Loyalty – When the company tends to make a horizontal diversification, there might be a situation where they tend to lose customers due to various reasons.
Conclusion
A horizontal diversification must be well thought before a company steps into it. It can increase the growth of the company that leads to wealth maximization. But sometimes, it could also be a failure for certain companies.
Before a company goes into horizontal diversification, the company must have a thorough analysis of it to ensure that it remains a success.