The concept of Blue Ocean Strategy might seem like a corporate buzzword, but trust me, it's more interesting than it sounds. Basically, it's all about creating new market spaces or "blue oceans," rather than fighting over the same customers in the "red oceans."
In other words, instead of trying to outperform competitors in existing markets, the Blue Ocean Strategies suggest that success can come from creating innovative value propositions to make the competition irrelevant. Intriguing, right? It's like deciding to create an uncontested market space instead of trying to win the old one.
What is the Blue Ocean Strategy?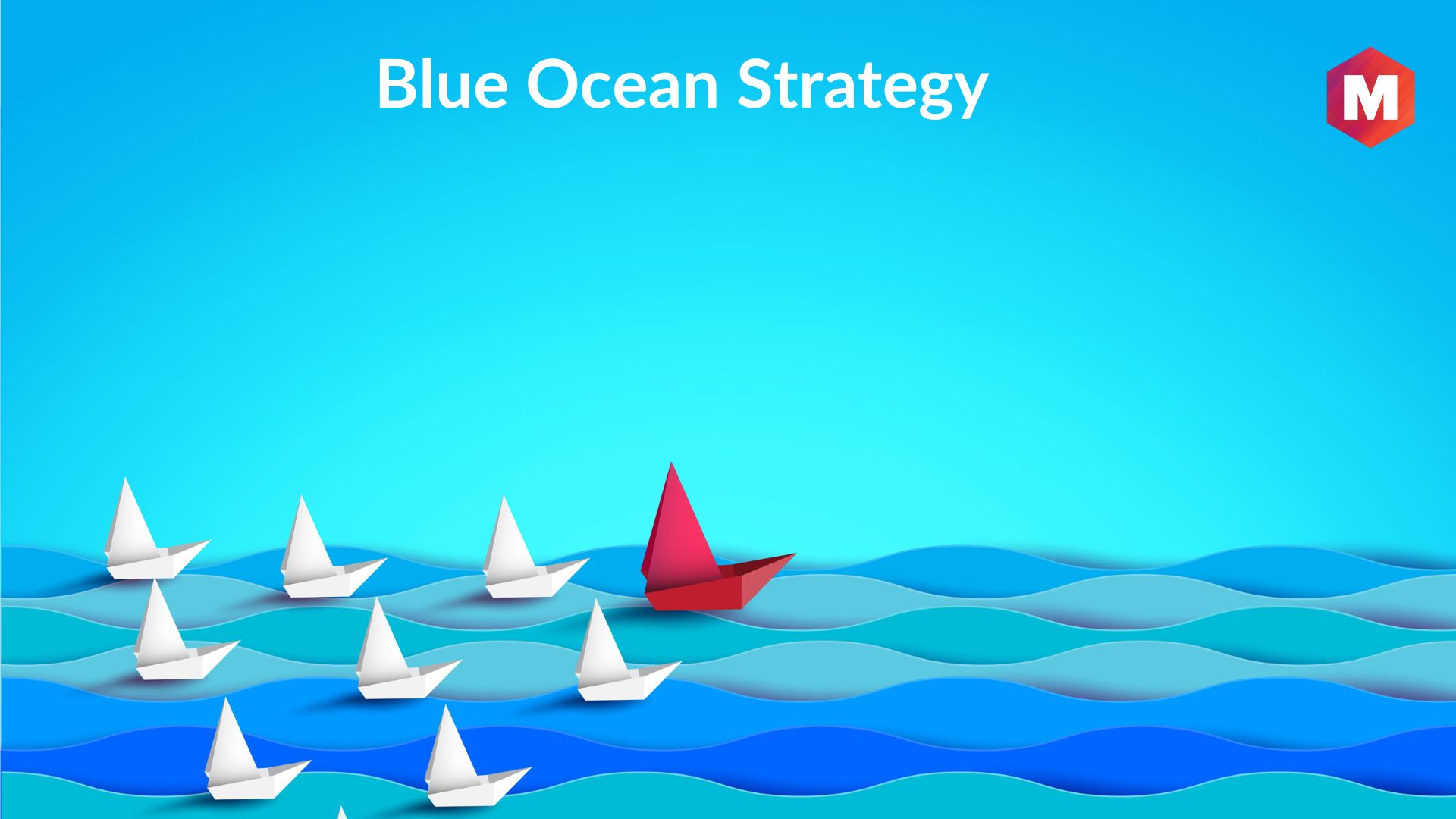 The Blue Ocean Strategy is a business strategy that encourages companies to explore and create new demand in uncharted market spaces, termed "blue oceans". This is in contrast to competing in saturated "red ocean" markets, where competition is fierce and growth potential limited.
The Blue Ocean Strategy was coined by W. Chan Kim and Renée Mauborgne in their book 'Blue Ocean Strategy: How to Create Uncontested Market Space and Make the Competition Irrelevant (2005)' to help companies succeed in the market by creating new demand and avoiding competition. It encourages businesses to look for alternative sources of growth, especially those that serve untapped markets or provide disruptive innovations.
At its core, a blue ocean shift requires both creativity and boldness to develop attractive value propositions that make the competition irrelevant and create a new market space. This means understanding customer needs, creating differentiated products or services, and pricing them correctly for maximum profitability. The strategy also relies heavily on effective marketing to reach the new audiences created by Blue Oceans.
Key Takeaway!
The Blue Ocean Strategy is a paradigm shift in business thinking, focusing on creating and capturing new market spaces (blue oceans) rather than competing in existing ones (red oceans).
It is about reinventing market boundaries, delivering high value at a reasonable cost, and targeting overlooked potential customers to generate new demand.
The strategy calls for innovative thinking and bold action to redefine industry norms, aiming to make existing competition irrelevant by venturing into unexplored market territories.
How a Blue Ocean Works
The Blue Ocean Strategy encourages companies to look beyond existing market boundaries and create new markets that don't yet exist. This can be accomplished by creating disruptive innovations that serve untapped customer needs, or by utilizing different pricing structures or value propositions to make the competition irrelevant.
Its working revolves around –
Pursue differentiation and low-cost
Reconstruct market boundaries
Reach beyond existing demand
Overcome key organizational hurdles
Build execution into strategy
Monitor blue ocean ideas with the right metrics
By leveraging the Blue Ocean Strategy, businesses can explore new markets and create uncontested market spaces that fuel growth and make the competition irrelevant. It allows companies to focus on value creation rather than just cost-cutting, enabling them to grow their business while maintaining high margins.
Key Highlights Of The Blue Ocean Strategy
1. Beyond theoretical concepts: Despite being a strategic concept, the Blue Ocean Strategy is not just theoretical. It offers practical tools and methods for companies to break away from the competition, create new markets, and seize new growth opportunities. The strategy isn't simply a thought experiment, but a proven approach that has been successfully implemented by numerous organizations worldwide.
2. Makes Competition Irrelevant with Blue Ocean Strategy: In the Blue Ocean Strategy, competition becomes irrelevant. Rather than focusing on outdoing competitors in a known market space, companies should concentrate on creating blue oceans of uncontested market space. This approach enables businesses to make significant leaps in value for both themselves and their customers, making competition insignificant.
3. The Coexistence of Differentiation and Low Cost: Contrary to traditional strategic thinking, the Blue Ocean Strategy posits that differentiation and low cost can coexist. In a blue ocean, companies can pursue both simultaneously, creating a leap in value for customers and the company. The strategy hence construes differentiation and low cost not as trade-offs, but as mutually reinforcing strategic elements.
4. Provides a Framework for Testing Ideas: The Blue Ocean Strategy also provides a structured framework for testing ideas. It offers a systematic approach to challenge existing industry assumptions, redefine market boundaries, and create new value propositions. This framework guides companies in transforming unconventional ideas into commercially viable opportunities, thus helping them create their own blue oceans.
How to use Blue Ocean With Your Existing Strategic Planning Model
Integrating Blue Ocean Strategy with an existing strategic planning model starts with identifying the current competitive factors and asking if they can be eliminated, reduced, raised, or created to open up new spaces. Let's have a look at the ways you can use it with existing SWOT or Balanced Scorecard model-
?Blue Ocean + SWOT:
Use SWOT to identify your current competitive factors, which may include price, customer service, product features, etc.
Identify strategic opportunities by asking: Can we eliminate or reduce a factor? Can we create something new? Can we raise the bar on existing ones?
By doing this, you may be able to discover unexplored markets and open up blue oceans of opportunities.
Blue Ocean + Balanced Scorecard:
Leverage the balanced scorecard model to identify and measure key performance indicators (KPIs). This provides an opportunity to review the company's objectives, strategies, measures, initiatives, and results to gain insights into how it is performing.
Ask yourself: How can we improve these metrics? What new opportunities are available for us to explore?
By doing this, you may be able to identify strategies that create a competitive advantage in unexplored markets and open up blue oceans of opportunities.
By integrating the Blue Ocean Strategy with existing strategic planning models, companies can gain an edge over competitors, explore new markets, and create their blue oceans. With the right combination of strategies, companies can open up opportunities to gain a competitive advantage that leads to sustainable success.
Steps to Implement a Blue Ocean Strategy
You can create blue oceans through careful planning. This involves several crucial steps to ensure that you can effectively navigate away from competitive environments and into untapped market spaces. Here are some simple steps to surpass the industry boundaries of red oceans and create an unknown market space:
1) Determine a starting point for introducing your new offerings
Consider the existing market space and ask yourself: What do we want to achieve? Who are our target customers? – This will give you a better understanding of the goals and objectives that your business should reach to create a blue ocean.
2) Analyze
As the blue ocean strategy represents a new market space, you also need to analyze the existing market landscape to identify areas where there is limited competition and high growth potential. Look at trends, customer needs, product features, and other important factors to gain insights into what the market looks like now and how you can create a competitive advantage.
3) Strategize
Develop a strategy for marketing and selling your product or service by leveraging the insights gathered from market analysis. This involves creating unique value propositions that are tailored to customer needs and building an effective go-to-market plan.
4) Assess your Existing team's Upsides and Downsides
Analyze the strengths and weaknesses of your existing team to determine whether they are equipped with the skills and resources necessary to implement a Blue Ocean Strategy. If not, consider hiring outside help or investing in training programs that can provide additional support.
5) Know the Pain Points of your Customers
It's important to understand the needs of your target customers to craft a successful Blue Ocean Strategy. By researching customer pain points and motivations, and then creating solutions that directly address those concerns in a way that no competitor can, you can create a competitive edge.
6) Launch and Market
Once your strategy is in place, it's time to launch it into the world. Utilize all available channels for marketing and promotion – including social media, search engine optimization (SEO), email campaigns, etc. – to ensure that potential customers are aware of your products or services.
7)Measure and Refine
Track the success of your Blue Ocean Strategy to ensure that it's achieving its desired goals. Adjust and refine the strategy as needed, based on feedback from customers or insights gleaned from data analysis. The goal should be to continually optimize the strategy to create even more value for your customers.
Pros and Cons of the Blue Ocean Strategy
Pros:
Uncontested Market Space: The Blue Ocean Strategy allows businesses to create and capture new demand, thereby making the competition irrelevant.
High-Profit Margins: As businesses offer unique value propositions, they can often charge premium prices leading to higher profit margins.
Innovation and Creativity: The strategy fosters innovation and creativity within organizations by encouraging them to think outside the box.
Customer Loyalty: By providing a unique value proposition, businesses can build increased customer loyalty.
Sustainable Growth: The Blue Ocean Strategy can lead to sustainable growth as it focuses on long-term goals and creating new market spaces.
Cons:
High Risks: The strategy requires organizations to make significant changes which can be risky and may not always work.
Resource Intensive: Developing and implementing a Blue Ocean Strategy can require substantial resources, both in terms of time and money.
Difficulty in Predicting Success: It can be challenging to predict whether a new value proposition will resonate with customers and create the desired demand.
Potential Market Saturation: Over time, successful blue oceans may attract competitors, leading to potential market saturation.
Employee Resistance: The strategy may meet with resistance from employees who are comfortable with the existing way of doing things.
Blue Ocean Strategy vs. Red Ocean Strategy
The Blue Ocean Strategy argues that companies should aim to create their own "blue ocean", a previously untapped market space, rather than compete in "red ocean" strategies where bloody competition leads to narrow profit margins.
In contrast, the Red Ocean Strategy involves competing in existing market spaces and fighting off competitors for profitable growth.
| Grounds of Comparison | Blue Ocean Strategy | Red Ocean Strategy |
| --- | --- | --- |
| Focus | Creating new, untapped market spaces | Competing in existing market spaces |
| Competition | Aim to make competition irrelevant. | Engage in head-to-head competition. |
| Profit Growth | Profitable growth through innovation and value creation. | Profit growth through competition and market share. |
| Risk | Higher risks due to uncharted territories. | Lower risks as markets and competition are already established. |
When considering which strategy to use, companies must weigh the risks and rewards of both approaches. Developing a Blue Ocean Strategy can be resource-intensive and difficult to predict, but it is essential for staying ahead of competitors in an ever-changing business landscape.
On the other hand, Red Ocean Strategies can lead to small profit margins and market saturation over time. Ultimately, the success of either strategy depends on a company's capacity to innovate and create value for customers.
Here is a video by Marketing91 on Blue Ocean strategy
Examples of Blue Ocean Strategy
1) Marvel's Blue Ocean Strategy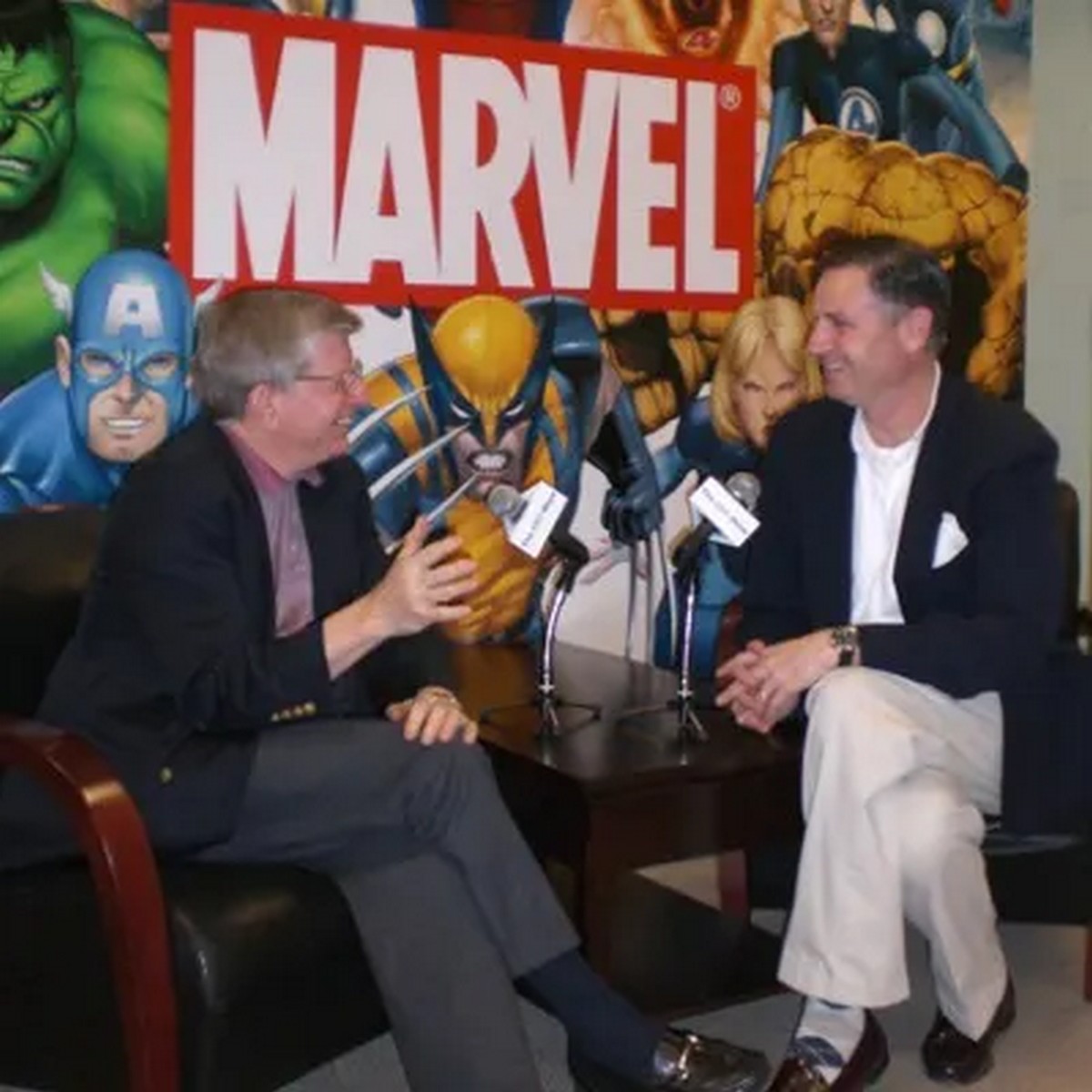 Peter Cuneo, a globally recognized turnaround specialist, became the CEO of Marvel in 1999. He is acknowledged for leading Marvel's remarkable transformation from bankruptcy to a $4 billion acquisition by Disney in just over a decade.
Cuneo's success was due to his ability to craft a unique Blue Ocean Strategy. Cuneo and Marvel made a crucial strategic decision by entering the motion picture industry, which proved to be a game-changer for the company. This move led to the resurgence of Marvel Studios in the 21st century, marking their triumphant return to success.
Marvel and Cuneo didn't just make small changes, they completely revolutionized the movie production process. They didn't simply adapt to a new industry, they transformed it and created new opportunities. Their strategic move allowed them to stand out and create a whole new market.
2) Netflix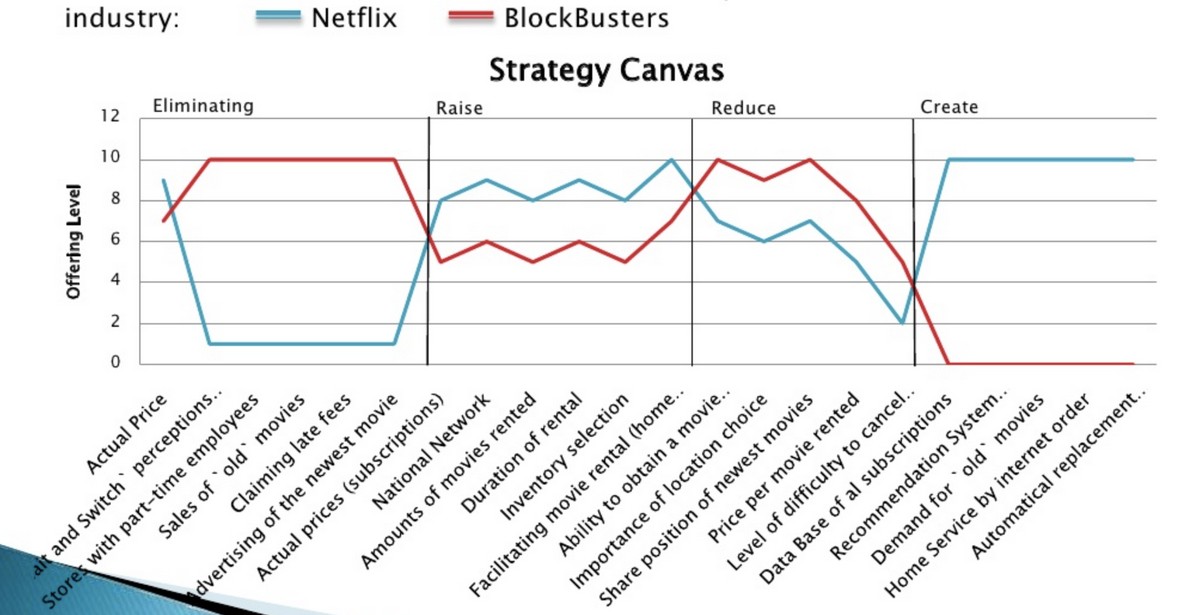 Netflix emerged when Blockbuster dominated the video rental industry. Instead of competing solely on price or content, Netflix revolutionized the market by introducing a new online DVD rental service.
Instead of physical stores, it utilized postal mail. Its monthly payment system with a flat fee resolved two critical problems encountered by Blockbuster customers: return deadlines and late fees.
Netflix revolutionized the customer experience by eliminating late fees for DVD rentals and enabling video rentals from the comfort of home. Through its innovative switch to streaming and the creation of original content like shows and movies, Netflix has successfully captured new, uncontested demand using the Blue Ocean Strategy.
Liked this post? Check out the complete series on Strategy