Promotional videos are marketing or advertising videos, made to promote a business, product, or service in front of target audiences to optimize the conversions.
A promo video clip is intended to promote any company's services or goods by praising them in the video or sharing their stories in a way to develop a connection with the audience. Promotional videos are primarily used to increase the target audience's trust in the brand.
What are Promotional Videos?
Promotional videos are videos made for marketing or advertising purposes to promote a brand's product or service and optimize brand awareness, reputation, and sales.
When it comes to marketing, the ultimate goal is to sell the product or service. Promotional videos are a video advertising approach, relying on emotions and targeted advertising messages. They are not about yelling buy-buy-buy in front of their audiences, but rather something that will entice the client to choose their company.
To understand their target audience, businesses are required to interact with them on a more personal level. The brand may market itself in various ways, such as through an influencer, by discussing current events and how they relate to their company, or by telling people tales of how you aided individuals.
Importance of promotional video
Because promotional videos are so popular among the general public, their significance cannot be overstated. To name a few, the importance of promotional videos include:
1. Emotional pitch
Humans may all desire to operate entirely with their minds, yet they are all driven by their emotions somehow. Promotional videos serve as a pitch that can emotionally connect with the viewer. This will not only keep the public's interest but also their faith in the brand. As a result, sales would be generated automatically.
2. Videos are the future
Everyone knows that video is king; it is now the most popular medium for reaching out to people and will remain so in the future. Videos are used to promote a business and learn what the majority of consumers desire. Promotional videos are a synthesis of the public's demands and the brand's message.
3. Different channels
When it comes to advertising, it can only be successful if it reaches many people. As a result, the platforms for promotion should be expanded to increase the reach.
There are several venues or methods for uploading and promoting videos. The platforms are YouTube, Instagram, Pinterest, Linked In, Facebook, Twitter, and a slew of others. As a result, the business may reach its target audience on various channels by using promotional videos.
4. Gaining Trust
More than half of the viewers say the videos make it easier for them to purchase. It assists people in developing confidence in the brand and its products, events, and services, among other things. Thus, investing in promotional videos can help businesses attract consumers and devoted partners who will voluntarily recommend their brand to others.
Types of Promotional Videos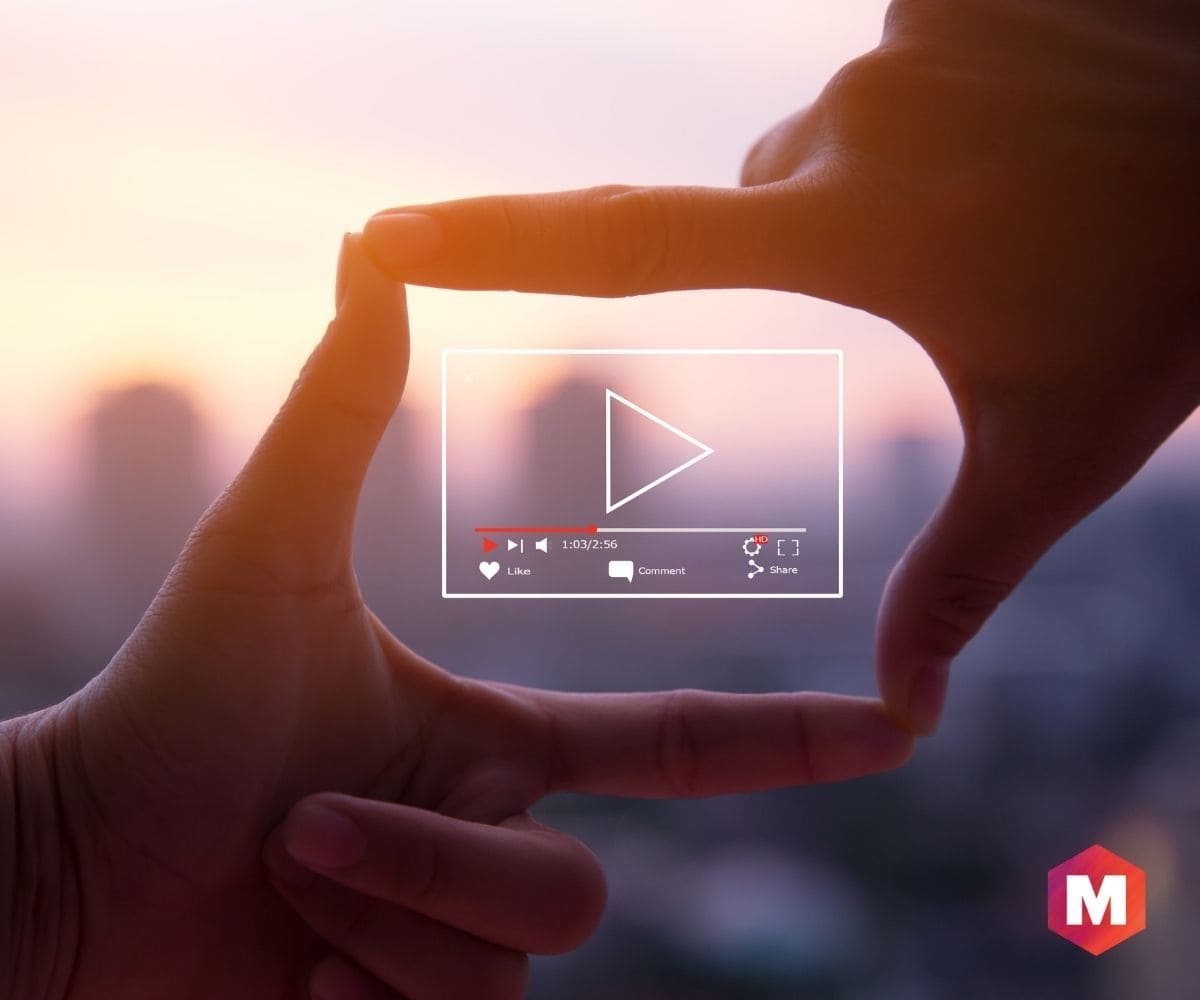 While marketing or promoting a product or service, the following types of promotional video ads with a relevant call to action can be used to convert target audiences-
Product or Product Feature Promotional Videos
About Us Promotional Videos
Event Promotional Videos
Content Promotional Videos
How to Create a Promotional Video?
For making your promo video clips or marketing video ad campaign, there are few easy steps that should be followed. Therefore, let us get started with the easy steps of making promo videos-
1. Setting goals and collecting materials
Before delving into a product video production, key things to pay heed to are-
Identification of your brand voice and personality
Have clear goals for traditional or digital marketing
Create a powerful message
Consider the spending plan
2. Outlining your brand story
While targeting new customers with the best promo videos, you should-
Develop your message into a message and then outline that into a brand story
Finalize how you can share your story with a call to action with storyboarding
Pay heed to the minutiae of your video like sound effects, camera angles, voiceovers, special effects, etc
3. Delving into video production
Production of promo videos includes steps like-
Sound, lighting, and equipment set up
Scripting
Interviews
Voiceovers
Filming b-roll footage
4. Giving attention to post-production
Some of the post-production stuff of promo videos that video marketers need to know are-
Editing
Testing, Reviewing, and Getting feedback
Comparing different versions
Getting Final approval
Ensuring Delivery
5. Do video promotion
Now, when your promo video is ready, you should look forward to different ways of effective video promotion like-
Have a relevant, engaging, and eye-catching thumbnail
Send your promotional video to your email list
Include a share button with your video player
Share your video on your website, social media platforms, and other online channels
10 Examples of Promo Videos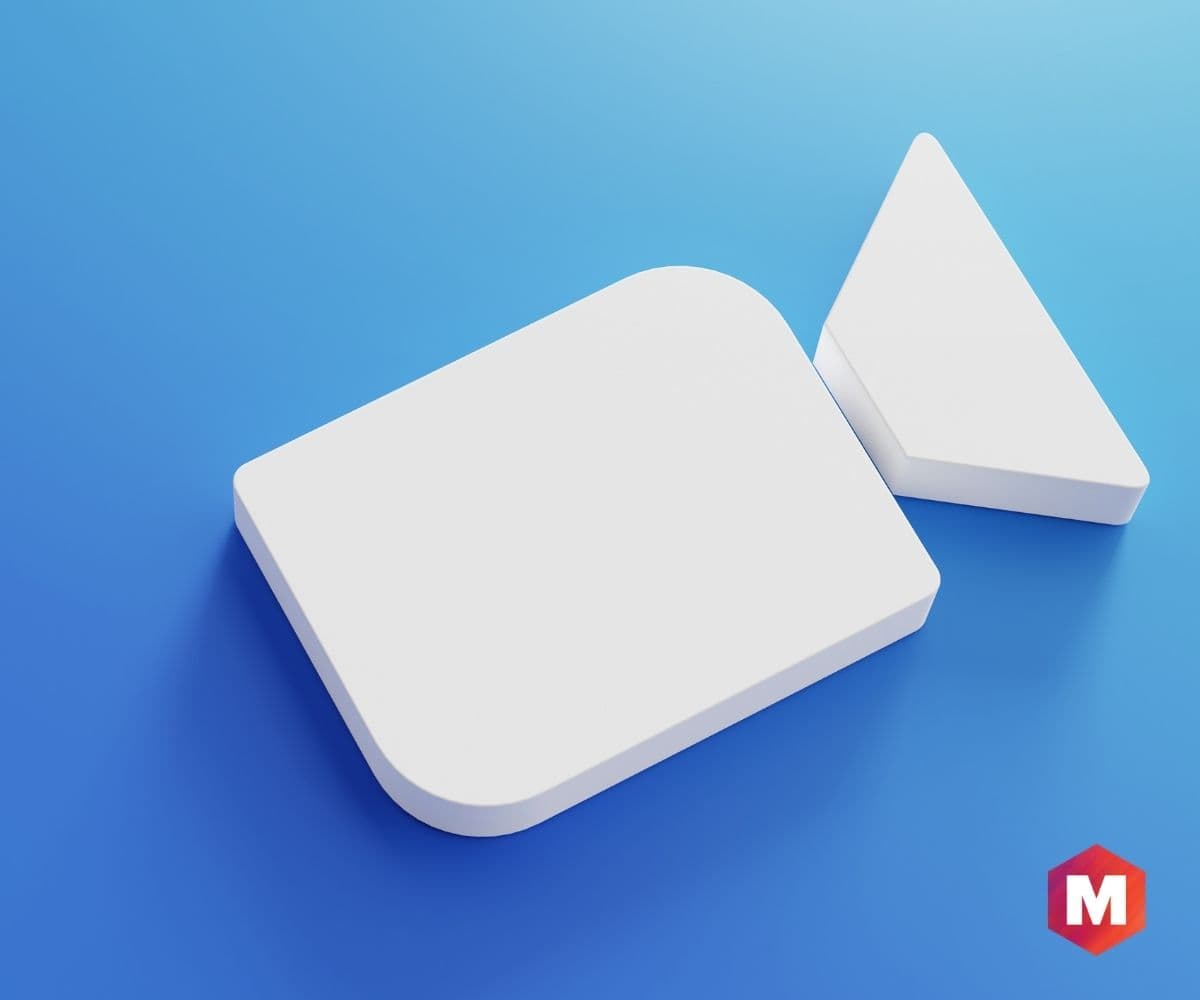 If you have any doubts about the fact that promotional videos are compelling, this is the place to start. Well, the examples provided below will assist you in determining the effectiveness of promotional videos-
1. Starbucks
Starbucks has been a well-known brand for a long time, so they don't need to educate the audience on what they sell or who they are. They did, however, create a promotional video to raise public awareness of their corporate social responsibility.
Because of the music they've included, the video begins off and continues with a good positive mood. The video was highly relevant to the viewers while also highlighting the work of their staff. This was more of a testimonial video, and it was very viewer-friendly.
2. Hostel world
Everyone is aware that there are several misunderstandings regarding hostel life, and the dire conditions of hostels are constantly highlighted.
So, through their promotional film, Hostel World decided to develop a series of similar videos to clear up any misconceptions about hostels.
For this series that drew people's attention, the brand chose with a celebrity and a whimsical headline "Charlie Sheen sleeps with seven people in Hostel." With each video lasting 15 seconds, it was enjoyable for viewers to watch and clear up any misconceptions in each new video.
3. Marks & spencers
Marks and Spencer pushed their healthy diet foods in this environment of being healthy and eating well. Customers were drawn in by the unique shots of the items.
No one was marketing the items, yet it was as if the food itself was promoting them. The distinct black backdrop for each meal and the flawless editing of the photos drew the spectator into the video and, of course, to the products.
4. Be my eyes
This was an app created for the good purpose of bringing "sight" to people who are blind or low-vision. Thus it was bound to get people's attention. However, any great concept must be correctly communicated to the people to penetrate their hearts.
Be my eye is an app that helps blind individuals with day-to-day challenges by giving video call support from persons with good eyesight. The app's advertising video featured poignant stories of blind or low-vision persons in their daily lives, set to gentle music, which immediately touched people's emotions.
A superb script elicits an emotional response from the viewer, exactly what "be my eyes" aimed for. This promotional video prompted users to download the app and volunteer to assist others in need.
5. Nike
When it comes to sportswear, Nike is a well-known brand. It is already a trusted brand, but Nike also promoted their soccer academy. That was a first for Nike and the audience, who weren't sure if they wanted to join the club. The Nike soccer academy was created to develop players before allowing them to join a professional squad in the future.
Nike's promotional video conveyed the notion that they would construct the journey of a good player to become a spectacular one. Nike's message and strategy tapped into the emotions of the youth, converting them into followers.
The video used catchy music and modern moves to demonstrate the degree of their training. Every feature and component of the editing was of the highest caliber, showing the brand's vitality and the message it wishes to convey.
6. Samsung VR
Samsung has been the most effective at communicating the real technical aspects of their brand to the general audience. The best thing about them is that they showcase these qualities in a wonderful dynamic style to captivate the audience.
The Samsung VR advertising film showcased the technology's depth, a simple tale, and, of course, Santa to highlight the Christmas festival.
7. Dollar Shave Club
The Dollar Shave Club promotional video was a massive hit for them. It was a big hit on YouTube and other media channels.
Dollar Shave Club was confident in its brand, and they advertised its items with the same level of assurance. Many young and professional guys spent a lot of money on costly razors only to get better results.
However, the Dollar Shave Club's promotional video warned people not to fall for such over-the-top businesses. They mentioned the disadvantages of the other brands compared to theirs, which allowed their brand reputation to grow.
8. Slack
Slack is an all-in-one chat and email platform that helps organizations meet their needs. This brand's promotional video was released to promote the app when it was first released.
The video and brand were appreciated because of the comedy and resemblance to reality. The advertising video depicted an interview-like setting with great comedic timing. And Slack's clever promotion of them in the commercial is admirable. They demonstrated how the brand assists them in making their work easier by referring to an actual client of theirs'.
9. Spotify
Spotify is currently a well-known music app that is popular in virtually every country. But, like everyone else, they had to start somewhere.
The initial promotional video published by Spotify in the United States was more of an animation and text video. It didn't have any voice-over or anything at the beginning. Spotify, as a music portal, chose to play along with some excellent music in the video. The audience found it appealing and enticing. Therefore they became interested in the app as well.
This may be an excellent concept for freshly established businesses if they want to save a lot of money from their budget; going for such animated movies is a great decision.
10. Apple stickers
As one of the finest companies, Apple has always concentrated on marketing a particular feature using communicative or conventional means. It is a classy brand, and so are its advertising videos.
When Apple introduced its stickers, it opted for a stronger emotional connection to express itself. The motto for the Apple stickers was to say it via the stickers, which drew a lot of attention.
5 Best Promo Video Makers
A few of the top promotional video-makers to make a promo video for effective video marketing are listed below for you-
1. Vyond Video Maker

Vyond may be used to make a variety of promotional films for businesses. Explainer videos, tutorials, testimonial videos, interview videos, animation videos, how-to videos, and other types of videos can be created by the brand.
With its simple interface and a variety of accessible themes, the software makes it simple to produce a video instantly. The app's beginning fee is extremely reasonable, allowing companies to use the app's many features.
2. Promo Video Maker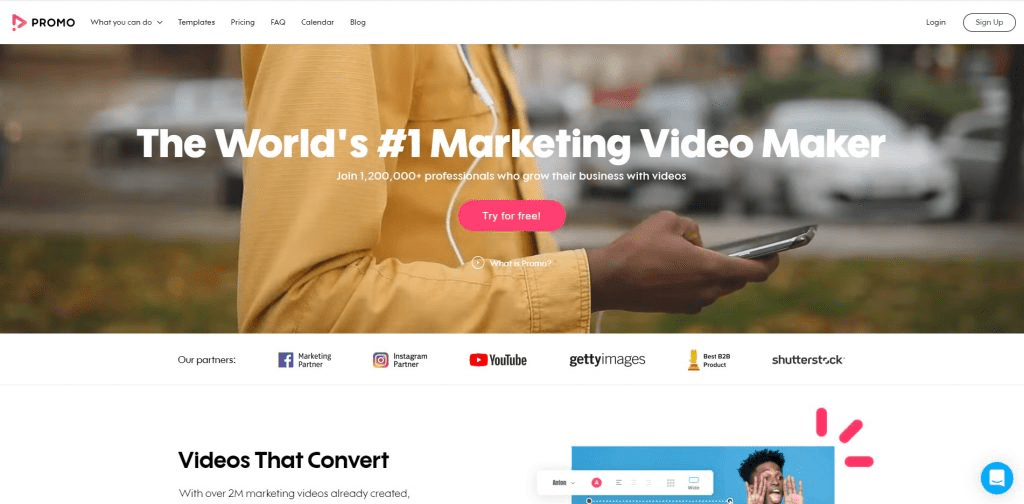 Promo assists businesses in presenting the sort of video that they want to reach out to their target audience. It does not only apply to different ad platforms but also to diverse methods of marketing the videos.
Promo offers a one-of-a-kind payment approach in which the client may choose between a yearly plan and monthly payments based on their needs. Promo provides various video-creation options, ranging from a simple animated video to a full-fledged explainer video.
3. Typito Video Maker

Typito is designed for businesses who want text-based promotional videos. It may be used to produce high-quality text movies for social media.
Businesses may either submit their film or use pictures and clips from the built-in collection to liven up their promotional movies.
4. Animoto Video Maker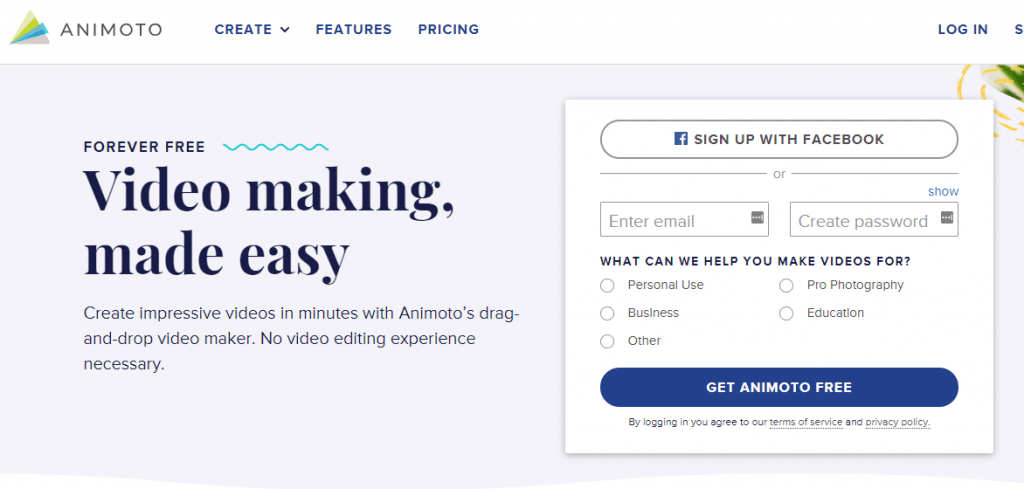 Animoto is an easy-to-use video-creation tool for companies. The app provides many choices for businesses to use based on their needs.
At the conclusion, there are two versions of the app accessible, one with and one without the Animoto logo.
Businesses may use any template, picture, video, music, or backdrop to make their video more appealing. And they may later perfect the inputting of their brand's message.
5. Headliner Video Maker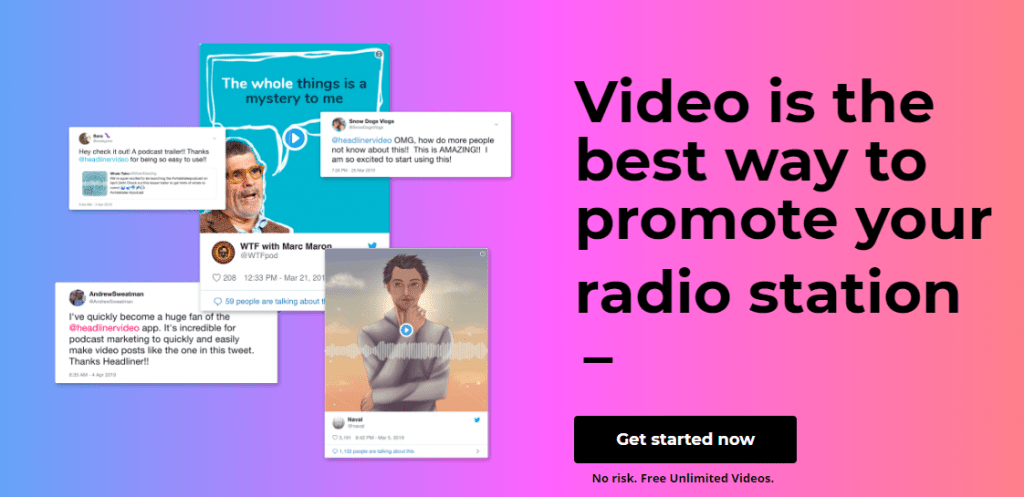 This creator mostly creates promotional videos for businesses. This allows you to submit a video and edit it using the app's capabilities before posting or downloading it.
If the explainer video is longer than 120 minutes, the headliner can assist you in creating a longer video. This software is also free to use but with certain restrictions.
Conclusion!
Creating a promotional video is simple nowadays, but the film's content must be extremely relevant to the audience for it to be popular.
The timing of the interaction, the feelings cautions, an emotional-relatable narrative, and so on in promotional videos may do wonders for any company.
What are your thoughts about the effectiveness of a promotional video in promoting a brand?
Liked this post? Check out these detailed articles on
Topic of Advertising
Alternatively, check out the Marketing91 Academy, which provides you access to 10+ marketing courses and 100s of Case studies.