Shopping is necessary for one and all. There are two basic types of shopping. One is done in retail stores, and the other one is done in malls and shopping complexes. The retail stores are dedicated to a specific item, whereas the shopping complexes like Big Bazaar house many, many products in one place. The business model of Big Bazaar revolves around the retail chain of hypermarkets, grocery stores, and discount department stores.
Big Bazaar is one of the largest shopping malls in India. They give some fantastic offers and discounts to their customers. These factors attract more and more customers to these stores. The wide range of products incorporated by the Big Bazaar Business Model is-
Electronics
Movies and music
Home and furniture
Home improvement
Clothing
Footwear
Jewelry
Toys
Health and beauty
Pet supplies
Sporting goods and fitness
Auto
Photofinishing
Craft supplies
Party supplies
Grocery, etc.
In this post, we will dive deep into the world of Big Bazaar Business Model to understand how it has become India's top retail chain. So, let us get started right away-
History of Big Bazaar Business Model
Big Bazaar is a great place and has different avenues for shopping. It provides people with groceries, apparel, and household items. Big Bazaar is the parent chain of many sub-chains like Food Bazaar, eZone, and Fashion. Also, it has sister chains like Brand Factory, Central, and Home Town.
It was formed in 2001 by Mr. Kishor Biyani, founder and CEO (Chief Executive Officer) of Future Group. This company is the parent company of all these stores.
The Idea behind the Business Model of Big Bazaar
Many people believe that the Big Bazaar is the Indian version of Wal-Mart. Wal-Mart is the chain of retail stores which is very famous in the United States (US).
But that is not the case. The idea of Big Bazaar came from a local store called 'Saravana.' This store was a part of a family business.
It worked on the principle of 'low margin; high turnover.' On the same lines, Big Bazaar has drafted its slogan to be 'Issei Sasta Aur Achha Kahin Nahi.' This means that they claim that you will not get better and cheaper products anywhere else.
The Network of Big Bazaar Business
Any store grows to become highly successful only when it establishes a good network in the prime areas of the country where it can garner huge responses.
Starting from Kolkata and West Bengal in 2001, Big Bazaar has now formed an excellent network of more than 250 stores in more than 120 cities across India.
This has facilitated the reach of this store and has made it possible for almost every person to go and shop at Big Bazaar.
Tapping Into the Retail Industry in India
India is known for its immense and ever-growing population. This is a boon for the retail industry in India. The retail sector is the one which sells goods, products, and services in lesser quantity to suffice the need of every individual.
There are more than 12 million retail outlets in the country. The goods sold here are diverse and different. Out of these 12 million, around 5 million stores sell food items and eatables.
The rest of them sell utility products like clothes, household items, and much more. The Future Group decided to tap into this and unify these different avenues of retail shopping. The stores like Big Bazaar, which are sprawled across the country, offer food items, electronic goods, necessary utility products, and entertainment all under one roof.
Marketing Strategy used by Big Bazaar Business Model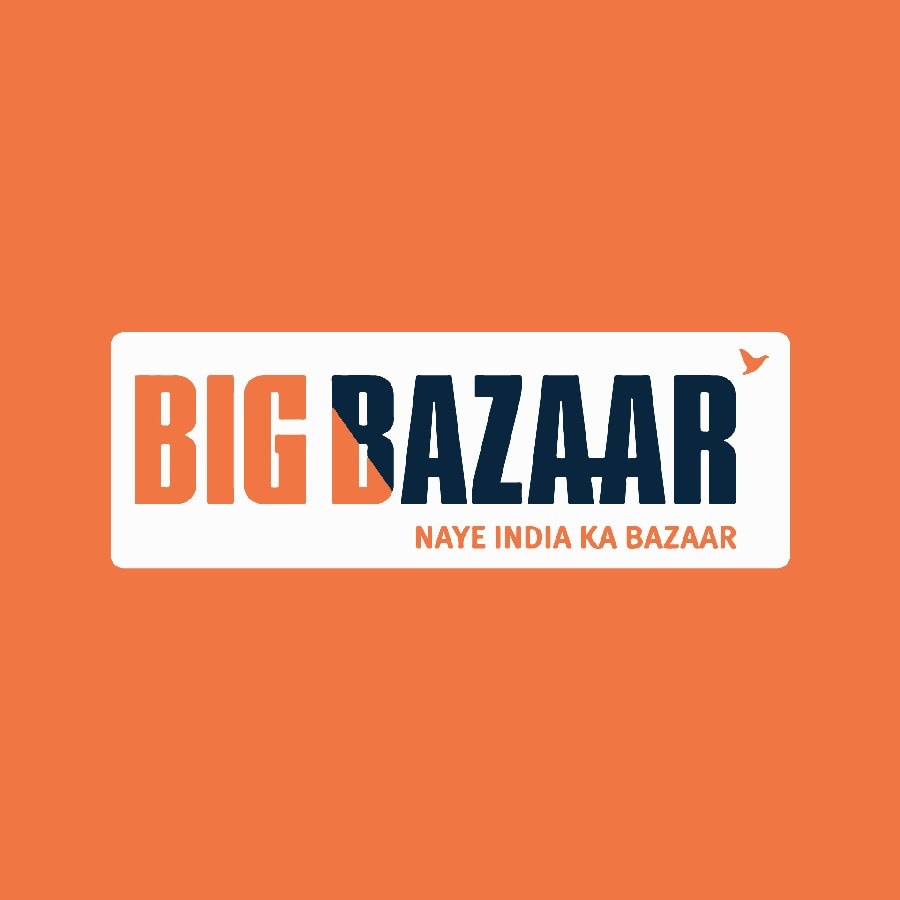 Big Bazaar has marketed its products fiercely, and this has given them a respectable position in the market today. They have taken the help of these four principles while marketing-
1. Price
Whenever you go shopping at Big Bazaar, you are sure to find discounts on almost all the products. This is because it works on the low margin principle.
Big Bazaar blocks the stock from the manufacturers and hence, has no losses in giving discounts to the buyers.
This strategy works in favor of the company because huge crowds gather here to buy these products. Hence, even though the margin the less, the turnover is enormous.
2. Product
Even though the prices are attractive, the products also need to be of excellent quality. Big Bazaar has a wide range of wonderful products.
They sell products of other manufacturers and also have a series of products of their own. This wide range attracts buyers and customers in huge numbers.3
3. Place
The next crucial point is the location of the store. If the store is located in a remote place where there is not much accessibility, the store will not get that much attention despite the wide range and fair pricing.
That is why Big Bazaar has always found locations that are easily accessible and easily reachable for almost everyone
This network of stores has led to the growth in profits of the company.
4. Promotions
Promotions are essential for the success of any public venture. Big Bazaar has allocated a massive budget for the promotions.
It has started special days like 'Sabse Saste Din, ' which has attracted millions of buyers. Also, it has taken celebrities, actors, and sportspersons for their endorsements.
This has created a lot of noise for them in the market. They have grown into a significant and successful chain of stores.
Strengths of the Big Bazaar Business Model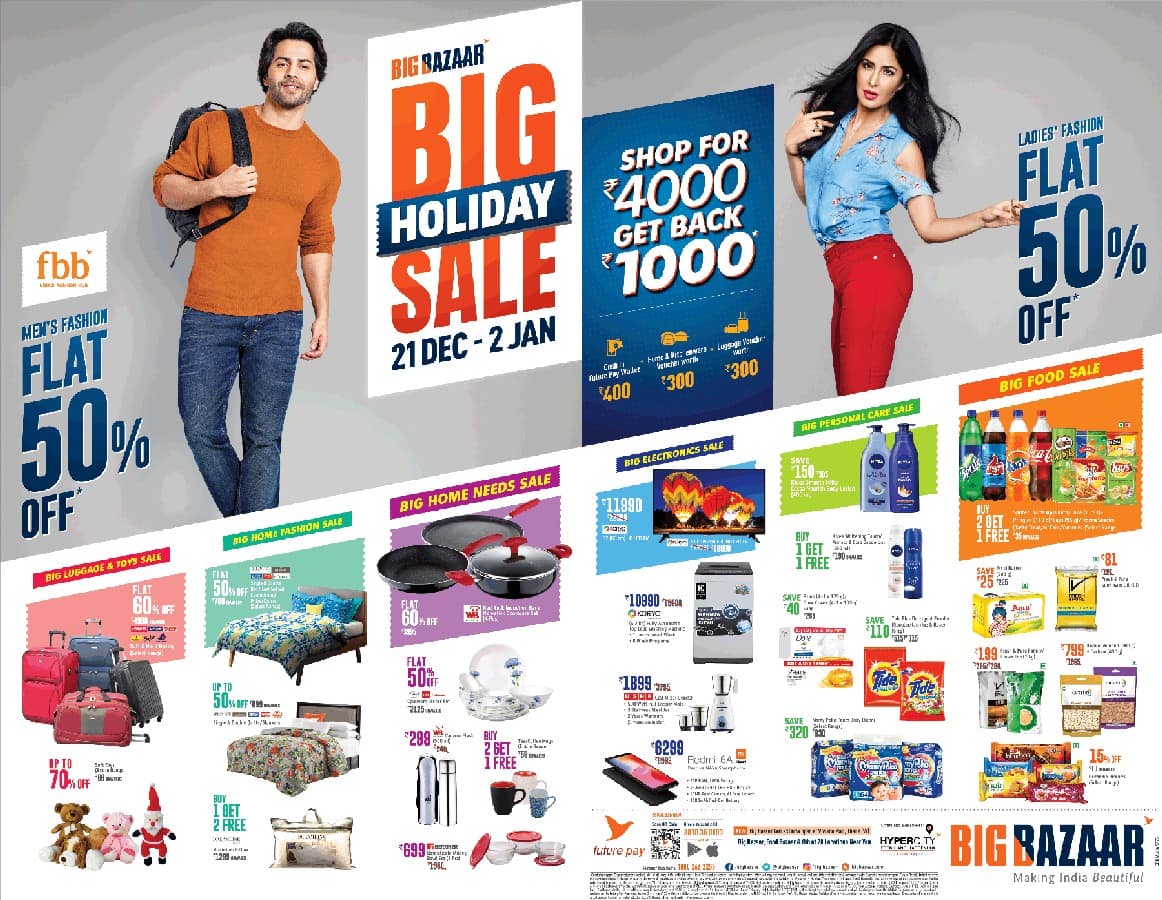 The business model of Big Bazaar has a few strengths and some weaknesses as well. Here, we will focus on the strengths to get to know the model better.
1. High Brand Equity
Brand equity indicates the position of the brand in the market. The business model of Big Bazaar has given it high brand equity.
2. Largest Chain of Retail Stores
The retail stores across the country are diversified concerning the products they sell and the variety they offer.
However, Big Bazaar has brought all of the retail selling facilities on the same page. It has created a uniform chain of retail stores.
3. High Capacity of Investment
The investments made by Big Bazaar are huge. That is why they buy goods in bulk and store them in their warehouses.
This enables them to give great discounts and attract millions of customers daily.4.
4. Online Booking and Delivery
Big Bazaar provides online services. It has a platform for buying goods and products online and also pay through payment gateways.
Let us now understand how Big Bazaar makes money-
How does Big Bazaar Make Money?
Big Bazaar Business Model is based upon giving so many lucrative offers, yet they make good profits. The reasons are-
Big Bazaar business model eliminates mediators, as they directly make their purchases from the manufacturers or producers. This removes the middlemen and their profits to help Big Bazaar have better margins.
The business model of Big Bazaar functions on such a large scale that they make profits from the wholesale discounts
Economies of scale are also a key factor behind the money-making of Big Bazaar. Because of significant scale functioning, Big Bazaar business model cuts down different other costs such as advertisement, transportation, etc. They can purchase huge amounts simultaneously that let the costs get spread over different items
Final Thoughts!
Big Bazaar is one of the leading retail stores in India. It has a business model that is very successful and profitable for the company.
On the concluding note, we hope you would have understood how India's one of the oldest and largest hypermarket chains channelize its business model adeptly. What are your thoughts about the Big Bazaar Business Model? Share your views with us in the comment section below.
Liked this post? Check out these detailed articles on
Topic of Business Models
Alternatively, check out the Marketing91 Academy, which provides you access to 10+ marketing courses and 100s of Case studies.