IndiaMARTInterMESH Ltd. began in 1996 when cousins Dinesh and Brijesh Agarwal opened a business-to-business (B2B) portal by the name of IndiaMART.com to directly connect Indian manufacturers with buyers. In the beginning, the Business Model of IndiaMART was thought of as a directory of the websites in the Delhi NCR at the time when India just had 15,000 internet users. By the end of 1999, it had 1000+ listings in its directory.
It is now one of the most prominent e-commerce companies in India that provide B2B, business-to-customer (B2C) as well as customer-to-customer sales service through its online portal. IndiaMART is also one of the very few companies with zero debt and a sizeable cash balance. It was also the first company in India to have tested the IPO Market.
Remarkably enough, the company has been experiencing revenue growth since its inception. This article will examine and analyze the company's business models, funding processes, and marketing policies to shine a light on their achievements.
Introduction to the Business Model of IndiaMART
IndiaMART offers both free services as well as paid memberships to its users, especially for its SMEs. For the SMEs, registration is free of cost. As soon as they register, they are added to their peers' list in their particular industry. They are also provided with a free website on IndiaMart.
Just like any other eminent portals like YouTube and Spotify, IndiaMART provides its users with options to upgrade their websites. To upgrade their profiles, the users need to pay a certain amount.
Besides providing the SMEs with a premium listing, the membership account provides more business options to them. The company earns its revenues from the subscription fees.
When pay-per-lead was first introduced, IndiaMART was one of the companies to make use of it. It still has been using PPLs. Through this, SMEs can buy business leads from the buyers.
After the user gets a reasonable outcome from the PPL model, they can pay a nominal amount to buy the membership plan. The suppliers can also use this model to choose the best from the listed business leads, which will help them increase their sales.
What exactly is IndiaMART Business Model?
It is an e-commerce company that connects Indian suppliers and manufacturers with buyers from all over the world. It is the leading B2B marketplace in India and the third-most successful company in the world.
It provides a platform for SMEs, large enterprises, and even individual buyers. Nearly 2.6 crore buyers can reach out to over 22 lakh suppliers coming from 52 different categories of industries and choose from the list of 3.3 crore products.
It is now rated as one of the largest e-commerce platforms for businesses of different kinds with a market share of more than 60%. It deals with 97000 product categories that cover a wide range of industries such as-
Products and Service Directory covered by IndiaMART Business Model
Machine parts
Textile products
Medical equipment
Technology
Food and beverages
Industrial plants and industrial supplies
Building and construction
Apparel and garments
Electronics and electrical
Packaging machines and goods
Chemicals, Dyes & Solvents
Mechanical Parts & Spares
Lab Instruments & Supplies
Furniture & Supplies
Automobile, Parts & Spares
Agriculture & Farming
Housewares & Supplies
Metals, Alloys & Minerals
Hand & Machine Tools
Handicrafts & Decoratives
Kitchen Utensils & Appliances
Textiles, Yarn & Fabrics
Books & Stationery
Cosmetics & Personal Care
Home Textile & Furnishing
Engineering Services
Gems, Jewellery & Astrology
Computer & IT Solutions
Fashion Accessories & Gear
Herbal & Ayurvedic Product
Security Systems & Services
Sports Goods, Toys & Games
Telecom Equipment & Goods
Paper & Paper Products
Bags, Belts & Wallets
Media, PR & Publishing
Marble, Granite & Stones
Event Planner & Organizer
IT & Telecom Services
Product Rental & Leasing
Transportation & Logistics
Business & Audit Services
Financial & Legal Services
Education & Training
Travel, Tourism & Hotels
Call Center & BPO Services
Bicycle, Rickshaw & Spares
R&D and Testing Labs
Architecture & Interiors
HR Planning & Recruitment
Rail, Shipping & Aviation
House Keeping Services
Leather Products
Contractors & Freelancers
Electronic Components
Electrical Equipment
Hospital, Clinic & Consultation
The Inception of the Business Model of IndiaMART
The co-founder of IndiaMART Dinesh Agarwal was initially working with HCL in America. Being profoundly impressed by internet technology, he realized the potential of the internet in India. He soon moved to India and, along with his cousins, opened the B2B portal of IndiaMART.
Very soon, Dinesh Agarwal and his cousin Brijesh Agarwal were able to break the geographical boundaries. IndiaMART united the buyers and suppliers, that too, in a cost-effective way. Buyers from all over the world could reach out to Indian manufacturers on IndiaMART's online B2B site.
Five Subsidiaries of IndiaMART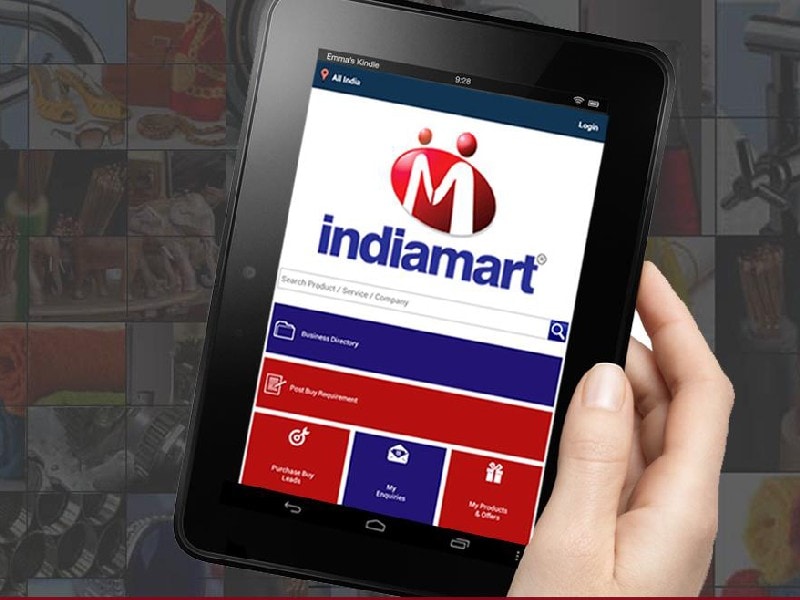 It has five subsidiaries, namely:
1) Tolexo Online Private Limited (TOPL)
It was launched in the year 2015 as an online transactional market place for different kinds of business goods.
2) Ten Times Online Private Limited (TTOPL)
It was launched in the year 2013 and is involved in the business of operating that can be used for the discovery and networking of business events.
3) Hello Trade Online Private Limited, which is currently inactive
It was launched in the year 2008 and, now it is authorized to engage in specific businesses dealing in domestic trade and international business facilitation.
4) Tradezeal International Private Limited, which is also currently inactive
It was introduced in the year 2005 and is again limited in its authorization for some specific kinds of businesses only.
5) Pay with IndiaMART Private Limited (PWIPL)
It was introduced in the year 2017 as the payment services for letting buyers release payments to the sellers after the delivery of the goods.
Contemporary Global Presence of IndiaMART
In 2009, it received investment from Colman and Company Limited, Benett, and Times Internet Limited.
In 2008, Intel invested in the company.
In 2014, it generated a turnover of Rs. 200 crores.
In 2016, the company launched series C funding with Intel, Amadeus, AFIM, and Westbridge's support.
In 2017, it launched PayX (payment gateway) with the investment from Amadeus, AFIM, and Westbridge.
In 2017, the company reportedly accounted for a 60% market share of India's online B2B marketplaces.
In 2018, they had 4.7 million listed sellers on their portal with products from 97,000 categories. The number of suppliers increased exponentially from 72,000 in 2016 to 1.8 lacs in 2018.
Presently, it has 5 million global buyers, 2.2 million suppliers, clients from more than 200 nations, and 7 lakh registered members. The company enjoyed around 32.5 crores (325.8 million) visits in 2017, 55.2 crores (552.6 million) visits in 2018, and 72.3 crores (723.5 million) visits in 2019.
Right now, IndiaMART incorporates 1+ crore (10 million) downloads with a 4.7 App rating on Android. It registered a 29% CAGR in the financial year 2014-19 with revenue to ?507 Crore. The net profit in the year 2019 was ?20 crores.
Marketing Strategies of IndiaMART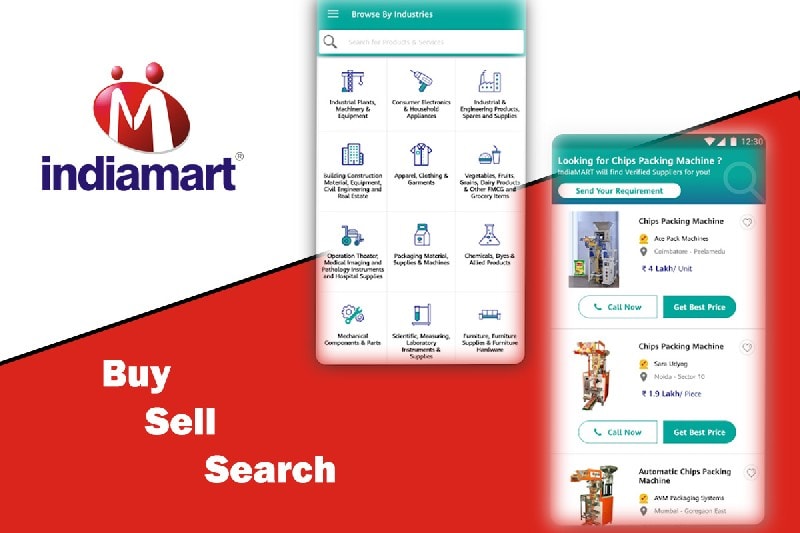 1. TV advertisements
Realizing that almost every household in India has a TV, IndiaMART took to advertising on TV screens. Its "KaamYahin Banta Hai" campaign was circulated by Bollywood actor Irrfan Khan, which made the company a household name in India.
2. Social Media Marketing
AramKiTune Campaign
The company has a remarkable social media presence. This campaign directly involved customers. The campaign initially started on Twitter. The followers on Twitter were asked to share a song which they always sing and hum whenever they feel relaxed. It initially involved 2000 followers.
Later, it started a grand musical contest with #AramKiTune hashtag. It was hosted on all social media platforms and also aired on radio. The motive behind airing it on the radio was to inform everyone about the ongoing contest.
The company released a video that featured people singing songs while relaxing. This created a buzz in social media. It attracted almost all the young audience.
IndiaKiKhoj Campaign
This campaign was launched to celebrate the spirit of entrepreneurship when the young generation was getting involved in entrepreneurship programs and careers. Irrfan Khan started this with a tweet that was massively circulated.
Working of IndiaMART
To acquire suppliers, the company invests in employee resources and substantial capital resources. It is unable to earn revenue from its suppliers until they purchase a paid service.
The company deals with lawsuits and allegations in various ways. It is looking forward to strengthening its position to encounter legal claims in the future.
IndiaMART is planning to save its intellectual property and increase its capital. It will also probably incorporate data protection laws in the future.
How Does IndiaMART Earn Money?
The company earns revenues through:
The sale of subscription packages. These packages are categorized annually and monthly and offer many benefits based on the type of subscription.
The sale of requests for 20 quotes and requests for quotes (RFQ) or simply lead generation.
Advertising revenue from IndiaMART desktops, mobile apps, and mobile-optimized sites
Payment facilitation services.
Wrapping Thoughts!
Hopefully, you are satisfied with the explanations on Business Models and Marketing Strategies of IndiaMART.
IndiaMART is now the leading e-commerce company in India, and this has been possible due to its useful business model and marketing strategies.
Their impressive business model and marketing strategies should inspire young entrepreneurs who are taking their first step in entrepreneurship and management!
What lessons did you learn from the business model of IndiaMART?
Have you ever used the directory of IndiaMART? If yes, then share your experiences with us in the comment section below.
Liked this post? Check out the complete series on Business Models