Santoor, was launched by Wipro in 1986 and targeted the Indian woman's age old beauty regime with the primary ingredients of sandalwood and turmeric. In the next two decades Santoor became the third largest selling popular soap in India and the most commercially successful natural soap brand with a market share of almost 9% of the large toilet soap market. Over the years variants of Santoor soaps were launched to appeal to different consumer segments.
As a brand Santoor managed to stay relevant to consumers by innovations on product form, packaging, fragrance etc. which have helped the brand grow and garner a contemporary and relevant loyal user base. Santoor was re-launched with the promise of everlasting beauty and a superior, longer lasting perfume which left the skin softer. Today Santoor is present in categories like face wash, talc, deodorants, hand washes etc., in the soap category it has variants like Santoor Sandal and Almond Milk, Santoor Glycerine & Santoor Chandan.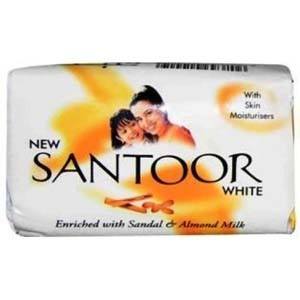 In the year 2006Santoor became the third largest selling soap in India. During this time Santoor steadily became synonymous with younger looking skin. An image enhanced by a series of extremely catchy advertisements, where the protagonist, a married woman with a child was often mistaken for a college girl. The times changed and so did the Indian woman. She was no more the simple housewife who stayed at home and looked after the kids. As the years went by she became more educated, more outgoing and career oriented. However the brand imagery of mistaken identity stayed constant even while the Santoor woman moved on from being a homemaker to a woman who excelled in her career as much as she excelled as a mother.
Through the years, as the brand grew, so did the imagery. The Santoor woman now rubbed shoulders with celebrities Saif Ali Khan and Madhavan in the ads. She had a glamourous career- where she was not only appreciated for her beauty but was acknowledged for her achievements, both in her career as well as a mother. It was an image that not only made Santoor extremely popular in its core market of Andhra Pradesh, Karnataka, Kerala and Maharashtra, it became aspirational for women in newer markets in the north and east of India. Through the years the Santoor woman has been both irresistible and aspirational for every Indian woman and has grown to aRs.1000 crore brand which is now exported to 15 countries.