For non-metro parts of India, billboards hold immense potential. Since such regions do not have very high rates of literacy, print may not be the most relevant medium for advertising here. Irregular power supply does not allow TV commercials to be very effective either. In such a scenario, OOH can effectively grab eyeballs 24×7 and fill the coverage gaps left by other media. With limited media exposure in non-metro areas, this medium can thus be amplified, creating greater awareness among consumers there.
For instance, recognising the allure of OOH in rural markets, Britannia Cookies started a rural campaign across Andhra Pradesh, Tamil Nadu, Karnataka, Bihar, West Bengal, Orissa, Assam and six North Eastern states at a cost of about Rs 2.5 crore. Under this 2010 campaign, the company installed tin plates at 22,000 retail outlets and kirana stores, bakeries and tea stalls, which enabled it to earn high recall.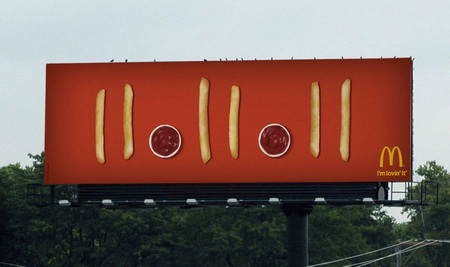 Yet, with a view to cut costs and generate a low-carbon footprint, advertisers have an onus to stop the use of diesel generators in lighting up OOH. With this outcome in mind, they are increasingly implementing a variety of frugal engineering methods. Employing these means is hoped to make diesel-conversion cost-efficient as well as low-maintenance. For instance, solar panels with Maximum Power Point Tracking (MPPT) technology-based charge controllers and LED projection lights can optimise the ratio of input to output costs. This makes input costs much lower than they would be for a diesel and halogen combo.
In addition to its benefits over other media forms, OOH advertising can be low-power tool that leverages intelligent communication for rural success. Being a means of relatively low-cost advertising, it is well-suited for local advertising. It enables messages and language to be custom-suited, and as per the target demographic. With this advantage in mind, Emami launched a wall-painting-led OOH, which totally lacked any use of energy, to increase brand recall of Navratna Tail/Oil among rural consumers this month. Adwallz, among India's few organised wall painting service providers, painted the ad's illustrations featuring Amitabh Bachchan's popular visage around beedi and paan shops, where they would have maximum impact during much of the day. Therefore, the use of power was substituted by a traditional, but eye-catching approach with strategic appearance at consumer touch points. Although this method would not create much of an impact in cities, it was perfect for rural advertising.
It is well established with the above discussed examples that many leading brands are now considering OOH as an effective means of advertising in Tier 2 and 3 cities as well as in rural India. It is not only effective but also a cost-efficient mode of advertising in these areas. Adding to the cost-efficient quotient of OOH medium, there are now several energy-efficient OOH solutions available in the market. Such solutions further helps reduce cost, and are thus gaining preference over plain OOH solutions. They can be very effective for SMEs. Thus, all advertisers as well as FMCG and retail companies, who are considering using the OOH medium in rural areas over long-term, must invest in low-power modes. This should suit them perfectly since it can provide greater ROI at low-maintenance and costs.