Branded houses are companies that use a single brand name for all their products and services, whereas a house of brands is when each product or service has its own individual identity. Common examples of the branded house can be found in the automotive industry, where a single company produces all its vehicles under one label. Ford and Honda are two of the most popular branded house models. On the other hand, House of Brands has become increasingly popular for consumer packaged goods – think Nestle with its variety of products such as KitKat and Nescafe.
Branded house and House of Brands are two distinct business models that cater to different types of businesses.
Choosing between Branded House vs House of Brands depends on the type of business you are running. Branded houses typically focus on building brand loyalty and recognition as customers associate one company with quality products. This can be beneficial to larger businesses, as it reduces costs associated with marketing and branding.
On the other hand, House of Brands allows for each product to have its own identity and voice. Entrepreneurs may benefit from this, as they can use different products to target specific customer segments. This allows them to expand their market share and appeal to a larger variety of customers.
Ultimately, Branded House vs House of Brands is a decision that each business must make on its own. It is important to consider the strengths and weaknesses of each model, as well as your own particular business, needs to make the most informed decision. In the following sections, we will explore each option so that you can make a decision based on all the information-
Types of Brand Architectures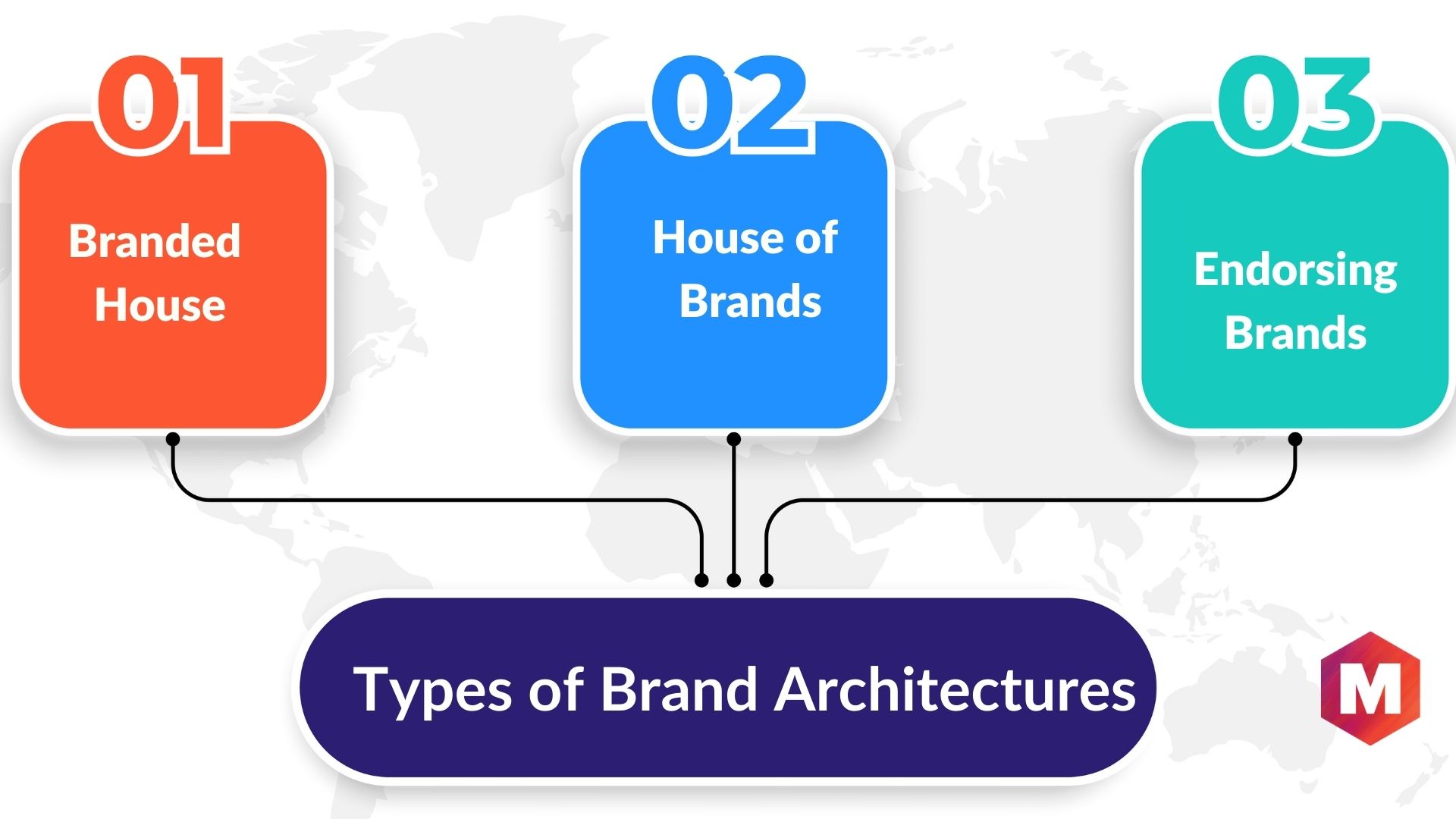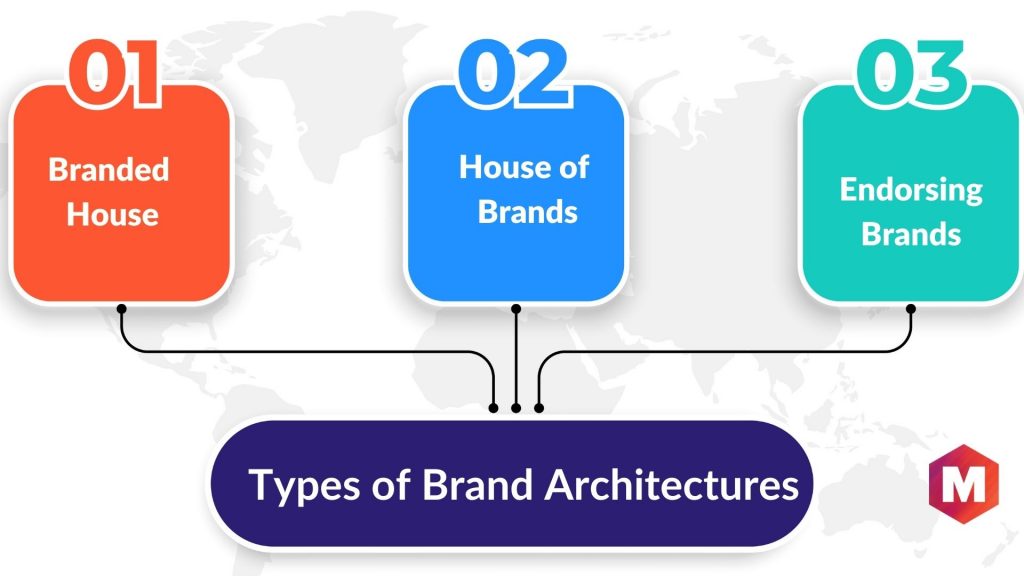 To understand the difference between a brand house and a house of brands, the first thing that you should understand is the types of brand architectures. So, there are three types of brand archetypes
1. Branded House
A uniform brand name is used for all products and services provided by the company. Branded houses use their core identity in developing their marketing and branding strategies. For example, Google, Apple, and Samsung all belong to this category.
2. House of Brands
It refers to multiple brands with individual identities, such as different products each with its name and branding. Uniliver is an example of a House of Brands, with many products such as Axe, Dove, Lipton, and Hellman's.
3. Endorsing Brands
The endorsed brands are a combination of Branded House and House of Brands, where one brand name is used to endorse the other ones. For example, Amazon owns different product lines such as Kindle and Fire TV with separate brand identities, plus all are also endorsed by the Amazon brand. Sony is also another example of an endorsed brand as they have both a Branded House side with Sony products and a House of Brands side with PlayStation, Xperia, Sony Pictures, Sony Music, etc.
Now, as three types of brand architecture are defined, let's discuss Branded House vs House of Brands in detail-
Branded House vs House of Brands
What is a Branded House?
A Branded House is a business strategy in which multiple products of a company are sold under one common brand name or banding umbrella. This technique is often used when the parent company wants more power over how the final product is made, distributed, and priced. By having a branded house, it's more efficient to have all the brands operate under a single customer experience and likely on one eCommerce platform.
Pros of Branded House
Enhanced Brand Recognition & Loyalty: Branded House helps to build trust in the brand, as customers are aware of one single unified source for all products and services.
Cost-Effective Marketing: Branded Houses require less money for marketing campaigns, as a unified brand designation increases customer loyalty and visibility among target markets.
Controlling Brand Image: Branded House helps to control the brand image as you don't have to worry about multiple brands with different messages.
Streamlined Decision Making: Branded Houses typically have a lower number of decision-makers, thus streamlining the process and making it easier for decisions to be made quickly.
Cons of Branded House
Less Flexibility: Branded Houses have limited flexibility when it comes to product design, making them less nimble than House of Brands.
Ambiguity: Branded Houses can run the risk of being too generic, making it difficult to differentiate products and services.
Limitations: Branded Houses may be limited when it comes to product innovation as the focus is on maintaining a consistent brand identity. Also, if the parent brand is not successful, then it can affect all its products.
Lack of Focus: Branded Houses may struggle with a lack of focus on certain product lines or services, as they are all lumped together under one umbrella.
Examples of Branded Houses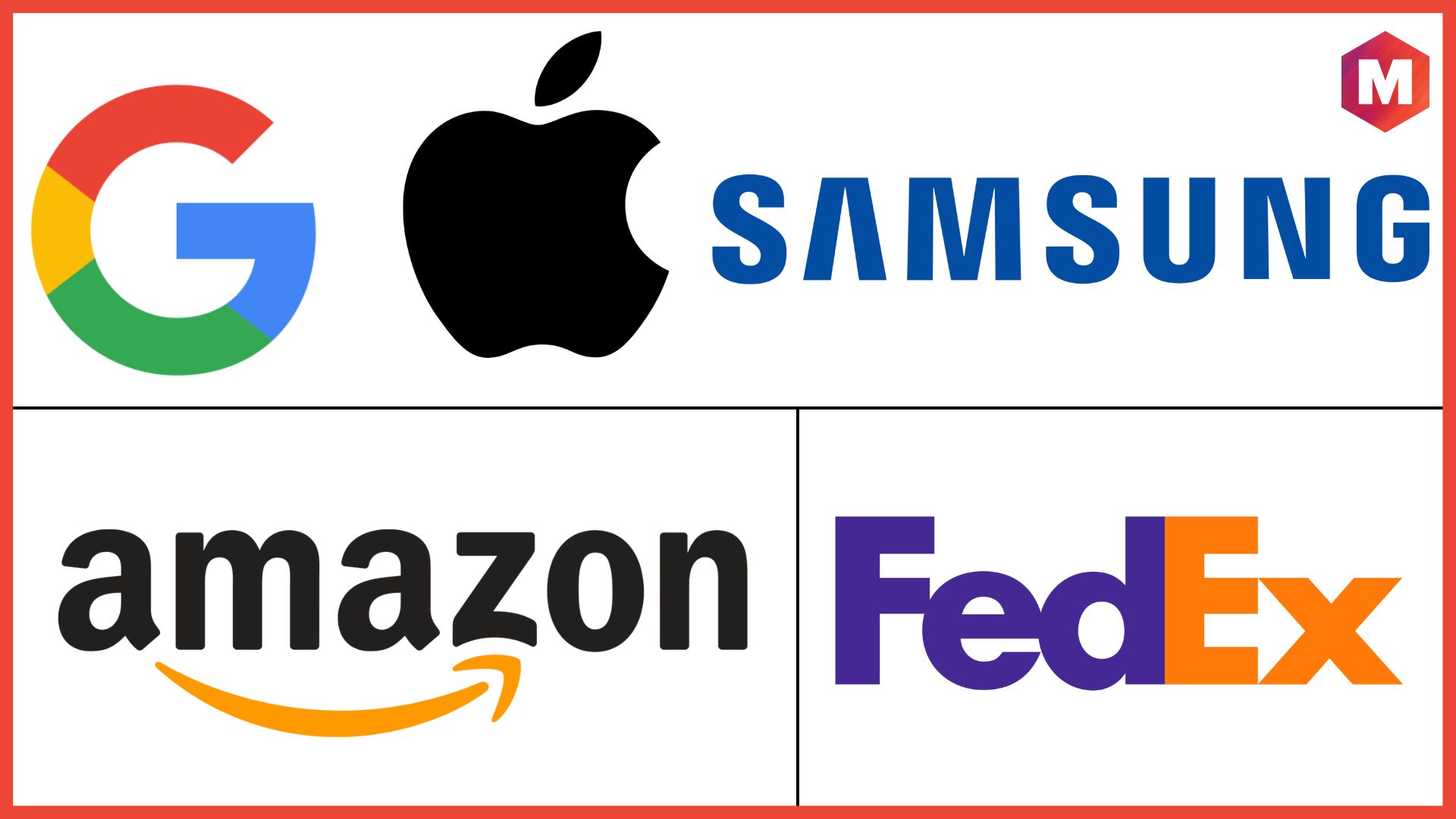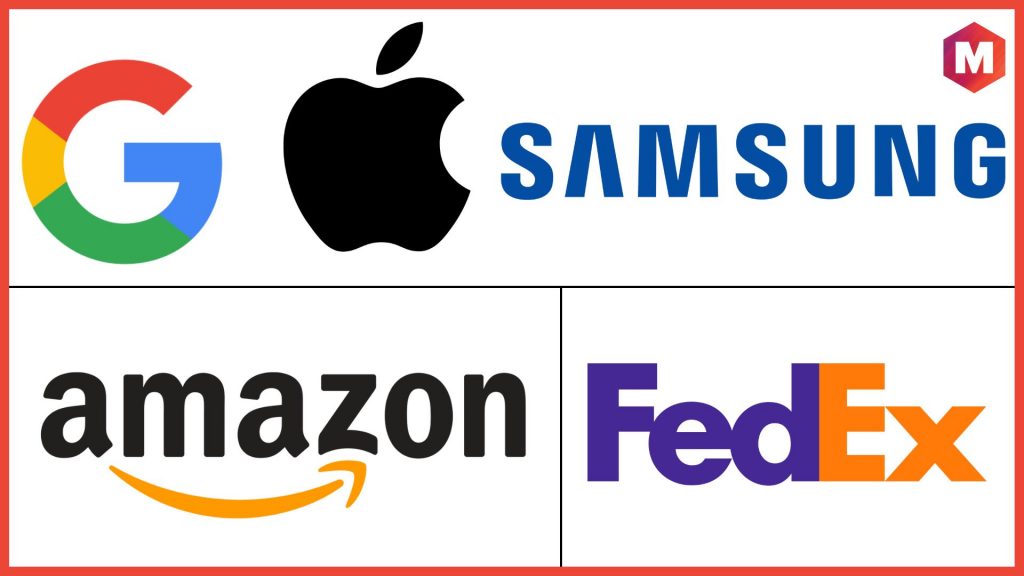 1. Google
Google is a Branded House as all its products, from Google Maps to Gmail, are under the same brand identity.
2. Apple
Apple is another company that falls under the category of a "Branded House." This means that all of its products- iPhone, iPad, and MacBooks included- share the same brand identity.
3. Samsung
Samsung is an excellent example of a company known as a Branded House, which means that all of its products- like smartphones, tablets, and TVs- are under the same root brand.
4. Amazon
Amazon is also a Branded House, as all of its products, from Kindle to Fire TV are under the same brand.
5. FedEx
As a Branded House, FedEx's brand lineup includes not only FedEx Express but also other services such as FedEx Freight, FedEx Kinkos, and FedEx Ground.
House of Brands Definition
House of Brands is an umbrella company that contains many different sub-brands, each with a unique target audience and marketing strategy.
A House of Brands is where each company has its own unique identity that represents a different consumer group, purpose, or event. It can include many companies, and each one operates independently from the rest with varying target audiences.
The GAP is an excellent example of how a name can be associated with a parent company, but sub-brands still have room to create their own identity. Banana Republic, Old Navy, and Athleta are all successful sub-brands under The GAP.
Pros of House of Brands
1. More Flexibility: With House of Brands, companies have more flexibility in terms of product design, as they can better tailor their products and services to different target audiences.
2. Focus on Different Demographics: House of Brands allows companies to focus on different demographics and target markets, thus allowing for more varied products and services.
3. Innovation: House of Brands can lead to increased product innovation, as each sub-brand has its focus and resources available to bring new ideas to the table.
4. Brand Clarity: Companies under a House of Brands structure can maintain clear brand identities, thus making it easier for customers to differentiate between products and services.
Cons of House of Brands
1. Costly: Operating a House of Brands can be costly as there are many separate marketing efforts and resources needed to support each sub-brand.
2. Conflicts: Different brands within the same parent company may have conflicting messages, which can lead to confusion for the consumer.
3. Lack of Cohesion: House of Brands can lack cohesion, making it difficult for customers to recognize that all the brands are under the same parent company.
Examples of House of Brands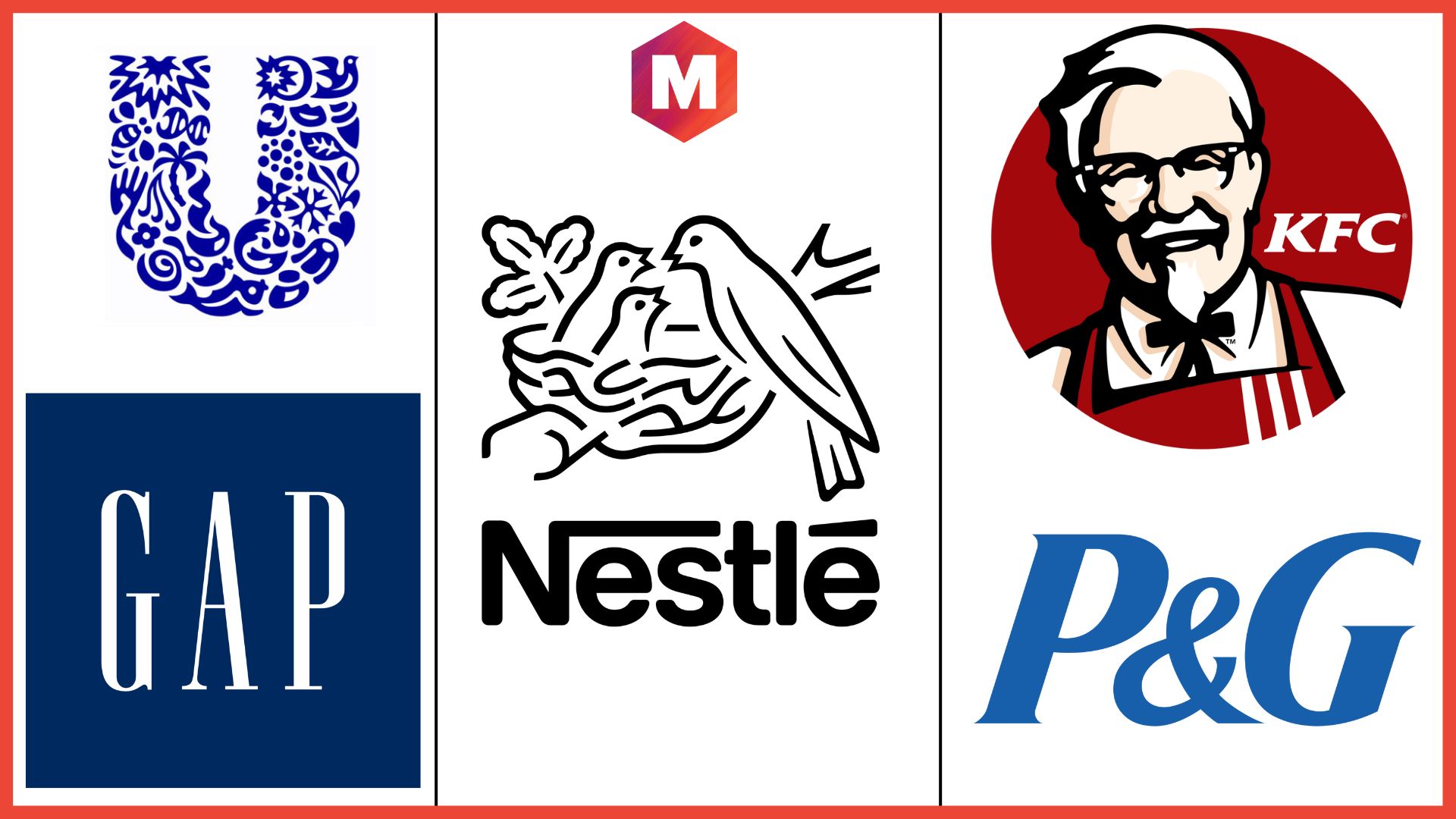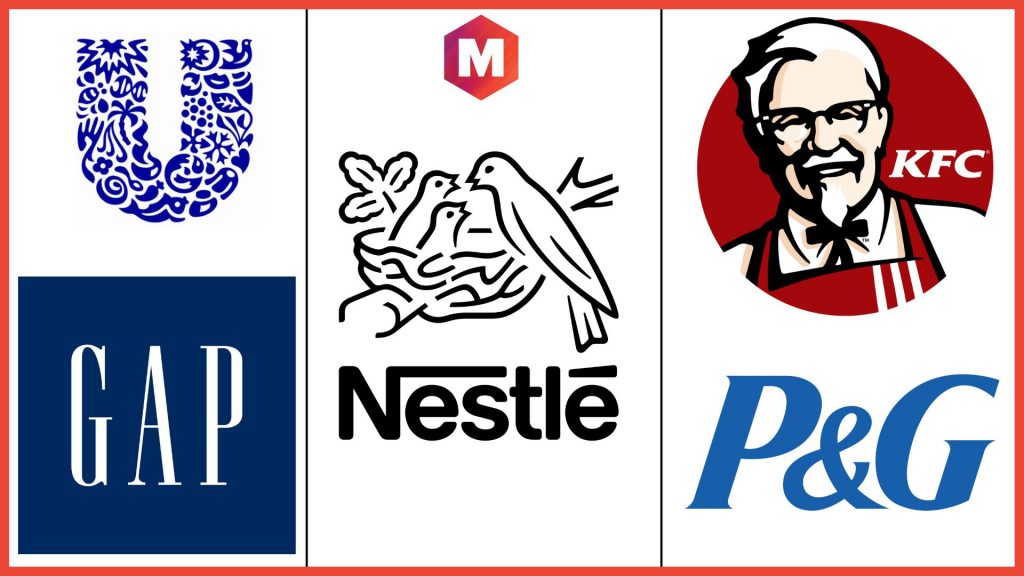 1. Unilever
Unilever is a prime example of a House of Brands, as they own many well-known sub-brands such as Dove, Axe, and Lipton.
2. Nestle
Nestle is another company that falls under the House of Brands model, with brands such as Nescafe, KitKat, and Perrier.
3. P&G
Procter & Gamble is a household name as well as a classic example of a House of Brands, featuring brands like Tide, Gillette, and Pantene.
4. The GAP
As mentioned earlier, The GAP is a great example of a House of Brands with sub-brands such as Banana Republic, Old Navy, and Athleta.
5. KFC
KFC also operates under the House of Brands umbrella, with sub-brands such as Kentucky Fried Wings and KFC Grillers.
Branded House vs House of Brands on different Grounds
Focus
A Branded House is a brand architecture strategy that places the primary brand (also known as the master brand) at the center of the strategy and uses the other brands to support it, while a House of Brands is where each brand operates independently of the others.
Background information
Branded House strategies are a way of creating one unified brand strategy and leveraging the brand equity of the primary brand to benefit other brands in the portfolio. On the other hand, House of Brand's strategies is based on developing and positioning each brand independently to maximize its potential.
Usability
The Branded House strategy is best used when a company has multiple products and services but wants to maintain one unified brand with consistent messaging and positioning. This strategy gives the company a chance to develop a unique identity, without confusing customers and diluting brand equity. The House of Brands is more suitable for companies with a wide range of products and services, where each brand has its own identity that is distinct from the other brands.
Advantages/Disadvantages
Branded Houses have the advantage of creating a single identity and simplifying communication efforts, while House of Brands can help create distinct, individual identities for the company's products and services. Branded Houses require more effort to maintain one unified identity, while houses of Brands require more effort to maintain individual identities.
Brand Positioning
Branded houses are more effective in building brand loyalty and creating a strong, unified image. House of Brands is better suited for companies that want to position their different products and services uniquely and create distinct images for each.
Conclusion!
At the end of the day, it all comes down to what is right for your organization and its goals. Branded Houses and House of Brands both have their advantages and disadvantages, so it's important to assess which strategy will be the best fit for your company.
In the house of brands, businesses have the opportunity to build distinct brand voices, own their brand portfolio, and build out a corporate brand. Branded houses, on the other hand, provide the chance to create a unified message, share resources across different products, and build loyalty around the entire organization.
No matter which strategy you choose, an effective brand strategy should be focused on driving success and cultivating loyalty with your customers. By finding the right balance between Branded Houses and House of Brands, you can ensure that your business is set up for long-term success.
Liked this post? Check out the complete series on Branding